If you're considering hiring Douglas Myron McLean Jr, aka McLean Contracting, aka McLean Builders LLC, aka Desert Arroyo Homes LLC, I'd encourage you to take a moment and review my history with him.

Doug, if you're reading this (and you will, because unlike you, I'm good at my job), your game is over. Your shady shenanigans have gone on far too long, and your friends, family, and potential future customers need to know that you're an embarrassment to your profession. You took money that was not yours. Quite simply, you are a common thief.

The ROC may allow you to keep your contractor's license, but two disciplinary actions against you, and one still open, certainly doesn't look good, and the worst is yet to come. Hiding behind your LLC will only work for a little while, and your attorney is happy to rack up a bill – he gets paid even when you lose.

This all started in June of 2018, when I met with Mclean to discuss building four custom homes on property I own in northwest Surprise, AZ. Mclean assured me he could handle the project and provided a preliminary estimate for building the first of four houses.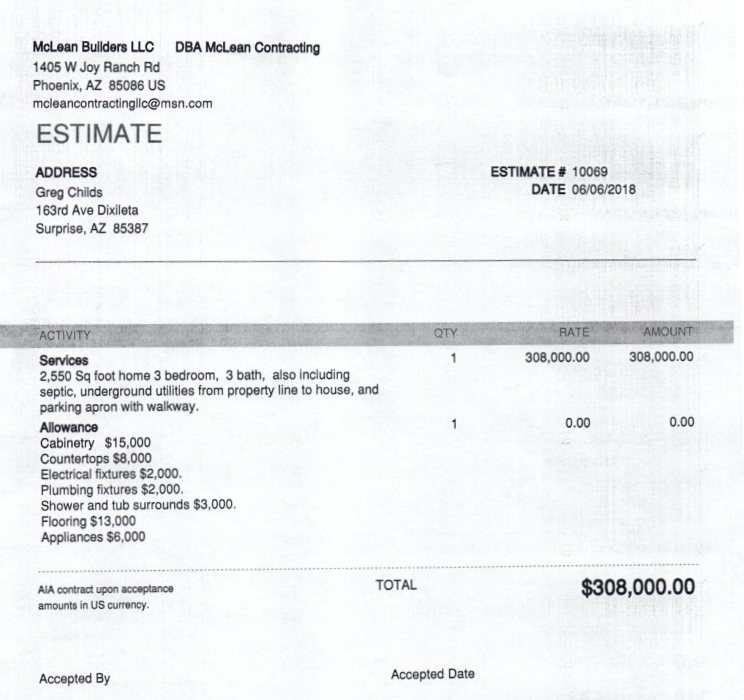 We met several times thereafter to further discuss the project and design a floor plan to my liking. Interestingly, Mclean always had plenty of time to chat – Highly unusual for a General Contractor, but I'd soon learn there was a reason for his surplus of time.

On 7/6/18, Mclean emailed the first of several preliminary rough floor plans and elevations for review. [NOTE: I assumed the Etch-a-Sketch quality was due to the draft nature of the plans – I was wrong.] Numerous problems were noted, the most obvious: No pantry.


On 7/31/18, Mclean emailed to say he was finishing revisions on the floor plans and inquired about his plan deposit.

On 8/2/18, I paid Mclean $5000 (check #4118) for invoice #10074, titled "House Plan 1" and another $5000 (check #4119) for invoice #10075, titled "House Plan 2." [In hindsight, I suspect there was no architect involved. Feel free to prove me wrong.] Oh, never mind, your pal Ed Rubash confirmed that you're not working with an architect.
On 9/19/18, Clouse Engineering provided an estimate to Mclean for surveying and completion of lot splits (to subdivide the property parcel). Mclean signed the estimate, accepting the proposal.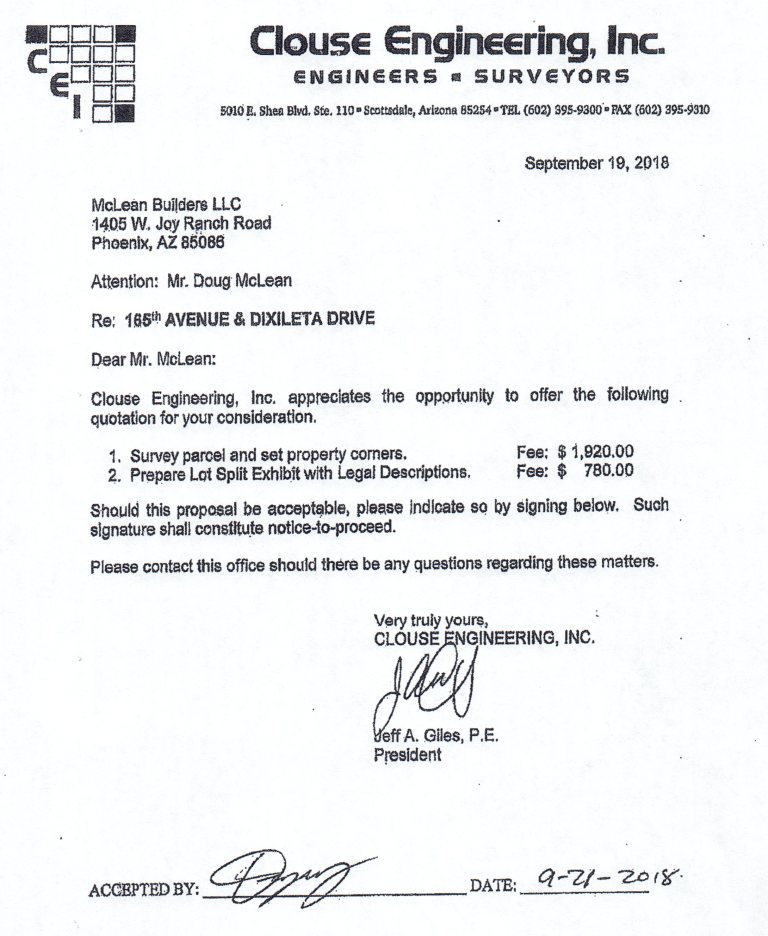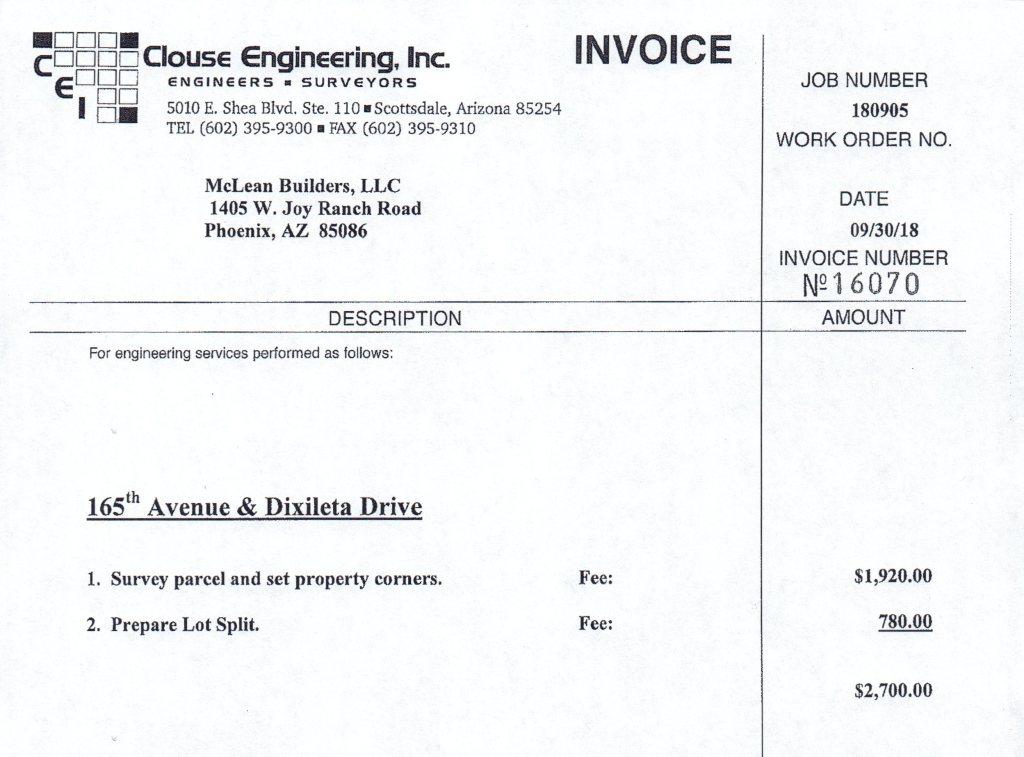 On 9/30/18, Clouse Engineering invoiced Mclean (Invoice #16070) the amount of $2700 for surveying and completion of lot splits. [Clouse was about to learn that Mclean has a habit of not paying his bills.]

On 10/1/18, Clouse Engineering conducted the survey and lot splits as requested. On the same date, Mclean posted this to his Facebook page – Apparently, he'd not been working with an architect after all, but he's awfully proud of his Etch-a-Sketch skills. Whoops.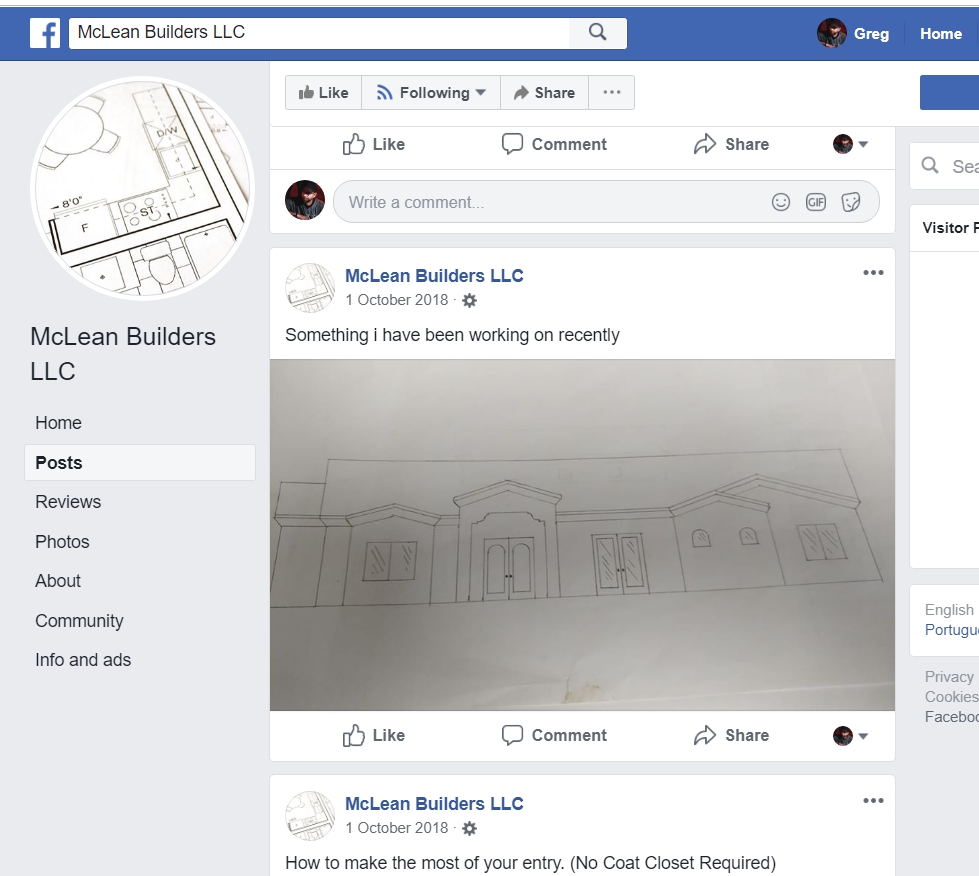 On 10/4/18, Mclean emailed me the survey and lot splits as completed by Clouse Engineering, and advised [verbally] he would be filing these with the Maricopa County Assessor the following business day.

On 10/17/18, Mclean provided me with a draw schedule for the build.

On 10/19/18, Mclean invoiced me (invoice #10076) in the amount of $19,735. Also on this date, Mclean emailed me an AIA Agreement. Upon review of the agreement, it was severely incomplete and insufficient. As such, I did not sign it ( https://www.nicoclub.com/AIA%20Contract.pdf ).

On 10/22/18, Mclean filed the survey and lot split documents with the Maricopa County Recorder (Job # 180905). These were later found to be inaccurate, and Mclean later blamed it on 'a new person at the Recorder's Office.' These were also filed 18 days after Mclane stated he would file them.
On 10/30/18, I paid Mclean $20,000 (check # 4132) for Draw #1 per the draw schedule.

On 11/14/18, Mclean emailed another preliminary rendering of a floor plan, which once again, did not incorporate a pantry in the kitchen.

On 12/13/18, Mclean emailed yet another preliminary rendering of a floor plan, again, no pantry. [By now, I'm starting to have concerns about Mclean's comprehension skills.]

On 1/8/19, Mclean filed for a building permit (B201900207) and paid a total of $500 in filing fees. However, the plans were cobbled together from other plans. The first page contained a reference to the City of Scottsdale, and the plans included provisions for a pool. Clearly, no architect was involved. We'll be pursuing this further as well, considering these documents are legally protected. It's not nice to steal, Doug.
On 1/10/19, Maricopa County Environmental Services Department reviewed the Environmental Services plan and marked it "Not Approved" as no septic system plan was attached.
On 1/14/19, Maricopa County Department of Transportation marked the Engineering Plan "Not Approved" due to no Right of Way permit being submitted.
On 1/15/19, I paid Mclean $19,735 (Check #4142) for invoice #10076, the remaining amount of Draw #1 per the draw schedule.
On 1/18/19, Maricopa County Planning and Development reviewed the Engineering Plan and marked it "Not Approved" due to no grading and drainage plan.
On 1/23/19, the building plans examiner provided four pages of review notes, requiring significant revisions. Certainly not what's expected from a self-proclaimed expert.
On 1/24/19, the Zoning Inspector marked the Zoning Plan "Not Approved" due to suspension of contractor's license, and incorrect setbacks and easements.
On 2/25/19, Mclean emailed yet another preliminary rendering of a floor plan.
On 3/8/19, having wrestled with concerns that no meaningful progress had been made, I contacted the Maricopa County Assessor office to check out Mclean's story. MCA employee Bonnie Davis indicated the reason for the splits not being recorded was that there was an issue with conveyance on the deed, and that my name on the document was not matching the name on the trust. Ms. Davis indicated a voice mail was left for Mclean on 1/9/19 and a letter was sent to him in February. [In other words, the lot split issues were NOT the fault of the Recorder's Office or the Assessor's Office.]
On 3/11/19, I spoke with Jeff Giles of Clouse Engineering at length. He indicated that to date, he has not been paid by Mclean, despite numerous attempts to collect since the initial invoice of 9/30/18 [over six months, for those of you keeping track]. Mr. Giles indicated he filed a complaint with the ROC on 1/23/19 which ultimately resulted in Mclean's license being suspended.
On 3/13/19, I spoke with Mclean via phone. This conversation, as with previous conversations, was recorded. Mclean rambled on and on about someone dying, someone losing their ID in Las Vegas, and provided additional excuses for delays. He indicated he has been in contact with "Jamie" at the Assessor's Office and that the lot split is being expedited. I also asked if Clouse Engineering had been paid – He indicated they had.

Knowing I was being lied to, I informed Mclean that the project is, as of today, on hold, and asked for a full accounting of all monies spent (with receipts) so that we can determine how much money he will be refunding to me. He indicated he would have that completed by Monday (3/18/19). I reiterated for clarity that the surplus funds should be returned via check as soon as possible. Kids, if you're keeping track, this was a lie.
On 3/18/19, on advice of Cynthia Bustamante, Maricopa County Assessor's Office I revised the erroneous quitclaim deeds for the three parcels and easement that were previously incorrectly filed by Mrs. Mclean (Doug's wife). These quitclaim deeds were subsequently filed and resulted in accurate splits of the property. The filing fees totaled $60.
On 3/18/19, Mclean did not respond as promised on 3/13/19. At this point, I filed a complaint with the ROC.
On 3/19/19, Mclean sent a letter to the ROC stating he cannot pay an outstanding invoice of $5099.68 to Gale Contractor Services (for work on 615 W Sierra Vista Drive, Wickenburg AZ), despite holding $49,735 of my money.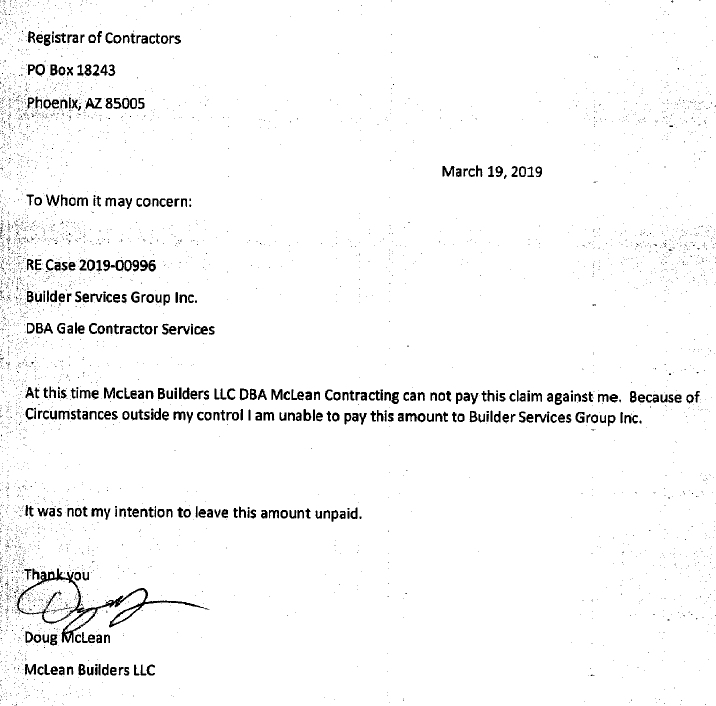 On the same date, Mclean sent another letter to the ROC stating he cannot pay an outstanding invoice to Clouse Engineering (for survey work done on my property), despite holding $49,735 of my money.


"…circumstances outside my control…" Not true, Doug. More like, "Because I'm dishonest and don't pay my bills."

On 3/26/19, I received a packet from AZ Dept of Water Resources (Notice of Intent to Drill). To my surprise, my signature is forged on the enclosed application, and is dated 2/13/19. The document was filed 3/14/19, the day AFTER I fired Mclean from the project. Additionally, I did not select that particular driller.
On or around 4/1/19, I spoke with Jeff Giles of Clouse Engineering again. He stated that Mclean finally came to his office to pay the outstanding amount, but it was paid in cash. [NOTE: What kind of General Contractor pays an invoice in cash? See a pattern yet?]
On 4/5/19, per direction from the Registrar of Contractors, I attended a meeting on-site with the ROC Investigator (Phil Jaegge). Also present were Mclean and Andrew Wenker (of Lang & Klain, construction attorneys). This meeting was recorded for future reference. During this meeting, Mr. Jaegge reviewed the complaint and secured confirmation from both myself and Mr. Mclean that the accounting of events therein is accurate. Mr. Jaegge also asked Mr. Mclean about the funds and if he intends to provide the accounting and reimbursement that I requested. Mr. Mclean indicated that it is currently being worked on. More fibs.
On 4/11/19, I spoke with Mr. Jaegge (ROC Investigator). Mr. Jaegge indicated that the ROC does not get involved in "financial disputes." He suggested I retain counsel and pursue this as a civil matter. I inquired if this would have any bearing on Mclean's standing with the ROC, and he indicated it would not, although he mentioned Mclean received a 'letter of concern' for contracting without a license during his suspension. Let it be known that the R.O.C. serves to protect *some* consumers, but mostly contractors.
On 4/23/19, I again spoke with Mr. Jaegge and expressed my concerns not only about the ROC's finding, but the fact that this did not require investigation – all necessary information was provided at the time of the complaint. Additionally, I expressed concerns as to the inappropriateness of forcing me to meet with Mclean on-site (who had his attorney present) without notifying me ahead of time. Mr. Jaegge reinterated his inability to sanction Mclean and stated he would testify that he witnessed Mclean's agreement to prepare a full accounting of the money involved in this case.

The R.O.C. responded to my complaint (2019-01280) as follows: "[the complaint] alleges nothing indicating grounds for discipline under A.R.S. §32-1154(A)," and dismissed my complaint. We believe the R.O.C. erred in its finding. A.R.S. §32-1154(A)(10) includes, as Grounds for Suspension or Revocation of License, the following:
"Failure by a licensee or agent or official of a licensee to pay monies in excess of seven hundred fifty dollars when due for materials or services rendered in connection with the licensee's operations as a contractor when the licensee has the capacity to pay or, if the licensee lacks the capacity to pay, when the licensee has received sufficient monies as payment for the particular construction work project or operation for which the services or materials were rendered or purchased."
This clearly occurred (see letters dated March 19, 2019 above).

[NOTE: According to the R.O.C., the only things that a contractor can be sanctioned for are abandonment or poor work quality. Interestingly, neither applies in my case. The investigator asked Mclean if he was willing to continue work on the project, to which he replied in the affirmative. Just like that, it's not 'abandonment.' Thanks for nothing, ROC.]
On 5/1/19 I contacted Right Away Disposal about the portable toilet sitting on my property (unmaintained since October 2018). R.A.D. confirmed that Mclean has not paid his outstanding bill, has not responded to their invoices, and that his account is going into collections. I verbally authorized retrieval of the unit from my property. [What kind of contractor defaults on a portable toilet rental?]
On 5/10/19, I secured counsel in order to file claims against Mclean for the outstanding monies.

On 7/15/19, Civil Case CV2019-050350 was filed against Mclean in Maricopa County Superior Court.
To date, Mclean has received $49,735 from me for this construction project. I have received the following goods / services relevant to this project:
Two incomplete sets of preliminary plans (hard copies) that do not appear to have been prepared by an architect, and are not submittable in their current form.
Some preliminary dirt work on the property (rough grading of the access road and pathways to two build sites*). Further on-site work (clearing brush, tree cutting) was done by me.
*Of note: Grader driver attempted to do this work during heavy rainfall, resulting in a stuck grader, deep ruts, and a general mess. All of this had to be repaired by another operator.
Leveling and smoothing of the first home site.
One of five successful lot split filings (I corrected and filed the other four).
In late May 2019, the following additional information came to light:

In approximately January of 2019, I referred my landscaper, Reuben Osorio, to Mclean (Mclean indicated he was in need of some block wall work). Later, Osorio informed me that Mclean had not paid him for the work he did. Osorio has indicated he will provide a statement to this effect, to be included in the civil case.

In July 2019, we learned that McLean never paid for the fees and charges associated with the building permit he filed on our behalf. Therefore, we have to pay those fees, as well as new fees, in order to secure a building permit. That's another $1,361 in unnecessary costs due to Mclean's incompetence.
Per A.R.S. § 32-1131.3(a), I am ineligible to file a claim against the Residential Contractors' Recovery Fund, as the residence was not owner-occupied (by me). A.R.S. §32-1132 does not provide a mechanism by which the R.O.C. may predetermine the intended occupant or resident of a nonexistent house. As construction did not commence, no structure exists; it cannot be occupied until completed.
Section 32-1131(3) does not state when the "person injured" (or claimant) must have occupied or intended to occupy the premises as a residence. To my knowledge, no Arizona cases resolve this issue.

This represents a convenient loophole for a dishonest contractor who has repeatedly proven his lack of ethics. In this instance, the R.O.C. fails to protect Arizona consumers building new homes from contractors clearly acting in bad faith.
Involved parties:
Douglas Myron Mclean Jr.
https://www.facebook.com/doug.mclean.12 (mcleanbuildersaz on Instagram) 602-291-8548 and 602-845-8987
Colleen Marie Mclean [Frantzman]
https://www.facebook.com/colleen.f.mclean (cmclean07 on Instagram, cndmclean on Twitter)

[NOTE: Mrs. Mclean's information appears herein for one important reason: She is either complicit in, or unaware of, her husband's shady dealings. There is no other possibility. If the former, she can suffer the consequences. If the latter, she can be made aware. A reasonable person with even moderate intellect would find it hard to fathom that he actually earned $50k for doing essentially nothing.]
Take note of Mclean's Facebook photos, especially the memes boasting of his propensity for procrastination. Very appropriate, and screenshotted for future reference.
An additional Facebook page for "Desert Arroyo Homes LLC" was created on 10/11/18. Per the Arizona Corporation Commission, Colleen Mclean took office in this Limited Liability Company on 10/11/2018. Interestingly, the statutory agent for this LLC is Mr. Lang of Lang & Klain, construction attorneys (employer of Andrew Wenker – who happens to represent Mclean).
* As of 5/23/19, the page was taken down.
Further evidence of Mclean's history of failing to pay his bills and taking money that is not rightfully his (all of these cases can be looked up via the Maricopa County Superior Court website, and I'm happy to share my copies (secured by public records request) with anyone interested:
(1/25/18) Judgment: $345,738 Case #CV2018-050175 Kerchansky, Kevin (480) 413-0586
(3/11/14) Judgment: $3278.49 Case #TJ2014-004296 Harrison Financial
(1/22/14) Judgment: $3389.88 Case #TJ2014-000394 Harrison Financial
(3/31/10) Judgment: $10,863 Case #CV2010-010861 Weston Concrete and Materials Inc
(12/24/09) Judgment: $2738.16 Case #TJ2009-019959 Diversified Roofing Corporation
(10/14/09) Judgment $425,000 and $6831 Case #CV2009-032367 Meridian Bank

NOTE: The 1/25/18 judgment appears to have been satisfied with funds received from me. Brings to mind the old metaphor, "Robbing Peter to pay Paul."
Mclean has a DUI conviction in 2010, which further speaks to his irresponsibility and lack of regard for others.

After sharing this story, I've had others reach out to share their horror stories about this knucklehead. I'll include them as they roll in:

"We hired Doug back in December 2016 … he didn't finish, he took the money didn't pay subs .. we are still not in our home. He got our security fence, storage unit (luckily we got our building materials out before) and port-a-potty repossessed. We still get subs contacting us to get their money. He is a snake! Our home can't pass final inspection because he didn't do LOTS of things correctly."

Mclean, if you've made it this far, there's only one acceptable resolution to this matter: Return the money that is not yours. I don't care about 'circumstances beyond your control.' The clock is ticking, and real men don't make excuses… even your attorney concedes you're in a bad spot. It's only going to get worse, the longer you wait.

You will be responsible for interest on the outstanding balance, unrealized profits, the unpaid license fees, all filing fees, the fees to have you served, an hourly rate for my time spent preparing the case, mileage, attorney's fees, and additional damages. Your attorney is happy to take your money – Remember, they get paid when you lose (see the Kerchansky case). ALSO, lest you delude yourself into thinking this is merely a civil matter, the Maricopa County Attorney is involved, as is MCSO. Have fun defending yourself against fraud, forgery, civil conspiracy, and theft charges – and we can keep this up for a LONG time.

More importantly, anyone searching for your name or business identity has seen this information. Any potential future employers will ask for an explanation (except for your shady high school buddy). Your family and friends should ask why you resorted to dishonesty. Excuses are no substitute for hard work, and you alone bear the responsibility for bringing this indignity upon yourself, your family, and your friends.

For those of you who have found this article through a search or link, thank you for reading, and please feel free to pass it along. This could very easily have been you or your family member victimized, and people like Mclean need to be held accountable.