I used to have a big cooling problem with my RB20DET in S13 swap which as far as I can tell is now gone. This is to provide some basic info and suggestions to those who have to go through the same ordeal as I did.
Did you bleed properly?
-Nissan engines are a total pain to bleed and the RB engines are some of the worst. They love to trap air in them. You can follow the factory guidelines, but here is what I do.
-Turn the heater to full blast hot and then fill the car up with coolant.
-Start the car and let it idle for like 30 seconds.
-Then remove the bleeder screw on the front of the intake manifold and the radiator cap.
-Top the coolant off and replace the screw and cap.
-Park nose up on the steepest hill you can find that's close to your house or jack the front of the car up.
-Start the car (with screw and cap on) and let it heat up (still with heat on full). Turn the car off and let it cool down for 15 minutes.
-Slowly remove the bleeder screw. If bubbles come out, top off at the cap and repeat the warm up cool down. If bubbles stop coming out and coolant dribbles out without any air accompanying it you should be done.
-Check the coolant before every drive for the next week and top off as necessary.
Are your hoses old?
If you are using the main radiator hoses that came with the swap, you shouldn't. These could be factory hoses from 17 years ago for all you know. Many car manufacturers put a spring inside of the hose to keep it from sucking itself shut with the suction created by the water pump after time. Nissan didn't, so these soft hoses can be a real choking point for coolant at higher rpm's. You can use the KA24E lower hose, or you can order one made for the RB online. Tweakit, an Australian performance website sells factory hoses for the RB's. My lower hose cost me $32.23 to my door.

The upper hose you can just go to any parts store and get a section that fits. It's a pretty straight line and depending on your swap setup, the length will change.
Also check all of the smaller hoses like the one on the back of the engine that goes to the heater core and the ones along the intake manifold. Any cracks can cause the system to lose pressure and also lose coolant causing you to overheat. Anything that is too soft should be replaced as well.
Is your radiator in good shape?
If you are using your old KA radiator or if you are using the one that came with the RB it may have bent fins or bent tubes that could be hindering flow. Make sure the fins are allowing air to flow through; this may involve an hour sitting with a small screw driver straightening them. Remember, be careful when doing this. It doesn't take much to break the radiator in some places. Many people just upgrade to a Koyo or other performance radiator when doing the swap so unless you are really clumsy you don't have to fix bent fins and tubes.
Is your radiator cap in good shape?
If you are using a cap that came with the clip or one that you are not absolutely sure is good. Get a new one. They are like $8 at Schucks for a generic one or $15 at Nissan for a genuine one. Despite what magazines may be telling you, a higher pressure cap is not always a good thing. The radiator cap serves as a fuse of sorts. At a set pressure it pops open. Its better that your radiator pops open than blowing your head gasket. I believe that the RB20 uses the same cap as the stock KA. If you want a slightly higher rating, just go with the Z32 TT cap.
Are your coolant paths flowing properly?
Many of these engines have been sitting for a long time and coolant does some ugly things over time, especially when the previous owners used 100% water or an improper mix of red and green coolant. If when you are working on the system you notice clumps of leaves or rust flakes or things like that you should probably flush your coolant. Just take it to a shop and can get there or buy a bottle of coolant flush and follow the directions on the back. Some of the Australian guys claim that the RB engines can have problems with coolant getting clogged in the water jackets around the pistons. This can usually be solved by a good coolant flush.
Are you using the ideal coolant?
This isn't usually going to fix problems, but it can help buy you some extra room for error. With any engine, you are going to want to use the best you can afford. I use a mix of Honda OEM coolant. It is blue in color and there is some research that it is superior to most other things out there. It costs about $15 per gallon of 50/50mix. I have found that when going to a Honda dealership, don't make eye contact and don't say why or what you need the coolant for. Just get in and get out. I take that gallon of Honda coolant and add one bottle of water wetter and then top off with distilled water (ignore the BS on the coolant about not adding water). Most grocery stores have this on stock. Distilled water has better thermal properties than tap water and causes less damage over time because it is free of contaminants.
Here is a copy of an internal letter at Honda a while back bragging about how good it is. Basically it is the best coolant for use on aluminum such as aluminum engines or nice radiators as it does not clot over time like most coolants.
http://www.mr2.com/TEXT/HondaCoolant.html
Is your head gasket blown?
There is a chance you got sold a dud or you made it that way pushing it too hard. Some head gasket failures are impossible to detect without a leak down or hot compression test. Usually you will see signs though. Reduced power, bubbles or gas coming out of the coolant reservoir while running or revving the engine, oil in the coolant or coolant in the oil, white smoke coming out of the exhaust with no other explanation (cold outside/car has been sitting long time). If the head gasket is damaged, don't drive the car; it only risks more damage.
Is your thermostat working properly?
If the person doing the swap was lazy and didn't change the thermostat, installed the thermostat improperly, or you don't have a thermostat installed at all, there is a good chance you will have problems. The RB20 uses the 300zx TT thermostat. Horsepowerfreaks sells OEM units for $15 or you can spend six times that and get a lower temperature Nismo unit. The problem with having a thermostat that opens at a temperature that is too low or not having one at all is that it doesn't give the coolant in the radiator enough time to let off its heat before pushing it back in the engine. When installing, use grey gasket maker, there isn't a real gasket part. Don't overdo it on the gasket maker, follow the directions. Give it the proper time to dry and make sure to install the thermostat right side up.
Are your sensors operating correctly?
Make sure your two coolant sensors are good. They are located on the upper radiator hard pipe in front of the intake manifold on the RB20. Take them out while you are working on the cooling system and make sure they are clean on the terminals and the part that sits in the coolant stream. The single wired sensor goes to the dash gauge and the two wire sensor goes to the ECU. If the ECU sensor is fouled or malfunctioning the engine runs different maps which can cause you to overheat if the car is already warmed up. Finding a sensor that works for the ECU can be a pain. Different years used different plugs and require a different part number.
Do you have an adequate fan setup?
RB swaps leave little room for cooling fans. Many of us resort to using pusher fans (front of the radiator pushing toward the engine) rather than pullers (back of the radiator pulling air through it). With a Koyo radiator, there often isn't enough room to physically fit pullers. Most people run two 12"fans or a single 14" fan. Make sure the fan is as close to the radiator as it can get without scraping the fins. If it can suck or push air along the sides it will take the path of least resistance which is not through your radiator.
Up Garage in Tacoma has recently posted that they are able to modify the transmission mount and use a shorter driveshaft which allows fitment of the stock RB clutch fan. They do good clean work by all accounts as you can see in the pictures.
Do you have proper ducting?
The stock engine bay has a shroud underneath. It is that plastic/tar sheet under the car that always gets in the way that you probably removed to work on the engine swap and didn't bother to put back in. That shroud is what keeps air from passing through your bumper and then under your radiator. Without this in place you are losing a lot of airflow to the bottom of the core. You can either trim it to fit the RB oil pan and put it back on or you can make your own similar device.
This is the sheet I fashioned out of steel for my car.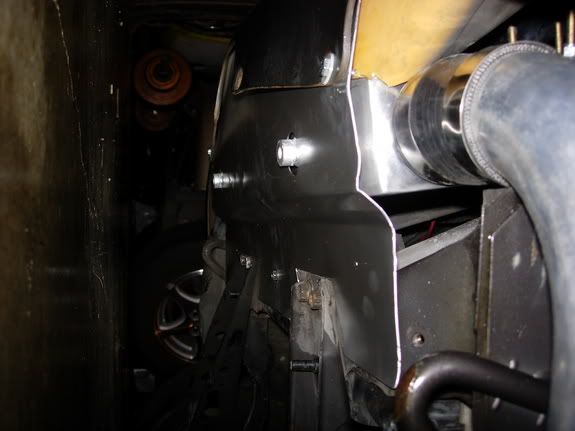 Also many people claim that an upper cooling panel keeps air from swirling near the top of the radiator and encouraged more to pass through. I got mine from Rigid Racing which sells them a lot cheaper than most top name companies. You can get them on Ebay for around $35.
This is the Rigidracing.com unit on my car.

If you have an 89-90 240sx, you can trim the factory "Pig Nose" bumper and remove the fake vents. It takes an afternoon but can look clean if done right and provides more air that doesn't have to pass through the front mount intercooler.
I trimmed mine and then masked and sprayed the inside of the holes primer black.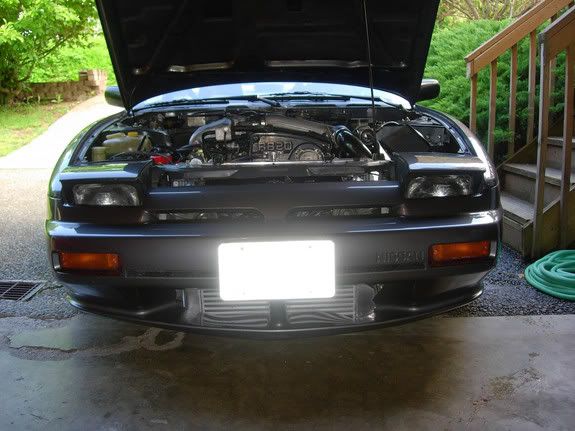 Is your intake getting cold air?
Almost all of us ripped out the factory air box long ago and replaced it with a cone filter. The RB can be an oven though and really fill up the engine bay leaving little room for airflow. That hot air just sits there getting hotter. The hood is sealed on all sides from the factory with weather stripping so the rising air doesn't really escape. Your cone filter sucks that in compounding any other cooling issue you may have and robbing horsepower. The quickest way to fix this is to head to Home Depot and grab a roll of aluminum or galvanized steel flashing. It is about $10 for 14 feet of the stuff so a real bargain for an increase in horsepower. Just trim pieces to isolate your filter from the turbo's hot air.
Here is what I made one afternoon. It isn't the best but it helps. The black around the edge is rubber tubing that I slit down the side and glued to the edge so it didn't cut me while I worked around it.
Some people also remove the weather stripping at the back of the hood to allow some hot air to rise out when you slow down or even raise the hood using spacers. This mod has been shown using temp probes to lower under hood temps by about 6*F at idle and low speeds but actually sucks air in the back of the engine bay at freeway speeds. This may help keep air flowing by the hot turbo but I haven't seen data suggesting it helps at high speeds as well. I removed the weather stripping at the back of the engine bay along the windshield and noticed the hood was noticeably cooler when I would open it after a drive.
Here is a picture I snagged from NICO from ADAMHU of a raised hood.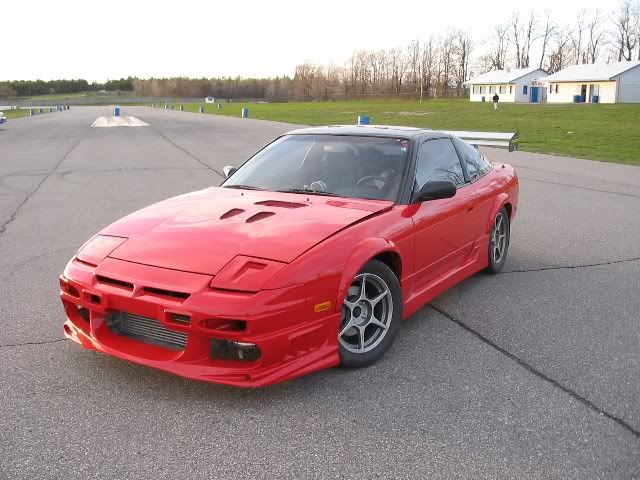 Are you getting accurate information from your engine?
Are you sure it is overheating or is the gauge malfunctioning? A great asset is a temperature gauge. If you have the room between the radiator and hard pipe, you can cut the hose and install a Nissport temp adapter with an aftermarket temperature gauge. I found it impossible to install when using the R32 Crossmember style install and a Koyo. There was simply no room. I have a Cyberdyne water temp gauge with the Nissport adapter that I can no longer use because of the Koyo, best offer takes them. Or you can get the adapter here.

http://www.nissport.com/catalo…tions
Because I was unable to use the easily installed Nissport adapter I got a HKS fan controller. It splices into the factory ECU harness and tells you the temperature the ECU is reading which is very accurate. The problem with the stock cluster gauge is not that the sender is inaccurate. It is that the gauge itself is inaccurate. Most people don't want to see the needle move while driving because they would think something is wrong. Nissan fixed this by using a 3 position gauge in the cluster. You have:
-Cold
-Normal (really wide range of temps)
-Death (when it climbs over the halfway point you are already way too hot and need to pull over now!)
When you see the car starting to overheat on the gauge, you are seeing it too late and damage could be going on already.
The end (Finally)
If after reading and trying all of these things you still have problems it might be worth your time to take it to a shop. If you need advice on the forums make sure you are clear and specific. When does it overheat?
-At idle?
-On the freeway?
-All the time?
Submitted by: Cpt_Impossible
Join the discussion! Here is the thread that inspired this article: