Technical Articles: Replacing the timing chain on your Nissan 240sx
Can I replace my own timing chain (or, better yet, why would I want to)?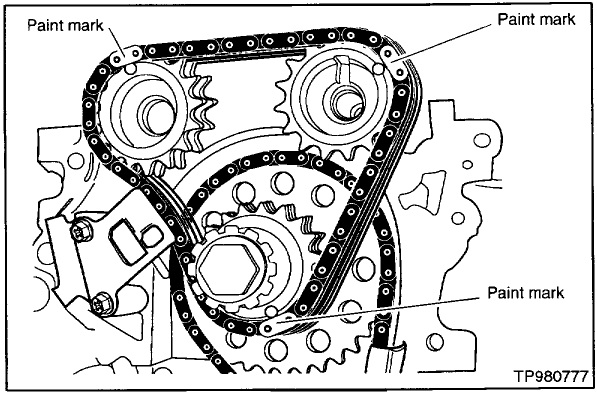 First, a few simple hints. Pull the front tires off to improve access. It helped a bundle. Be very careful pulling the drive pulley off. I broke one of the flanges off of mine and had to call about fifty junkyards to find a new one (ran me $25). Finally, the oil pan does not take a seal, only RTV. The book did not make this clear and five different parts stores (including the Nissan dealership) said "We don't carry it" instead of "You don't need it".
Pull out the fan shroud to get yourself some working space and have at it. The pumps and whatnot come off the face pretty easily.Valve cover was a pain with all the connections, so I just flipped it to one side. Someone else said have an assistant put the car in gear and stand on the brake to get the drive pulley off, good idea. I just jammed my 10″ extension in the holes of the cam sprocket and pulled against that.
The book says pull the oil pan all the way off. I had to jack up the engine in the mounts and hit it with a hammer to get it out. It is positioned under the front end cross bracing and the steering crap. Getting it back on was even worse since I had to attach the suction tube line with one hand through a 1/2″ gap. I even dropped my wrench in the pan once. My advice, I'm pretty sure you can just drop the pan to get the front cover free and never really take it off. Would have saved me about a month.
Changing the chain was no big deal. Put the front cover and stuff back on. Tighten the drive pulley bolt with all 140lb or so the book recommends. I didn't (just kinda guessed at it) and, what do you know, it stripped out the keyway on me and broke free. Lucky I didn't hurt the crankshaft too bad (I really don't want to pull that oil pan off again).
All in all, the job isn't real complicated (looking back on it, it's easier to say that). Just learn from my mistakes and you should be able to make it in a long weekend at worst.
Timing Chain Parts List
I picked up all the parts yesterday, for my SOHC chain replacement consisting of:
1- Crankshaft Sprocket 13021-53J00
1- Front Cover O-Ring Seal (Front) 15066-40F01
1- Front Cover O-Ring Seal (Rear) 15066-40F11
1- Crankshaft Front Seal 13510-53J10
1- Camshaft Sprocket 13024-40F00
1- Timing Chain 13028-8B000
1- Timing Chain Tensioner 13070-40F06
1- Timing Chain Guide 13091-40F15
1- Timing Chain Guide 13085-40F10
2- Timing Chain Guide Bolt 13075-40F10
If you have comments or questions about this article, here's a great place to start: 240sx Timing Chain Replacement