After nearly two decades at the helm of this big automotive social group we call The NICOclub Network, we've weathered the worst: Rival forums (all of whom we've outlasted), continuous onslaughts from spammers and hackers, technical difficulties, staff turnover, and the impact of lazy, halfhearted social media on legitimate automotive resources.
I'm always awed and impressed with the loyalty and dedication of our vendors and advertisers. They do a great job taking care of our members, and they help us keep the servers running so we can continue to deliver honest, technically-accurate information and assistance to those of you in the Nissan community.
Every once in a while, we run across a business who tries to take advantage of our patience and our willingness to work with small businesses – After all, we regularly forego late charges, penalties and interest on outstanding invoices (because it's simply the right thing to do, in business, and in life).
Usually it's a simple misunderstanding, and as responsible, mature business owners, we work it out.
Unfortunately, this wasn't the case with our latest deadbeat advertiser. Yume Cars is a small-time importation business, purporting to bring in desirable overseas vehicles for clientele in the US.
Rami Elbially (the owner) decided to weasel out of an agreed-upon advertising campaign (after seeing the outside of their operation, it makes a lot more sense now).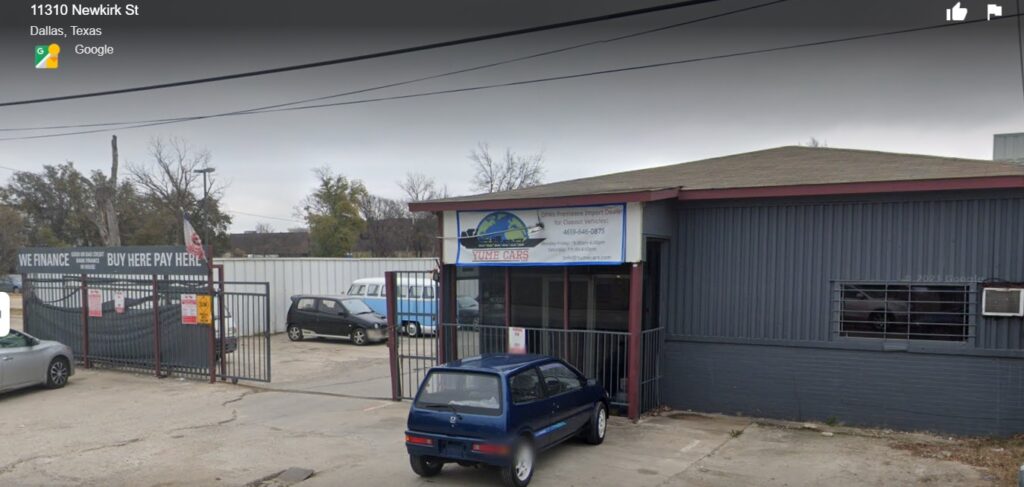 I'm willing to admit when I'm wrong – it happens more often than I'd like to admit. But I'll let you, the enthusiast public judge for yourselves whether these guys should be trusted…
Rami reached out to us to inquire about advertising his business – a smart move, since we have a ton of reach, a captive audience, and solid search engine rankings.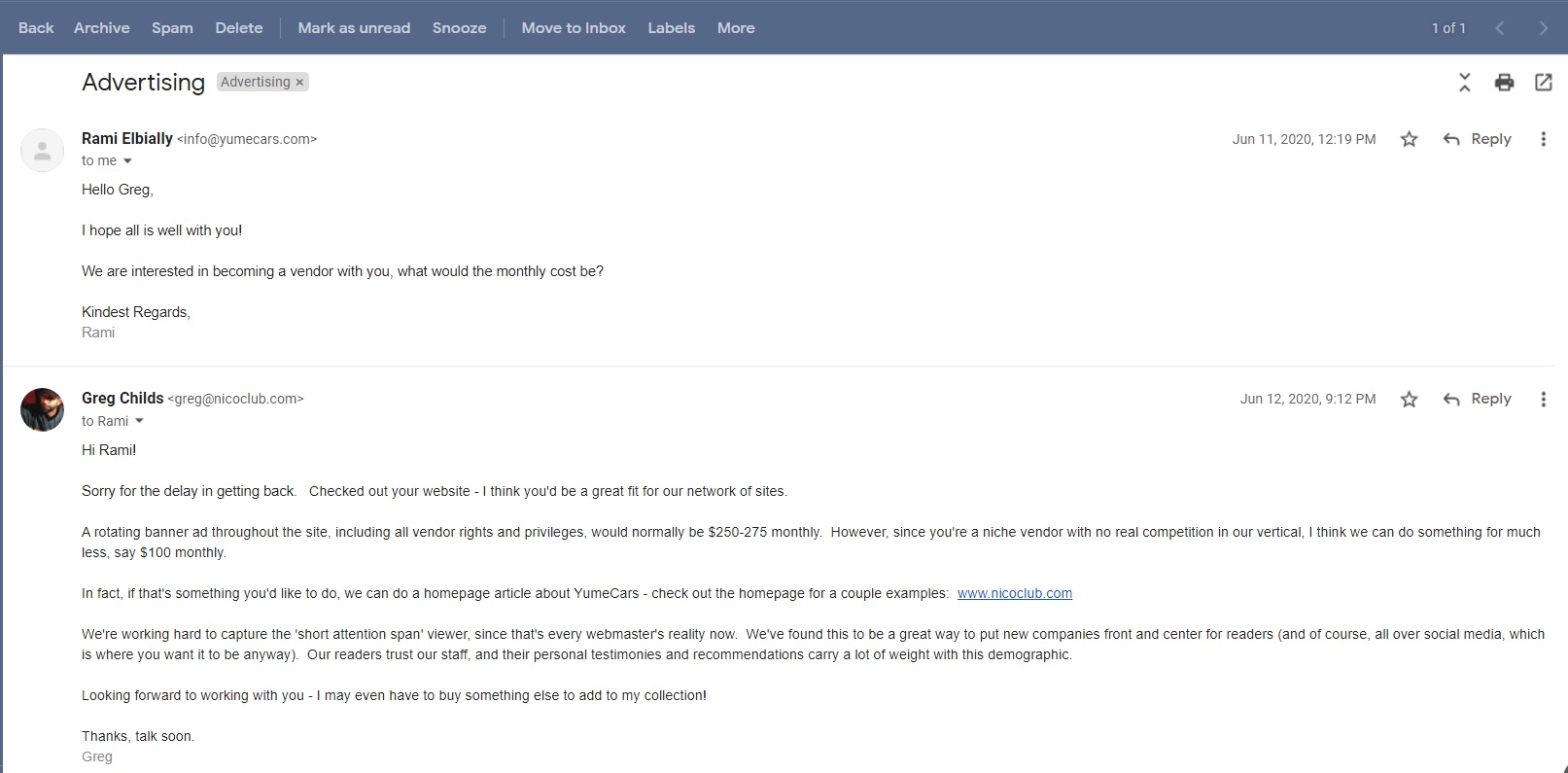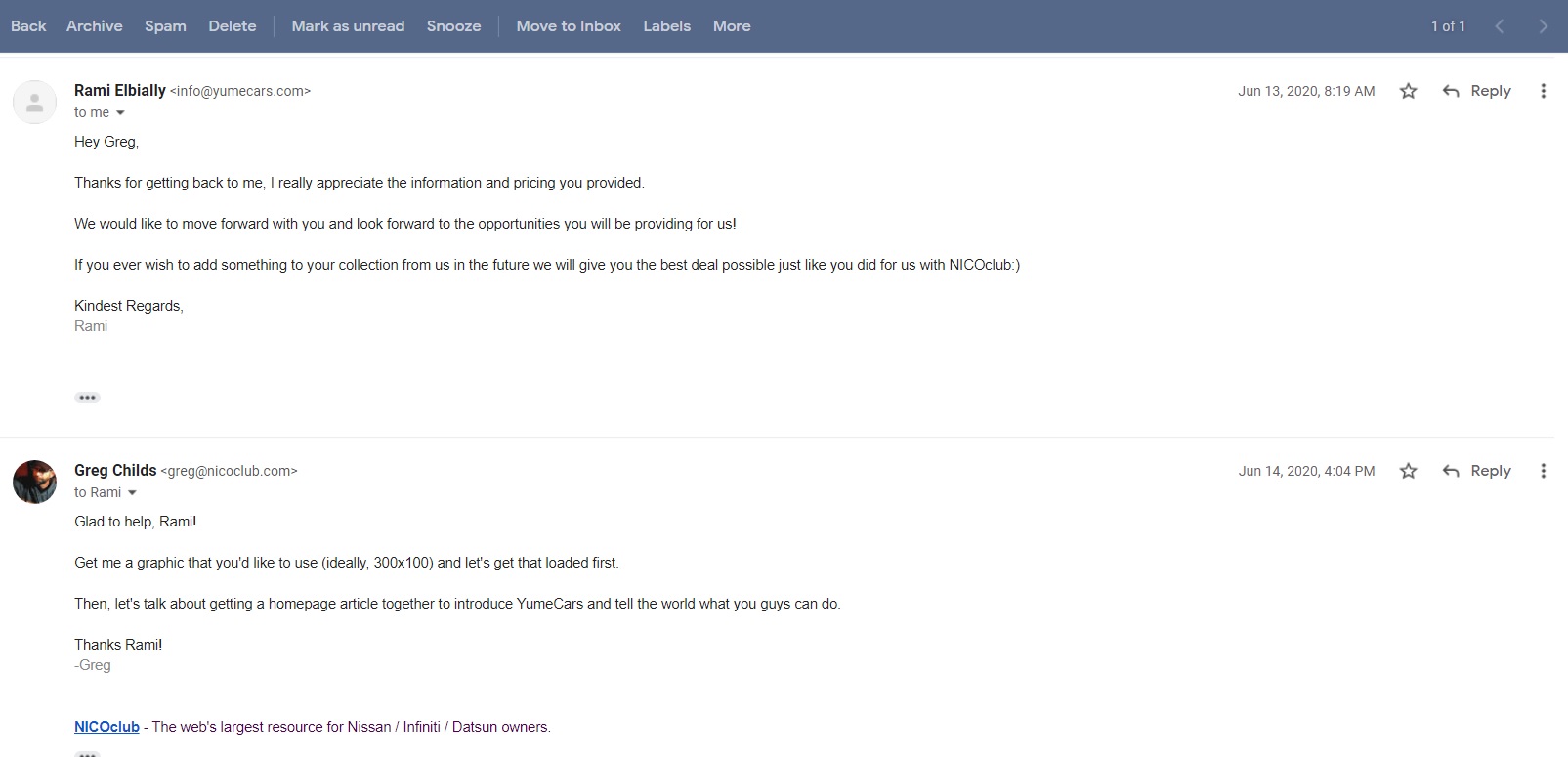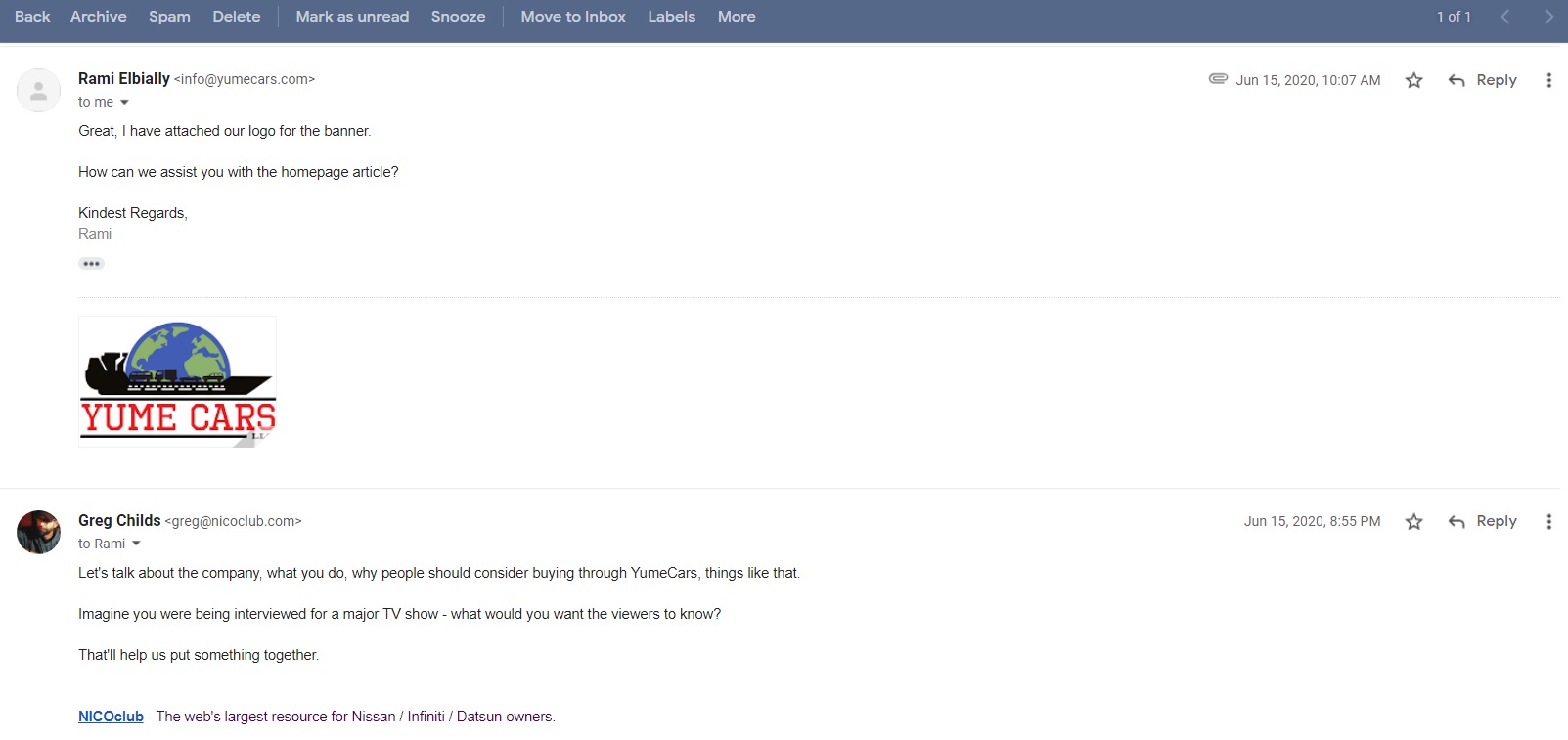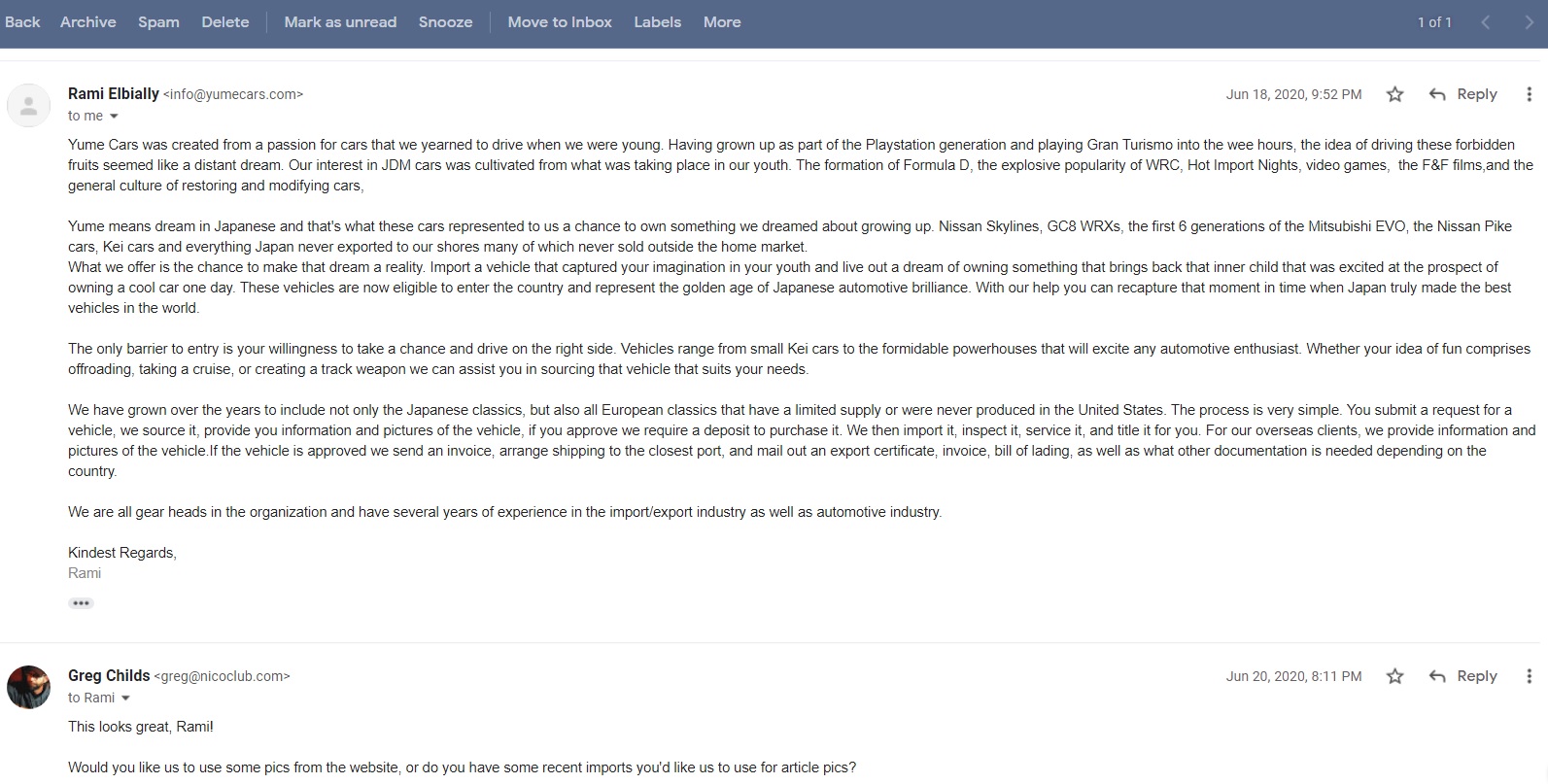 We're off to a great start! Rami likes the article, his little operation is featured on the homepage of the largest Nissan / Infiniti site on the web, and life is good… until the bill arrives: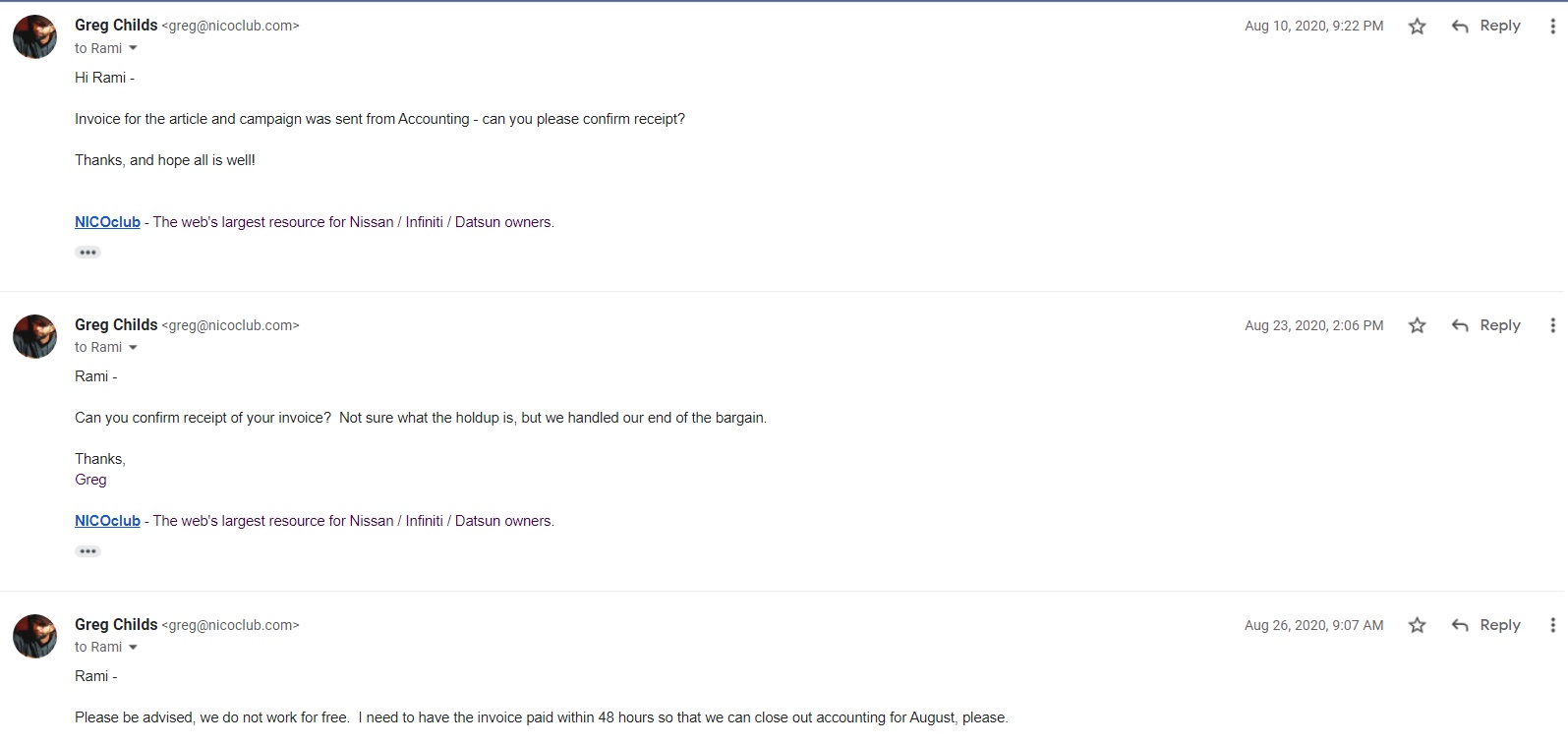 After three months of no replies, we've gotta take down the article. We're not working for free around here.
Being the optimistic guy that I am, I figure maybe they're not checking their emails – So I post up on Instagram, and my comments are immediately deleted. OK, so now I know things are shady.


Finally, Rami responds to me via Instagram messenger, and it goes downhill from there. Lowballing after blowing off your invoices for three months? No sir.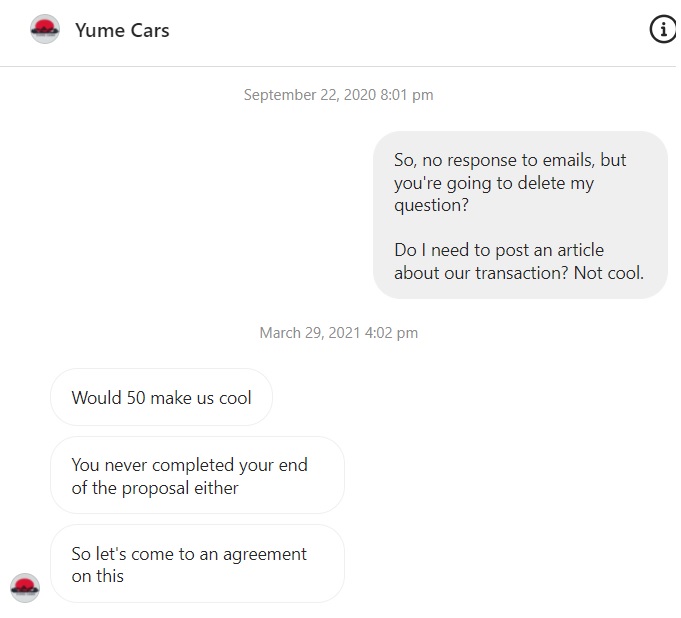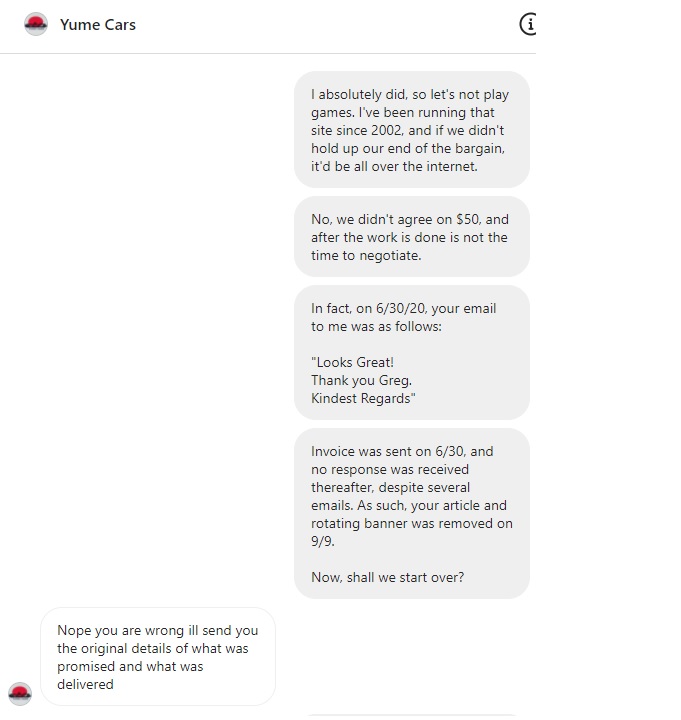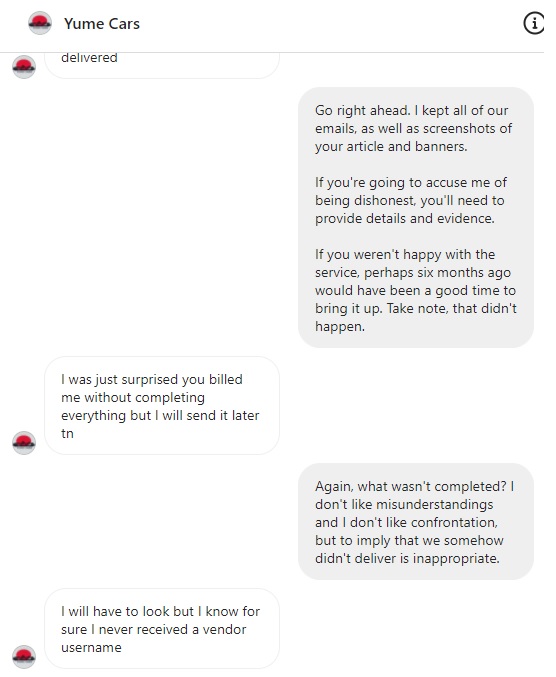 I'm still thinking, maybe there's some language barrier issue? Maybe Rami doesn't know how forums work? Then my lovely wife reminded me, "Honey, you're 51 and I guarantee he's younger than you. That's not the issue."
I still never received "the details of what was promised and what was delivered" (Mr. Elbially's words above) but no matter, I'm transparent. All of our correspondence is shown here.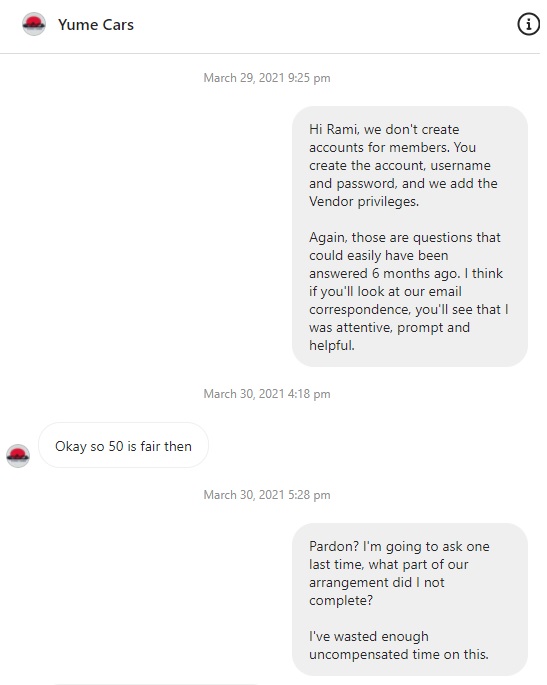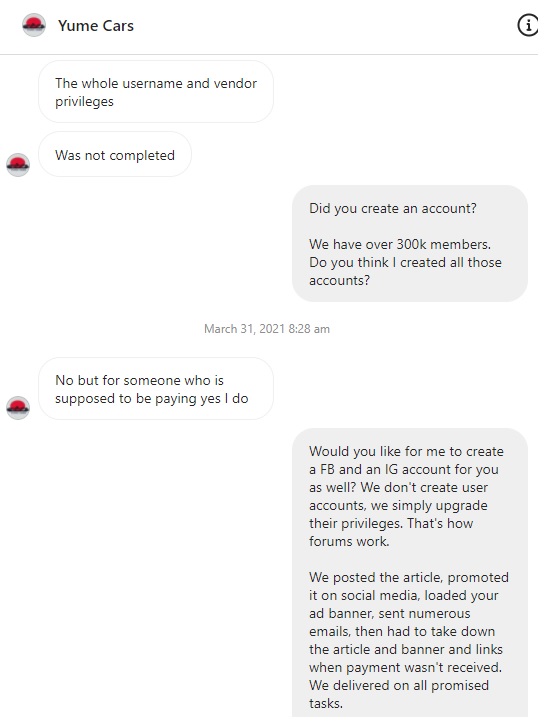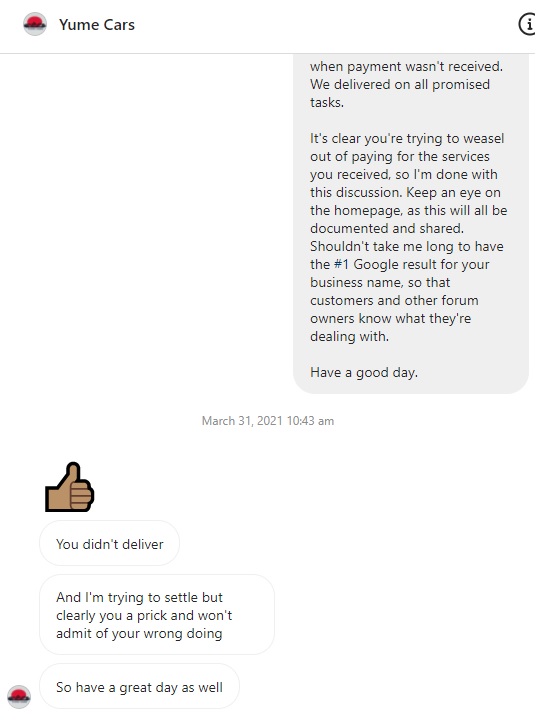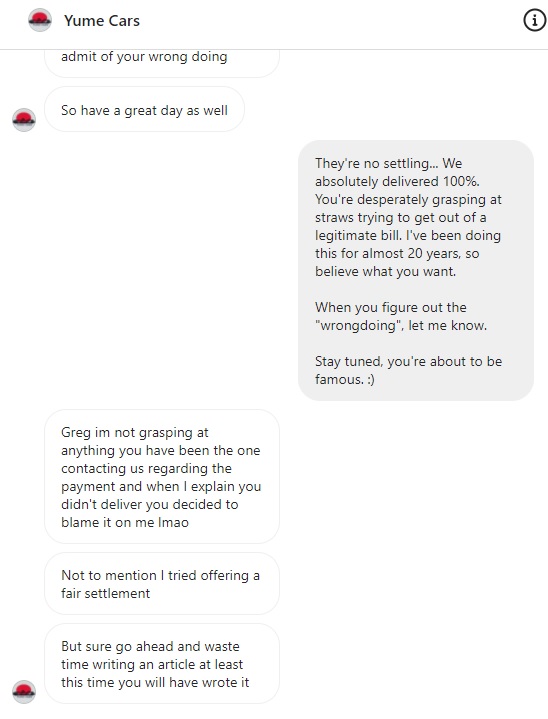 So, that's where we're at. We're out $300 in advertising revenue and a few hours of my time, but the principle of this is the important part. Here's what I mean: After three months of blowing off an invoice, to come up with some lame excuse that we're supposed to "create an account" for them on the forum is absurd. The good news is that I have (in writing) approval from Mr. Elbially to share our story with the world. Thanks Rami!
All jokes aside, let's look at this from the customer point of view: I've got two imported RHD cars in my collection. Anyone who's been through the process will agree that it can be a cumbersome, frustrating, expensive and meticulous procedure.
You need an importer who's going to accept responsibility for the things that they are ultimately responsible for handling. So, with that said, is this a company you're going to trust with piles of paperwork? And if something goes wrong, are they going to call you "a prick"? Or blame you, the customer – even when presented with proof to the contrary?
Do what you want, but after this experience, I wouldn't trust them to import a used golf cart – and I certainly wouldn't trust Mr. Elbially to be honest in his dealings. As if that weren't bad enough, Texas is a title-washing state, and one of the worst offenders. You can read more about title washing here.
Thanks for reading, and thinks for being here. Right or wrong, our #1 commitment is (and has always been) to you, the readers.