An epic weekend full of insanely built Nissan power – Track day, drag racing, great food, and awesome people.  The end.
Wait, what?  Of course that's not the end of the tale. I've got so much to tell about this past weekend, I'm going to have to try hard to summarize it into an article short enough to keep your interest.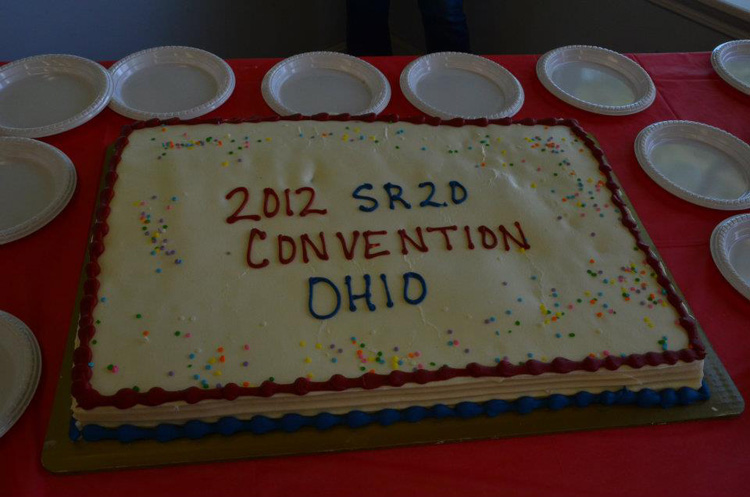 The National SR20 Convention has been going on annually since 1998, in some form or another.  Originally dubbed the National SE-R Convention, catering to the 91-94 Sentra SE-R, 91-93 NX2000, 95-99 Sentra SE, 99 Sentra SE-L, 95-98 200SX SE-R, and the 91-96 G20.  What all these cars had in common was the drivetrain.  A front-wheel drive economy car, powered by Nissan's SR20DE engine either built on the B13, B14, or P10 chassis.
The underground following of these sporty cars dates back to the early 1990's when the B13 SE-R was first introduced.  It was a unique culture that gained interest in the cars, a culture that liked sleepers, hidden performance, and taking the car to the track.  After a few years of creating small meets via the SE-R Mailing List (that's how people used to communicate before web forums and social media sites), enough enthusiasm about the cars had spawned the first National SE-R Convention in Los Angeles, CA.
The convention was such a success, the following year a track day was added to the event. The track day now is the staple of the event, and without it, the convention would cease to exist (as it almost did in 2011, more about that below).
In 1999 the P11 G20 was also introduced, and happily inducted into the culture of the SE-R convention. In 2000, the B15 Sentra was introduced, and likewise (at least in the SE trim level), the car fit right in with the culture.
In 2002, something happened that started to change the face of the convention. Nissan introduced the Sentra SE-R and SE-R Spec V, which although had an "SE-R" badge, used a different engine: the QR25DE.  The question would be, does this new car still belong with this crowd, or is it too different?  The SE-R enthusiasts of old decided to invite these newer SE-R owners to the convention, but it never really caught on.  With the introduction of the Altima SE-R in 2005, now things were really starting to change.  A QR25DE in an L31 chassis.  Is that still included?
Well, because SE-R enthusiasts are some of the most open people there are, the convention gradually opened up to anything.  It wasn't necessarily about the cars anymore, it was about the people.  However, because of this the original following almost vanished and it wasn't really the same convention anymore.  In 2010, NICO hosted the event as the "North American Nissan Convention" in Omaha, NE.  While the event was a success and well-attended, very few of the original SE-R enthusiasts participated.  In 2011, the convention was planned to be in New Jersey, but with so many of the original enthusiasts separated from the organization, the convention almost became extinct.  Lack of interest cancelled the convention, but luckily a few people gathered together to make a 2011 convention still happen in Connecticut.  However due to short notice, there was no track day.
And that brings us to 2012, and this past weekend.  Hats off to Louie Lucena and Rob Ocasio who put together one of the best conventions to date.  I think the lack of interest in 2011 finally scared people out of their shell that it would become extinct, and *everyone* came in 2012.
On my way to Cleveland, I passed through Chicago to meet up with some other people going, one of which is Rush Mathew who opted to ride along with me in my Celica All-trac.  Somewhere in the middle of northern Indiana a cop pulled us over for not signaling a minimum of 300 feet before a lane change.  He then started to ask about the car, and where we were headed.  He asked about it being all-wheel drive, how much horsepower it had, and general car talk.  When I explained to him we were headed to a track day, he seemed excited to hear more.  Turns out the cop is a driving instructor for the police department.  Obviously, the only reason we were pulled over is so he could take a better look at the car.  Needless to say, a warning for "improper lane change" was all that was had.
So the weekend began Thursday night, when everyone started rolling into town.  The Hyatt in Independence, OH, just outside of Cleveland, played host to our weekend.  I no longer have an SE-R, so I was one of the few people that showed up in a "different" vehicle.  I showed up in a Celica All-trac, and as rare (and fun) as that car is, I would have done anything to have my old B14 back this past weekend.  The parking lot became lined with dozens of B13's, B14's, P10's, and P11's, some driven in and some on trailers.  Road racing cars, drag cars, daily drivers, were all about.  Mostly old faces, but some were new, and the new ones were welcomed with open arms.
We all enjoyed socializing with friends we haven't seen in years, as our first noise complaint at 9pm plays testament to.  We quieted down some, brought the conversations to the hotel lobby, and continued to socialize until after 2am.  At which point, we decided to call it a night because after all, the next day was the track event.
Friday morning we got up and headed out to Nelson Ledges Road Course, a 2.0 mile track in Garrettsville, OH.  Weather was not looking great, as it was raining when we left.  Although the rain was in the forecast, it was well expected, but that didn't stop any of us from hitting the track.  In fact, most of us welcomed the weather.  It is not often you get a track day in the rain, so when you get the chance, it is the perfect time to hone your rain driving skills.  I've tracked in the rain before, but nothing more than a quick shower that took less than an hour for the track to dry.  This was a completely different ballgame.  At times it was pouring so hard you could barely see.  Standing water was plentiful on course.  It was AWESOME.
Although Nelson Ledges is probably the roughest track I've ever driven on, their exceptional hospitality, great track food (yeah, you heard that right), and incredibly cheap cost made it a phenomenal day.  It only cost us $100 each to run, which is almost so cheap it doesn't seem right.  I had a blast giving people rides on the track all day long.  Rush Mathew, Chris Bartecchi, Kristen Bartecchi, Joe Schintzius, Kimberly Schintzius, and Aaron Grant each got their turn riding with me around the track at speed.  I think I put a smile on everyone's face.  Except maybe for Joe, because I spun the car in turn 1 while he was riding shotgun.  But then again, maybe he did have a smile under his helmet.
Friday night we all headed back to the hotel.  Many of us broke into smaller groups to grab dinner.  Then, as with any typical car event, the night kicked off with a stop at the liquor store.  Friday night was a typical convention Friday night.  Hanging out in the parking lot talking cars, drinking beer, and general good fun.
Cleveland doesn't typically sound like a hot tourist destination, but there is plenty to do downtown.  Just about everyone at the convention went to the Rock & Roll Hall of Fame and Museum on Saturday at some point.  Just like with dinner the prior night, we each hit the museum in smaller groups staggered throughout the day.  I rolled in with a group of G20 guys, only to find lots of other convention goers already there.
After the museum, many people headed to Dragway 42 to begin the "drag day" of the convention.  This is something that typically only a handful of convention goers attend, so our original plan was to pass on it.  Rush Mathew and I met up with NICO admin Seth Blackman (Eikon) for dinner at Melt Bar & Grilled.  Seth showed up in his brand new Subaru BRZ (with less than 200 miles on the clock).  An hour and a half wait for some of the best food on the planet was fine by us.  It gave us plenty of time to look over the new BRZ.  S13/S14 beware: The BRZ kicks ass.
After we had dinner we headed back to the hotel to find something unusual.  The parking lot was empty.  It seemed as if everyone at the convention had gone to the dragstrip.  I mean everyone.  Not wanting to be left behind, the 3 of us hit the road to go find out other comrades.
When we got the dragstrip, albeit a few hours late, we saw what we had been missing out on.  Nissans overwhelmed the strip.  There were dozens and dozens of Nissans running the ¼.  Some of the faster cars had already ran their fast passes and broke.  Turbo and NA, there were some insanely fast SR20's.  A 9 second Gti-R, a SR20VE powered B14 that ran a 11.6 (that's not a typo, it was naturally aspirated), and a B13 with a turbo the size of an industrial leaf blower come to mind.
After some good fun watching some unique cars hit the dragstrip, we headed back to the hotel around 11pm.  Of course, you can't have a hundred plus people come back to the hotel at the same time, after a night of drag racing, and expect everyone to go to bed.  Heck no, we continued to party in the parking lot, listening to music, drinking, talking cars, until well after 5am.  The cops rolled in a few times on their nightly patrol, but were pleasantly surprised at our behavior and didn't bother us.
Sunday morning came way too early.  We left the hotel to go to the Sunday picnic.  The Sunday picnic was held at the 103rd Ohio Volunteer Infantry in Sheffield Lake, OH.  This was a great place filled with lots of Civil War history, and a beautiful location, right on Lake Erie.  The parking and grass were filled bumper to bumper with SR20 powered cars and it was amazing show.  It was a great time to see some of the cars up close and under the hood.  A local dealer owner brought out some amazing cars too, most notably a pristine 510 and 240Z.
Food was arranged by Rob Ocasio's amazing wife Michelle and the day ended with an award ceremony and raffle.  The show was free to enter and food was free thanks to the numerous donations that came in throughout the SR20 community.  The biggest thanks goes to everyone who contributed.
Awards for best G20, best Sentra, best 200SX, best NX, best of show, and finally the Matt Kempe spirit award were given away.  Some of the awards went to long time enthusiasts, while others went to newer ones.  In fact, Kristen Bartecchi won best NX at her very first convention.  She had a smile from ear to ear, as did the other winners.  Louie Lucena took best 200SX, Rob Ocasio best Sentra, Suraj Chaitan best G20, and best of show went to the Mazworx Pulsar Gti-R.  Shawn Byrne took home the most prestigious trophy of the day, the Matt Kempe spirit award.  Without going into in-depth detail, it is an award that symbolizes the spirit and enthusiasm of the SR20 community while remembering good friends we've lost since the community began.
As the end of the weekend came to a close, I was exhausted.  The 12 hour drive home on Monday was long, but it seemed to fly by as I thought about the fun I had, and the anticipation I have for next year.  This is an event that you don't want to miss.  Especially if you have one of the original FWD SR20 vehicles mentioned in the beginning.  This is where you belong.  This is where you need to be.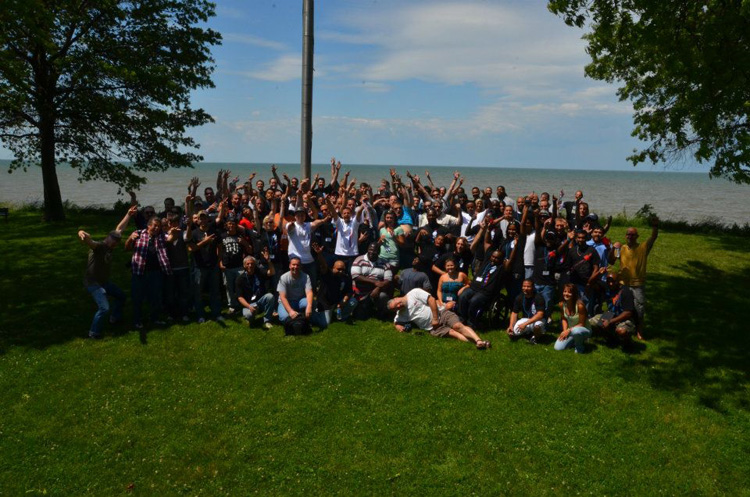 Article by Torry Skurski