…an exclusive road test by David Muramoto
At 11,000 feet above sea level, Red Mountain Pass is a winding sea of increasing radius turns and switchbacks. Sightlines take you over soaring evergreen forests, with snowcapped peaks (even in mid-summer) not that far off. Ah, and then there are the drop-offs. Some sections of this two-lane highway, known as US 550, have several feet of runoff, no guardrails and nothing but clear, Colorado air between you and a freefall of hundreds of feet to the bottom of the Uncompahgre Gorge below.
But those thoughts seemed far away as the 2015 Infiniti Q50S sport sedan moved serenely from apex-to-apex over this winding, mountainous highway. Utilizing Infiniti's new Direct Adaptive Steering technology (DAS), the so-called "steer-by-wire" system monitors yaw, steering angle and throttle position to reduce the amount of steering lock needed to complete a turn. I found DAS retained good steering feedback and had no quirky features throughout our drive in the Colorado Rockies.

(click the pic for C&D's take on DAS)
There was also the opportunity to test DAS at High Plains Raceway during a Rocky Mountain Auto Press event a few months previous and it worked flawlessly there as well, although I could tell the front tires were working hard at their cornering limit. DAS is set up to default to the standard rack-and-pinion steering in the event of a failure, but whether on the road or track, it proved to be reliable.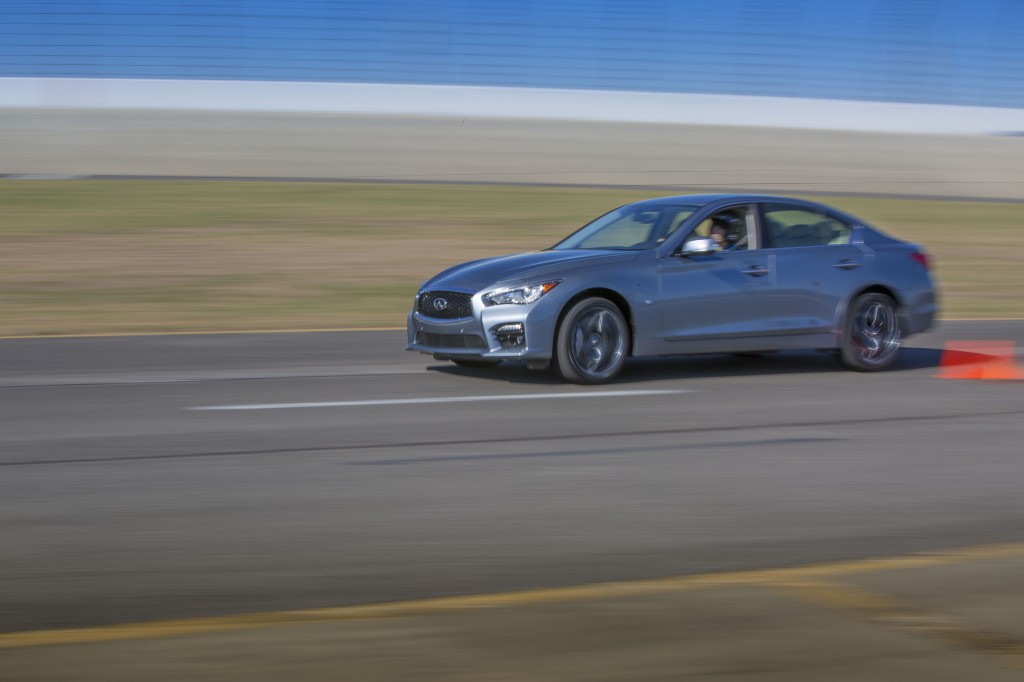 Of course, it helps that this Q50S also had a supple, four wheel independent suspension and the optional Ray's lightweight 19" alloys with 245/40-19 front and 265/35-19 rear tires to keep it well-planted.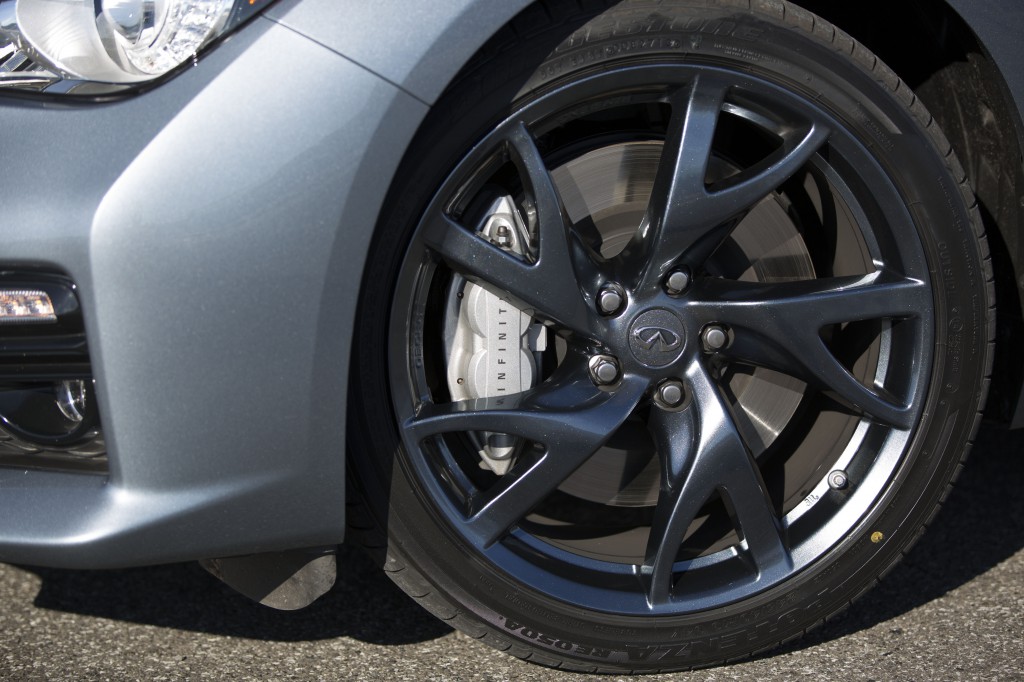 This particular trip found my wife Kathy and me taking a circuitous trip throughout our home state of Colorado. We started out heading south through I-25 to the small town of Walsenburg, before heading west on US 160 to the southwestern corner of the state. There was plenty of opportunity to experiment with more of the technology in this particular Hagane Blue Q50S.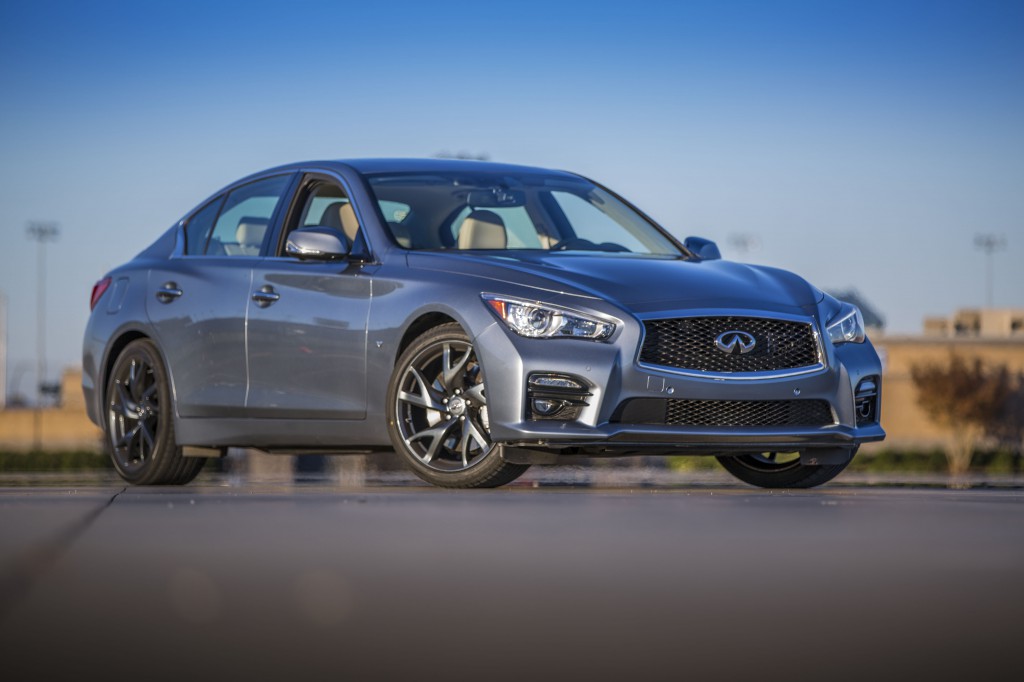 Optional systems included Cruise Control with Full Speed Range (CCFSR), forward Predictive Collision Warning (PCW), High Beam Assist (HBA), and Lane Departure Prevention with active Lane Control (LDPLC). Long stretches of interstate driving is when cruise control can be useful and I found CCFSR quite reliably eased out of the throttle when another car changed lanes ahead and reduced our following distances. Sonar sensors built into the front bumper also scanned the roadway ahead and if another car (or pack of cars) was slowing in front of the one I was following, a small chime would sound along with a visual dash light to warn the driver. This cued me to look ahead and decide if I needed to actively brake, change lanes or take other action.
LDPLC utilizes the around view monitor system to keep the Q50S in its lane using small "nudges" from the brakes on each side to maneuver the car. Finally, during night driving, the HBA would dim my high beam settings at the first sign of oncoming traffic, with reactions much quicker than humanly possible on stretches of pitch black, twisting roads. It's noteworthy how transparent and low-key each of these technologies are; although they are clearly the next generation of driving aids available in 2014 from Infiniti.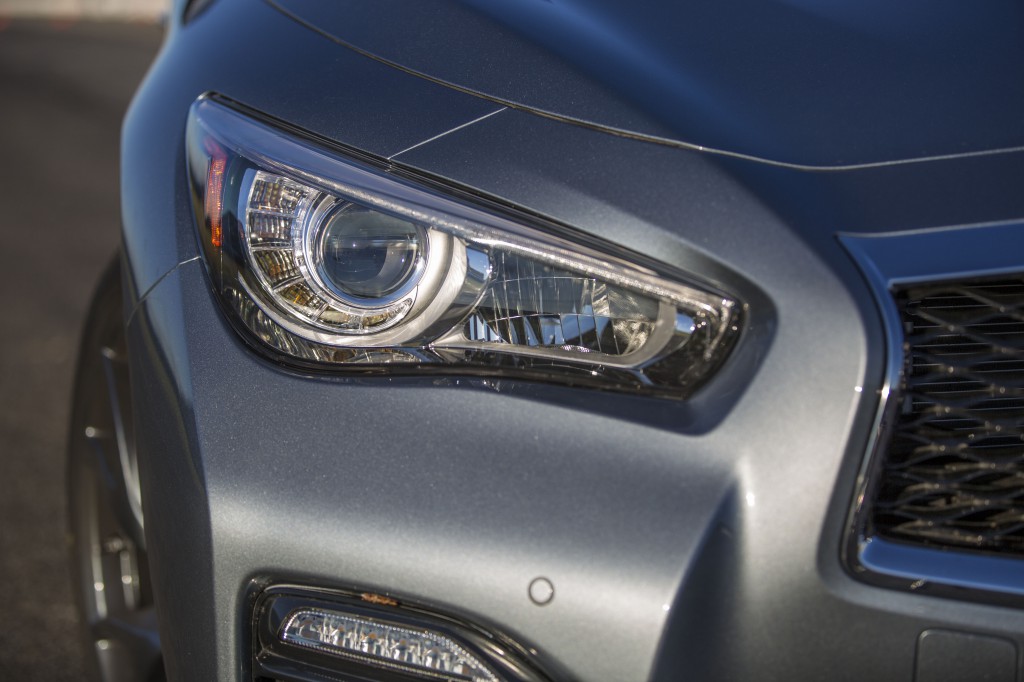 Speaking of this, Carlos Ghosn clarified earlier remarks that Infiniti and Nissan were on the way to creating fully autonomous cars by 2020. "Self-driving cars remain a long way from commercial reality", said the Chairman during a speech made in Japan this past summer. Instead, expect to see Infiniti release a host of other technologies, including fully automated parking and traffic jam assist over the next decade, while keeping the driver fully involved. The legal hurdles alone should be formidable in getting fully autonomous vehicles on the road, and while Infiniti/Nissan engineering is second to none, their legal departments are in for many headaches in getting that particular job finalized.
Back to the Q50 and driving across US 550: Did I try activating LDPLC on such a stretch of potentially treacherous one-lane highway? No, but for a different reason than safety itself… like the Stelvio Pass in Italy, Col de Turini in France, the Big Sur stretch of Rt.1 in California or Deals Gap in North Carolina, this section of what is also part of the San Juan Skyway is something to be savored by those who enjoy fine driving. Every twist and turn was an adventure unto itself and in the Q50S, a pleasure to immerse yourself in. I'm certainly not giving up any of that to any technology, no matter how good it is!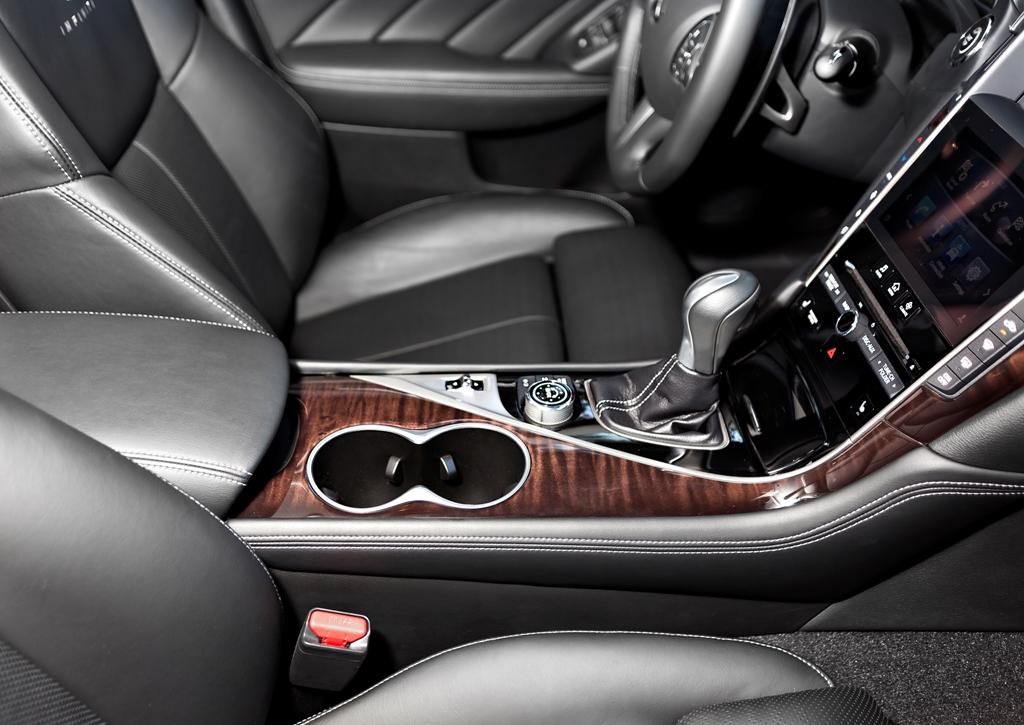 The only drawback I found in the Q50 had to do with engine performance on long uphill stretches of highway. The VQ37VHR still puts out a stout 328 hp and 269 lb/ft torque, but at high altitude, the paddle shifter was used liberally to downshift all the way to second gear in order to maintain 60 MPH at times! Considering the power loss at over 10,000 feet in a naturally-aspirated car, that should not be too surprising. Particularly in a midsize luxury sedan weighing 3,842 pounds with a cabin full of high-quality leather, wood and other luxurious amenities; weight is almost mandated in this particular automotive segment.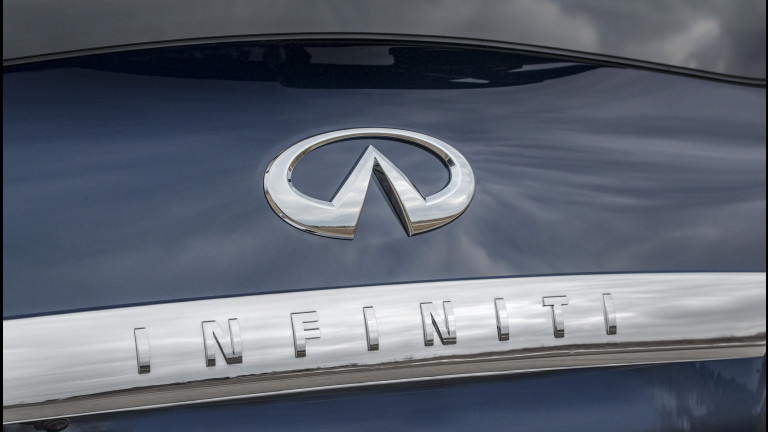 The sleek styling of the Q50 partially offsets that, while offering several exterior styling cues (most notably the aggressive face (grille and lights) and crescent-cut C-pillar) that will be part of the marque going forward. So there's a lot to enjoy here, just don't let the drop-offs–on either US 550, or the road of life–distract you.
– David Muramoto