For the first time ever in Infiniti's luxury sedan lineup, shoppers have a choice between a long- or short-wheelbase. The opulent Q70 series has added a new extended-length Q70L trim and it'll be a unique option for shoppers who desire the space of an SUV – without having to drive one. The sedan's extra cabin volume will also be highly appreciated by your tall friends!
With room for four adults up to 6'2″ in height, the all-new Infiniti Q70L is a great choice for those who find it challenging to shop for a car due to their stature. Its wheelbase is 5.9 inches longer than the short-wheelbase Q70, so it adds a significant amount of legroom in the cabin, especially in the rear-seating area. The enlarged dimensions actually look handsome with this year's styling changes, which include an attractive new double-arch grille, restyled taillights with LEDs, a revised bumper and a flatter trunk lid, among other updates.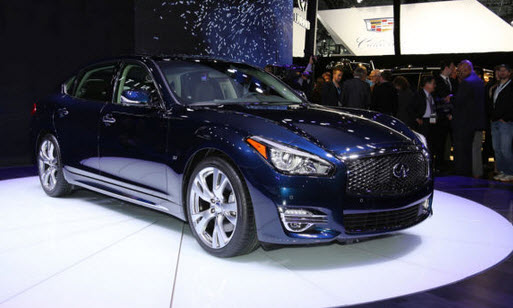 In addition to high-end tech like a seven-inch touchscreen display and Bluetooth, the 2015 Q70L gets heated rear seats, a rear 12-volt power outlet and rear reading lights, features that will please your backseat passengers. The entire Q70 lineup also now offers a quieter cabin thanks to the use of more sound deadening materials.
The 2015 Infiniti Q70 and new Q70L are offered with the same powertrains as last year, a 330-hp V-6 and an available V-8, and for now the hybrid model remains in short-wheelbase form only. For more details about this year's changes and news about the Q70's upcoming arrival, keep an eye on the Infiniti Q70 forums here at NICOclub!