2017 Nissan Armada Platinum 4WD
-by David Muramoto
The second generation Nissan Armada is the final Nissan debut in a completely refreshed SUV/crossover lineup for North America. But in contrast to the recent Rogue, Pathfinder and Murano introductions, it's a horse of a different color. For starters, the new Armada remains a true body-on-frame model based on the Nissan Patrol chassis for other markets. Significantly larger than any other Nissan crossover, it remains a true eight-passenger family hauler, with power, convenience and entertainment packages to match.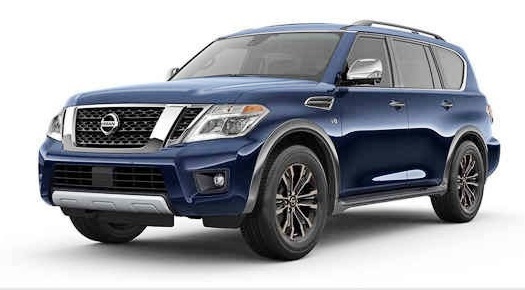 The Armada Platinum 4WD model I tested had color-shifting metallic paint (Hermosa Blue) that appeared jet black in the evening or night time, and dark blue depending on how sunlight hit it. With an upscale almond leather interior, it certainly fit the image of a full-size flagship SUV. With seven different paint options and three different interior colors, along with three different grade levels (SV, SL and Platinum), consumers have plenty of choices. Nissan's V-Motion front grille, LED headlights, chrome air intakes and functional fender vents give it an aggressive look from the front, while the full-size body uses a slight side scallop to prevent the two box design from appearing slab-sided.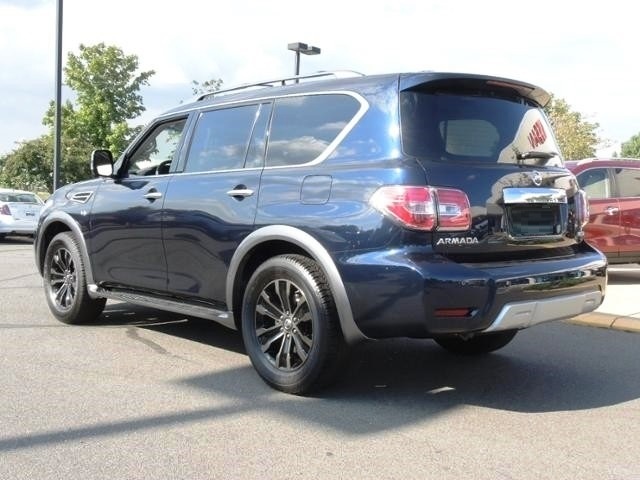 Behind the wheel, I'm immediately reminded of the Armada's platform mate, the Infiniti QX80. Much of the switchgear, interior design and instrumentation are similar (if not identical) to the Infiniti. And while this isn't what the luxury marque wants to hear, it's simply a fact that luxury design tends to filter down.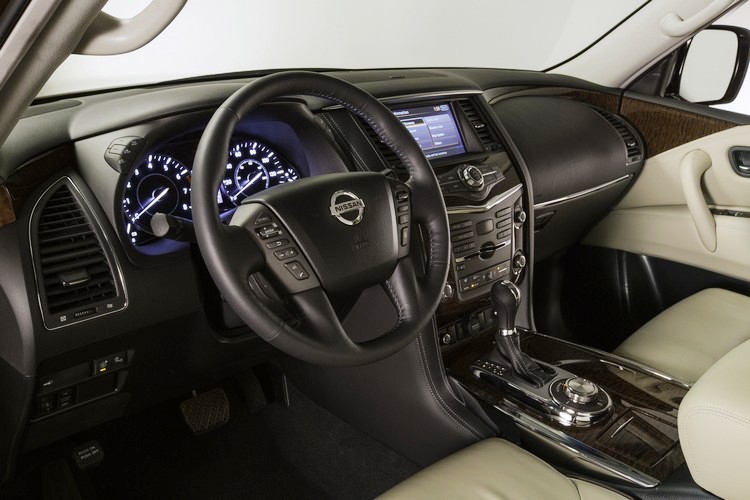 Starting up, the first thing I notice is how quiet the cabin is compared to the outgoing Armada. Acoustic glass in the windshield and side windows allow you to crank up the 13-speaker BOSE sound system and ruin your hearing more effectively by listening to that rock 'n roll at high decibel levels. Turning the volume down so I can drive, it's interesting to note how differently the VK56VE is tuned in this vehicle. Rather than the immediate acceleration the Titan delivered, the Armada has a more progressive acceleration curve. I checked to see if a different drive mode was engaged, but never found any electronic interference. The steering was also quite different, with a slower ratio and what appeared to be a larger turning radius.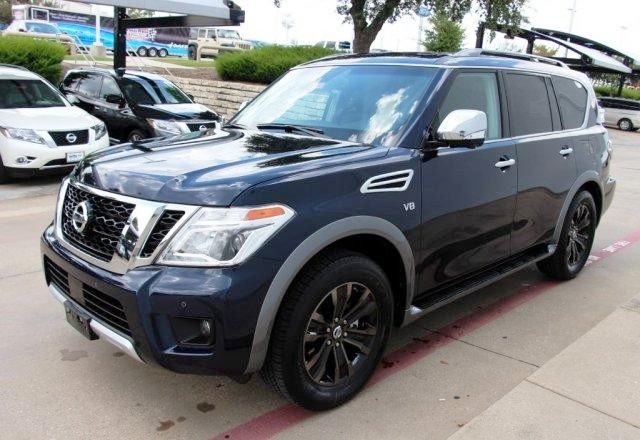 Given that the Armada is built on a wheelbase 18.7" shorter than the Titan, it's no wonder that Nissan has restricted it to a maximum towing load of 8,500 pounds (if equipped with the optional towing package). Being that my loaded race trailer exceeded the Armada's max towing range, we passed on attempting any towing test. Besides, the Armada utilizes a fixed spring and shock unit at each corner – as opposed to the QX80's self-leveling air suspension – and might have resulted in extreme rear squat had I persisted in hooking that trailer up.
As luck would have it, a late fall snowstorm came just as my time with the Armada came to an end. I could have used AWD in the wet and slushy stuff, but found (shockingly) the other convenience features to be useful on a day-to-day basis. Loading large boxes into the rear was made easier by the power rear hatch, and even the third row seats folded down at the touch of a button. Heated and cooled power seats made the Armada easy to get used to, and a DVD system in the rear would have kept smaller passengers more entertained on long trips.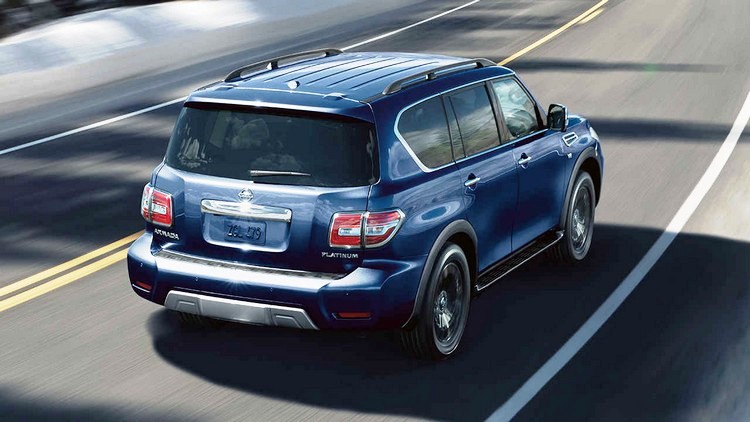 This is truly the Armada's forte: transporting several people (and their luggage) across long distances in comfort. Can it be used for towing? Of course, but due to its nearly three ton weight and wheelbase/suspension limitations, it's not nearly as suited for heavy towing as the Titan. Mileage is slightly down from the gas-powered Titan as well, with EPA figures of 13 city/18 highway/15 combined, with a 26 gallon tank. MSRP on this loaded Platinum package Armada was $61,385 which, believe it or not, is extremely competitive in the current full-size SUV market. Like our solar system, the "gas giants" from Nissan will have a prominent position in their respective sales segments now and into the future.