– by David Muramoto
About a decade ago, I was invited to San Diego to drive a new vehicle Nissan was introducing. At the time, customer interest in crossovers was beginning to gain momentum when Nissan introduced the Rogue to market in 2008. That first-gen Rogue was fun to drive in the twisty roads above the city, and even intimidated a late-model V8 Mustang into pulling over! Today, the 2018 Nissan Rogue is the best-selling vehicle for the marque, and outsells all other Nissans or Infinitis by a wide margin. With over 215,202 models sold (June 2018 figures), sales of this second generation compact crossover have even overtaken perennial best-sellers like the Honda Accord and Toyota Camry. What in the Sam Hill is going on here?


To find out, I drove a 2018 Rogue SV for a week in both Canada and around New England. While the SV model is the middle trim level (S, SV and SL) for the Rogue, I found it to have the luxury, technology and safety features many families would find appealing for the price ($28,860 MSRP). Let's start with the styling: Nissan has managed to make a relatively tall and boxy vehicle look attractive with careful attention to greenhouse proportions and carefully folded and creased sheetmetal. It guides the eye away from what could be a slab-sided, two-box design by incorporating nice details like the V-Motion front grille and DRL headlight modules to create a thoroughly modern appearance. Open the door and get behind the wheel to find an equally appealing interior. With plenty of room for four to five passengers and a high seating position (but not a high step-in sill), the Rogue certainly offers a comfortable cabin.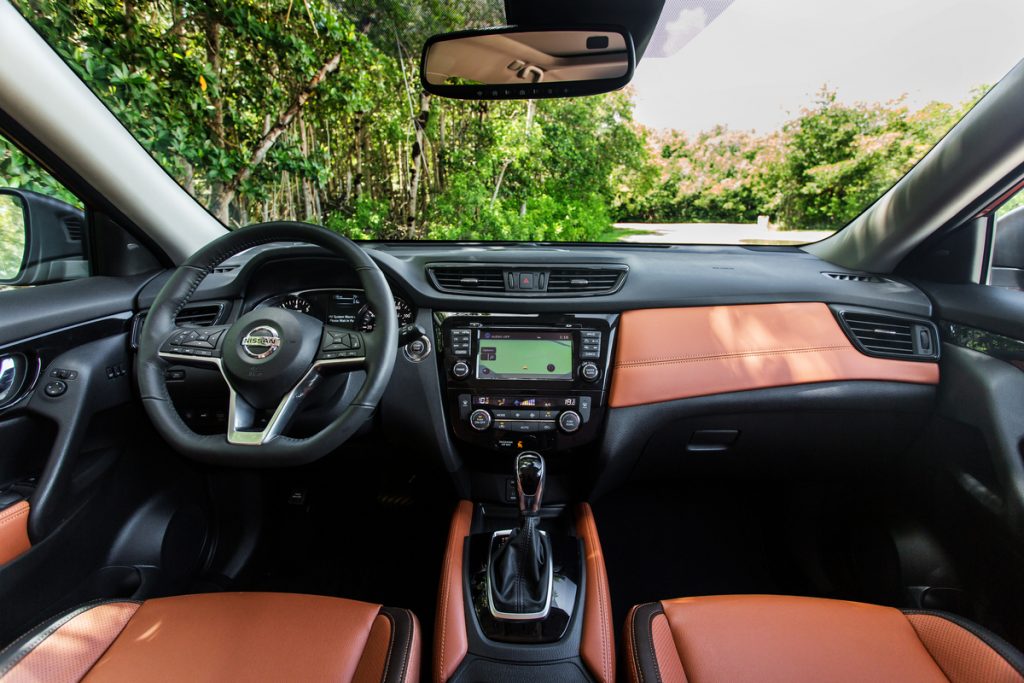 Driving the Rogue, on the other hand, is not a scintillating experience. With a 170-HP 2.5-liter QR25DE engine begging the CVT transmission to haul around 3,614 pounds (curb weight), that's to be expected. This drivetrain continues to be refined over the years for fuel efficiency and now delivers 25 MPG/city, 32/highway and 27/overall on regular unleaded fuel. Nissan also equipped this Rogue with its AWD system which automatically kicks in if the stability system detects wheel slip up front. Otherwise, it's a front-driver that mercilessly understeers through an overboosted electric power steering rack. The SV brake package uses 11.65 x 1.05" vented discs up front and 11.5 X 0.65" units in the rear with ABS and the latest Automatic Emergency Braking (AEB) system to detect obstacles (other cars or pedestrians) ahead, which will slow down if the driver takes no action. Sometimes the AEB system could be a pain in the ass to deal with, although I did find the automatic distance adjusting cruise control a plus on the highway. The Rogue rides on 225/60R-17 all-season tires, and with a 106.5" wheelbase, it soaked up most bumps, lumps and surface irregularities with ease.


Nissan continues to do a good job of putting touches like a leather steering wheel and high quality knobs and switches within easy reach of the driver. This adds to the comfort of being able to easily drive while also accessing the HVAC, navigation and entertainment systems. My personal test of being able to figure out each of these controls within a five minute window (or less) was easily passed by the 2018 Rogue. This comfort factor, together with attractive styling, good mileage and good value for the money, are qualities that help Rogue overcome so-so driving and performance deficits. In years past, you might have thought of the Rogue as kind of a compact station wagon, but in 2018 it strikes deep at the middle of a very rich vein of the crossover gold mine.