Face it, you didn't buy a 350Z for the cargo space. But that doesn't mean you can't organize what little space you have – in fact it's just the opposite. Enter the Z Partition. When I first saw this on NICOclub I was a little skeptical about the practicality. The space in the Z is pretty limited and the last thing I ever imagined doing was splitting that limited space in half. Still, I had one shipped to me from the fabricator to try out. The partition was well packed and arrived in perfect shape, yet easy to open, requiring a single cut along one of the taped ends.
It's a solid piece without being bulky and the colour and texture of the covering is a near perfect match for the original carpeting. There are no installation instructions because they really aren't necessary, there's only one way for it to go in – keep it flush against the bottom of the cargo area and just wedge it underneath the strut tower brace. There's a handy centre bevel that makes it easy to get aligned. It sits flush with the front edge of the brace and fits just tight enough to stay in place without being difficult to install. It's just as quick to remove and lay flat if you need a larger block of space.
I drove my Z with the partition in place for a good month or so. I used it when running errands, on a weekend trip and a during a few day trips, carving mountain roads in the Blue Ridge Mountains and the Smoky Mountain National Park. I was a little concerned that tension alone wouldn't keep the partition in place… However, it endured slinging two liter Coke bottles, an overnight bag and even a trip to Lowe's for some home improvement stuff – it never shifted out of place.
The big benefit of the partition is privacy. Normally someone can look straight through the front window and see all the way back to the hatch, but the partition stops lookers from spying what's inside. I like this a lot, especially when I'm traveling or shopping. The Z draws a lot of looks wherever it goes (especially a bright yellow one) and now I can let them look and not worry if my car is being scoped out for a quick smash-and-grab operation.
I've discovered a couple of other benefits, one I expected and the other never even crossed my mind. The way the partition separates the cargo area allows me to organize the Z in way I wouldn't otherwise. I normally like to keep a jacket and hat handy in the front area, and during spirited driving, they'd slide to the back. Then I need to get out and open the hatch to get to them. With the partition in place there's no chance of that. I hate driving in a jacket or coat, so I think this will be great in the winter!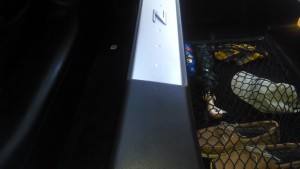 The other benefit I discovered after a shopping trip. The partition limits the airflow and convection and keeps frozen stuff colder longer, even with the windows down and temperatures near 90 degrees. No more soft, melty ice cream sandwiches! Why Nissan never offered anything like this I'll never know. They made a cargo net organizer that works well and the partition seems like the next logical step. The two pieces really do work great in tandem. But one of them certainly looks a lot better than the other and adds a nice finishing touch (and a bit of exclusivity) to your 350Z.
HOW TO BUY?:
[UPDATE 3/25/19 – At present, the website for Custom Creations UK is not functioning. If anyone from the company would like to provide updated contact info, please reach out to [email protected]]
I recently had a chance to chat with Chris online and had a short Q&A with him.
Q. How did the Z Partition come about – did you have a personal need for it, have a friend that asked for it or just thought it was something worth building?
A. I noticed that there was no way to separate the trunk from the cabin, to reduce the road noise and tidy up my trunk space! So I decided there must be a 'solution' for it – after several hours hunting I could not find one. Many months later my product is rolling out of our new shop. My whole brand started just selling the dividers, now I sell a wide range of other custom interior and exterior parts and am expanding the shop daily.
Q. Did it take long for the prototype development? Was it straightforward or was there some trial and error involved. (I'm a big fan of the bevel along the top edge and was wondering if that was there from the outset or got added in later)
A.  I can honestly say that it was one of the most annoying projects I have ever worked on, I think that was mainly down to how fussy I am. Everything has to fit perfectly, everything has to match, everything has to be well made and sturdy. It took a good 20+ attempts to get everything perfect (I have actually lost count!) I still own the original, we had several templates made up exactly the same as our perfect prototype, so we use these templates to ensure that every single divider we send out is perfect for our customers.
Q. Would you consider yourself a car guy? When you drive for pleasure, what do you drive?
A. Over the past 4 years I have owned a few cars, ranging from Fords, Porsches and Nissans to a BMW. I am a real car nut, if it has two seats and eats tyres I'm there! I currently own a Nissan 350Z and a Porsche Cayman S. (yes… Both RWD, Life is better sideways!)
Q. Do you have plans for any other vehicle accessories, for the Z or otherwise?
A. We are expanding every single day. We are adding a wide range of custom interior parts along with custom engine parts and a wide range of carbon fibre goodies! Keep your eyes peeled!
Questions or comments about the 350Z Cargo Area Partition? Ask them here!
350Z Cargo Area Partition Discussion