Applied Vehicles: 2006-2010 Infiniti M35, Infiniti M45

Difficulty Rating:

Estimated Labor Time: 30 minutes
Written By:

IlyaKol

Estimated Total Cost: $40.00
Find related tutorials and information on your vehicle in NICOclub's M-Series Forum / Fuga Forum
Figured I'd put this out there for anyone who was interested in changing their own oil but wasn't feeling very comfortable. I have a 2007 M35x so, at the least, this would be the same for the 2006 M35. I haven't seen the V8 or the 08/09 car so I can't say if this process is any different. This should give you the general idea though.
I took the pics with my HTC EVO 4G from Sprint (love this phone). End of shameless plug lol.
Task: Change The Motor Oil
Time: No more than 30 minutes (at the slowest pace – I do it in about 10-15)
Tools/Supplies Needed:
14mm wrench to loosen oil pan drain bolt
Oil Filter wrench (or lots of strength) to loosen oil filter
10mm socket + maybe one extension to take off the splash shield
5qt's of your favorite 5W-30 Oil (I prefer Castrol GTX if using conventional oil or AMSOIL XL Synthetic if using Synthetic oil)
Oil filter (I prefer either Mobil 1 or Napa Gold)
Some sort of oil collector to catch the old oil and store for proper disposal
Some rags
Car jack and proper support (so you don't get crushed)
Process:
1. Jack the car up in a safe manner so you can get under it to do the work.
2. Remove the front underbody splash shield using the 10mm socket + extension (if need be):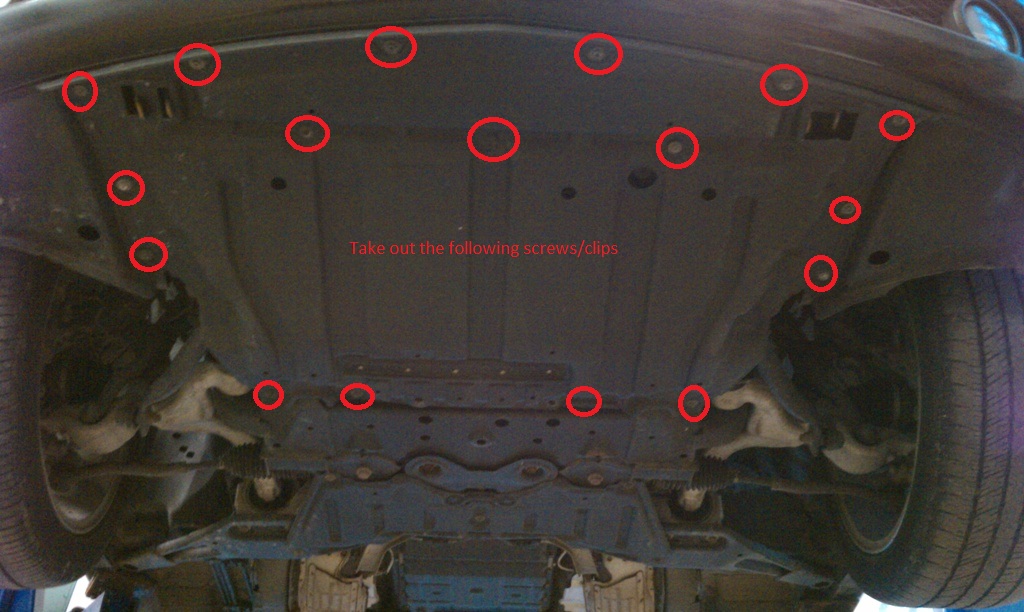 You will be then left with this: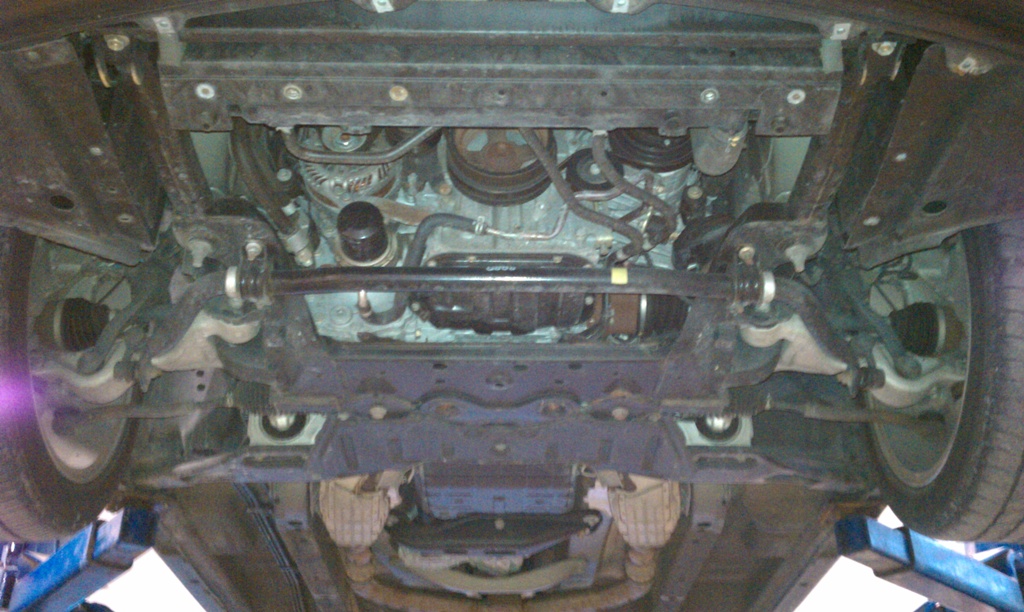 3. Unscrew the drain plug and drain the oil into your catch basin using the 14mm wrench you have. Let it drip until there is barely anymore drip left. Screw the plug back in as tight as you can.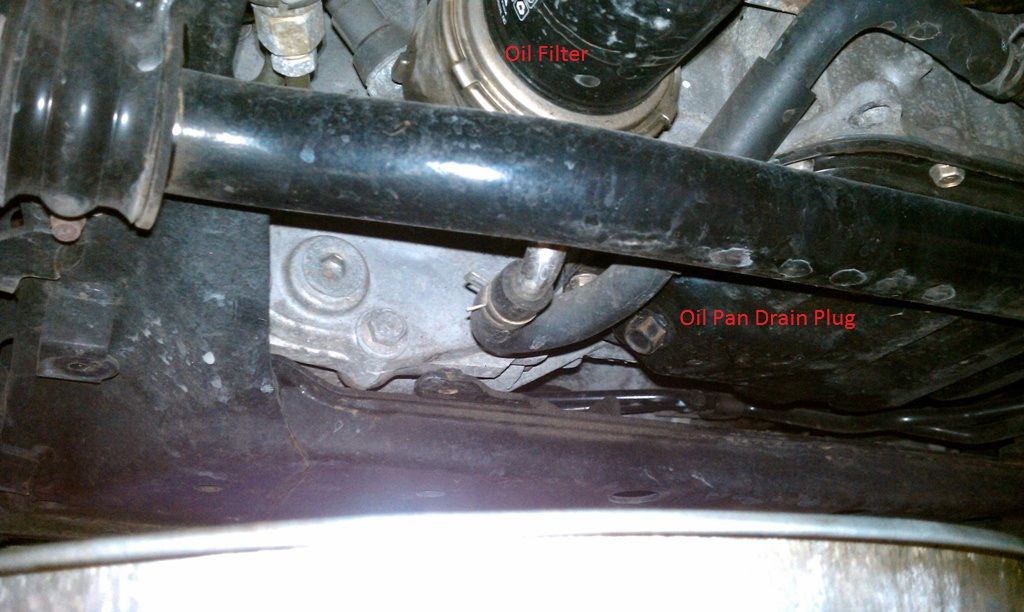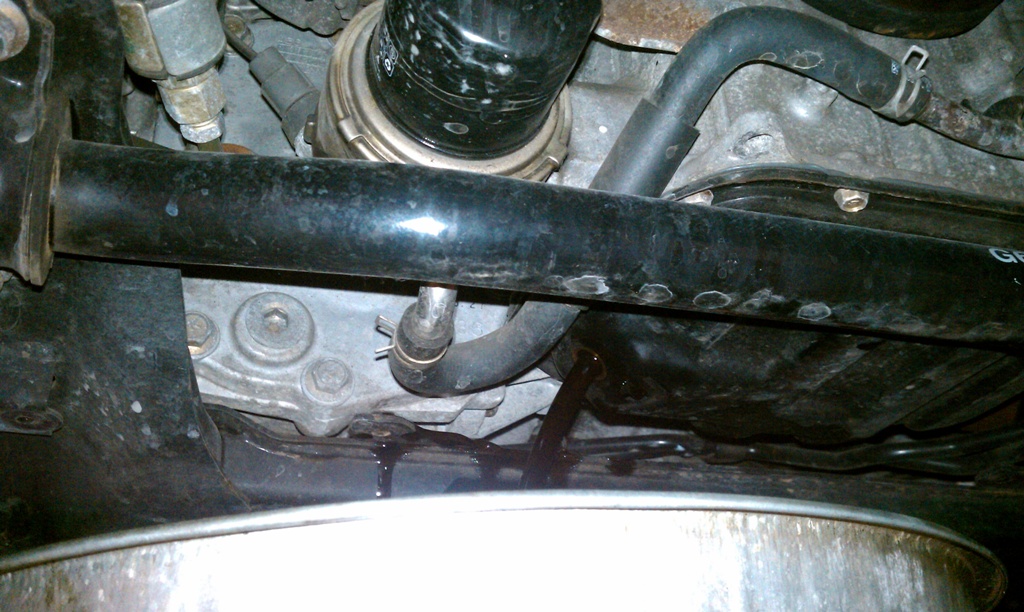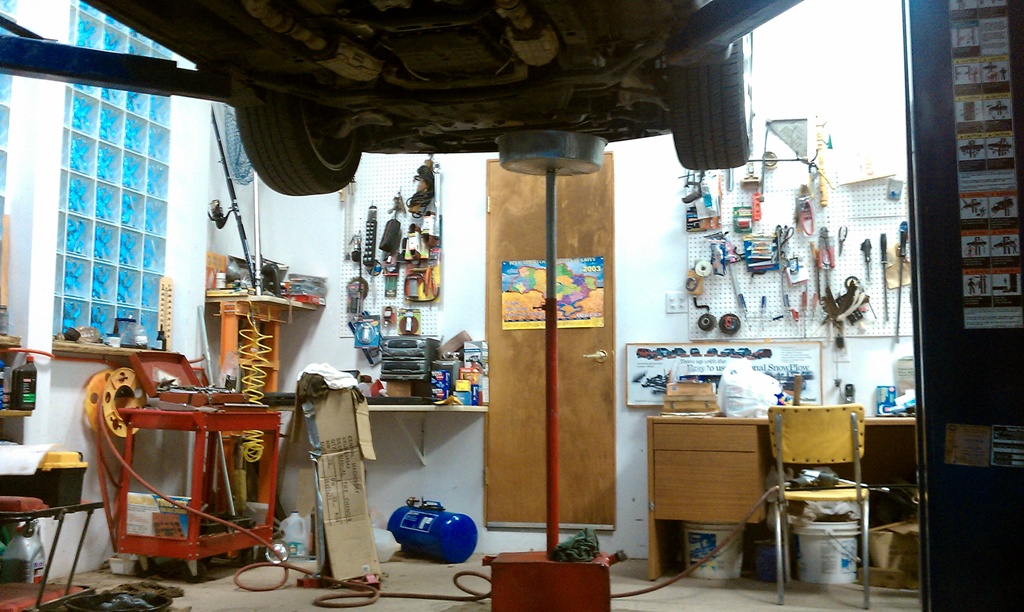 4. Unscrew the oil filter and let that drain (I completely remove it – not shown in the picture). Prior to installing new oil filter, take your finger and dip it in FRESH OIL and gently lube the rubber seal on the new oil filter. Then install the new filter and get it nice and tight. Use the rags to clean up the oil that's on the stabilizer arm, etc.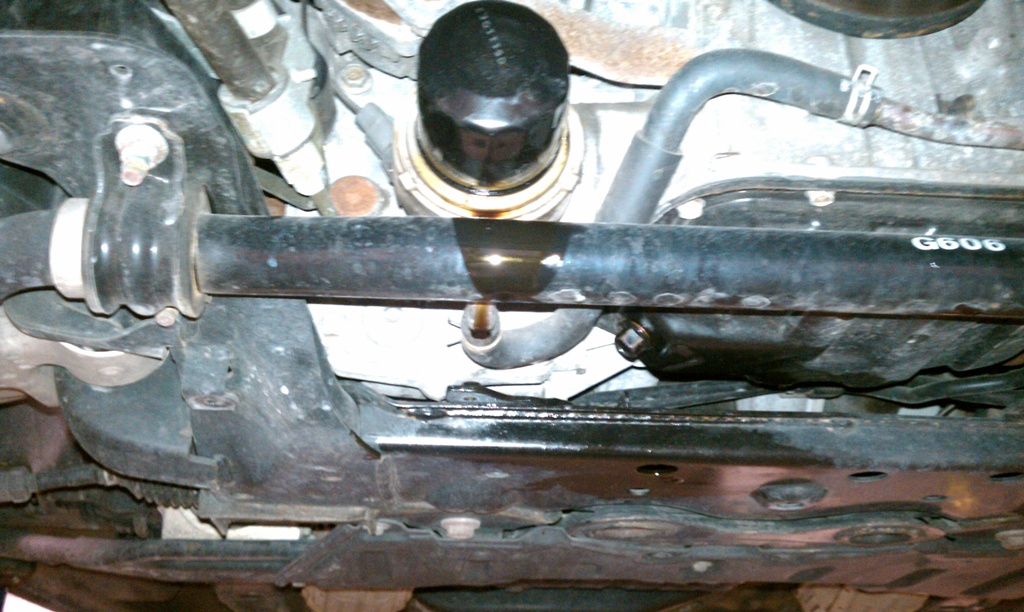 5. Check to make sure the filter is on tight and the drain plug is good. Re-install the splash shield (reverse of removal) and lower the car to the ground.
6. Pour in the 5qt's of new oil.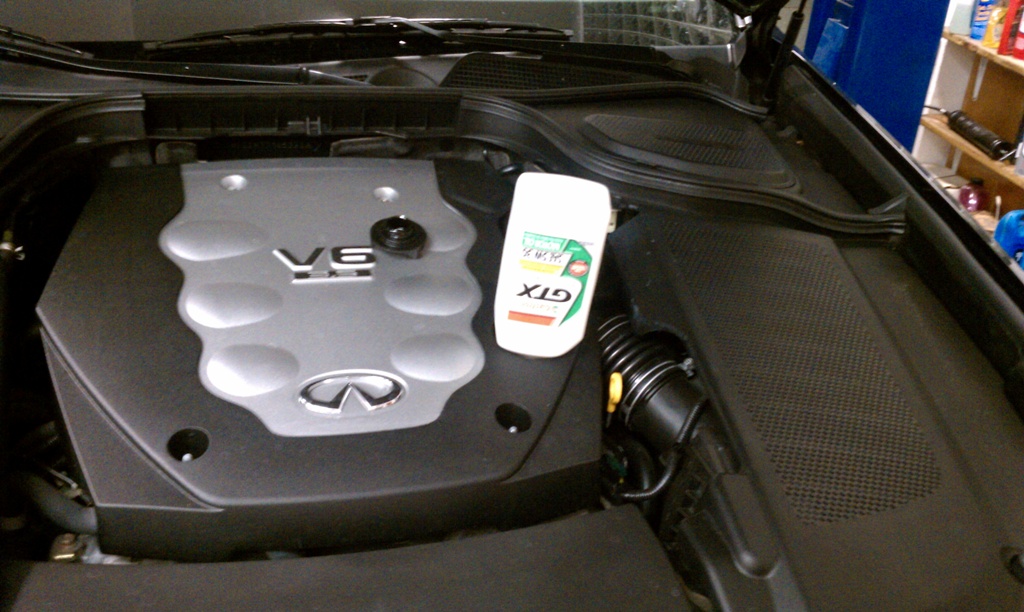 7. Start the car and let it run for a bit. Check to see if the oil pressure light has gone off. Check the level after a couple of hours of just sitting on a flat surface and for any wet spots on the splash shield (if you open the hood, you can see the filter if you look straight down the front of the motor).
8. Mission accomplished. Most folks say enjoy a beer after you're done but since I don't drink alcohol, I enjoyed a soda. You've just changed your own oil and saved some money.