Aunt Mayme Rides Again…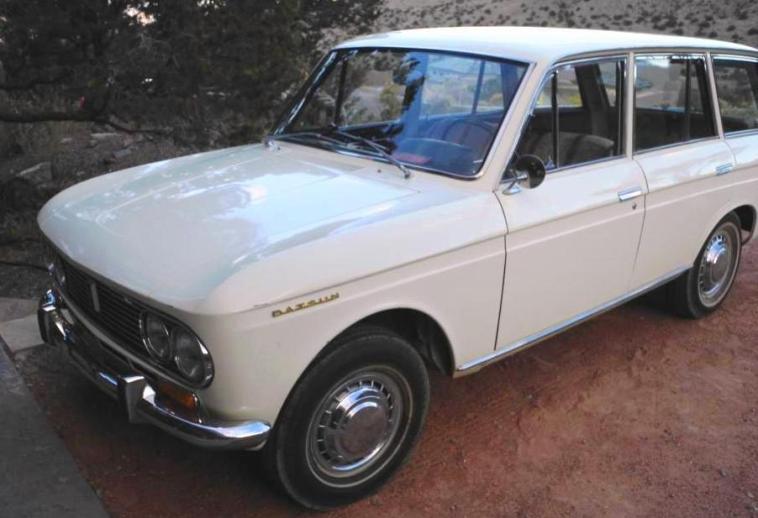 Mayme Duncan was born (1912), lived and died (2006) in Southwestern New Mexico. She spent the bulk of her life in the quaint mining town of Silver City, in the foothills of the Gila Mountains and on the skirts of the vast Aldoph Leopold wilderness – the first wilderness area set aside in the United States. She married her husband Lacy (15 years her senior) and settled down to her career teaching school.
On March 29, 1967 Mayme (45 years old) took delivery of a brand new 1967 Datsun 411 station wagon (WPL 411) – white with a red interior – from the Thomas Motor Company of Silver City New Mexico. At that time Thomas Motors was one of seven Datsun dealers in New Mexico, one part of what Datsun advertised as a "rapidly expanding Dealer network". As this was the first new car Mayme had ever owned, she immediately took steps to preserve her new car. She had the dealer install seat covers, and left the plastic covering over the doors and upholstery. She also took the car in for scheduled service, the maintenance book showing service for lubrication, inspection and adjustment at 631 miles, 5862 miles, 6,976 miles, and the final one at 12,036 miles at Thomas Motors on January 9, 1969. Mayme was putting roughly 6,000 miles/year on her new Datsun.
She continued to service the car regularly, with the service records indicating routine oil changes and service items through the rest of the 1960's and early 1970's. The service records attest to the fact that Mayme's little white Datsun was a loved and dependable car, showing routine maintenance items until the 1990's under Mayme's care. The water pump was replaced in 1974, along with engine gaskets. In 1979 Mayme replaced the tail pipe along with clamps and hangers on the exhaust system and new tires (at 87,000 miles) – all four tires for $89.82! In 1980 came a new starter, in 1982 new battery and brake service.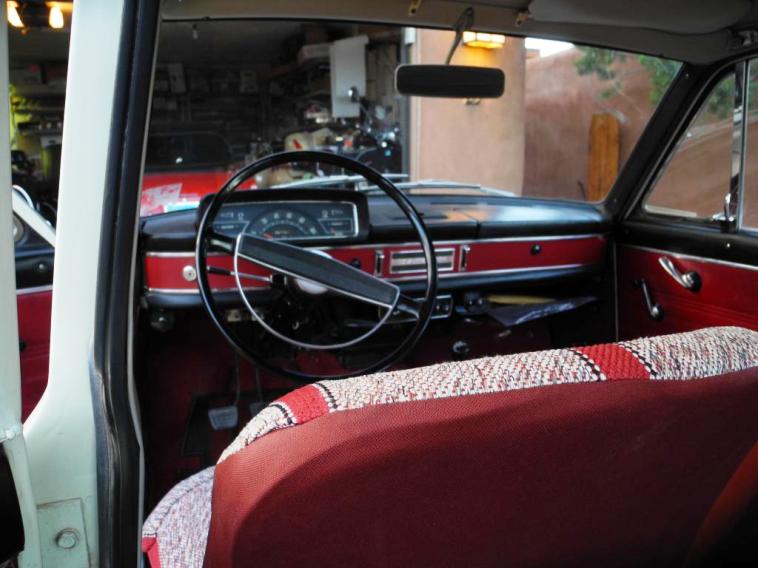 Sometime in June, 1985 Mayme (now 63 years old) backed into an obstacle, putting a dent in the rear panel under the tail gate, damaging a rear bumper and destroying a tail light lens. While the lens was replaced (according the receipt), the other repairs were glossed over — apparently an 18 year old Datsun was not worth repairing! Mayme continued to love and drive her Datsun, servicing it at what was now Copper Hills Datsun in Silver City New Mexico.
At 91,428 miles (June of 1986) Mayme replaced the muffler. Also in November 1986 Mayme had new front and rear brake shoes and 4 drums turned (91,818 miles), carb adjusted because of hard starting in the morning, and valves adjusted. She also had bearings ordered for a rear end noise. Mayme (now 74) was definitely not driving much – the car today has only 96,xxx miles; the little white Datsun has been driven less than 6,000 miles in the last 25 years. About one week later in November, 1986 the brakes came in for a hydraulic overhaul — all wheel cylinders replaced and a Master Cylinder rebuild kit installed.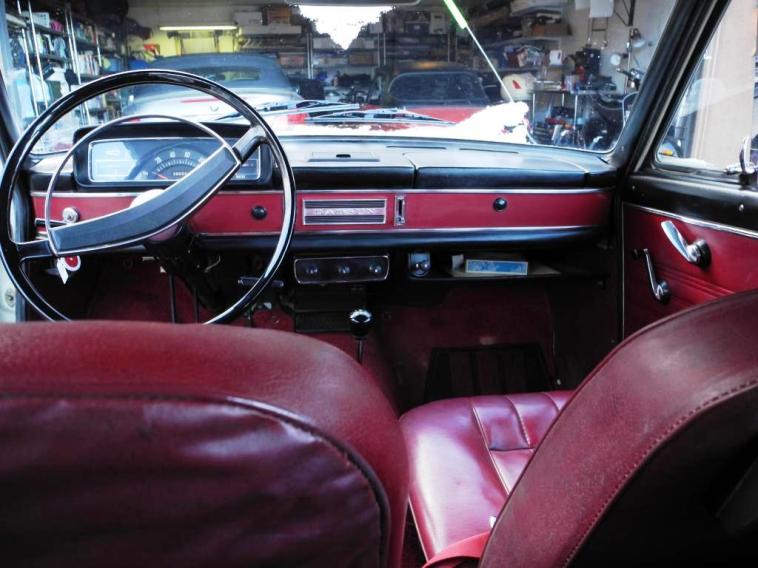 Early in 1987 the rear end was rebuilt (91,955 miles), the service order showing a complete set of bearings and seals being replaced to correct a "rear end noise". Mayme was also having carb issues, having the choke repaired for hard starting.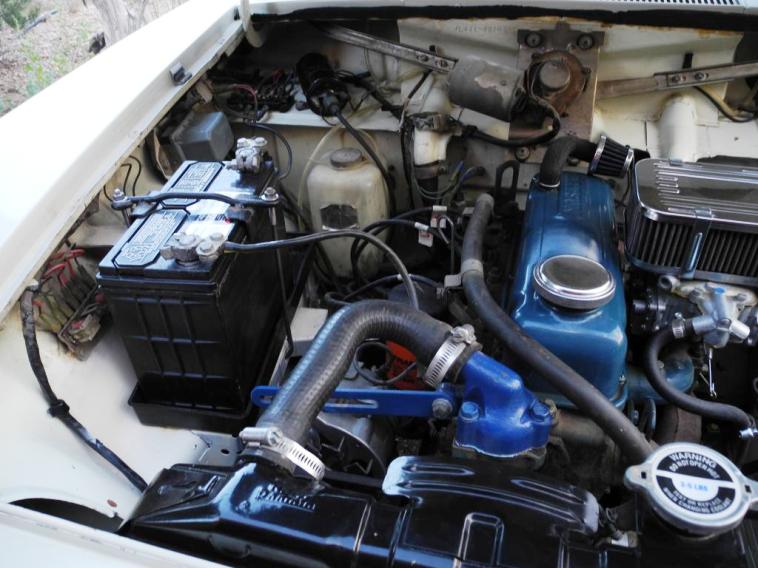 Mayme Duncan was by now driving very little – the next records showing a tune up, clutch adjustment, and tail pipe replacement in February 1994 at only 94,236 miles — about 2000 miles over the preceding 7 years. The last record shows a new tail pipe in 1997.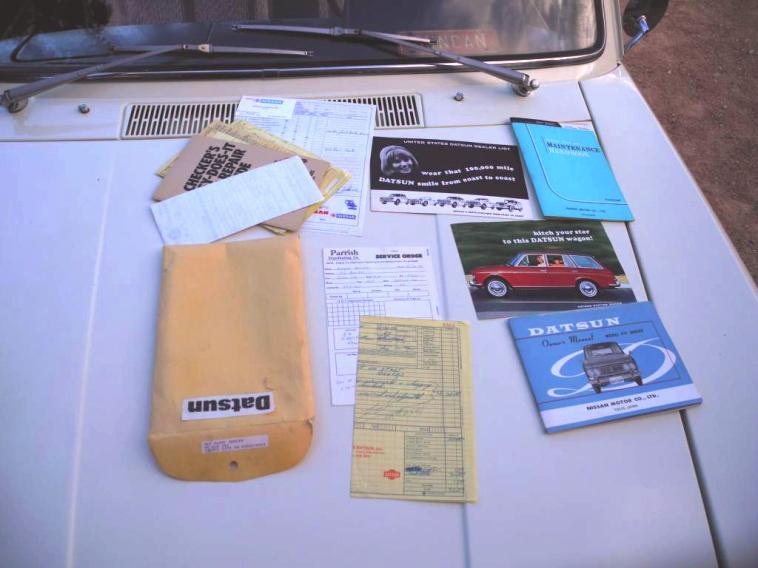 Mayme Duncan passed away in 2006 (at 94 years old). On her deathbed, she had her nephew Carl promise to take care of her first new car (and only one?) – the little white 411 wagon. Carl took the car to his home, where it sat until 2009 when Marty (a Datsun lover) met Carl and took stewardship of the little wagon. Marty diagnosed the persistent carb problems as a warped base of the original carb and replaced it with a Weber carb, solving the issues. He cared for the car, lovingly named "Aunt Mayme" for the next three years in Edgewood New Mexico, on the East Side of the Sandia Mountains from Albuquerque. Marty showed the car once at a local car show where Carl and his family attended and shared memories of Aunt Mayme and her beloved little Datsun. When the time came for Marty (2012) to downsize his fleet of cars (in the name of domestic tranquility), he advertised the car on the web (not Ebay!) – but he was not willing to sell the car to someone who would not honor the commitment to care for the car.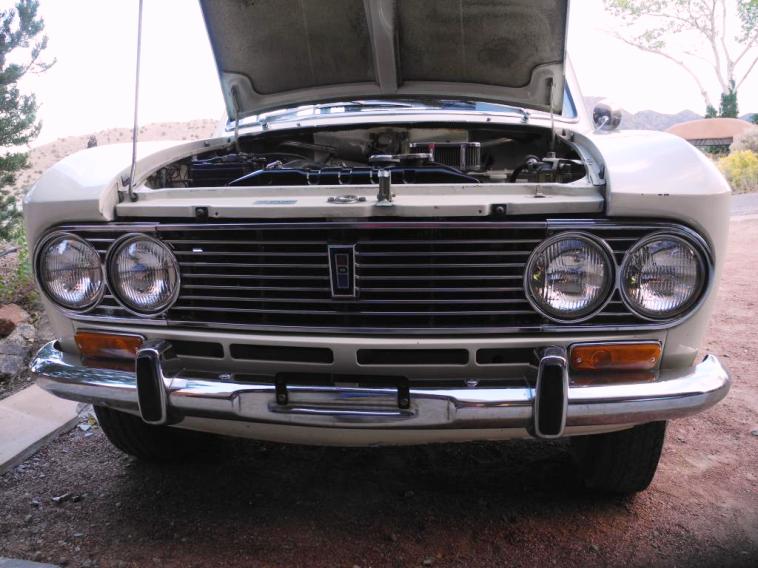 This is where I enter the picture. After attending the Multi-state Datsun Classics meet in Williams, Arizona, I met Greg and Becky Childs and Alice, their beautiful red 411 wagon. I was taking photos of Alice and decided a 411 would be a neat car to accompany my 1968 1600 roadster. Upon returning to Albuquerque I was searching the web for a 411 when I found Marty's discrete advertisement. I was surprised that a 411 would show up so close to home and thought I'd take a look. I contacted Marty and arranged to see the car.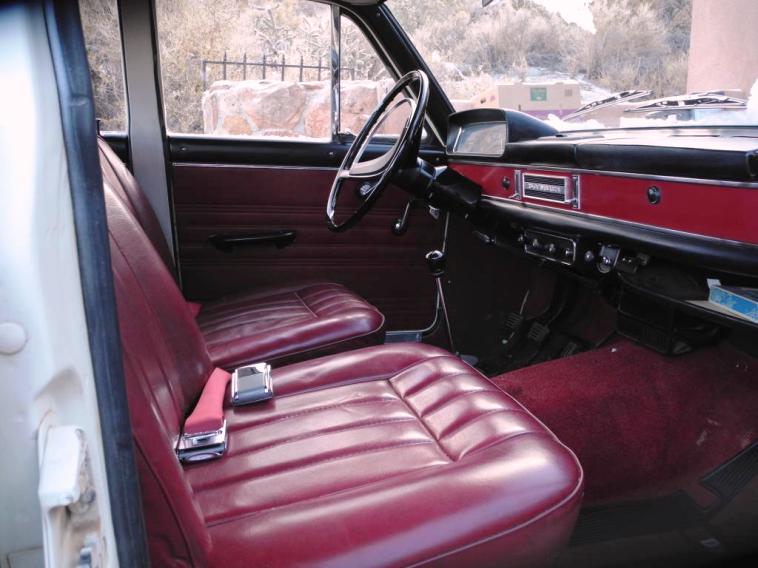 Upon meeting Marty and the car I realized that not only was the car in really nice original condition, but that we had another great addition to our Datsun community in Marty (Marty has a really trick 720). "Aunt Mayme" followed me home (on a trailer) the next weekend.
The past month has been spent in sorting little things, but overall "Aunt Mayme" runs and drives wonderfully. I've put on a nice set of vintage Revolution wheels I had from my roadster until I restore the original wheels. I've cleaned the interior and removed the seat covers to reveal a really nice set of original upholstery. I've gotten some electrical bugs sorted (mainly cleaning the contacts and replacing fuses). I've waxed the car to bring a really nice "20 footer" shine out. But mainly I've been driving and enjoying the car. I'm really impressed with the intrinsic quality Datsun built into the 411. It really looks and feels very European. My BMW friends would be shocked but the 411 reminds me a bit of the BMW 1600, especially the view behind the steering wheel.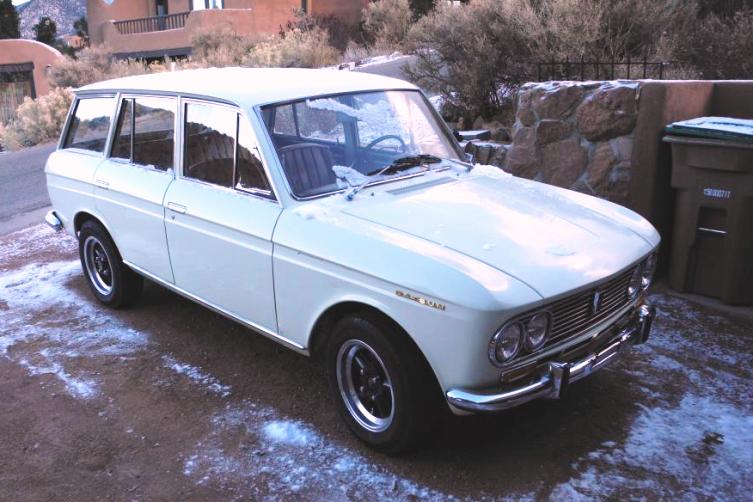 I've got two projects planned in the near future – the first is to replace the clutch which is engaging really high on the pedal, the next to correctly fix the damage to the rear from when Aunt Mayme backed into the obstacle in 1985. I've sourced the clutch parts and two new rear tail lights, just lacking a rear bumper (so I may just have the current one straightened and rechromed). Other than that, the faithful J13 is a bit smokey, especially on start up. As it drives really strongly with the Weber carb I don't feel urgent about a fix and will drive her and see if driving allows the rings to clean up and seat again. But I mainly plan to keep "Aunt Mayme" original and drive and enjoy her. I haven't seen any non-restored 411's advertised in her condition, and she definitely earns a lot attention when I take her out. I am looking forward to bringing her to Williams next year to pair up with "Alice".
John "Buddy" Lorio is a Datsun enthusiast from Albuquerque, New Mexico.