Should you buy a knock-off brand turbo or not? Are they worth a couple hundred bucks? Are some better than others? All things we've asked ourselves while browsing eBay or anywhere on the internet for that matter. We were discussing these topics when a fellow NICO member, SirVemup popped in and mentioned he was about to buy one of these turbos and would be happy to document the process. Here is his experience with a popular company and a very popular-sized turbo.
This will be my second time using an Ebay turbo. My first turbo was a CXRacing unit purchased from their website. The CXRacing turbo lasted 1.5 years @8psi. It was installed on an 89 240sx KA24e SOHC and was not a daily driver. I beat the hell out of my car and the turbo. I even had that CXRacing turbo glowing red (literally) on several occasions. The car sees track time and hard street driving on a regular basis. The new turbo is an EMUSA unit that has the same specs and was purchased from SpeedyRacer online.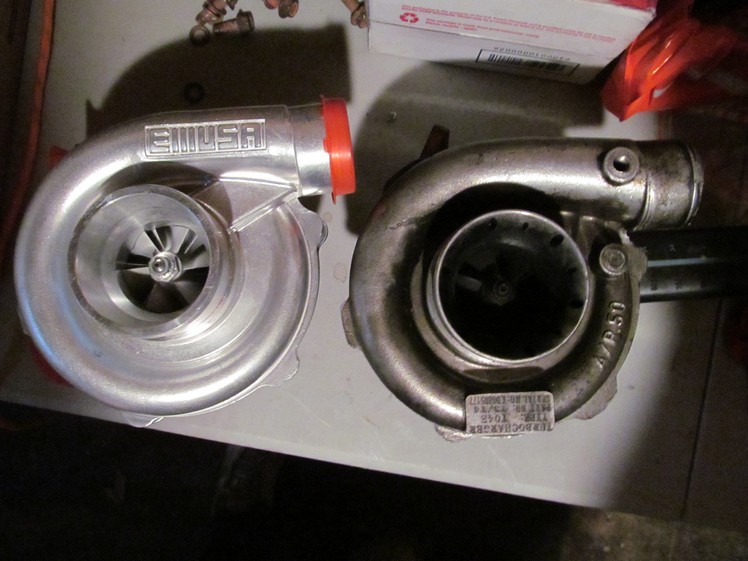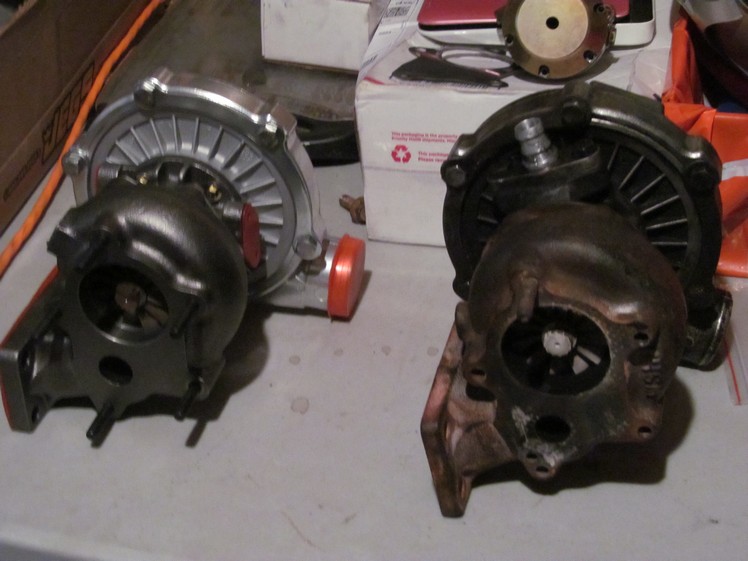 My decision to replace my old turbo with another Ebay turbo was financially motivated. With a price range from $100 to $200, Ebay turbos just seem like too good of a deal to pass up. And the fact that I did get 1.5 years out of my CXRacing turbo aided in that decision. I have never owned a high end turbo so I can't vouch for their performance or longevity when compared to an Ebay turbo.
Is EMUSA any good? Well at $150 shipped free from Speedyracer.com it seems like a good deal. Upon first inspection the new turbo was packaged very well and came with its own serial number.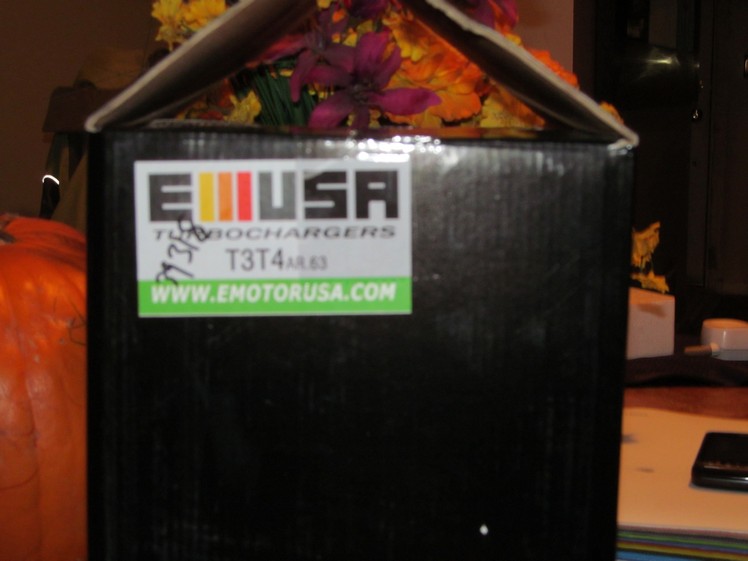 The Speedyracer.com website claims that all their turbos have been high-speed balanced. So that was one of the first things I looked for. If you notice in the following pictures you can see where a part of the turbine was shaved off on both sides, and if you look closely on the compressor side you can see where the top of the lower bolt has been shaved.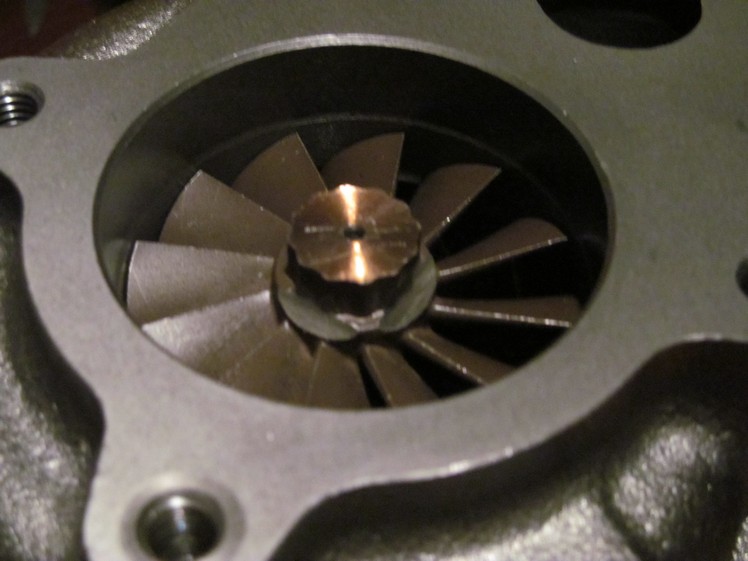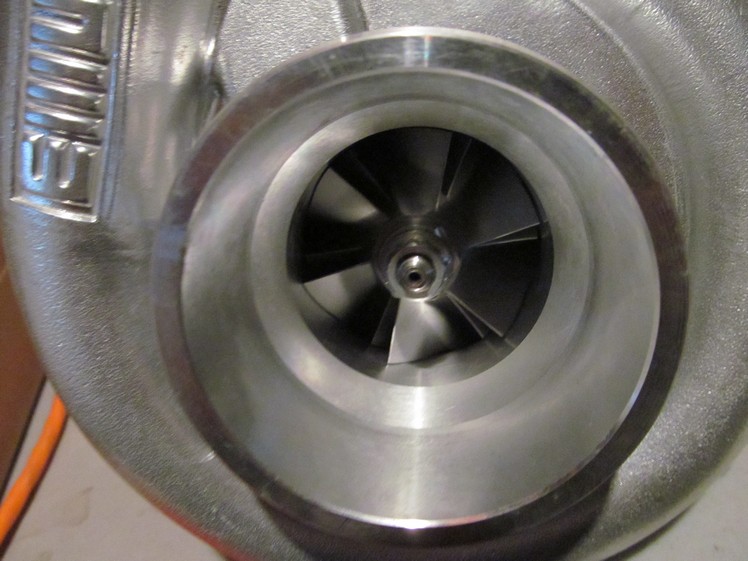 This is supposed to be a sign of high-speed balancing. I also checked the axial and radial shaft play. I found no radial shaft play and very little axial shaft play. Nice and tight. A problem I had with my CXRacing turbo was that the turbine housing was cast rather poorly. If you notice in the picture below you can see signs on the T3 flange of the CXRacing turbo where the bolts actually rubbed against the turbine housing.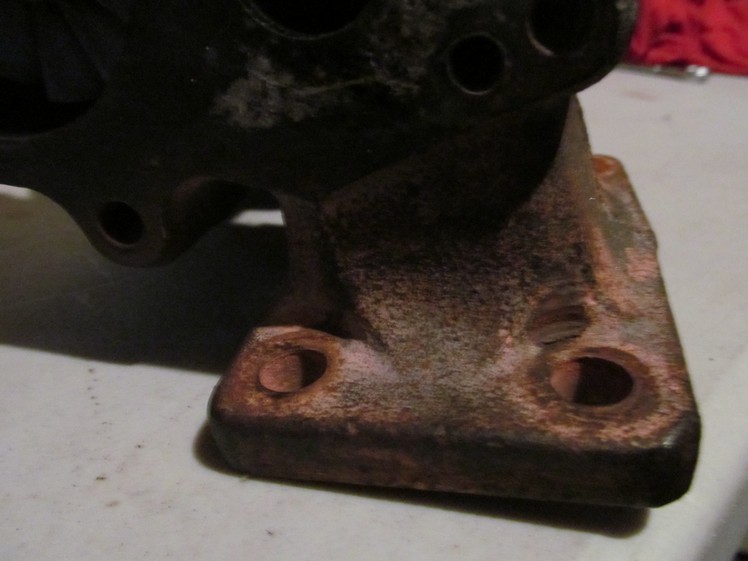 This made it impossible to tighten the bolts down flush to my T3 manifold without adding a bunch of washers. On the EMUSA turbo the casting was very well done and the bolts do not need any washers for the them to clear the turbine housing.
One issue that I had with the logistics from speedyracer.com was that I ordered the chrome turbo as shown on their website. This one obviously isn't chrome. Now at first I was a little confused, but I like the one I got better. And the one I originally wanted but the cost for the chrome one with the same specs cost $50 less. So no complaints on my part. Along with the new turbo Speedyracer also included oil feed and return line gaskets, T3 gasket, 5 bolt downpipe gasket, and 5 downpipe studs.
I prefer to do a pre-install on all new parts before actual installation. This keeps the install going smoothly. And this is when I noticed a couple problems with the EMUSA package. The first thing I noticed was that the downpipe studs that came with the EMUSA turbo were too long. In the picture below you can see that when the studs were fully threaded into the turbo that there were still threads showing.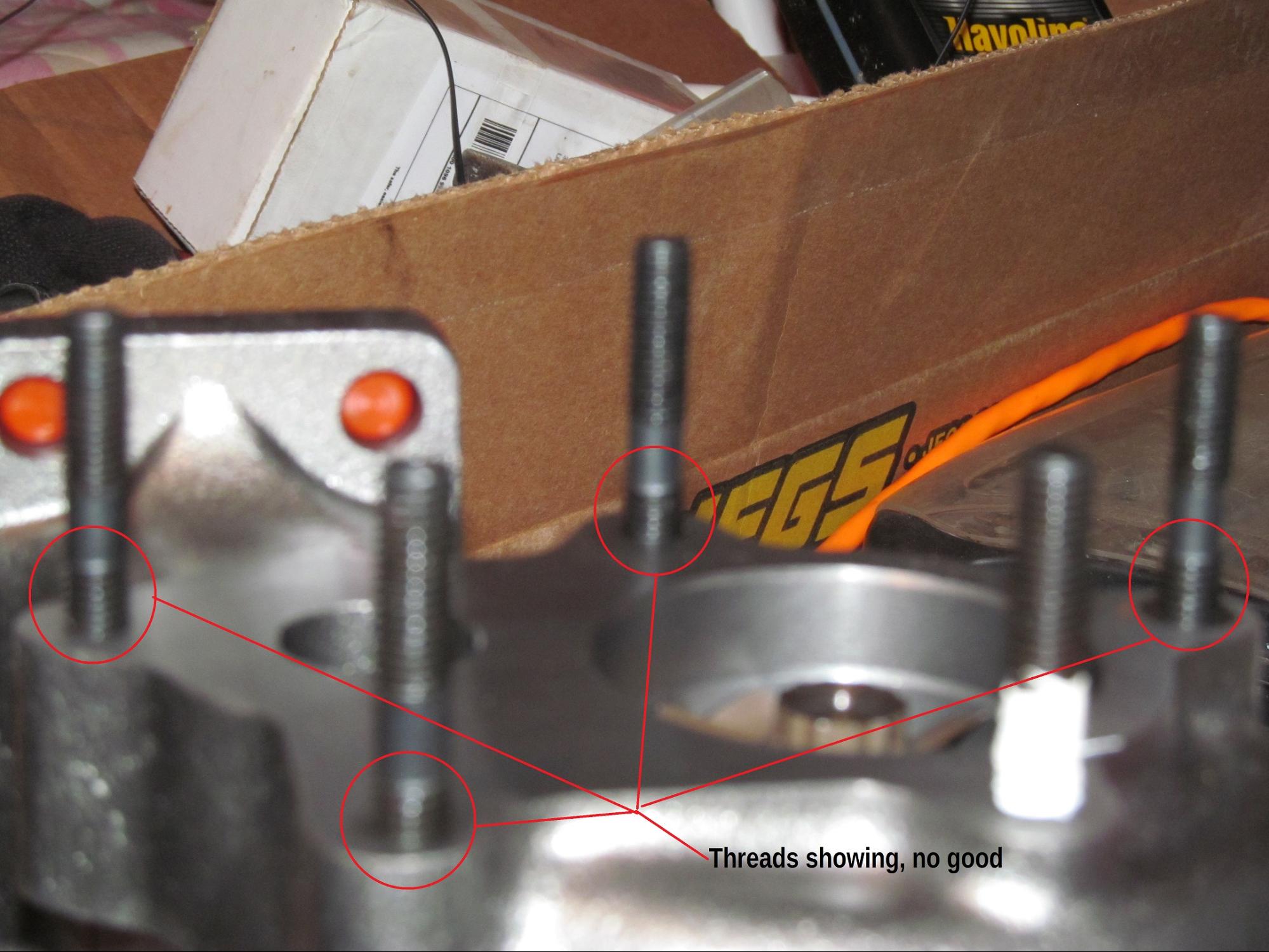 Problem, yes, but nothing a little modification couldn't handle. So I used a grinder and got the studs to the correct length. No threads showing.
If I had not done a pre-install I would have run into some trouble because the downpipe nuts would not have enough thread to secure the downpipe flange flush to the turbo. The second problem was that the EMUSA turbo did not have a pressure fitting installed to activate my external wastegate. Fearing that I had to drill and tap a new fitting into the new turbo housing, I did some research and found that it was ok to tap the pressure line into the intercooler pipe. So I tapped into the intercooler pipe closest to the turbo and installed the pressure fitting. And the final problem that I ran into was that my downpipe was touching the transmission. I thought the old and new turbo looked identical, so I was a little confused on why the DP was touching. I just ordered a new T3 .5" flange adaptor that would allow for the extra space to clear the transmission. Boom, fits and looks pretty nice.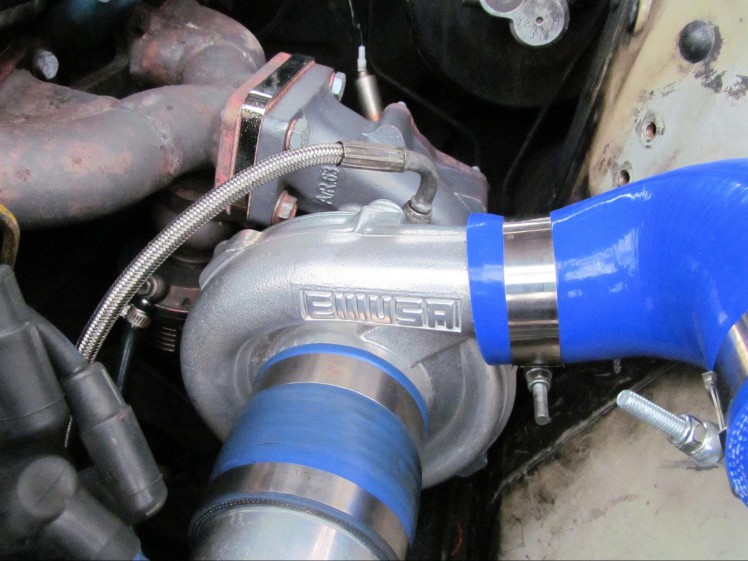 After I completed the installation and did the first test run I was very happy with how fast and strong the EMUSA turbo spooled up, and I was happy that my BOV was working again. I was alarmed that on the first drive the turbo was whining like a jet fighter. I thought that it sounded like it was oil deprived, but I pre-lubed the new turbo, changed my oil, and cranked the engine over until oil was coming out the turbo oil return line before the first start, all standard procedures with a new turbo install. So I was pretty sure that I covered all corners of the installation. It's not that I am complaining because I love the way it sounds. With the new turbo screaming, my BOV hissing, and the wastegate chirping, my car sounds like a freakin beast again. Overall I am happy with the installation, packaging, and performance of the new turbo. Only time will tell if I become another member of the dreaded "BAD EBAY TURBO" club, or if I actually saved myself a couple hundred bucks from buying a high end turbo. I will do my first performance review at 1000 miles and post on how this EMUSA turbo is holding up.
Fast-forward… UPDATE:
Well it turns out the turbo only lasted one week. It started making more and more noise. Upon inspection the compressor wheel had tons of both axial and radial play. It was obvious that the turbo had suffered an internal failure. Most likely from using low quality bushings. I'll be sending the turbo back to SpeedyRacer for a refund. So it looks like buyer beware when it comes to eBay turbos.
What has been your experience with "cheap" turbochargers? Join the discussion here!