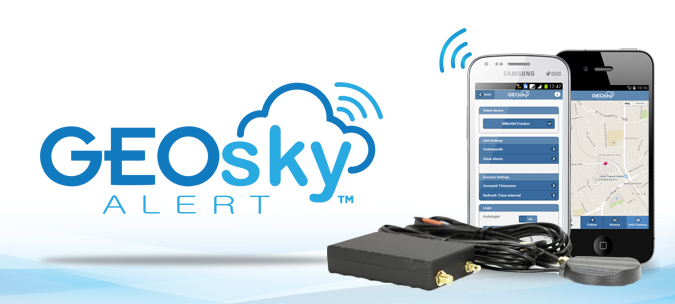 In our quest to bring great reviews of relevant, useful new products and technology to the Nissan enthusiast community, here's one we think you'll really love.
The GeoSky Alert solution is a vehicle location and recovery device that is pre-programmed to take advantage of global positioning systems (GPS) and cellular telecommunications. I recently spent some time with the team to discuss their product. As you know, credibility is a big deal for me, and the GeoSky team are not only incredibly technically savvy, but they're also vehicle enthusiasts themselves.
So, in plain English, what does GeoSky do? It means that any vehicle equipped with the GeoSky device will alert you immediately if it is moved. It will also continue to broadcast its location in real-time on Google Maps, via the easy-to-use smartphone application, and tell you where it's at… anywhere. Even outside the country!
As a classic Datsun collector, I've got insurance on all of my cars. But once a car is stolen (and let's face it, a classic Datsun is simple to steal), no amount of insurance payout can replace the time and effort of restoration – or the sentimental value. And, let's face it – Where would I find another pristine, original, right-hand-drive 1963 Datsun Bluebird? Exactly.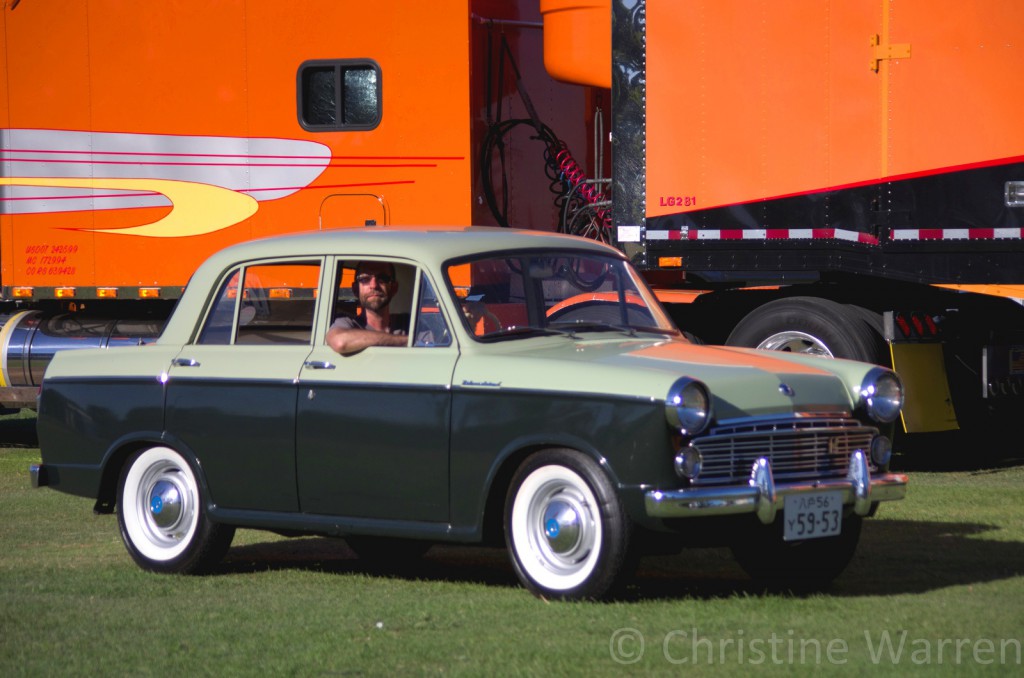 How about a trailer? Again, super-easy to steal. A race car with great history or track records? Irreplaceable. How many times have you seen a Facebook alert that someone's race trailer, toy hauler, motorcycle, or toolbox has been stolen? Happens all the time, and typically, the police will just take a report (over the phone, if you're lucky) and leave you to wrangle with an insurance company. No thanks – I want to handle my business myself.
Besides, good luck getting insurance coverage after a big loss. Your rates are going to skyrocket, IF you can get coverage at all.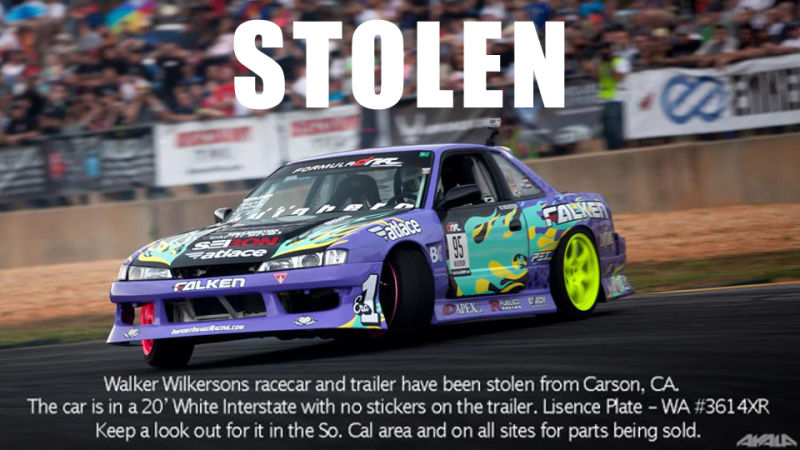 The capability of knowing that all of my stuff is right where I want it at all times intrigued me, so I've installed two GeoSky devices to put them through their paces. GeoSky offers three different device configurations: Automobile, motorcycle, and trailer trackers.
I did some reading on the differences between the GeoSky and the other tracking solutions available… Here's a great chart comparing GeoSky to LoJack and FIN:


Armed with all I needed to know, I ordered up an automobile unit and a trailer unit, and they arrived within 3 days. While I was waiting, the smartphone application arrived in my email, along with a quick, easy to understand tutorial. There wasn't much to learn, because nearly everything was already set up!
The packages arrived, and here's the contents (automotive unit):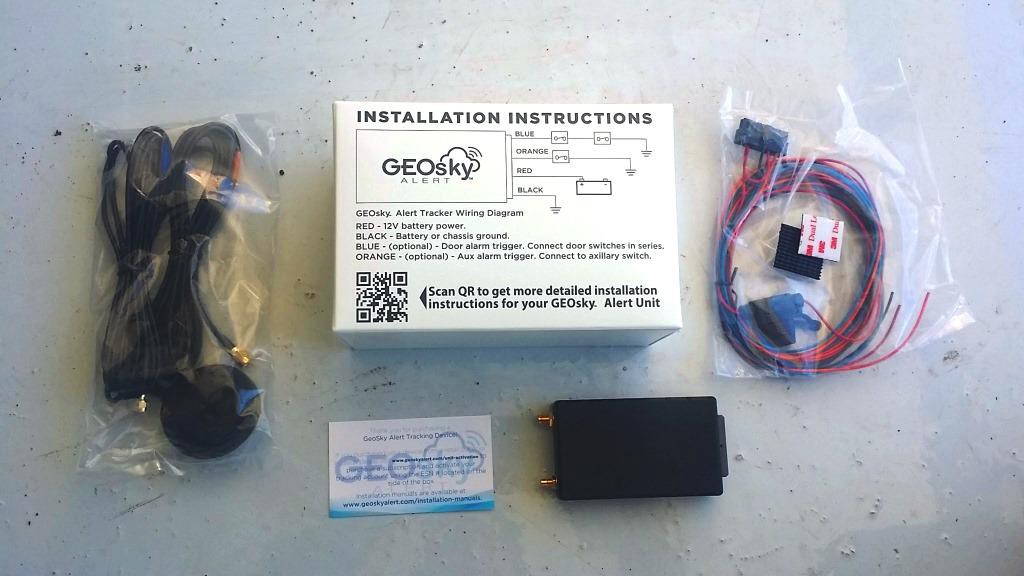 Installation took me about 30 minutes, the bulk of which was due to my own obsession over mounting locations, ease of transfer from car to car, and "stealth" installation. Two wires (power and ground), and the other two wires (mini-coaxial connections) attach the GPS device to the unit itself. It was super-easy to hide, with the only visible component being a small black disc inside the windshield (totally invisible from the exterior).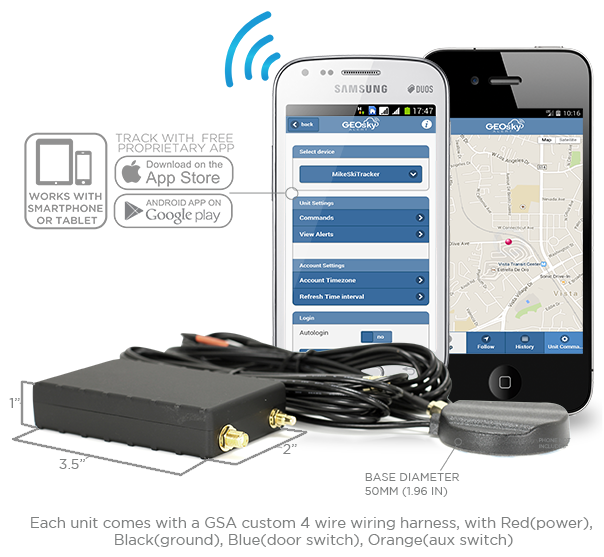 As soon as I powered up the unit, it notified me of its location… and the precision is impressive! Zooming in on the location, the accuracy was within 20 feet.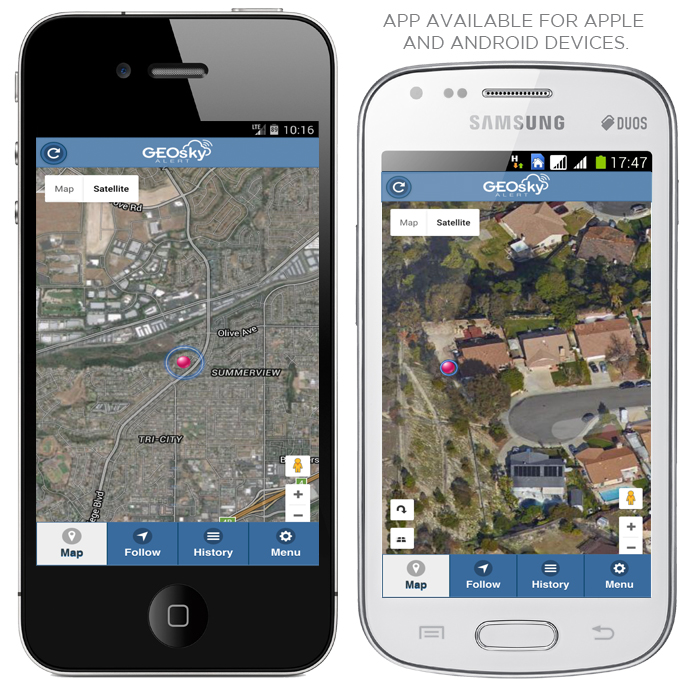 For the sake of testing, I drove into town, and as soon as the car moved a couple feet, I got a notification: "Vehicle Leaving Zone." Accuracy remained within 30 feet, no matter where I went. Zooming in on the "Satellite" view of Google Maps, I could see my vehicle icon as I pulled into a drive-thru – THAT'S impressive!
A couple other features really stood out for me: I can track multiple devices via the one application. I can open the app, select my car or my trailer, and view the status (or send commands) from the same screen. I can easily remove the unit and put it in another vehicle temporarily – for example, if I take the 510 to California for the weekend, I don't have to worry about it disappearing. Loaning my car to my teenager? Not only can I tell where my car is, I can also view the history (where it's been).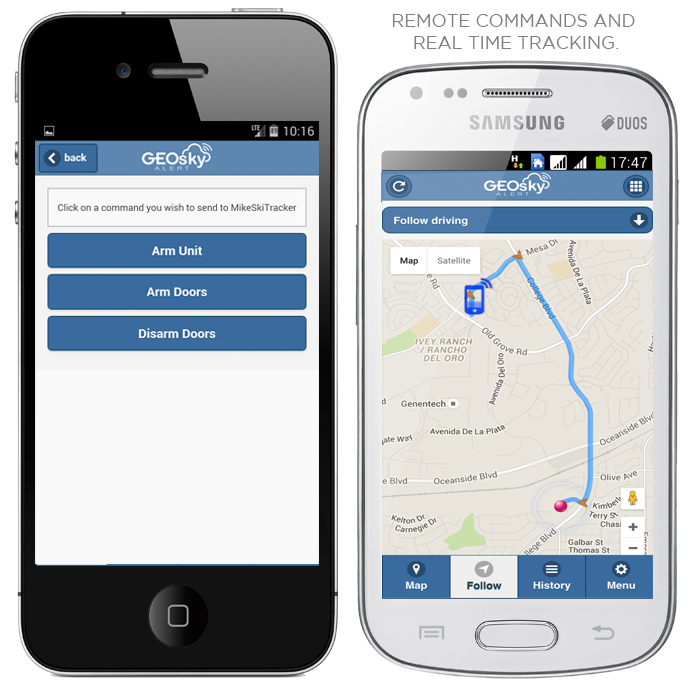 The unit can be expanded with triggers to alert if a door, hatch, or hood is opened. Anywhere you can put a magnetic switch, or any circuit that triggers a light (such as the dome light), can be added to the unit's functions. AND, I'm hearing there are several other cool features being added very soon. I like the concept of 'hassle-free.' I don't have to remember to arm or disarm the unit, nor do I have to download updates. The unit notifies me if my battery is low, and if I somehow miss the instant text message, I'll also get an email notification.
Best of all, I called my insurance company and notified them that my daily driver and my trailer are now equipped with a GPS-enabled location and recovery device. Guess who got a fat discount? In fact, the discount offsets the small monthly subscription fee. I'd call that a win.
The trailer unit is almost identical, and was even easier to install (and once installed, virtually impossible to find). I had a custom flatbed car hauler built a few years ago. We use it to transport our Datsuns to shows, to bring cars back and forth to Datsun Ranch, and to haul parts, engines – you name it. I also loan my trailer out – a lot. With the GeoSky Alert, I can keep track of where my trailer is, and so can the person who borrows it – all they have to do is install the app. In addition, with the included switch circuit, I can receive an alert if someone opens the toolbox.



Think about that for a second. Let's say I'm having dinner one night, and my trailer is parked back behind my shop. Someone decides to help themselves to my tie-down straps, tools, and winch. A silent alert notifies me, and long before the thief is aware, I've already dialed 911, gathered my 2nd Amendment rights, and put a stop to the shenanigans. Even if the thief decides to defeat the hitch lock and hooks up to their truck, I can follow the offender at a safe distance and direct a law enforcement officer to their exact location. Worth every penny.
The uses and possibilities for the GeoSky Alert are endless. I'm pretty excited about having both units, and I'll be ordering an additional unit for our truck soon. If you've got a cherished car, a trailer, a toy hauler, an airplane, a camper, a motorcycle, a snowmobile, a submarine or a Millennium Falcon, you really need to contact the guys from GeoSky Alert. As I mentioned, they're all Nissan and Datsun guys, so you'll know you're dealing with good people.
There you go – Time to get get your own GeoSky Alert!