One of the stars of the recent 81st International Geneva Motor Show, which in itself is one of the true superstars of the annual global auto show circuit, was the stunningly imaginative Infiniti Etherea Concept.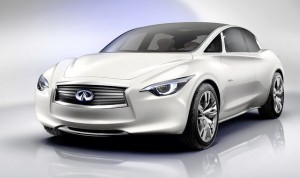 Created to preview how a future Infiniti entry-level compact performance luxury sedan could look, Etherea is designed to project both an "evolving Infiniti identity" and a profile that is distinctly different from any current vehicle available in the premium compact class. Among the many media outlets providing their takes on Etherea, MotorTrend.com offers a positive review of the concept vehicle.
"Ladies and gentleman, meet the new sort of compact luxury, one that is meant specifically for younger buyers looking for something very different, efficient, modern, and athletic," wrote the MotorTrend.com reporter Nate Martinez. "The Etherea is not one type of vehicle; rather, it is a melding of bits from just about everything. It has a sedan's space, a coupe's styling, a hatchback's utility, and a crossover's height.The kinked C-pillar is heavily influenced by the Essence concept. Up front, designers included distinct slanted headlights that incorporate LED daytime running lights. Designers are quick to point out that the headlight's design will be a mainstay on future Infiniti models."
Click here to read the full report from MotorTrend.com.