Thanks To Forza Motorsport 3 This G-Coupe Can Also Keep Pace in Cyberspace
Photos By Vince Lei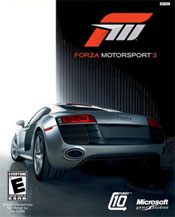 We have all drooled over the buff-bodied and heavily boosted Skyline, Fairlady and GT-R racers that deal out the pain in JGTC competition. We have also envisioned driving our own cars on some the world's most famous tracks. That dream can be tapped into on Forza Motorsport 3, the latest driving simulation game from Microsoft's Turn 10 Studios. The Nissan Nation can build the car they park in their garage, complete with in-depth performance mods, and drive it at locales like Le Mans, Tsukuba Circuit, Twin Ring Motegi, Suzuka, Nurburgring or one of the game's fictional venues like the drifter paradise known as Fujimi Kaido. Thanks to Forza 3's intensely developed physics model the drive will feel real.
Physics of Friction—Grip, The Name Of The Game
The physics model is a compilation of mathematic algorithms that magically transform into feelings in the controller, the feeling of tires struggling for grip at the ragged edge of adhesion. Forza 3 designers go to great lengths to simulate what happens between the tire and the tarmac and the game breaks new ground in the depth and detail of player feedback.
"Our physics model is like a weather system in that all the parameters are intimately interrelated," says Forza game director Dan Greenawalt. "So weather forecasting is more accurate now than it was two years ago, which was more accurate than two years before that. So a weather forecasting system from eight to 10 years ago is thoroughly obsolete. Same with game physics."
"It comes down to learning more about variables; the eastern tradewinds, heat from the surface, the effects of hot and cold fronts on a more detailed scale, wind, pressure, moisture, there are a whole bunch of variables. Well tire physics are just the same you have ambient temperature, heat coming off the pavement, how you drive the tire, how far over peak you go which heats up the outside of the tire then the gases inside the tire heat up changing the air pressure inside the tire. The road surface's coefficient of friction, how smooth it is, its incline and the consequences of that extra heat on the overall handling characteristics of the car in question including the tire width, sidewall size and compound, the suspension's habits, vehicle weight and driveline configuration and many other contributing variables. We have tried to think of all the angles."
"All that heat ingestion effects how tire deformation works. It is all inter-related. You can't pick and choose what to simulate you have to simulate everything. Just like looking at a weather system. You can't say that you learned that the tradewinds do this but we decided not to put it into our math model. You have the data and you have to include it because a few years from now we will know more and we have to be vigilant so when we update our math model we are building from solid base. It is our prime commitment, a commitment to make the physics better each time, be thorough, use the best technology available because there's a lot riding on this physics exercise."
Infiniti Infusion—Colin Reed's G35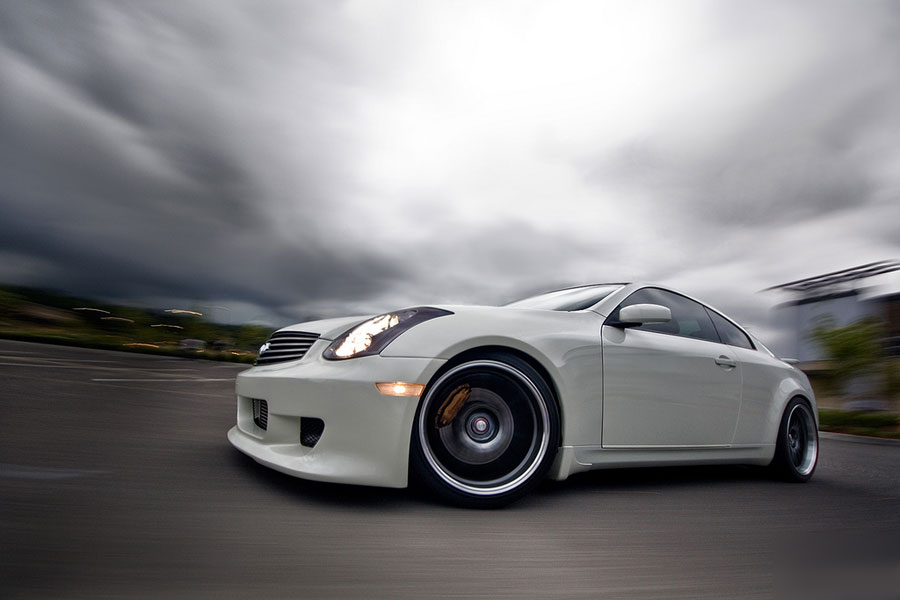 Many Turn 10 designers appreciate a spirited drive and will go the extra mile to roll in style. Lead software development engineer Colin Reed is one of the more devout as evidenced by his supremely modified 2004 Infiniti G35 Coupe.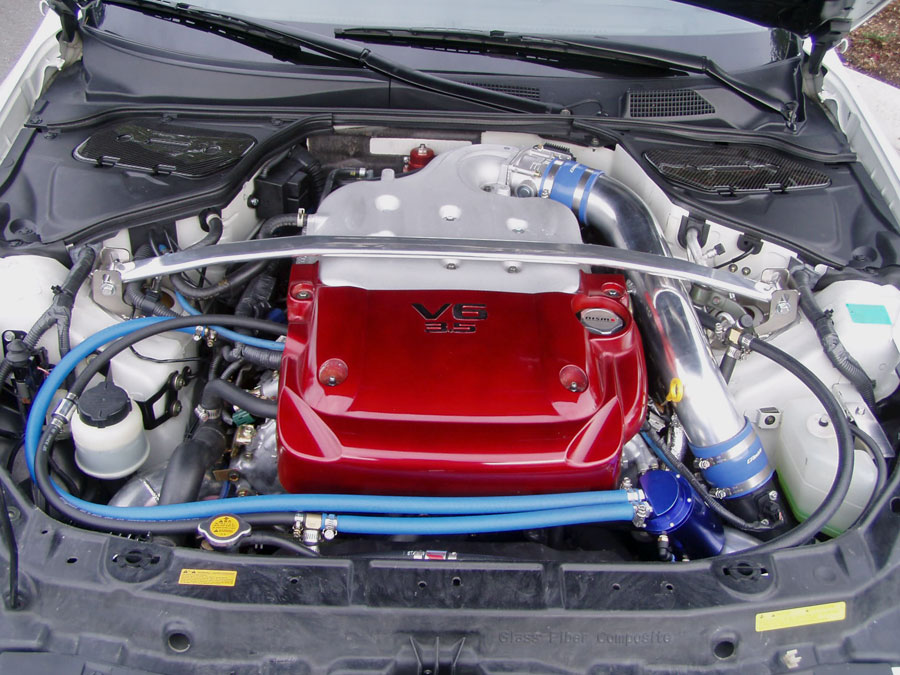 The VQ35DE has been built for boost with 9:1 compression pistons from Arias secured by GT Motorsports rods to the stock crankshaft. A GReddy twin-turbo package with 18G turbos serves as the foundation of the G's boost therapy plan. A TiAL Sports 38mm wastegate, GReddy Type RS blow-off valve and Stillen cat-back exhaust keeps both sides of the turbos flowing smoothly. Reed has upgraded to 550cc RC Engineering injectors, a Walbro 255 lph pump and CJM Stage 1 fuel return upgrade to fuel the beast, Boost control is handled by a Blitz SBC i-D and the combination was tuned to razor sharpness via a TurboXS UTEC engine management system. Reed did the tuning honors himself and extracted an impressive 557 wheel-horsepower at 17.5 psi.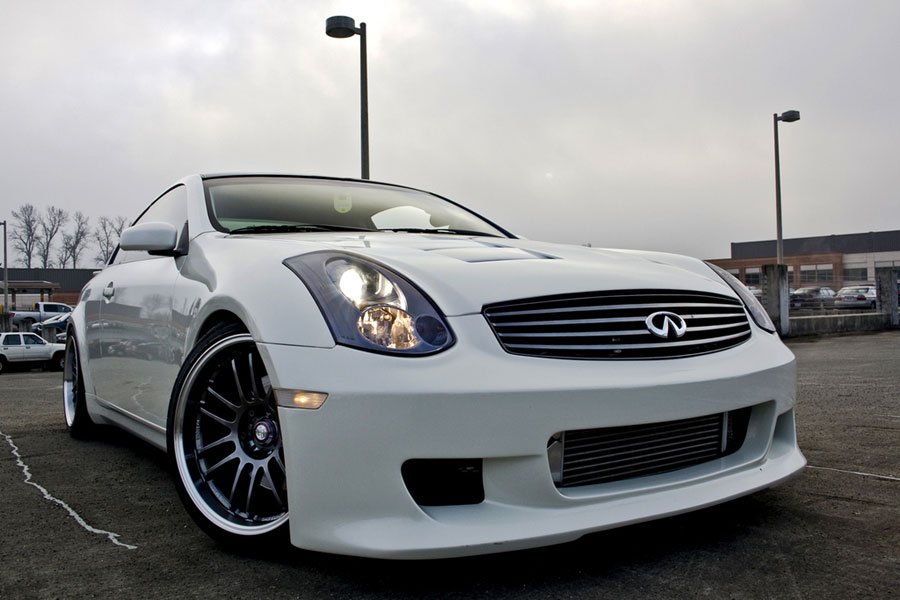 The G sits on JIC Magic FLT-A2 coilovers, rolls on limited edition 19-inch Volk RE-30 wheels with sick lip and sports a trick KurumaZ body kit shipped special from Japan. Reed's hood is another piece of eye candy. He runs a Seibon carbon fiber hood with additional vents that has been color matched save for a fade treatment near the vent opening. The white slowly gives way to the carbon fiber at the lip of the vents, a cool touch. Reed's level of modification can be easily recreated in Forza Motorsport 3.
Cars, Tuning —The Heart And Soul Of Forza 3
There are 400 cars ready to roll in FM3 with more on the way via downloads. All of the cars are ranked to ensure fair racing. The scale goes from A to F for production cars and just like in school good grades are better so A cars spank F cars. Race cars are categorized and S and R3, R2 and R1, with R1 being the boldest of the bold. The letter is followed by a numeric ranking that positions the car within its class. So a Datsun 510 at F-102 is a step behind a Versa SL at F-128 and a Skyline 2000 GT-R at F-131. The ultimate Nissan weapon is the Le Mans R390 prototype at R2-846 followed closely by JGTC GT-R at R2-842 and JGTC Skyline GT-R R34's at R2-825. Top Secret's D1-Spec S15 Silvia checks in at S-648.
As players race in the game they earn credits, which can be used to buy better cars, cool paint schemes and more performance. Parts can be bought individually or as packages in Forza 3's Quick Upgrade menu that selects the level of modification based on a target class of cars.
Using a 2004 Infiniti G35, like Reed's as an example, the G-Coupe, which costs 17,000 credits, starts life with a D-346 rating. The accompanying charts illustrate the G35's in-game tuning potential via Quick Upgrade.
Infiniti G35 Quick Upgrade
Rating
Target Class
C-425
Evo X, Impreza WRX STI
B-500
Mustang GT, Camaro SS
A-600
Lamborghini Murcielago LP640, Audi A8
S-700
Saleen S7, Maserati MC12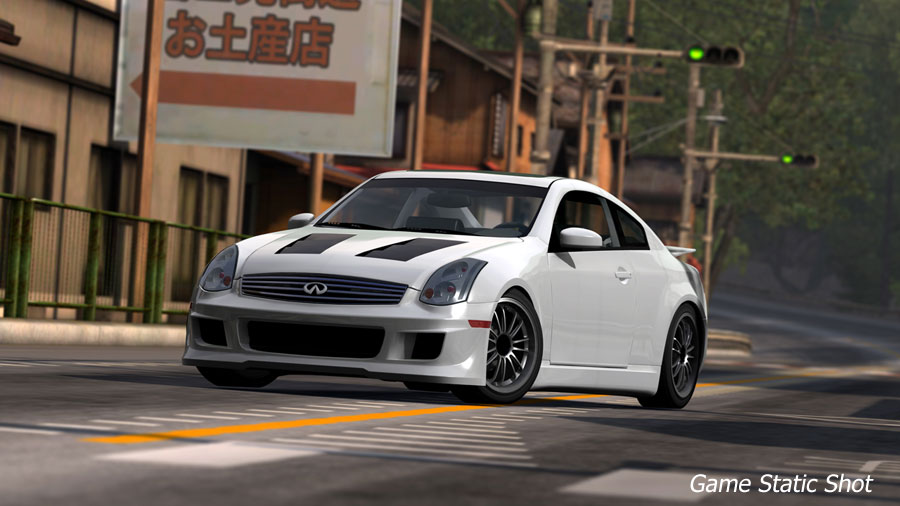 Infiniti G35 Performance
Class
HP
Lat G
Curb Weight (lbs)
Stock
280
.944
3,485
C-425
307
1.002
3,415
B-500
378
1.010
3,397
A-600
494
1.112
3,192
S-700HP
622
1.213
2,833
The STI-bashing C-425 level of performance costs 19,100 credits while the S-700 array of mods costs a hefty 167,600 credits. Of course mods can be bought individually so Reed's parts list can be matched by buying a turbo kit and ancillary mods or features like displacement increases and engine swaps can be unleashed. The cars can be painted and decal-ed in Forza's Livery Editor and tuning schemes and graphic treatments can be bought and sold in Forza's marketplace.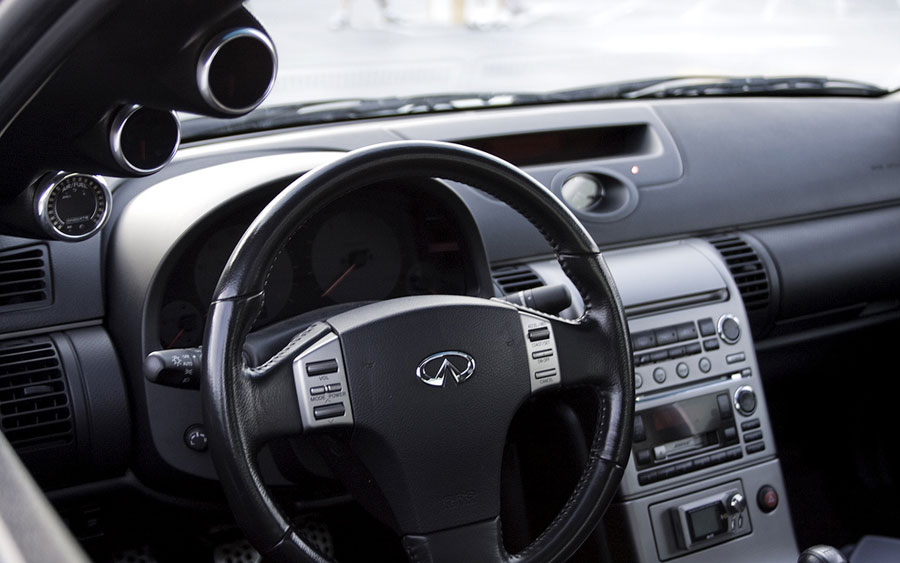 The Nissan badge is well represented in the game and Forza 3's deep tuning garage allows players to really maximize the madness. They can then set-up races online against friends or other NICO members, sell their tuning set-up and paint jobs to the on-line community via Forza 3's storefront.