We've been wanting to do this article for a long time. There's no doubt that ANY list of "baller rides" will include (or even begin with) the ubiquitous Caddy Escalade. Many of you reading this are too young to remember it, but the Escalade is the vehicle that brought Cadillac BACK into the mainstream consciousness and made the company "hip".
It's no secret that the Cadillac Escalade was the poster child for, and the originator of, the mega-luxury SUV category. The jumbo Caddy has seen many competitors arrive to try to steal its thunder and none have managed.
The 2011 Infiniti QX56 has changed all that, however, thanks to a potent combination of style, capability and state-of-the-art technology and driver aids. Let the heavyweight slugfest begin.
2011 Infiniti QX56 vs. 2011 Cadillac Escalade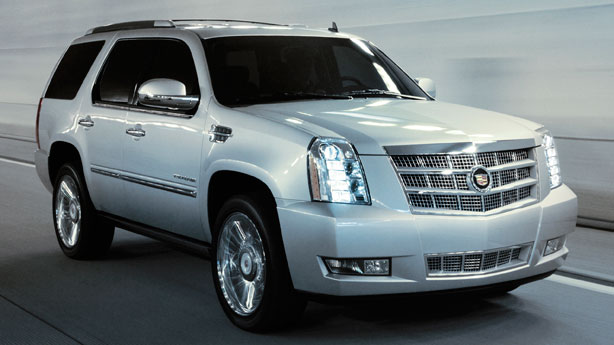 Both the QX56 and Escalade bring (literally) big style to the fight. Eye-catching looks, flashy trim and available 22-inch wheels score checkboxes on both scorecards. However, the Escalade has had the same boxy look since its inception while the QX uses a fresh, dynamic design that conveys power and strength while remaining elegant.
The MSRP for the QX starts at $57,850 while the Escalade comes in at a bloated $63,160. That $5,300 price difference doesn't mean that the Escalade offers more. Infiniti gives you more features for less cash.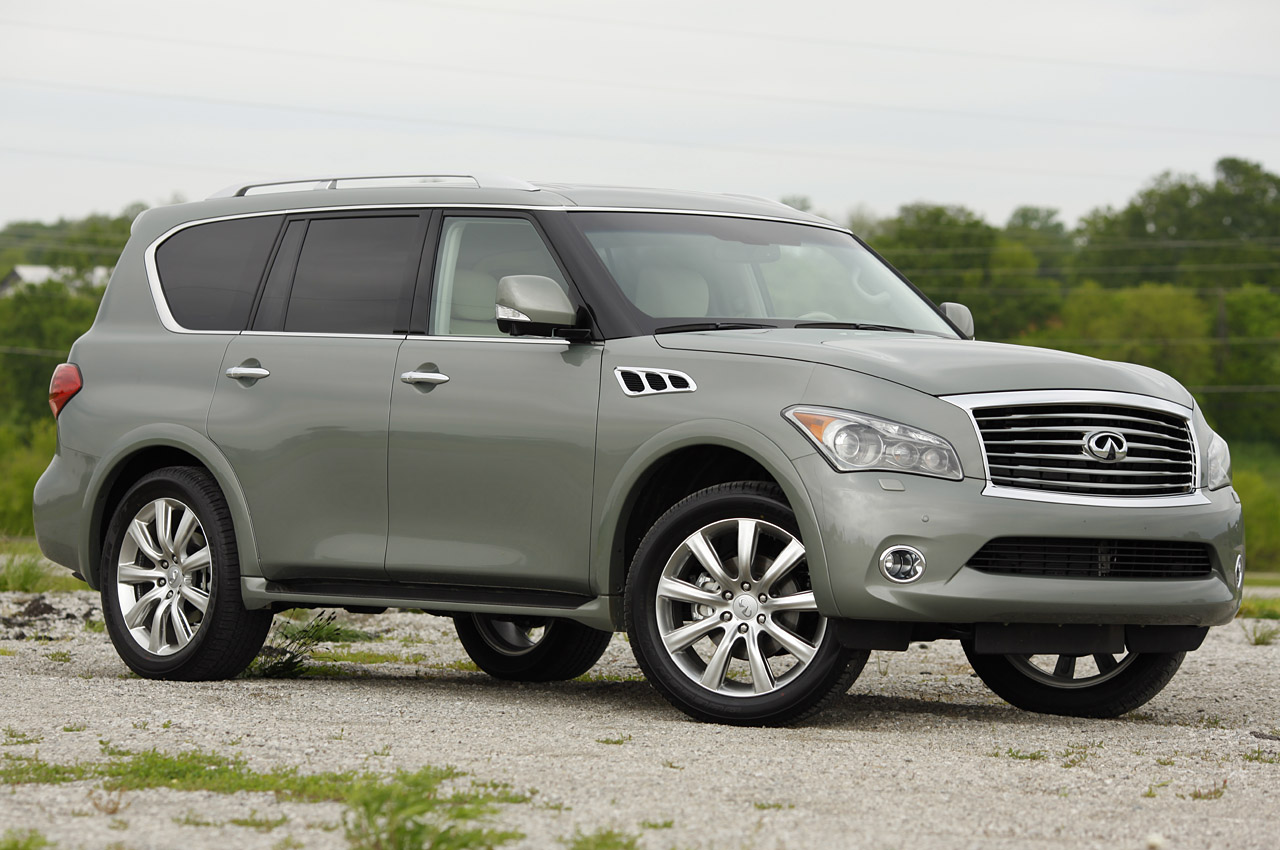 Underhood, the two luxo-titans flex plenty of muscle, but take different approaches. The Cadillac goes to work with a 6.2-liter Vortec V8 with Active Fuel Management (four cylinders can be shut off when not needed to help fuel economy). Matched with a six-speed automatic transmission, this pushrod engine produces 403 hp and 417 lb/ft of torque while delivering up to 14 mpg in the city and 18 mpg on the highway. The Infiniti answers with a more modern and efficient powerplant. Its 5.6-liter DOHC direct-injected V8 produces 400 hp and 413 lb/ft of torque. It's teamed with a seven-speed automatic transmission with manual-shift capability and Downshift Rev Matching. On the road, it equals the Escalade's city fuel economy at 14 mpg while its 20 mpg highway beats the Cadillac by a solid two mpg – and it never has to deactivate any of the engine's cylinders to do so.
When it comes time to tow heavy loads, the QX56 again comes out on top, thanks to its available maximum towing capacity of 8,500 pounds, regardless of the drive configuration. Two-wheel drive Escalades can pull a maximum of 8,300 pounds while the AWD Escalade is able to muster up 8,100 pounds.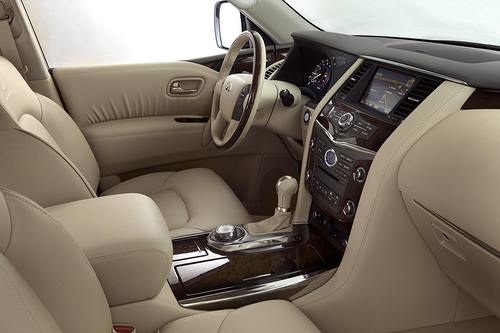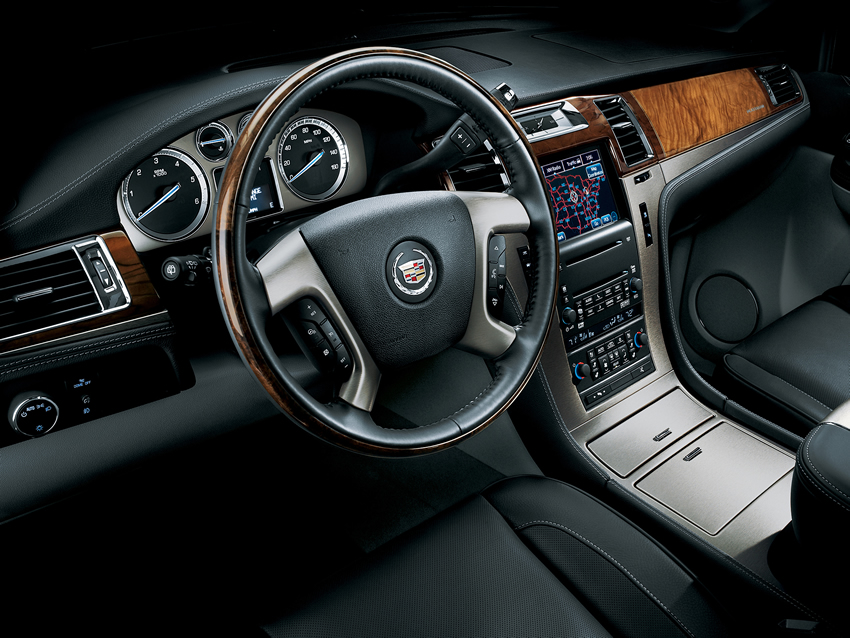 With vehicles of this size, it's more than likely that you'll find yourself carrying friends and family during your travels. If you have the Infiniti QX56, you'll find that passengers have 41 inches of legroom in the second row, and 28.3 inches of legroom in the third row. That's more stretch-out space than the Cadillac offers: 39 inches in row two, and 25.6 inches in the rearmost position.
Another important consideration is interior utility. The Cadillac's rear suspension setup dictates that the third-row seats must be bolted to the cargo floor; the seatbacks fold down, but they can't go flush with the floor. The third row can subsequently be flipped forward to create additional room, but it must be removed entirely to take full advantage of the Escalade's maximum available cargo area (with the second-row seats folded). Conversely, the Infiniti offers a power-folding third row that disappears into the floor, and, with both second and third rows folded, a flat cargo bay is created without the need to remove any seats. On practicality and convenience, this is an easy win for the Infiniti.
As you'd expect, both the Cadillac Escalade and Infiniti QX56 are full of standard and optional amenities such as heated and cooled front seats, heated second-row seats, heated steering wheels, leather appointments and premium instrumentation and trim. But as you start to dig into some of the other specifics, the Infiniti continues to distance itself from the Escalade.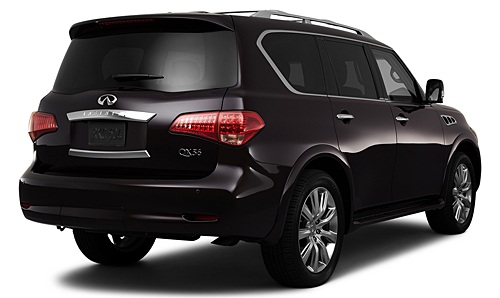 The Cadillac offers a high-end Bose 5.1 10-speaker surround-sound AM/FM/CD/DVD audio system with MP3 compatibility, navigation, XM Satellite Radio, XM NavTraffic, RDS, a USB port for portable media players, Bluetooth for phone and a compact flash drive slot. The Infiniti ups the ante with a 13-speaker Bose AM/FM/CD/DVD Premium Audio System (including two subwoofers) along with XM Radio, Bluetooth hands-free phone connectivity with streaming audio support, a USB port with iPod integration, Hard Drive Navigation with Lane Guidance and 3D graphics, XM NavTraffic, XM NavWeather, ZAGAT® Restaurant Guide, a 9.3GB Music Box hard drive for local music storage and voice-operation for navigation, audio and vehicle information systems. Both the Escalade and QX offer optional rear-seat entertainment systems with wireless headphones.
While the Cadillac Escalade offers a traditional rearview camera setup that displays the view aft on the main navigation screen, the Infiniti QX56's standard Around View™ Monitor system is nothing short of revolutionary. Instead of a single rear-mounted camera, the Around View setup uses cameras in the front, rear and each side of the QX to stitch together an accurate overhead view of the SUV's entire perimeter.
In crowded parking lots, for instance, this allows the driver to easily judge angles and distances. The Around View image is presented in conjunction with either a standard front or rearview via a split screen. The driver can also display a single, wide, rear-only view on the display.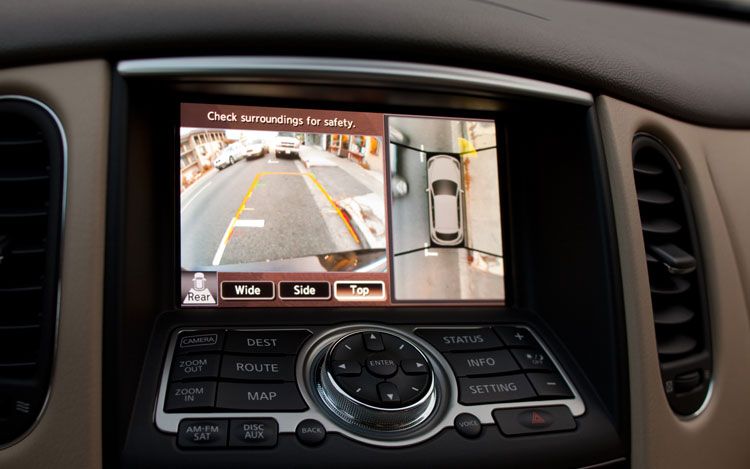 One area where both luxury-utes match one another is in controlling vehicle body movement – as both offer up high-tech solutions: Cadillac with its Magnetic Ride Control system and Infiniti with its new Hydraulic Body Motion Control System.
But the Infiniti's other sophisticated driver aid systems put an insurmountable distance between it and the Cadillac Escalade, which does not have comparable offerings. For instance, the QX's comprehensive Technology Package includes Intelligent Cruise Control (with full speed range), Lane Departure Warning, Lane Departure Prevention, Distance Control Assist, Intelligent Brake Assist with Forward Collision Warning, Blind Spot Warning and Adaptive Front Headlights, all of which combine to help drivers avoid accidents long before they occur.
The QX has also been awarded an ALG Residual Value Award, "Best Luxury Full-Size Utility," which means that it's expected to retain its value better than another vehicle in its class. The same can't be said for the Escalade.
With high style, big power, technology without peer and ultra-competitive pricing, the 2011 Infiniti QX56 has emphatically staked its claim as the new alpha dog among full-size luxury sport utility vehicles.
Stop in and discuss this article here!
Stop in and check out the Infiniti QX56 topics in the QX56 Forums here!