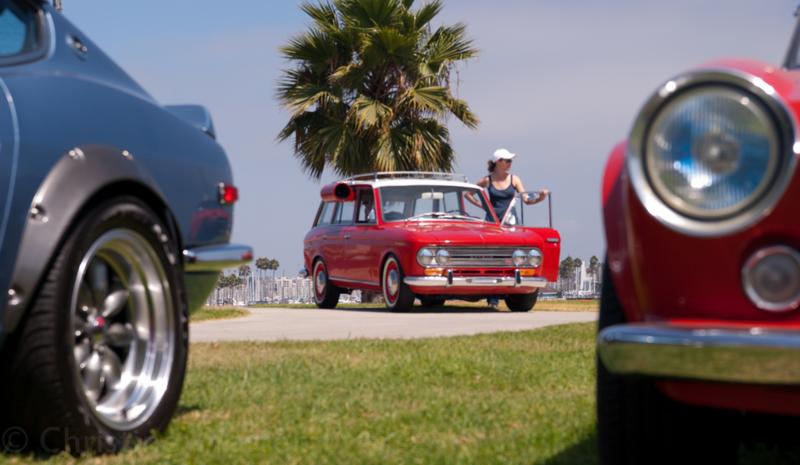 The hallmark of a true enthusiast is not just an appreciation for, but a knowledge of the history of their subject matter. Political pundits know the history of the presidency. Football fans know the stats and achievements of the legends of the game. Musicians can perform classics as well as more modern fare. Scientists and doctors study the works and writings of their predecessors. Generals can recount the strategies and battles waged by the great military leaders of history. And so is the case with true automotive enthusiasts.
On September 10th, countless Japanese classic car enthusiasts descended on Long Beach, California to pay homage to the history and heritage of Japanese cars in America at the 7th Annual JCCS Show. With over 400 cars and motorcycles on display, there was far too much to see in one day, and the crowd of spectators was enormous.
When we attended JCCS 5, we didn't bring any of our cars, and kicked ourselves all year for leaving them in Arizona. For JCCS 6, we struggled to find a way to transport just two cars (our '67 411 wagon and '63 NL320 truck). This year we decided to go all-out and rent a transporter. Being that it's our favorite event of the year, we wanted to put on a great display for the crowd.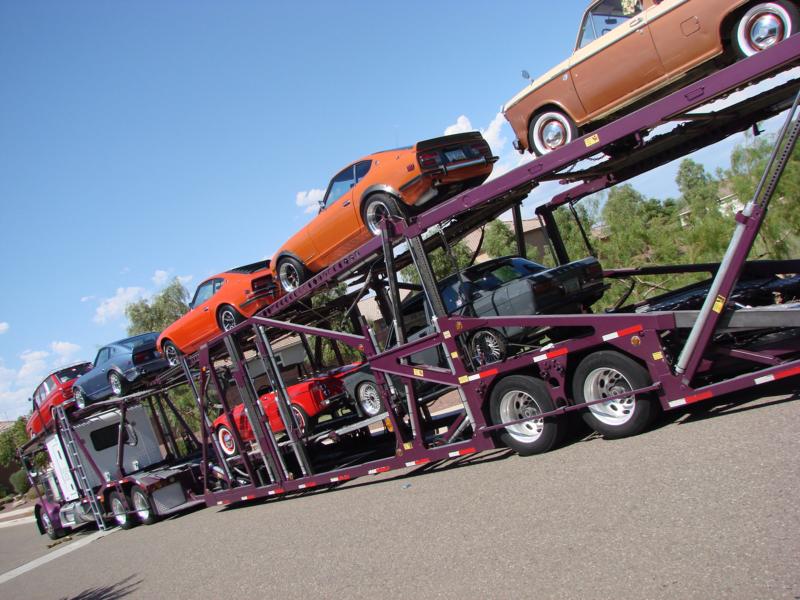 Here's why: Every year, Toyota, Mazda, and Honda come out in full-force with their support for the event, in appreciation of those who have contributed to their company's success in America. They bring transporters filled with vintage Japanese cars, donations for the raffle, goodies for the attendees, and financial support for the event. Notably absent every year? You guessed it – Nissan. What's even more disappointing is that Datsuns outnumber all other marques at the event. Row upon row of lovingly-restored 510's, Z's, Roadsters, pickups and other classic Datsuns dominate the show field, yet there's NO manufacturer presence.
So, we've taken it upon ourselves to try and fill that void. We certainly don't have the financial wherewithal to do so, but we contribute a substantial amount every year as a vendor (even though we don't sell anything), we rent a tent (in order to give the Datsun enthusiasts a "headquarters" at the show), and we try to present an interesting and informative display to encourage and educate people to restore and enjoy Nissan's "heritage cars". We'll keep doing so, out of our own pocket, until our friends at Corporate get the hint. We can only hope they'll recognize the importance of the company's rich heritage and the benefit and goodwill that's generated by simply "being there" for the faithful enthusiasts.
Anyhow, that's why we rented a transporter to bring our cars to JCCS. Joining our collection was Jason (rotorimp) and his just-finished '72 Z (awesome rust-free restoration, and for sale). Cody and Ryan from DesertDatsuns rounded out the mix with their immaculate '71 240Z (pure perfection) and '72 box-flared VG30DET-powered 510.
We loaded up tools, chairs, a cooler, some spare parts, our banners and some giveaways for the attendees in preparation for the weekend. Christine (skydragoness) flew in from Delaware to make the trip with us, and she joined Bex and I in the comfort of our Frontier Crew Cab (the perfect road trip vehicle) while the Datsuns took a more leisurely pace, securely hauled by Bob and his transporter.
Now, a little diversion: Several months ago, while Andy (Ozzie) was in the States with us for our epic Carlisle NICOfest and our Washington DC trip, he showed off the Australian equivalent of our AutoTrader.com. Lo and behold, we ran across a pristine, all-original 43,000-mile example of a '64 Bluebird sedan. So, with Andy's help, we negotiated with the seller and arranged to have the car shipped to America. The hardest part of this process is the wait – but we were certain it would arrive in plenty of time to make its debut at JCCS.
Fast-forward to three days before the show. With all our other Datsuns detailed and freshened up for the trip, our newest acquisition still hadn't arrived. In a panic, I called the shipper. She had already cleared Customs in Portland, and was en route to Phoenix – scheduled to arrive on September 9th. We were leaving for Long Beach on the 8th….
Change of plans! Frantically, we had the shipper make a diversion into Long Beach, where he'd drop off the Bluebird at our hotel before we arrived. We needed someone local to take custody and sign for her, and Bex immediately thought of our very own "Razi", a NICOclub member since way back. A quick phone call and it was settled – Razi handled the handover, drove her to the hotel, and left her keys with the front desk staff. Stressful? You bet. But we couldn't have picked a better helper – I'm really glad Razi got to be involved with the process, and I think he had fun helping out.
The team at JCCS gave us a spectacular location. Rolling in early on Friday gave us plenty of time to get the cars situated, unload all our gear, and wipe the dust off before the show started the next day.
Finishing up the whole setup process, we drove up to Santa Monica to see the world-famous pier at sunset, the girls took some great pictures, and Christine got to dip her toes in the Pacific Ocean. Although we could have wandered around Southern California for several more hours, we had to get some rest before the show.
As always, the event was awesome. The show field was at max capacity, and an entire section of cars spilled out of the park and into the main parking area of the Queen Mary. Terry and Koji, the JCCS organizers, work tirelessly with their staff to put on a great show. Despite their exhaustion, they're always welcoming and friendly. We truly are blessed to consider them our friends. The day goes by way too fast, seeing all the amazing old Japanese cars, taking photos, catching up with old friends and meeting new ones. At the end of the day, the cars file out of the show field in single file, which gives a great opportunity to get good photographs. We were loading up the next day, so we were able to stay until the last car left.
Dinner with the NICOclub crew before the locals departed, and everyone from out of town was ready for some much-needed rest. Since the transporter wasn't arriving until the next day, we passed some time at the Scripps Aquarium and had a picnic lunch out on the waterfront – a great way to wrap up an awesome weekend. Loading the cars was just as much a spectacle as it was in Phoenix, and we got several opportunities to chat with interested passers-by.
The point of all this? If you're a TRUE Nissan enthusiast, you really owe it to yourself to make the trip to JCCS next year. You'll learn a ton about the rich heritage and history of the cars we all take for granted today, and you'll meet some of the coolest people in the automotive community – the guys and girls who are keeping vintage Japanese tin on the road.
Better yet? Start perusing AutoTrader and ebay. Pick up an old Datsun (ANY old Datsun), and make it a point to put it back on the road. If you don't have your heart set on a 240Z or a 510, there are a lot of classic Datsuns that can be bought for under a grand, and they still run. An old B210, a 620 pickup, a later-model Roadster, a 280Z, or maybe an early 610 or 810 (the predecessor of today's Maxima) would make a fun and rewarding restoration, and one thing is for certain: Unlike the musclecar community or the exotic car community, you'll instantly be part of a fraternity of awesome people who will bend over backwards to help you out with your project. We're all in it for the people – The cars just bring us all together, and the JCCS event is a perfect place to witness that in action.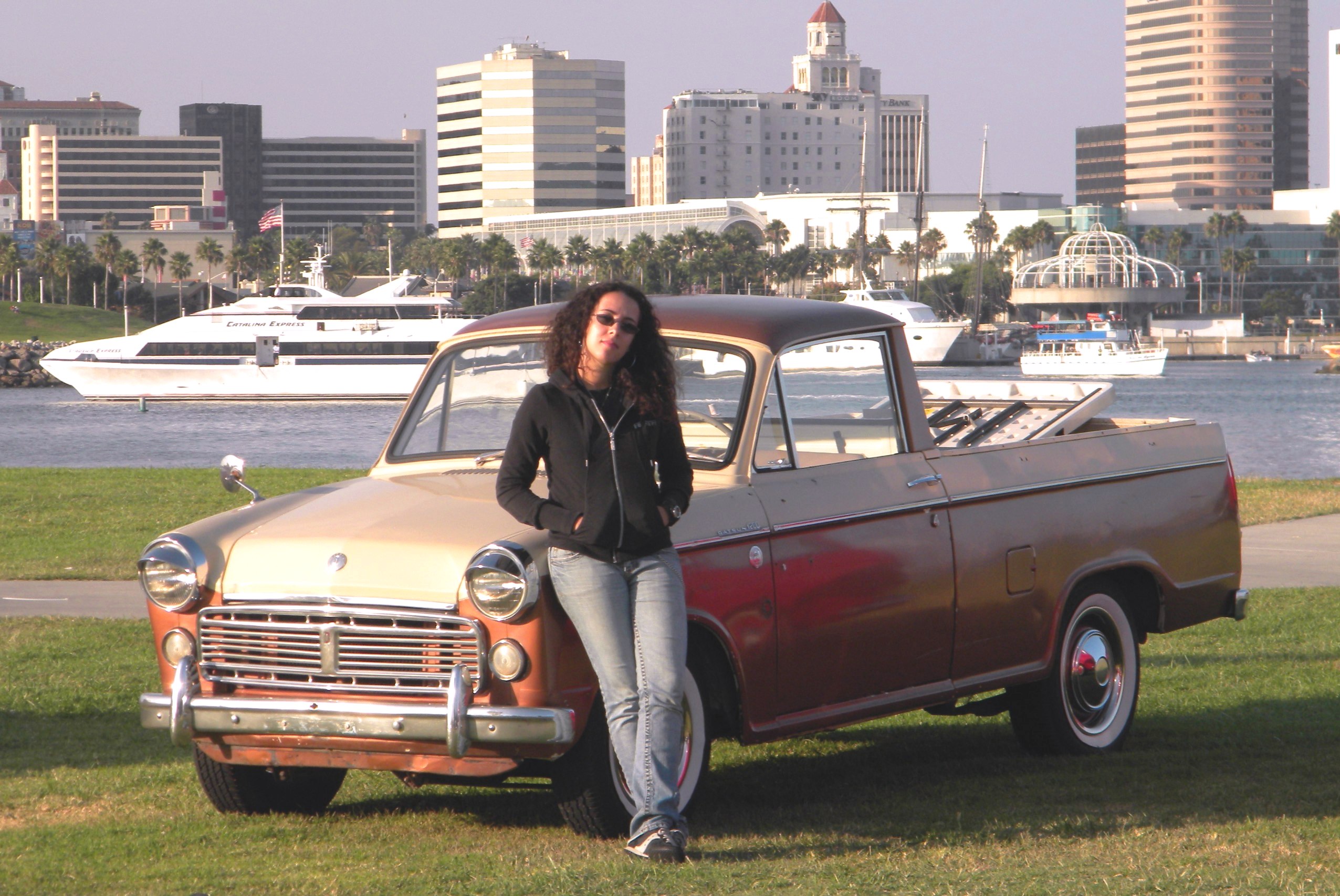 We'll save you a chair under our tent.
-Bex & Greg
Questions? Comments? Just want to talk about the event?? Here's where: NICOclub at the Japanese Classic Car Show 2011