Since a lot of people are interested in KAT I thought these pictures might help New NICO members who are new to KAT. From my personal experience this was the biggest headache to getting my KAT project installed. I had to do it several times before I got it right.
OIL RETURN BUNG NO AC LOCATION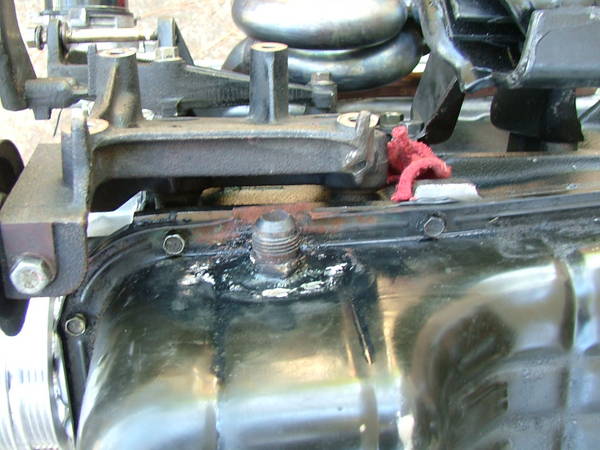 Here is a oil pan I got when I bought this engine several weeks ago. Notice the bung is right below the AC bracket. If you are using AC you will not be able to use this location
OIL RETURN BUNG WITH AC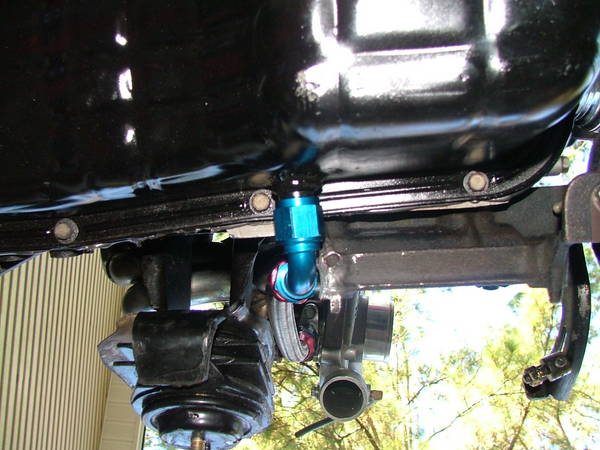 If you notice in this pic the oil return bung is next to the AC bracket. It was so close that I had to grind on the AC bracket to get the 90 degree Earl fitting in place. The key here is to look at the bolt next to the bung. If you want to make it easier to install the pan bolt you need to get the bung as close to that bolt as possible without blocking it. You don`t want it to far to the right or you may run into a problem with the AC bracket.
Complete pic of return bung.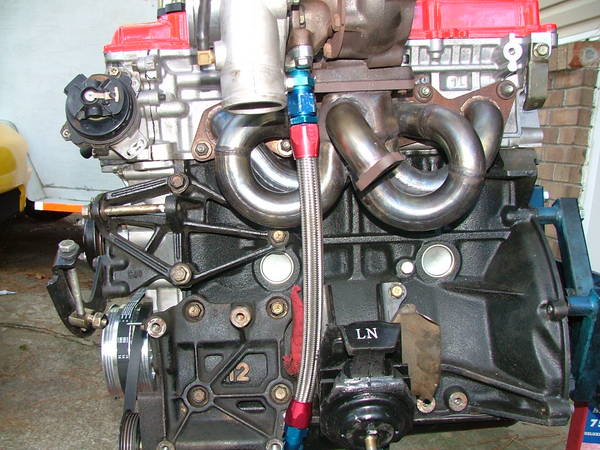 This is what it should look like when everything is connected. Notice in the picture that the oil return line is almost verticle. This is important for proper oil drain.
90 degree Earl -10AN fitting.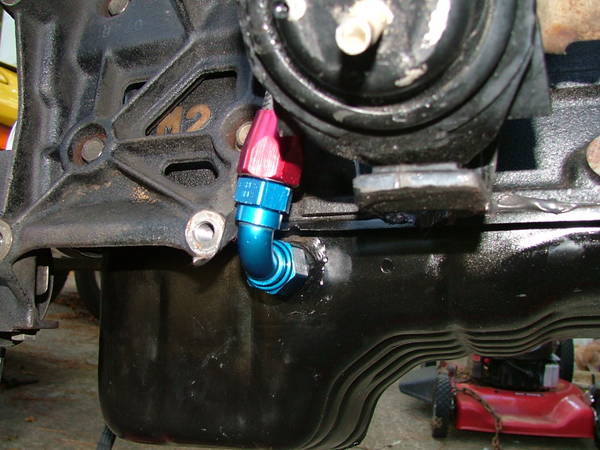 Here is a close up of the 90 degree earl fitting. Notice how close it is to the AC bracket.
OIL PRESSURE SIDE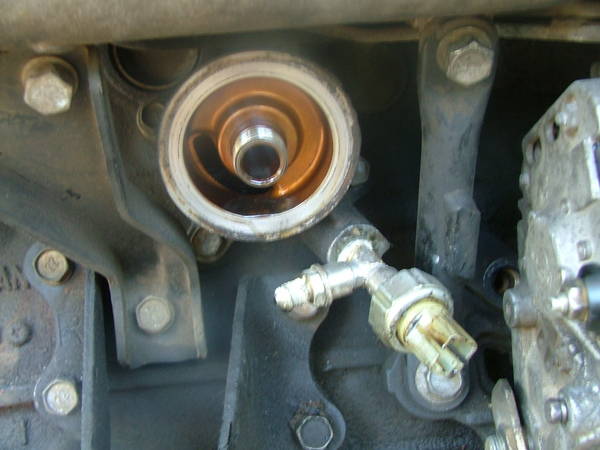 This is a BSPT (British Standard Pipe Thread) T fitting. The correct male end to mate with the factory oil sensor port on the engine block (Male 1/8 BSPT). On the opposite end is the correct female end to accept the factory sensor (Female 1/8 BSPT). On the side of the fitting is an oil take-off port, where you can install any 1/8 NPT fitting for feeding your turbo. The BSPT and the NPT look exactly alike. You can not tell the difference from looking at it. I know because I was sent the NPT and it will not thread into the block. I learned that lesson the hard way.
TURBO WITH OIL PRESSURE AND RETURN.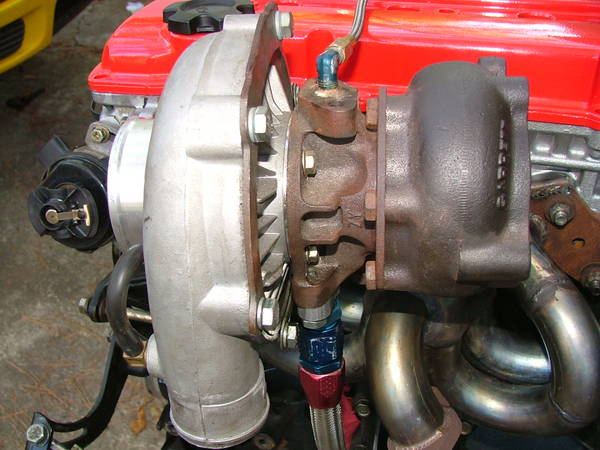 Notice in this picture you can see the return oil line on the bottom and the oil pressure side on the top. Most turbo`s have to be clocked in another words turned to make the top side pressure and the bottom side return.
The oil drain should be -10AN in size and the oil pressure side should be -3AN in size.
Earl fittings not cheap but won`t leak or give you problems.
Part numbers:
Steel braided hose -10AN
809110 Swivel-Seal 90 deg. Tube Hose End -10AN
800110 Swivel-Seal Straight Hose End -10AN
981610 Straight, Pipe Thread To A.N. Adapter 1/2 to -10AN
967110 Steel Weld Fitting -10AN
Auto-Flex Hose (Use Swivel Seal, Auto-Fit or Auto-Mate Hose Ends) You will need little over 1ft. I used Steel braided
Then there is an Oil Drain Flange Kit that you will need. It is specific to the turbo you choose. All this stuff can be found at anplumbing.com except for the turbo drain adapter. A lot of places sell Earls fittings but this site is easy to use.
Hope this helps and if you want the part numbers I will add it later.
by: DammitBobby