Every car fanatic, before they were old enough to drive, started off with some facsimile of 'the real thing.' Whether it was a pedal car, die-cast toys, or plastic model kits, we all coveted those, and those early examples molded our adult enthusiasm for motorized transportation.
Some of us never grew up, and at 47 years old, I'm one of those. I'm a collector and restorer of classic Datsuns, sure – but I also enjoy collecting Datsun-themed Hot Wheels and plastic model kits.
Last year, while wandering the SEMA Show, I strolled into the M2Machines booth, hoping I might see a collectible related to my passion – and finding everything but. Now, it's important to note that the M2 die-casts aren't the mass-produced Hot Wheels / Matchbox cars that you grab for a dollar. M2's stuff is limited production, finely-detailed, and coveted by discerning kids and adult collectors.
Striking up a conversation with Richard, the V.P. of Sales and Marketing for Castline, and talking about die-cast collectibles, he asked what I'd like to see for upcoming models. Of course, the conversation turned to early Japanese cars, specifically Datsuns, and thus began the discussion.
Turns out, M2 was in the very initial stages of researching a run of early Nissan or Datsun collectibles. We chatted a while longer, talked about which iconic models might be best-received by collectors and enthusiasts, and I headed off on my way. Fast-forward to June 2017, when the pre-release information on the new M2 lineup came out (code name: Release JPN01), and the response was incredible, with all pre-orders being sold out in less than three days!
The very first release is a WalMart exclusive that will have three versions of each car. One 'stock' version, one modified/race version, and a 'Chase' version. Again, the lineup is only being released in WalMart stores, so you'll have to scour the aisles with the other collectors!
This afternoon, I received my own set of M2Machines' newest additions to the fleet. Want to see what they came up with? The three models are as follows:
1971 Nissan Skyline GT-R "Hakosuka"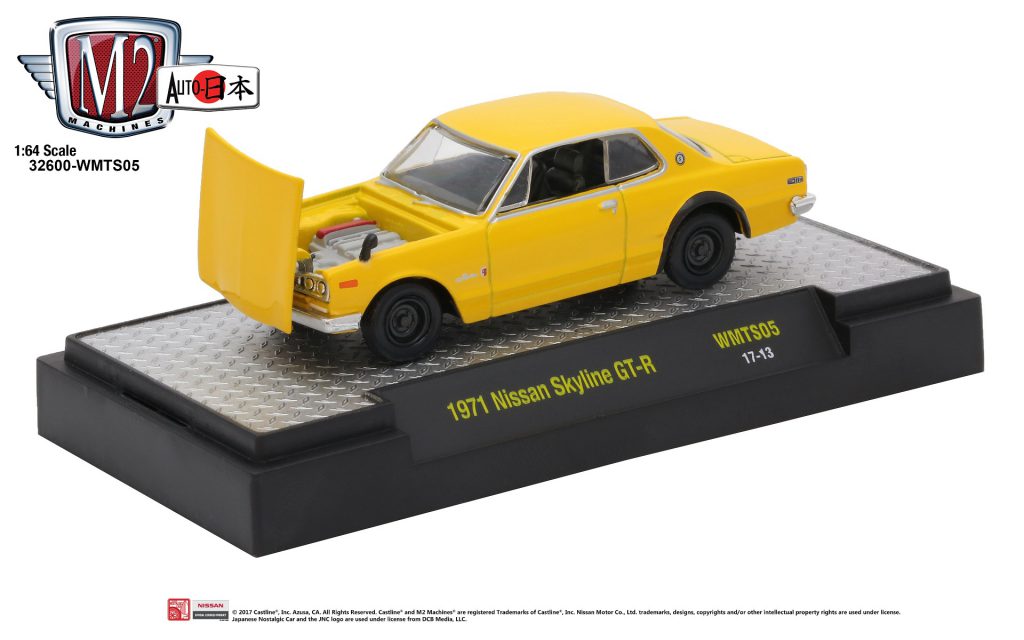 The first version is painted Safari Gold with a black interior. As the base model, there's no wing or front spoiler. This casting has right hand drive, outside fender mirrors, black flares, steel wheels with blackwall tires, and a finely-detailed S20 engine.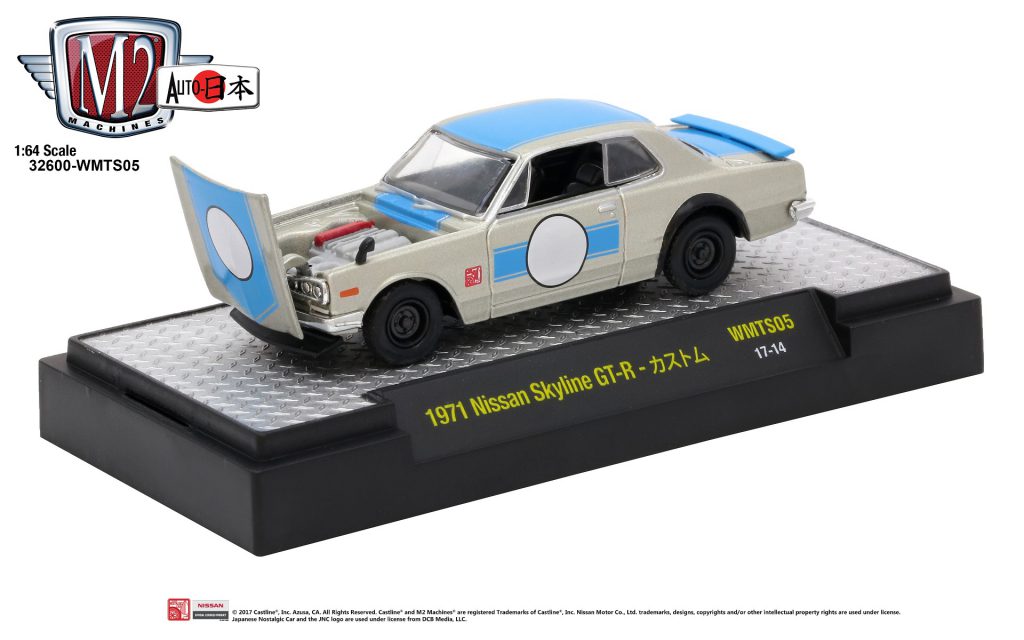 The "Custom" Hako is painted metallic silver with blue racing graphics and a white meatball on the doors. This one bears a wing & front spoiler, with black wheels and red tires.


The "Super Chase" version, with a limited production worldwide of only 250 pieces, features a raw polished body, red interior, blacked-out trim, bumpers and wheels. Red tires and Japanese characters on the doors and rear glass translate to "Good luck."
1970 Nissan Fairlady Z-432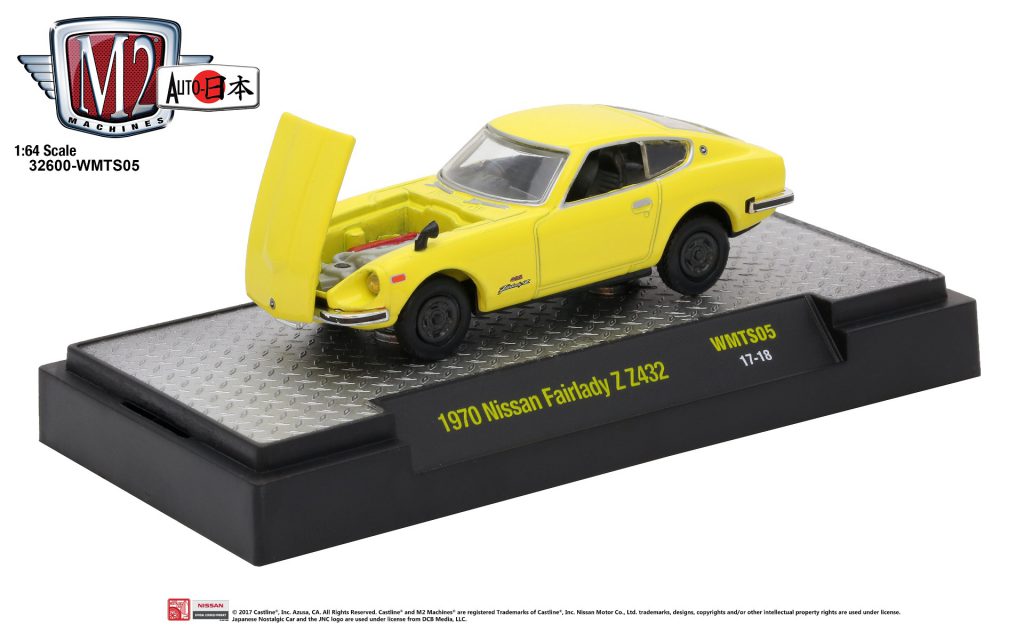 This Z is painted Nissan's 112 Lime Yellow with a black interior. The S20 engine is apparent under the opening hood. Again, right hand steering, fender mirrors, and black steel wheels with blackwall tires.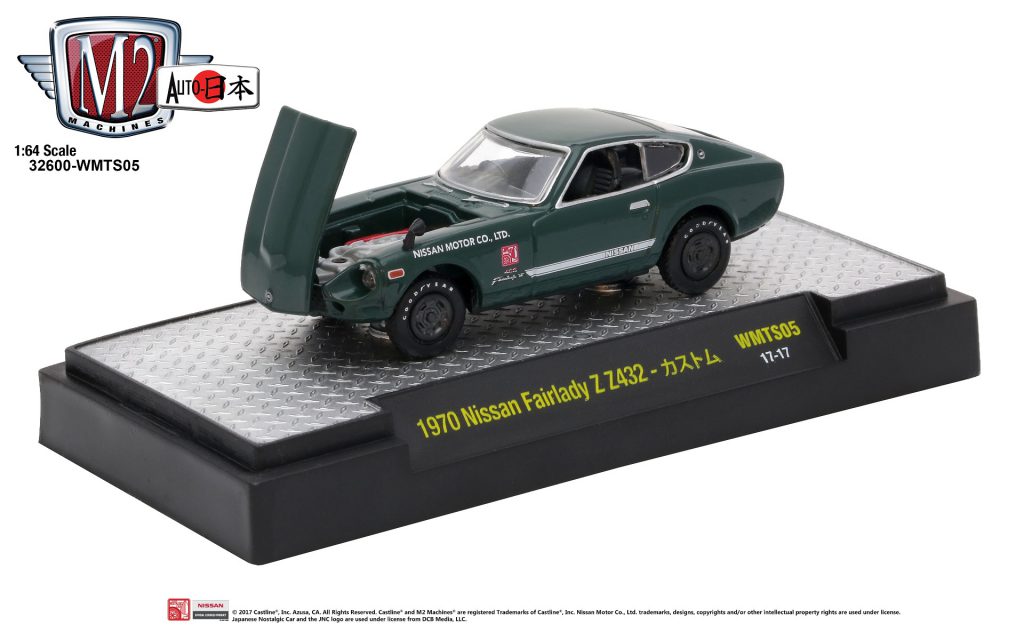 The "Custom" Z-432 is dark green, wears vintage race livery and a lowered chassis. Steel wheels with white-letter tires, and removed bumpers, rounds out the period-correct look.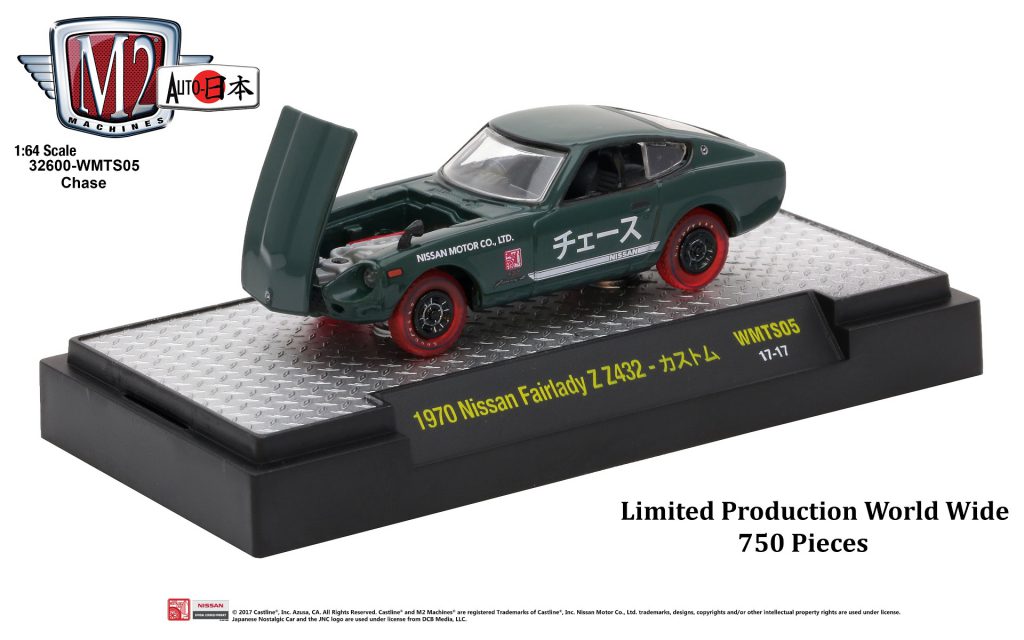 The "Chase" version, with a limited production worldwide of only 750 pieces, is also dark green with vintage racing stripes and blacked-out trim. Differnt style wheels and red tires set this one apart.
1969 Nissan Bluebird 1600 SSS Sedan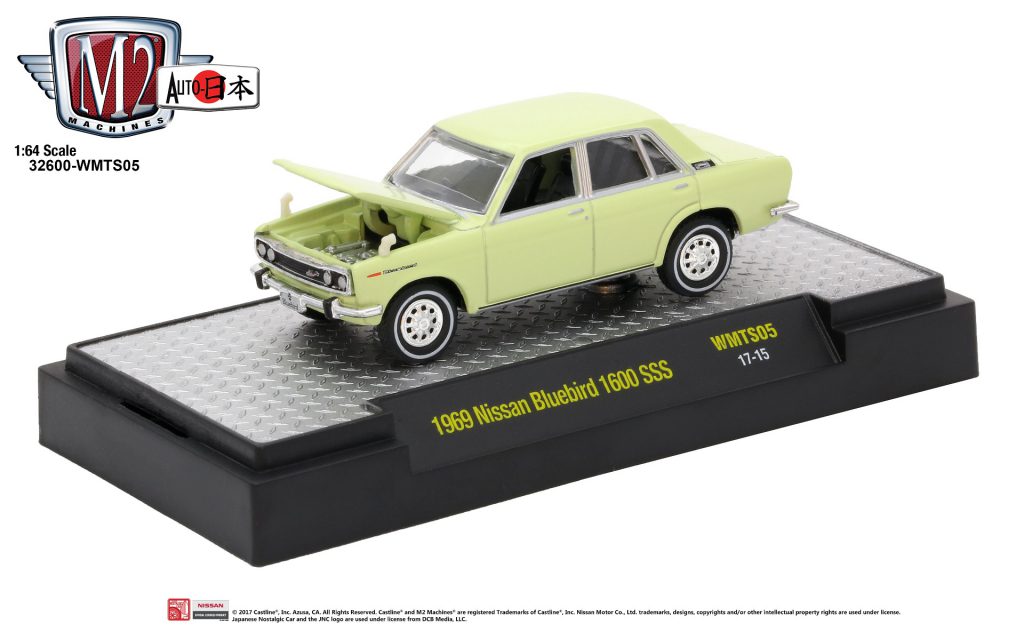 This Bluebird is painted a pale green and has a black interior. Chrome trim, bumpers, fender mirrors and hubcaps with whitewall tires make this one amazingly correct.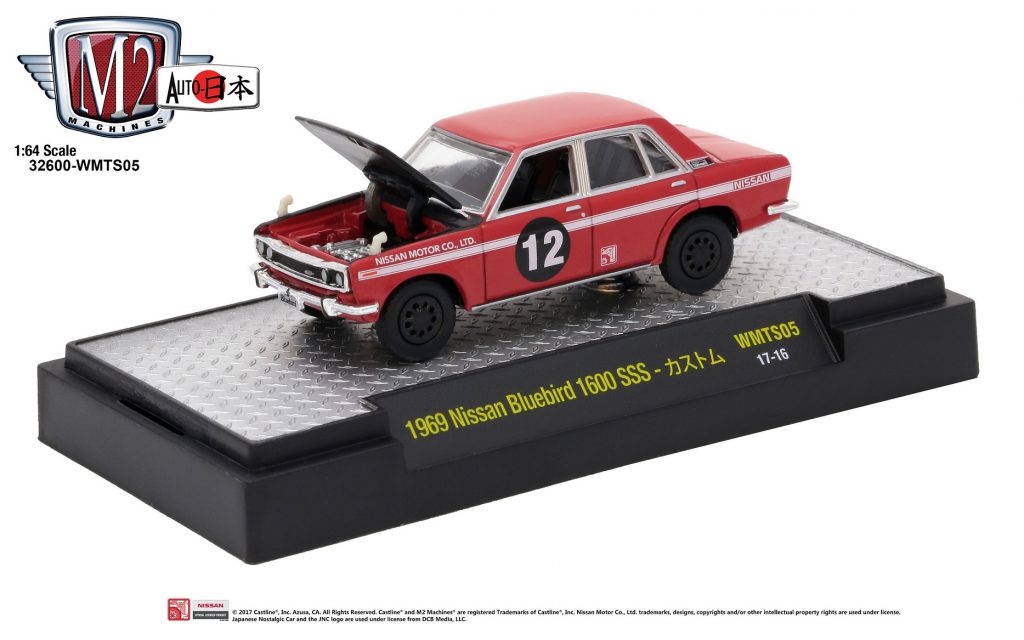 The "Custom" SSS Sedan is painted red with vintage black and white racing livery, a blacked out hood, black spoked wheels and blackwall tires.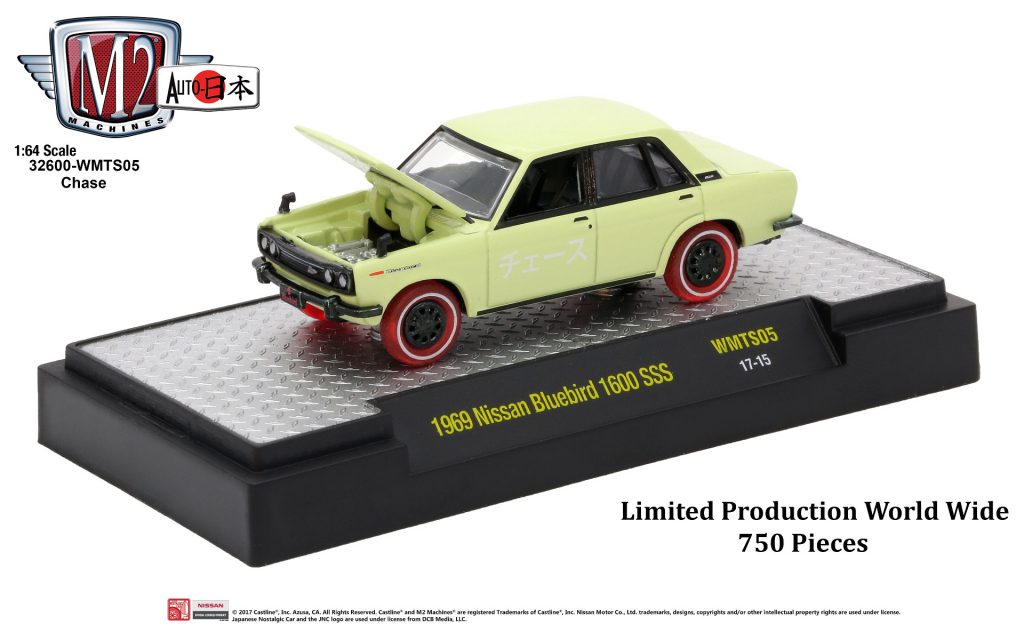 The "Chase" version, with a limited production worldwide of only 750 pieces, appears in the same pale green paint color as the first version, but trades its chrome for blacked-out trim, black mag wheels, red tires, and Japanese lettering on the rear window.
The Japanese Nostalgic Car (JNC) 'inkan' appears on one version of each car – see if you can spot it!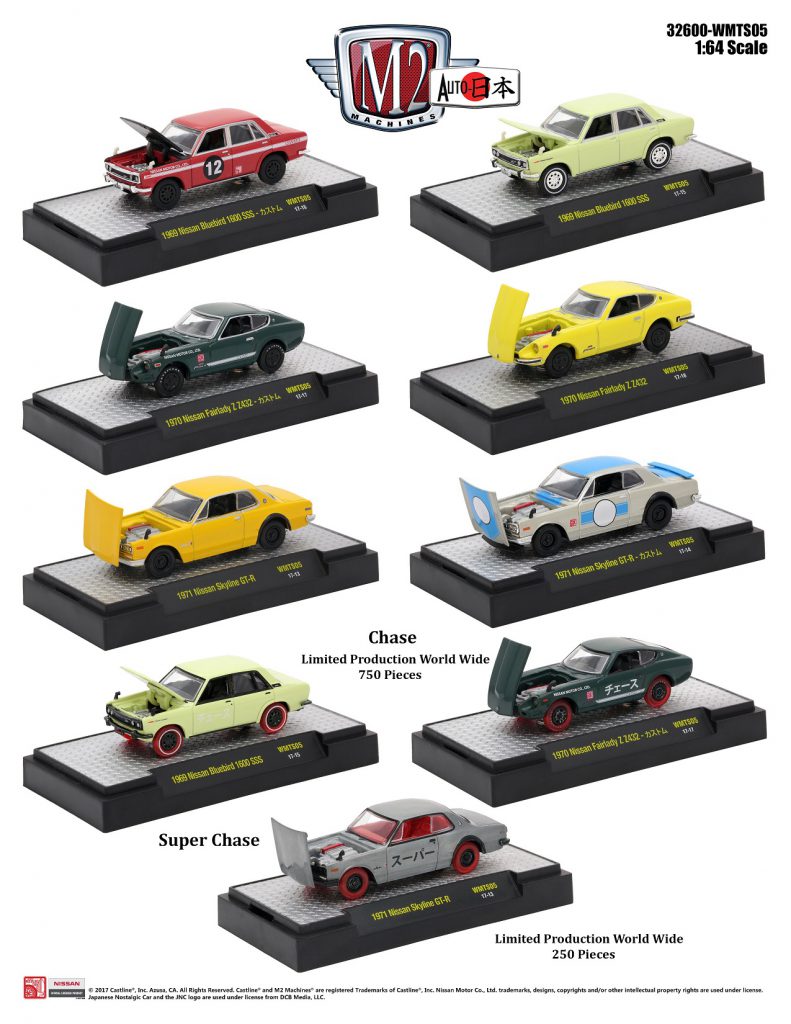 We'd like to thank M2Machines for allowing NICOclub to be involved with this project, and we wish you the best of luck collecting each variation of these classic Nissan icons.