So I decided to embark on sporting out my non-sport headlights to get a closer match with my paint color and grill. It took me a day start to finish and the cost was about $20. Sorry I don't have step by step pictures.
– Remove air dam behind grill
– Remove grill
– Remove both front tires
– Remove front fender liner inside wheel well held on by push clips and a handful of 10mm bolts underneath for each side
– Remove all 6 of the 10mm bolts on the bottom front of the bumper
– Now go back inside the wheel well and right below each headlight assembly will be 3 more 10mm bolts to remove and disconnect the fog lamp harness
– From beneath the hood, remove 2 push clips holding bumper and bumper will now be free
– There will be a metal bar in front of the radiator that will need to be removed and held on by (3) 10mm bolts
– There are 2 white block things below the front of the headlights, just get a flathead and lift the tab and remove
– There are (3) 10mm bolts and 1 nut to remove to free the headlight and disconnect the harnesses
Once your headlights are removed, your car should look disastrously like this.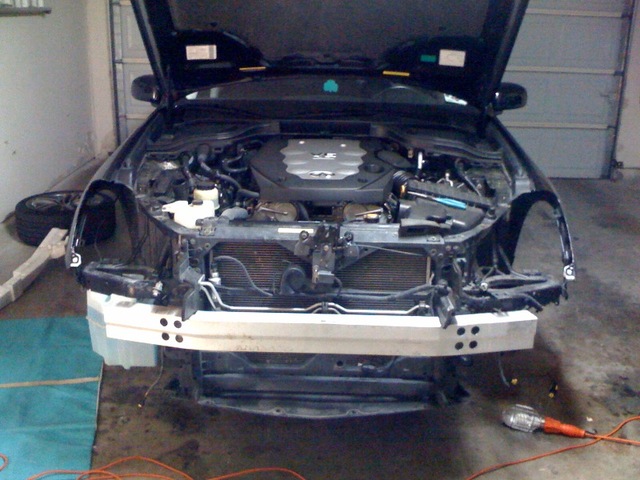 On your headlight, there are 5 screws holding the assembly to the outer lens, remove those. Put each lamp in the oven preheated at 250 for 15 minutes. When you take them out, get a flathead and pry the end where the low beams are to loosen it up and also gently pry the tabs so they not locked on the lens. Then take your hand (with gloves preferably) and pull from that side to the other until the front lens is completely off.
Now that the lens is off, there are 2 screws to remove to free the chrome bezel and with a flathead, remove the orange reflector. Now you can prep for paint.
Get sandpaper to grind down all the chrome and rinse clean. I also used a leaf blower to make sure there aren't any particles remaining. For painting, I used gray automotive primer giving it 3 coats and allowing 20 minutes between coats. Then I used Rustoleum flat black and also giving it 3 coats with about an hour between coats. I used up 1 can of primer and 2 of paint, both can be had at Home Depot. Of course, you can get it any color of your choosing but since my car is black, that's what I went with. Once it is cured, reverse everything and put the lamp and lens back in the oven to heat the glue. Then put the lens back on and apply pressure for a minute or two and reverse procedure. Here are my results.
Dang bird droppings……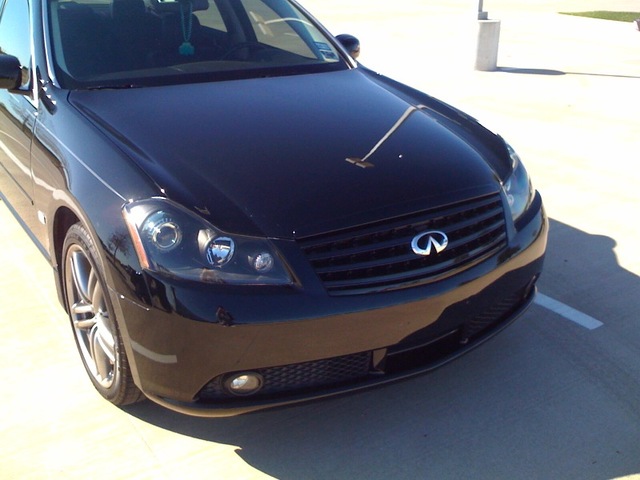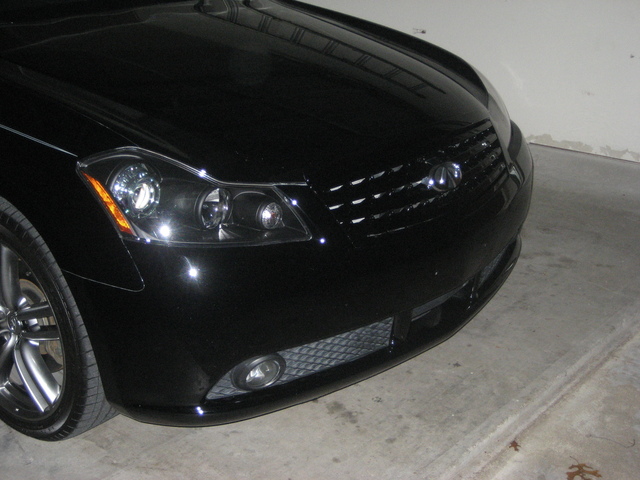 Article by: hoaapple