The Pebble Beach Concours d'Elegance. Monterey Car Week. Exotics on Broadway. The Gooding Auction. Historics at Laguna Seca.
If that little list of events didn't perk your ears up, you're not really a car person, so you probably won't want to continue reading. Furthermore, if you don't like pictures of cars, bail out now.
For the rest of you, start making plans now to be there in 2020, because it is indeed everything you've heard and more. Until then, I hope you enjoy this little glimpse into our adventures in Monterey, and perhaps it will even be useful for planning your trip next year!
The road to the Concours, for us, started in May. We were hosting NICOfest Carlisle in Pennsylvania when we were introduced to Kim Barnes, a collector out of Maryland. Kim placed us in touch with the MotorTrend staff, who were looking for some vehicles to round out a special event during the Concours.
As it turned out, Infiniti was sponsoring the Japanese Automotive Invitational, a celebration of historically significant Japanese automobiles, and we just happen to have a few Japanese classics.
A quick email with the details on some of our collection resulted in two of our ladies getting chosen to be included among the featured cars, and the next thing we knew, they were whisked away by transporter to spend a week on the California coast!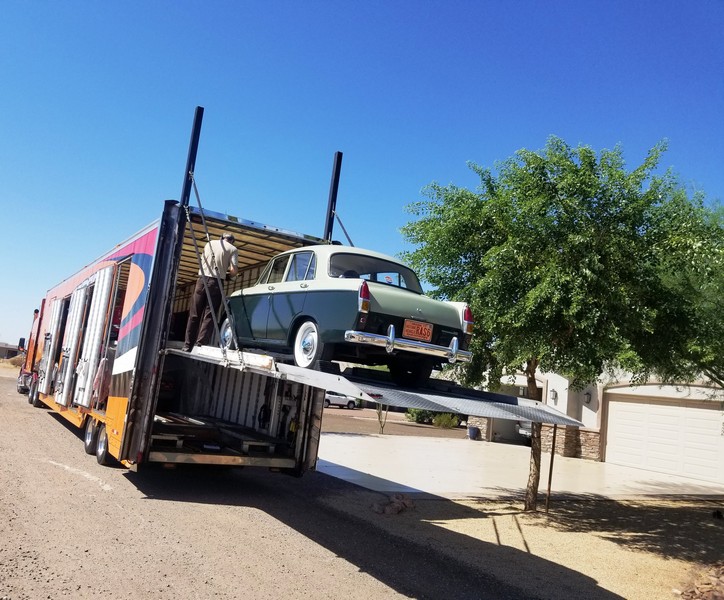 Not to be left behind, Bex and I made plans to be there as well – and if you're going to go to the trouble of traveling, you may as well make a vacation out of it. So, armed with a pair of tickets to the Concours, we began our 700-mile jaunt to the coast. This was a great excuse to test out our newest addition to the fleet, a 2011 Lexus LS460L. She'll be our "road trip" car, and she performed flawlessly for this trip. Time flies when you're having fun, and we love to travel, so the drive went by in a flash. As usual, we packed our schedule so as to make the most of our available time in the area.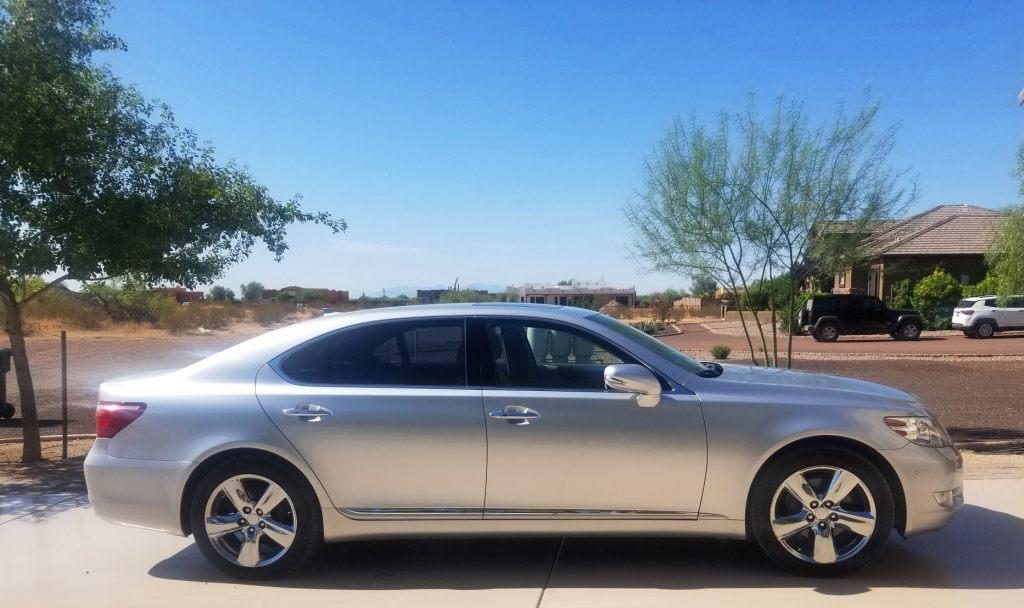 The first night there, we made a dry run out to Pebble Beach, just to get a feel for the route. The cars hadn't yet been unloaded, but the buzz surrounding the area was simply electric. Watching the sunset from Carmel Beach, listening to hyperexotics and classics cruising the downtown area, and eagerly anticipating the next few days' events made the long drive worth it.
We love to be behind the scenes – I guess 15 years of hosting events has made us more comfortable on "set-up day" than at the actual event! We wandered around as vendors were setting up and display cars were being unloaded. Infiniti had already constructed their display, and it's impressive – A stark white monolithic structure, softened by decorative origami paper hanging above, was the focal point and would serve as the entryway for all Pebble Beach event attendees. Staffers from Infiniti and MotorTrend were on hand to answer questions and show off the 30th Anniversary special edition cars.
Infiniti displayed the QS and QX INSPIRATION Concept twins prominently in the display, to give attendees a glimpse of Infiniti's future design intentions as well as its commitment to fully-electric vehicles. Also appearing nearby was the Q50 Signature Edition, celebrating 30 years of Infiniti innovation and design.

Speaking of design, here's Infiniti Design Chief Alfonso Albaisa discussing the reason for all of these cars being displayed (and our cars make a cameo!)

The original G50 Q45 was nearby, a first-run FX45, and a 1963 Prince Skyline Sport that normally resides at the Petersen Museum – all eye candy for fans of early Nissan and Infiniti history.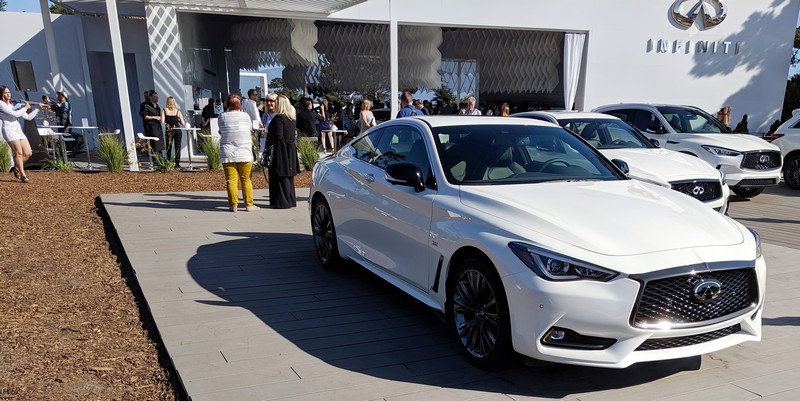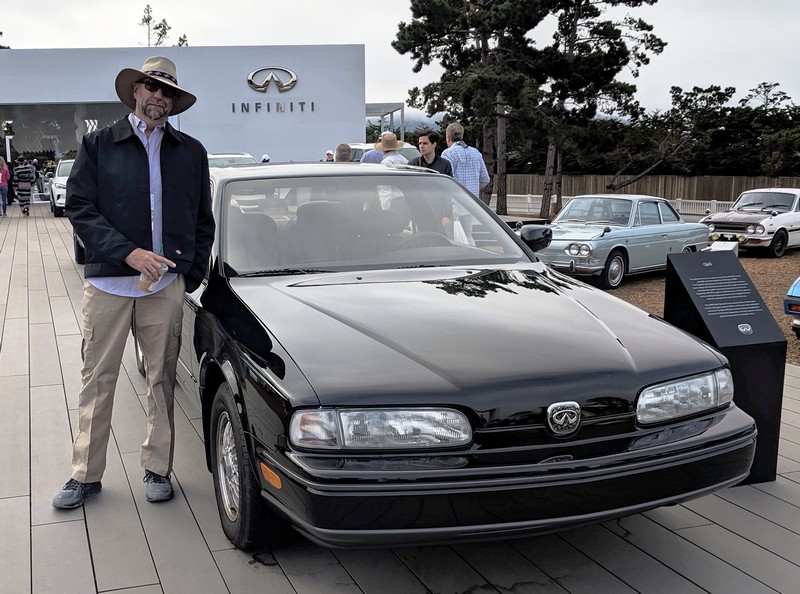 Surrounding the building were notable Japanese vehicles from the past 50 years, some of which you'd never see outside of a museum. Particularly enticing were the cars presented by Myron and Kim Vernis, including stunning specimens such as a Mitsubishi Galant GTO, a Hina Contessa 1300S, a Mazda Luce, an Isuzu Bellett GTR, and my all-time personal bucket list car, a 1965 Silvia. Our '67 411 SSS wagon and '63 Bluebird were fortunate to be included among the display, which you can browse in the gallery of pics below.
Infiniti and MotorTrend really pulled out all the stops for this event, with live music, beverages and snacks, and a relaxing, upscale atmosphere befitting the luxury brand… and it set the stage for what participants were about to see as they entered the rest of the show.
Speaking of that, let's move further into the venue. Exotics abound at Pebble Beach, and the array of unreleased cars, prototypes, and one-offs were enough to give a carspotter whiplash. Just check out some of the incredible automotive artwork.
The vendor displays were a must-see as well. We'll let the gallery do the talking here!
A side note: During Monterey Car Week, the cars in the parking lots and on the roads are just as incredible as the ones on display. We decided to whip up a gallery of vehicles we saw "in the wild" during our trip. I hope you guys enjoy it.
Becky and I are fans of auctions, so we decided to go check out the Gooding Auction, and the offerings there certainly didn't disappoint. One of my absolute favorite cars there was a 1929 Minerva – a car I'd never heard of, but one that completely captivated me with its intricate details and advanced technology for the time. I learned more about these Belgian cars from a gentleman standing nearby, and on Sunday, I got to see another one (a 1927 model) and chat with the restorer – such a cool experience. Only nine are known to exist, and I believe this one sold for a cool quarter-million.
Afterwards, we wandered over to see the Legends of the Autobahn display at Pasadera Golf Complex. This is a must-see event for anyone interested in vintage German marques. We bumped into our good friend from the Datsun community, John Lorio, who was there with his immaculately-restored BMW 2002.
One of the really cool options during Monterey Car Week are the various forums presented on different topics, and we were sure to be present for the one titled "30+ Years of Japanese Luxury Cars." Ed Loh served as the moderator for this discussion, and the panel consisted of Alfonso Albaisa (Infiniti), Dave Christ (Lexus), Jon Ikeda (Acura), Angus MacKenzie (MotorTrend) & Tom Matano (Mazda). For those that don't know, this panel represents the trinity of Japanese luxury design, with Infiniti and Lexus celebrating 30 years in the market (Acura was on the scene a few years prior). MacKenzie's automotive journalism career is the stuff of legends, and Mr. Matano is recognized as the father of the Miata… no big deal! The discussion among this group was riveting, and what was even cooler was getting the opportunity to chat with Albaisa, Christ and Matano after the event – Certainly a highlight of the trip for this car guy! https://www.facebook.com/motortrend/videos/393877137980439/
Saturday came, and the extra day on our itinerary gave us ample time to attend the Historics at Laguna Seca. This legendary motorsports facility is a destination unto itself, but when you add in the opportunity to wander the paddock and see row upon row of historically-significant racing machinery up close and personal, it's all the more exciting. A little side note highlight: Seeing the 2020 Corvette in person was impressive, and love it or hate it, Chevrolet has a sure-fire hit on its hands.
On our way back into town, we stopped off in Seaside to wander through the Concours d'Lemons. A complete counterpoint to the pinkies-out frippery of Pebble Beach, Lemons is a celebration of everything mundane, weird, lame and outright awful in the automotive world… and it did not disappoint. It's the kind of event that makes you shake your head and leaves your face hurting from grinning the entire time.
Leaving the Lemons show, we happened onto a little impromptu Cars & Coffee meet, and that one didn't disappoint either. When it's Car Week in the Monterey area, the good stuff shows up!
We'd heard a lot about Exotics on Broadway, a veritable orgy of hypercars and vendors that caters to the luxury automobile market, but I wasn't prepared to witness the insanity. 35,000 spectators crowd a mile-long stretch of downtown Seaside to enjoy the sights and sounds, and there were plenty of both. Let's put it this way: When you see so many Paganis, Mclarens and Koenigseggs that you lose count, and a passing Ferrari or Lambo doesn't even faze you, you're at Exotics on Broadway.
Sunday morning brought the moment we'd been waiting for. Strolling onto the actual lawn at Pebble Beach is breathtaking. Everyone's dressed to impress. Celebrities pepper the crowd. The views are stunning. The weather is utterly perfect. The cars are far and above anything you've ever seen, even for people who attend high-end auctions and shows all year. The entire experience is simply indescribable, and we spent the whole day meandering through the displays, chatting with owners, and soaking up the details. Even then, looking at the pictures, there was so much we couldn't take in, despite having all day. I'm hoping we can do it again next year, and we hope to bump into you there as well!