I recently received the MYCHANIC Detailing Rig to use for my personal detailing business and so far I have been floored by how great the quality and design is. I have a small detailing business that I do everything from express details to full blown 12+ hour paint corrections on a variety of vehicles, so i'm constantly kneeling and having to move around. My old rolling shop stool was so frustrating to use that I just went back to kneeling again rather than using it. The casters were too small, it felt flimsy, and it was uncomfortable to sit on for extended periods of time. It was time to find something better to use and make my life a little easier if possible.
The MYCHANIC Detailing Rig was the perfect solution for this task. Even the assembly was a complete breeze on it and can be done in under 30min with even basic hand tools.
































Once assembled it was time to give it a test run. This detailing rig has everything you need from a normal rolling shop stool, but adding some of the best features possible for a detailer like myself or even the weekend warrior that just wants to keep their vehicles clean. It comes with heavy duty casters and very sturdy frame, topped with a hard rubber/composite seat that is still surprisingly comfortable for sitting on it for long periods of time. I'm a bigger guy and this thing rolls around with ease on my shop floor.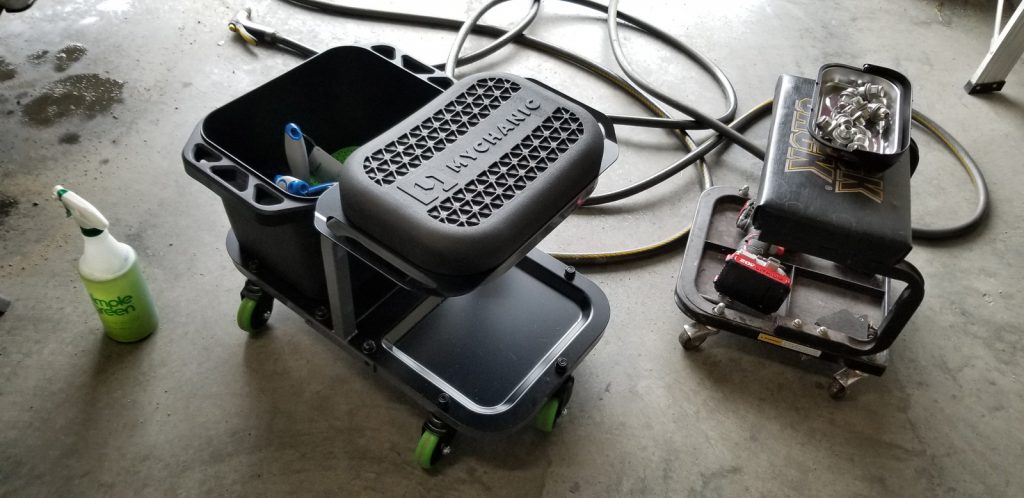 The other features are really what makes this rig though. In front of the seating position you have a wash bucket with a dirt trap installed in it, which sits on top of it's own spot made for it on the lower part of the stool. If you've never used a dirt trap for washing your vehicle, you have been washing your vehicle wrong for years, so seeing one of these already installed in the included bucket was very impressive. Dirt traps help keep the dirt off of your brushes, wash mitts, and rags at the bottom of your bucket while washing your vehicle. This keeps you from marring and scratching your finish while washing, because even with the lubrication the car wash soap offers, you still can damage your vehicles finish when dirt stays traps in whatever you are washing it with.
The bucket also has handles on it that double as hangers for spray bottles, so you can keep things like your wheel cleaner, spray wax, and ect right by you the whole time. In addition to that, the handles right next to your seating area can also be used as hangers, allowing you to keep all of your cleaning products near by. Being a detailer, this is very important to save you time from having to go back and forth getting different products and tools to complete your job. We learn early on, to "train" our products and bucket "follow" us everywhere we go around the vehicle.
There also is a shelf underneath the seating area to store larger items such as towels or tools so you have them nearby. Then last but not least and the most important feature of all – it has a cupholder. We all know how important it is to stay hydrated during a hard day of work, so they literally thought of everything with this stool. For $89.99, this Detailing Rig is well worth the asking price. I have yet to see anything comparable that is built with such quality materials.
If you're interested in finding out more about the MYCHANIC Detailing Rig, follow this link: https://mychanic.com/products/detailing-rig
Also, check out the rest of their website and all of the other excellent products they sell here: https://mychanic.com