NICOclub Nitto NT05 Tire Test and Evaluation
Just when the cords started showing on my BF Goodrich tires, and I was ready to fork over half a paycheck for some new treads, Nitto stepped up with a set of new NT05's for a review and evaluation.
First thing I noticed when these hit the door step was that these were not you average grocery getter tires. At 275/40/17 on all four corners, these were indeed some serious meats with fat tread blocks and copious amounts of rubber-to-road contact area.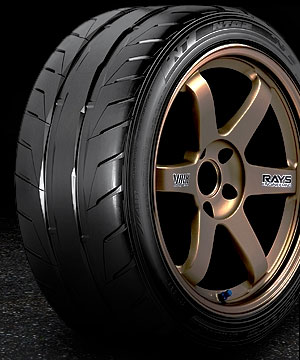 My daily driver is an S13 with a RB25DET swap and Z32 brakes. I have in the past run Yokohamas, Bridgestones and most recently BF Goodrich tires. All have been different widths, with the NT-05's being the widest.
A quick visit to my local tire swapper and a few clicks of the torque wrench, I was ready for a trial run. The first thing I noticed was they were picking up every rock and piece of gravel in my driveway, plowing perfectly parallel lines down to the street. These things were chewing gum sticky!!! I am pretty sure if the earth ever lost gravity, my car and I would be just fine.
First order of business is to do what every car guy does and immediately reduce the diameter of these things!! I let the clutch slip and with a slight wag of the tail I had launched the rocket. It simply took off quicker than I ever have before!!! Of course this is due to the fact that they are a bit wider, a lot stickier, and a very high-performance summer tire, but I was immediately impressed!
I was used to quick gear changes due to the fact that the tires I ran before were a harder compound and not specifically a summer tire. Burnouts were standard and unintentional! With a huge smile painted on my face I had to repeat this a few more times!! Launch after launch I was now fully addicted to the power these things can put down. The RB25 in a 240 makes nice power in stock form and mine is substantially enhanced over factory specs.
I'm used to skinny pedal steering around corners and making nice black lines on the street for the neighbors. I can tell you up to this point that power was WASTED. These tires scream "Let's go racing" and gives you new confidence in your ride's handling. You have no idea what you missing till you apply the missing link (4 of them to be exact) for what I believe to be the car's ultimate performance enhancements.
After my tire diameter-reducing regimen I decided to go use these tires for what NITTO intended them for, and that is grip driving. My Titan needed an oil change so I decided a run up to the auto parts store was in order. Not every drive begins with a burn out so I wanted to see how the tires behave on a day to day basis – this car is my daily driver, after all.
Driving down the road, Formula 1 tire-warming style, I notice good tracking, no squealing around corners and they were not picking up every loose piece of dirt on the road. The car has a good feel and drives straight. Braking from speed has improved as well as how much I have to modulate the pedal to avoid lock-up. They are incredibly quiet for a "almost-track" tire and don't feel out of the ordinary gong down the road.
After the first test dive I'm convinced they belong on the car on a daily basis. Your pea shooter now has a fully loaded magazine ready to back you up when you need it. Diving quickly around corners the car will stay on the line the wheels are pointed and the seatbelt will need to be a bit tighter for the car's new capabilities.
Since the oil for the truck needs to be properly mixed I found a abandoned parking lot. After a few clutch kicks and some controlled throttle the tires will let go and slide nicely around. I did notice it takes a bit more work for a nice slide because these tires were definitely designed to fight for grip.
In the coming weeks these will be on my car all the time and they will be driven daily. I have a couple of track events coming up where I will be able to flex their capabilities and test their limits in a controlled environment.
Even in the desert of Arizona, it does rain. So the first event I had lined up for the car was rained out but I did get to run them through the wet weather and drive through some puddles. They were not out of control on wet roads, however I wouldn't attempt to run them when it is freezing or any snow on the ground. They were definitely made for dry warm conditions. I didn't push them around the corners but they stopped fine on the wet roads and pumped the water out at speed just fine.
If you're contemplating some aggressive rubber for your daily driver, especially if you'd like a tire that can do weekend-warrior duty on the track as well, these are your tires.
Nitto has just released these in multiple Nissan-specific sizes, for what should be an exciting summer for the lucky buyers.
Jason McCoy (rotorimp) is a NICOclub.com member, fabricator, restoration expert, and builder of several high-performance Nissan vehicles.