VH45DE, the engine code your 240sx wants!
Swapping a V8 into a Nissan 240sx may not have seemed feasible in the late 90's the last 240sx rolled into the U.S. However, times have indeed changed. These days any manner of V8, V6, and inline 6 or 4 cylinder worthy of building up has found its way into the engine bay of the venerable 240sx.


One thing still remains a rarity though, swapping a Nissan-badged V8 into a 240sx! Well, not for Jerry M. of Miami Florida (gs14racer). Jerry is the proud owner of a 1995 S14 240sx and he's no stranger to the platform! This is his third S14 in the past 4 years; his last one had a Nissan SR20DET motor with approx 360whp, and was used at multiple track events! Jerry's current car is the real deal though, boasting 4.5 liters of Nissan V8 goodness, with a power plant found in a US-Spec 90-95 Infiniti Q45 or non-US Market 89-01 Nissan President. Jerry's no slouch when it comes to re-working nearly everything on the car, for a unique and definitely remarkable ride!
The Suspension
TEIN Super Drift Coilovers
10k springs in front
8k springs in rear
J30 21mm rear sway bar
SPL Parts Tension rods
TEIN Tie rods
New Ball joints
Battle version rear Toe links
Peak Performance Camber Arms
SPL Solid Sub-frame Bushings
J30 VLSD Rear Differential
Welded and reinforced sub-frame by Jerry's own hand
Brakes and Wheels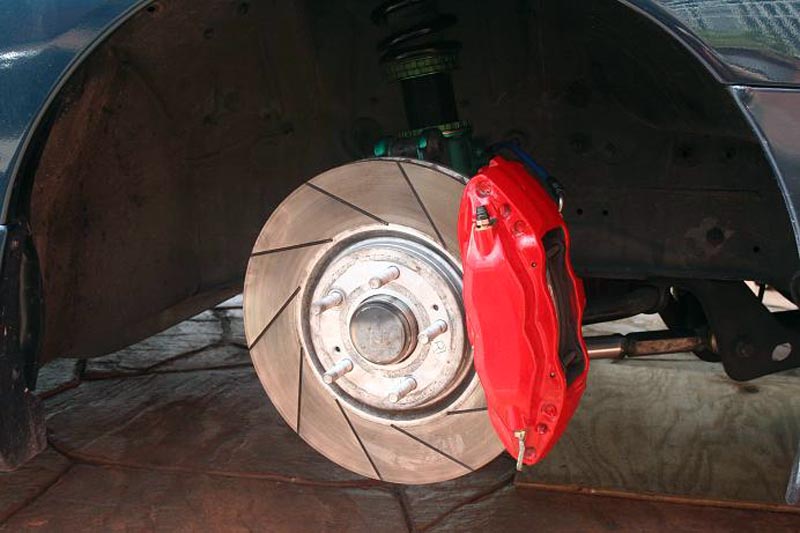 A car with a handling better than a fighter jet needs to be equipped with brakes that are up to par and a set of wheels that ensure top notch footwork! With this knowledge in mind Jerry chose to follow his preferred path of trend setting with a custom big brake kit utilizing the Brembo calipers found on a Cadillac CTS-V and the rotors originally meant for a Mitsubishi Evolution VIII. He also sourced some stainless steel brake lines and Hawk HPS pads to bring this beast screeching to a halt.
Bling and function are combined in the form of Work Meister S-1's (sized at 18×10 + 18 offset front and 18×11 + 18 offset rear) with 265-35-18 and 295-30-18 tires. Originally white, Jerry disassembled the S-1's, recoated them with silver paint, and to make them fit just right the front fender was rolled and pulled about 10mm, the rear about 30mm. The wheels are dialed in perfectly with 2.5 degrees of negative camber out front and 1 degree out back.
Bodywork
Having a real clean car is something many desire, but most tuners will tell you that's not the place to stop. This S14 has been refreshed with the JDM Silvia Navan Aero front, sides, and rear, as well as a custom front splitter, again, made by Jerry out of aluminum thin board and fiberglass.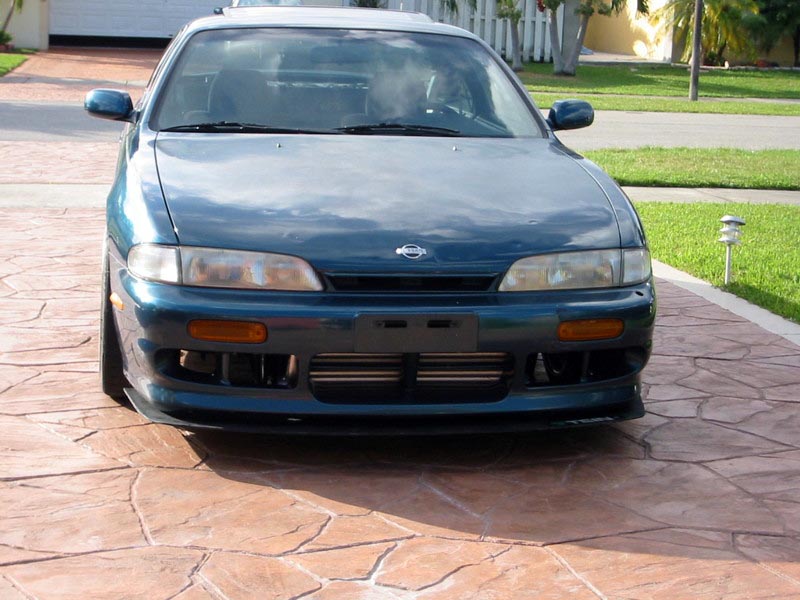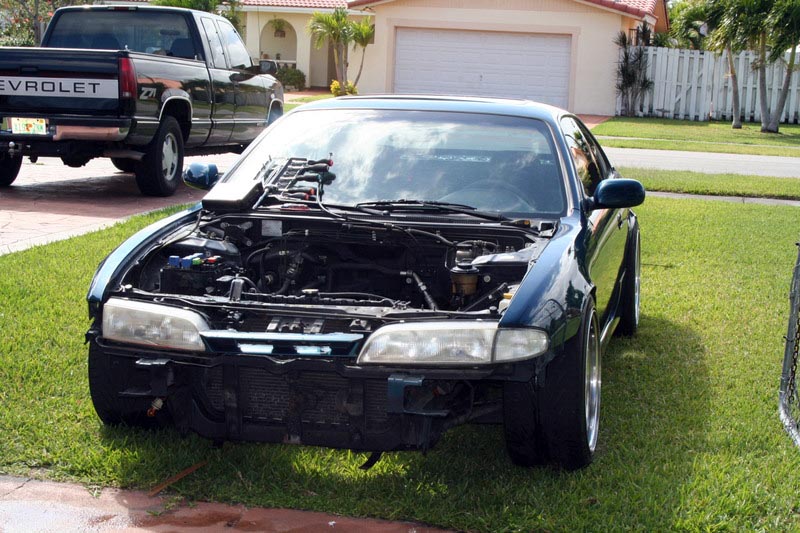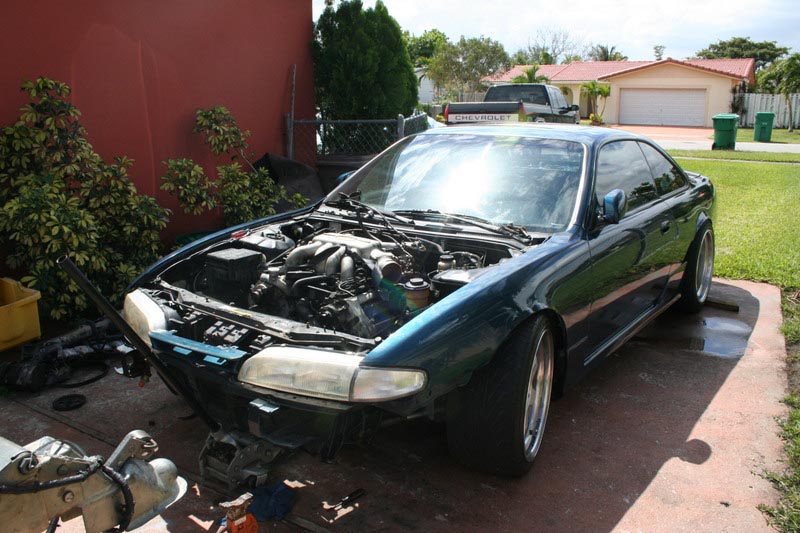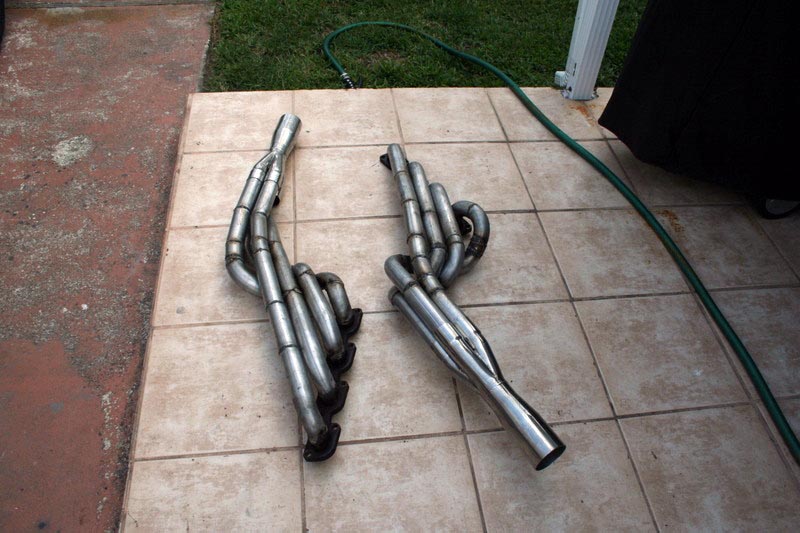 Engine work and VH45 modifications
The real fun and highlight of this car is not just the engine swap, it's the vast amount of work done with and on the swapped motor including the hand-made custom exhaust headers! For a nearly stock engine the VH45 sure lays down the numbers that yearn for some more go fast goodies and shows promise to make good use of them!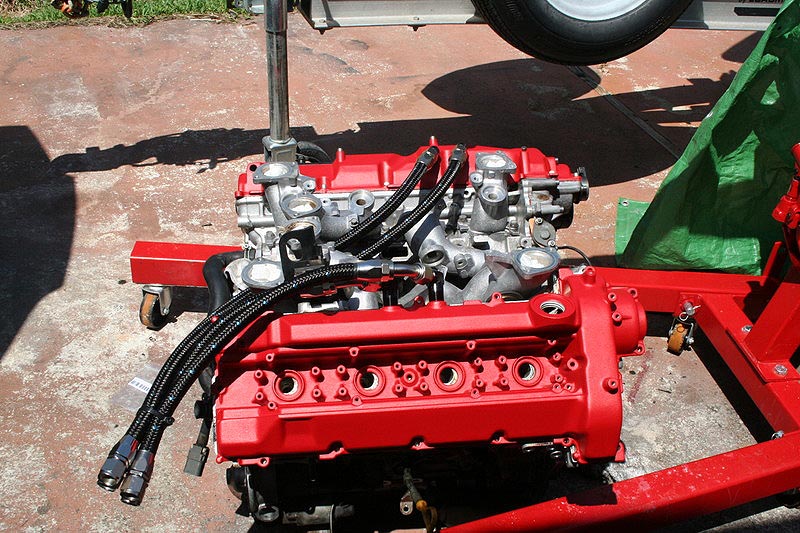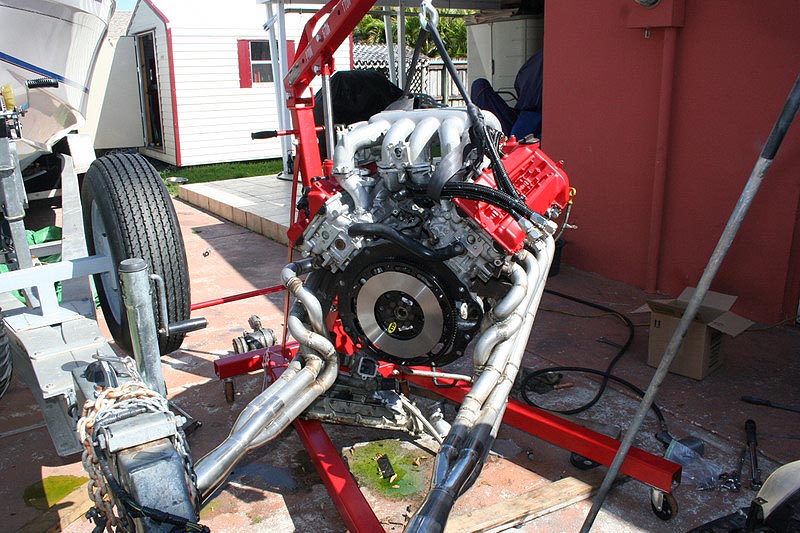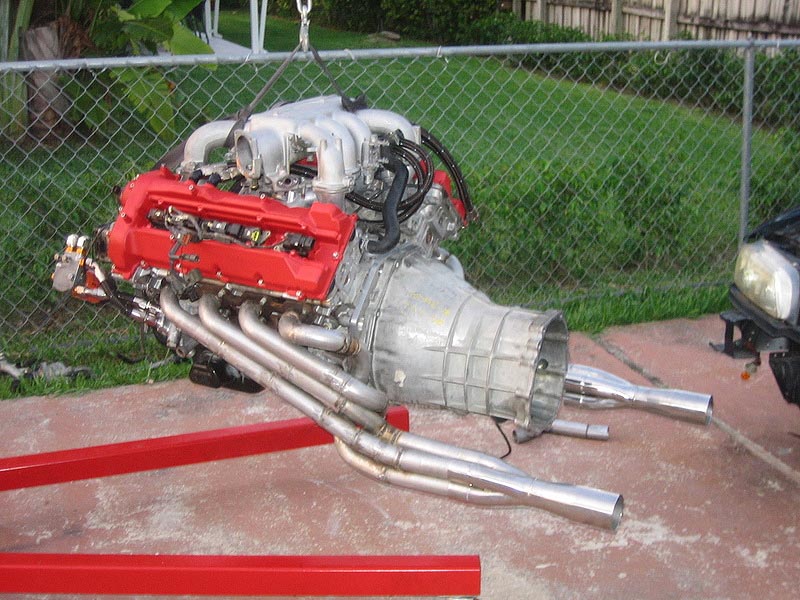 The VH45DE itself is no slouch, in fact with over 200k miles on it Jerry's VH is running terrific with a good tune up and a few modifications. Another point to consider is the VH is cheaper, parts are easier to get, puts out the same amount of power stock and still weighs less then an RB engine and transmission! The VH being a V8 also has a fantastic torque curve instead of spiking like many boosted engines, such as RB's and some SR's – Starting out with power from the get-go is a great thing! Once boosted, be it a turbo, turbos or supercharged the VH powerband jumps and when tuned properly will still follow a great flat curve and depending on the type of forced induction, that curve may start at 2500 RPM's!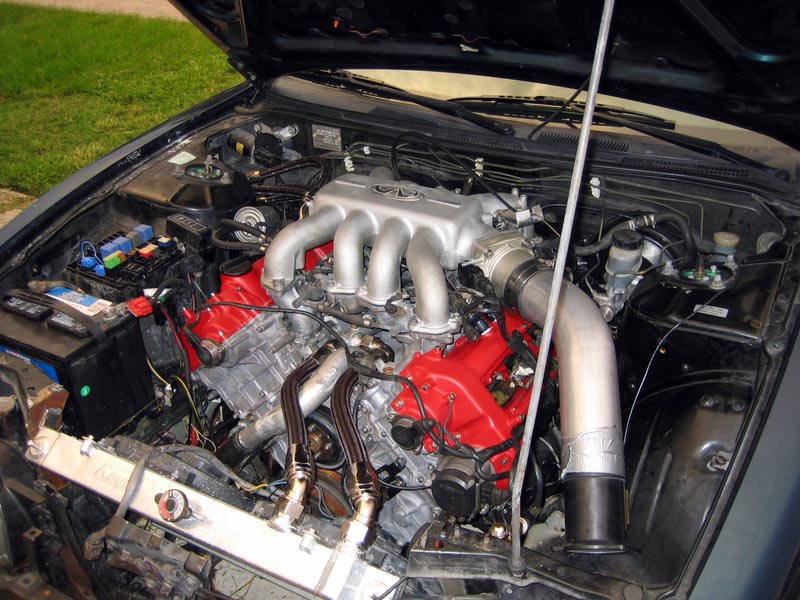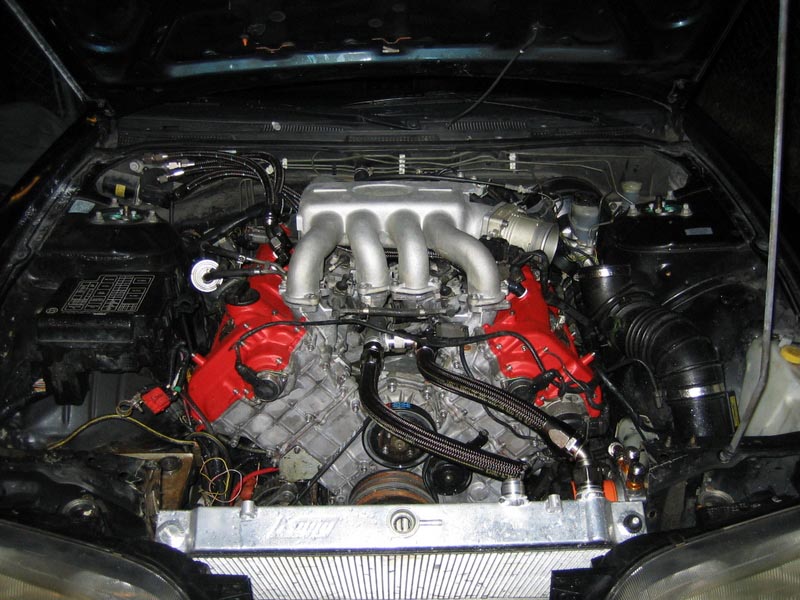 Starting out with some simple ECU tuning and nothing else the VH45 will see 270ft/lbs of torque as tuned by our own moderator Wes Stinson. If that interests you, look up Wes here on NICO (his screen name is elwesso).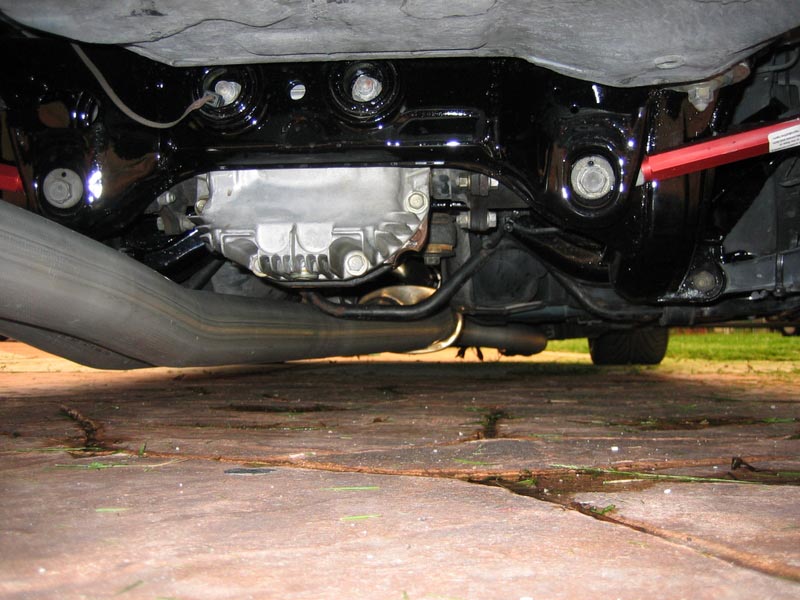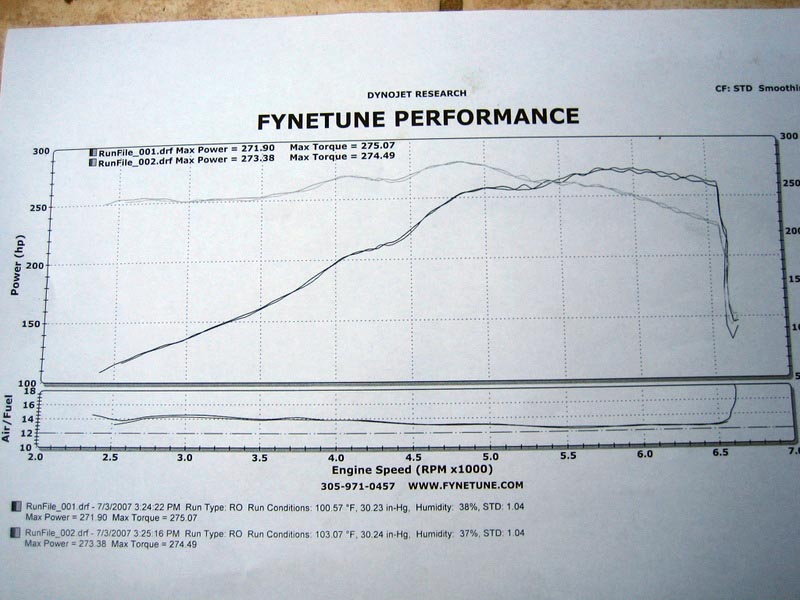 When you're ready to step up the game even further with the VH you should also take a look at some of NICOclub's great performance parts suppliers found on the advertiser directory page of the forum, these businesses have been supplying the right parts for years and really know their products! NICOclub Advertising Directory
Engine specs
92 Infiniti Q45 V8
Transmission 95 300zx twin turbo 5 speed
Mazworxz 5 speed transmission adapter plate
Wiring performed by the owner as well as all other custom fabrication work except a portion of the aluminum welding which was done by a friend, screen name (Miami240) on the forums.
The headers are made out of 1 3/4 primary mild steel, using a long tube equal length design with stainless steel merge collectors and a 3-inch outlet
Crank case ventilation system redone with nylon braided hoses and polished fittings
Stainless steel Allen bolts on most of the engine.
Trust GT-R oil filter kit re-mounted in a more convenient location
Custom radiator, alternator and power-steering brackets
Custom drive shaft
Custom engine mounts
Custom dual 3" exhausts, expansion tank and y-pipe
The End Result
Complete with a dyno sheet and all the menace of an angry cougar this car is sure to turn heads and trump the competition! Look for it in coming drift events, Jerry certainly aims to make use of his efforts and is currently preparing for some serious tweaks in the near future! If you're looking for a VH powered car of your own it's just as easy as a visit to a local junkyard in most cases. Remember when swapping engines, pre-installation maintenance is key as parts are easier to bolt up outside the car (and before they break). So, when you source the engine, don't forget to tune it up beforehand!
A word from the man behind the madness:
"Special thanks to my friends that helped me, Mazworx, and most importantly my girlfriend Jackie for being so understanding of my obsession, and even getting greasy and helping me out."
VH45 Information
For replacement VH45 parts check out:
InfinitiPartsUSA.com
VH45 engine-specific information (Courtesy of Wes Stinson, NICOclub's own Q45 guru): VH45 Information PDF