370Z Rally Across America, presented by Nissan
For the launch of the 2010 Nissan 370Z, Nissan broke with tradition and decided to bring this car to the masses. In a long-awaited nod to enthusiasts nationwide, the car would be taken to the people, by the people… The folks who love Nissan's would be presenting the car to more people who love Nissans. Is this the start of a real enthusiast relationship within the company? Let's hope so!
Great idea, in theory…But how to implement it? A multi-city US Tour, with a full staff and crew, for two vehicles, support trucks, equipment, travel arrangements, hotels, flights… a logistical nightmare, right? Wrong. Nissan selected the team that brings you the Hot Import Nights Tour to head up the Rally. These guys know how to prepare for events, and they brought their A-game on short notice.
Nissan determined that certain "super-enthusiasts" across the country should participate in the Rally by offering them a chance to drive the 370Z throughout the entire tour. From professional Nissan race drivers to car builders to forum owners to collectors to aftermarket parts gurus, an all-star team of Nissan freaks was assembled. Again, a last-minute logistical nightmare was made completely manageable and smooth by the crew from HIN.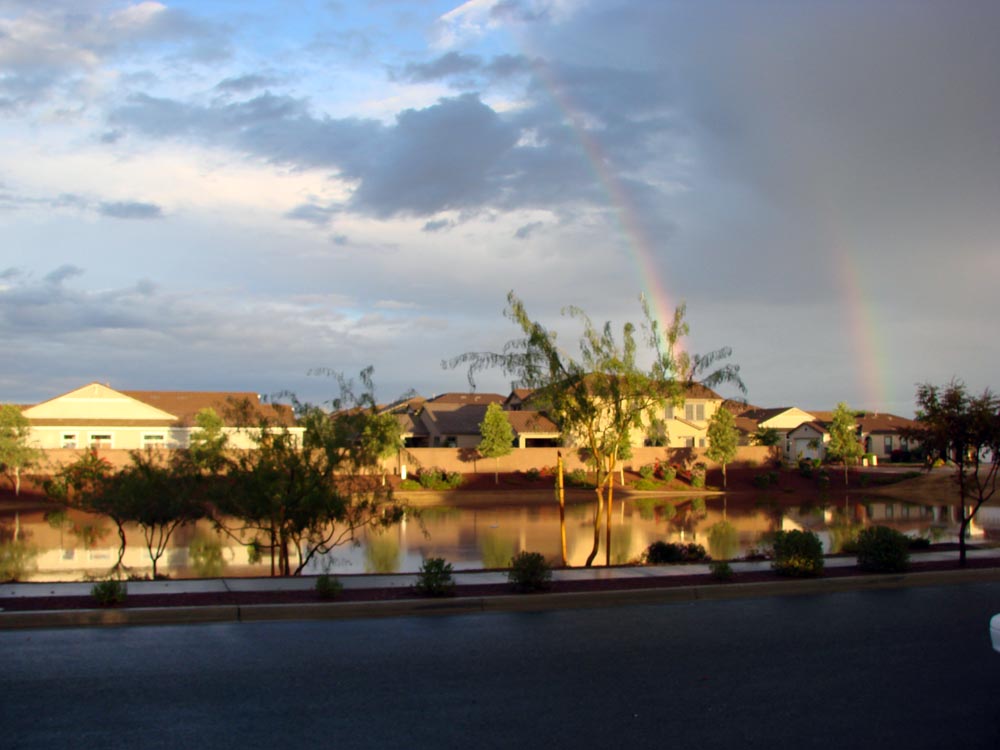 Yours truly was fortunate enough to get a call to participate, and of course I jumped at the chance. Part of the deal was getting the word out about the Phoenix-area stop on the tour, and plans were made. I'd be handling the Phoenix-to-Houston leg of the journey, a three-day adventure that had me excited as a kid at Christmas time.
The days prior to the arrival of the Z in Phoenix brought us some of the most torrential downpours Phoenix has seen in a year… We all had concerns about the weather holding us hostage, but on Friday morning, we were greeted with rainbows, sunny skies, and the anticipation of a new sports car from our friends at Nissan.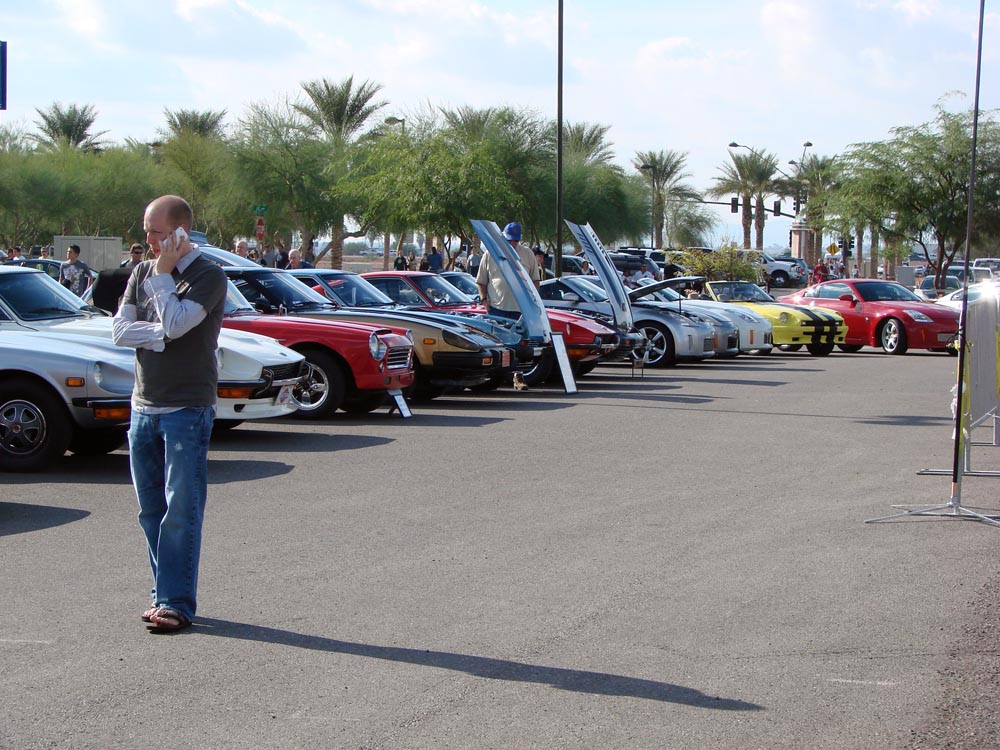 Phoenix Westgate was the venue for the event, and the local Z owners showed up in force. Desert Z Association and the crew from AZ350Z.com pulled out all the stops, with some owners bringing out more than one car. Every generation of Z-car was represented, from an early-production S30 all the way up to a 2008 350Z that was already well-modded. A lone 311 Roadster, a new GTR, some Nissan trucks and a few Infiniti G35's rounded out the field. Eager anticipation turned to awe as the stars of the show were unveiled. For the next few hours, enthusiasts and the public were treated to 370Z Production Numbers Two and Three… a Monterey Blue base model with Sport Package, and a Chicane Yellow 370Z, fully optioned-out. Both cars featured Nissan's 6-speed manual transmission with Sport Mode and both were equipped with the Rays forged alloy wheels. Spectators were free to climb in and explore the interior, and the HIN crew raffled off some great Nissan-themed prizes to the lucky crowd while a DJ provided the background beats. Superior Racing Development was on hand with their mobile dyno, but a mechanical glitch prevented any bragging rights from being secured at the event. No matter, as we were all there to appreciate the latest heir to the throne of Z-car tradition.
The next day would begin our travels, and my co-pilot for the trip was none other than Gregg Rogers, past-President of Sin City Z and 2009 President of Desert Z Association. Gregg owns a gorgeous, flawless droptop Z32 and a well-kept S30, and has been a Z fanatic since they debuted in America. He knows anyone and everyone involved in the Z community, and was an awesome traveling companion for this journey. Gregg and I selected the Monterey Blue base-model Z, and Marty Huynh (builder of what could be the world's most awesome G35 Coupe) would be manning the Chicane Yellow sister car.
Prior to leaving Phoenix, we decided it would be a great opportunity to capture a memento from this occasion and replicate another historic journey from nearly 40 years prior. See, in October of 1969, Datsun brought a pair of pre-production 240Z cars into the Phoenix area for testing. Their trip is immortalized in a photograph taken in downtown Phoenix, in front of the old Phoenix Greyhound Park. The picture shows the two Z test cars, with an early 510 chase vehicle, and Datsun personnel consulting a map during their trip through the Valley. Well, here we were, 40 years later, on the same corner, with three modern versions: Two 370Z's and a new Maxima. We positioned the cars just as they were 40 years prior, staged the photos, and captured the moment. I thought a lot about that photo during our journey, and wondered if they had as much fun as we were going to? Then, the Datsun brand was still quite "foreign" to Americans, and I'm sure they felt like strangers in a strange land.Did they comprehend the history they were making?Could they have known the historical impact that this car would have on the American automotive landscape? The influence their car would have on sports car design and engineering? The vast numbers of Z-car aficionados that their efforts would spawn? I mulled over the differences and progress that had transpired in the past four decades and hoped that those guys, wherever they are now, were proud of what we were doing and how far we'd come.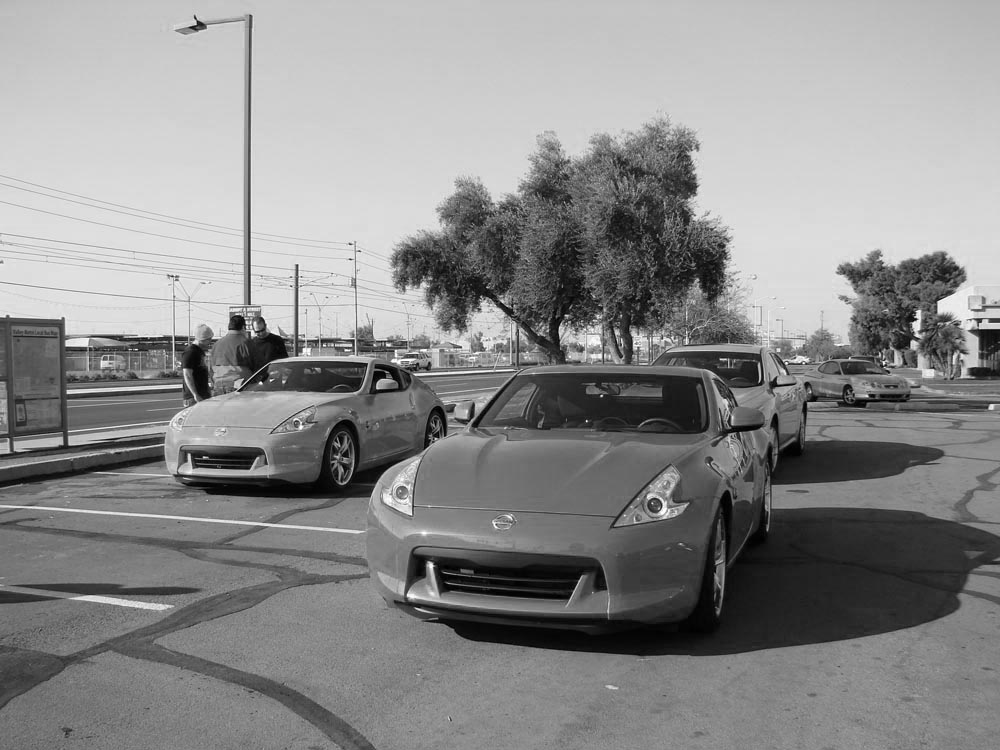 Getting out of Phoenix and heading east towards Tucson, Gregg coordinated an impromptu stop at a truck stop just south of Tucson with the local Z-car chapter. A perfectly-timed stop, we were welcomed by 20-something Z enthusiasts and curious onlookers who wondered what the hubbub was all about. Spending time with these guys made me realize how lucky we were to be participating in this event. A quick photo session, some Q & A about the new Z, and we were back on the road – We had a chase vehicle to keep up with!
Let me go on record by saying we're the very first people to get a speeding ticket in a 370Z. A dubious distinction, but an honor nonetheless. One of New Mexico's finest nabbed us just outside of Deming doing 91 in a 75 zone. Even at that pace, we felt as if we were crawling along… This car BEGS to stretch its legs and be "let out to play", and as we left our unscheduled meeting with the long arm of the law, we wondered if we'd be stuck at pedestrian speeds for the duration of the trip.
Our lesson unlearned, we soon got a chance to "unleash the beast" just outside Lordsburg. Up ahead, we noticed a distinctive shape in the fast lane. That shape turned out to be an impressive-looking G37 Coupe.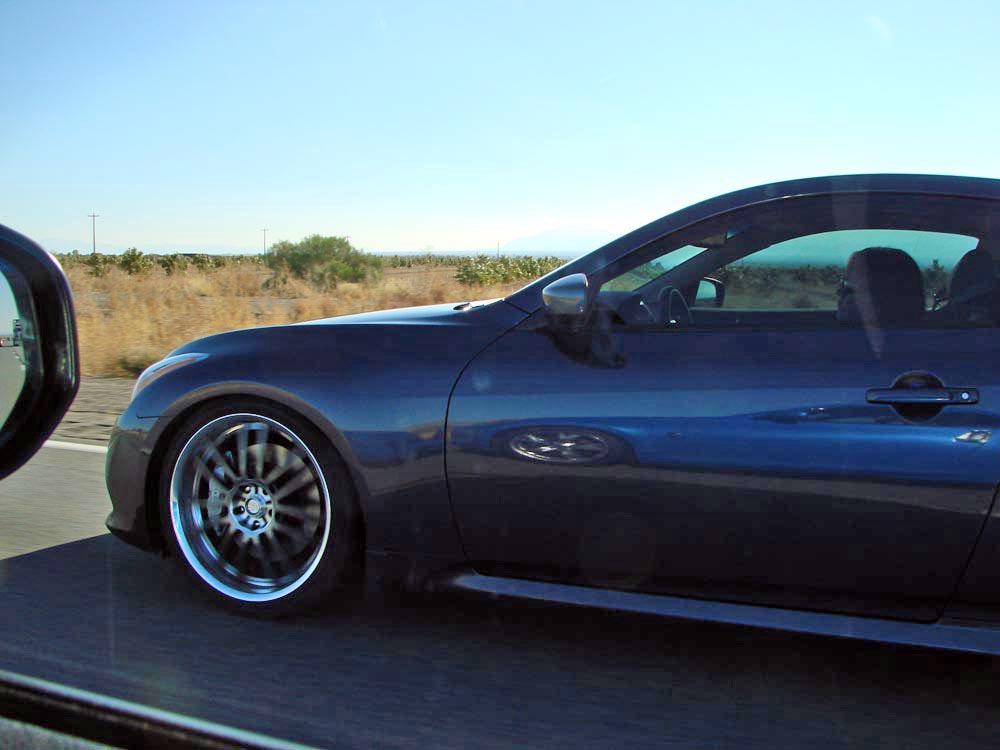 As we pulled alongside at no-no speeds, the driver waved and shot off ahead. Ah, temptation… This might be worth a couple points on our license. As the needle spun clockwise, we reeled in the G37 and enjoyed the open freeway for a while, three 3.7-liter Nissan engines hurtling us down the freeway. Another rest stop brought us into contact with our temporary wingman – Who happened to be an incredibly beautiful woman. Stuttering and stammering, all I learned was that she set the car up herself, she was just "out for a drive", and that she was from Sierra Vista – So, Miss Infiniti, if you're reading this, thanks for the dance, and shoot me an email! Note to self: ALWAYS keep a business card in your pocket, not locked in the Z across the parking lot, for occasions such as this. Arrrgh!!!!
Crossing through some of the smaller towns in west Texas, absorbed in the awesomeness of the Z, we lost track of one very important parameter of interstate travel: Miles covered vs. fuel remaining. With a stretch of over 100 miles between any thing remotely resembling a gas station, we sensed panic. Were we ALSO going to be the first people to run out of gas in a 370Z? No way, we'll make it. With the range meter reading 35 miles to go, and the next town 51 miles away, I had faith in the fuel economy of the Z. Easing up on the throttle, we were rewarded with a blank "miles to go" readout just a couple minute later, while still 30 miles from town. Fear? Hell yes. Who's going to call the chase truck? Who was supposed to remember to gas up? Uh-oh. We were in trouble.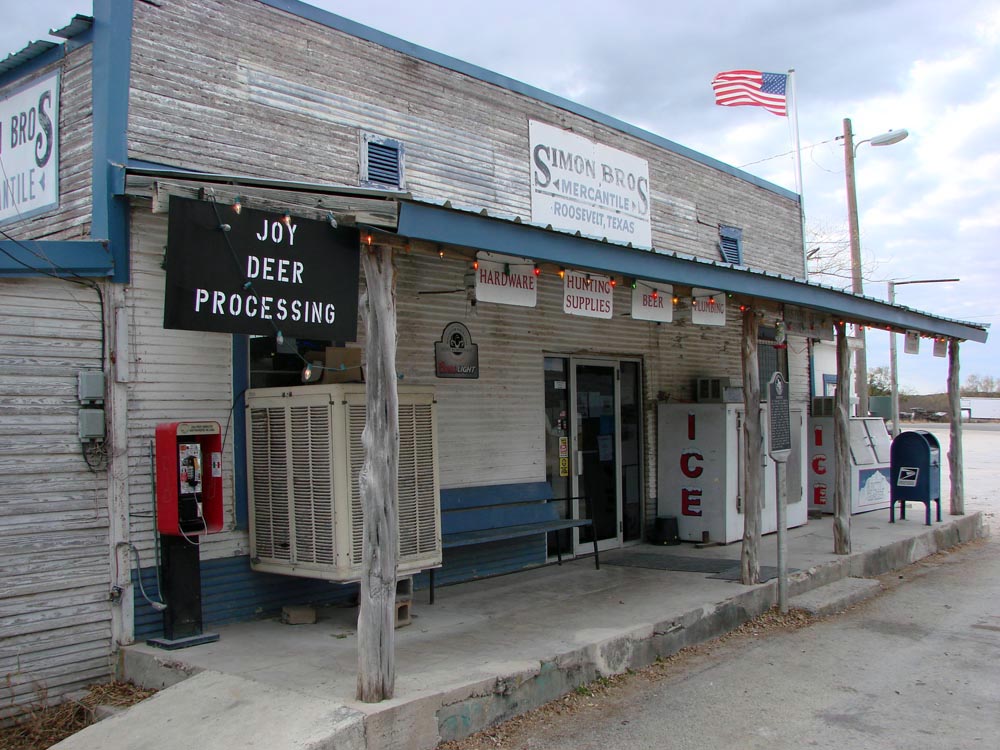 Almost out of gas, we coasted into the teeming metropolis of Roosevelt, TX. A town whose population doubled at our arrival,there was one lone gas station. As Gregg wandered in to see if the ancient gas pumps even had fuel, I clutched the Z keys and told him "If I hear banjo music, I'm getting the hell outta here." It was there we met 'Wanda' at the Simon Brothers Mercantile and General Store.
Gregg :"Do you folks happen to have any 'Premium' fuel?"
Wanda: "No sir, but we do got some 'High-Test' in the right-hand pumper!"
Good enough for us – Time to fill it up. A couple locals popped out of the back of the store to gawk at the newfangled machinery, and we're pretty sure they hadn't even seen many 350Z's around these parts, much less a 2010 Z. Perusing the glory of the facility, every manner of dead, stuffed critter you can find in Texas was hanging on the walls… and available for sale. Need horseshoes? Wanda's got 'em, in every size. Need a set of antlers?Ammunition? Bait? A fishing license? Got those too.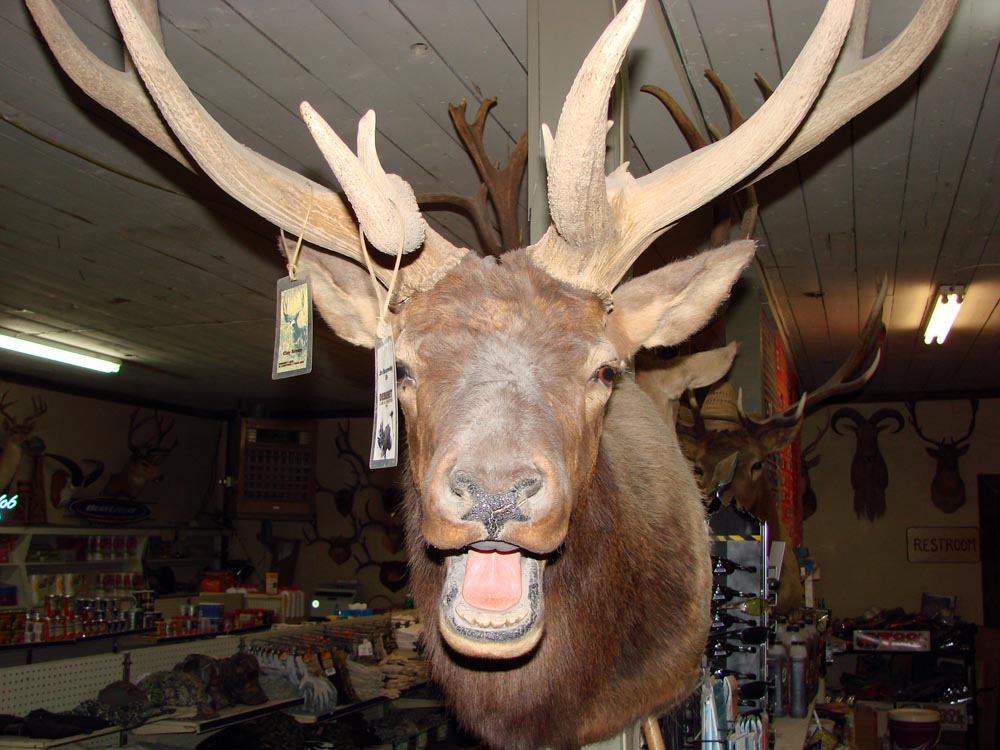 In fact, we learned that this building had been around for over 150 years, that Teddy Roosevelt and his Rough Riders used to stop in for their gear on hunting / fishing excursions, and were gently admonished that the town was pronounced 'Rooooosvelt', not 'Row-sevelt'. Duly noted and committed to memory, we'll never mispronounce that again. We were invited to stay for lunch, but the road was calling. Wanda warned us of every speed trap between Roosevelt and San Antonio, and wished us well as we hot-footed it out of there. Wanda, thanks for the history lesson – We'll be seeing you again.
Interestingly, we thought for sure we'd collect a caravan of interested 350Z drivers during our journey. Yet, we were amazed that we only saw THREE 350Z's on the road between Phoenix and San Antonio – and 2 of them were Roadsters. For a car that's so prevalent, we thought it mighty strange that we saw so few on the freeway.
A little more about our accommodations for the trip:The Z's full-sweep gauges perform their dance at startup and hint at what you're about to experience. The tach is large, and centrally-mounted, where it should be. Triple binnacles house the clock, ammeter and oil temperature gauges atop the center of the dash, and they're shrouded for easy visibility in any lighting. There's some really well-designed angling to the top of the dash to prevent glare.The digital fuel gauge / trip meter combo looks terribly out-of-place and mismatched with the rest of the cluster, but there's also an analog fuel gauge present.
Effortless acceleration makes it difficult to maintain any sense of decorum or respect for local ordinances, and we commented often that this car begs to be unleashed and allowed to run free. The Sport Mode manual transmission with Synchro-Rev Matching blips the throttle much more deftly between shifts than any expert driver – eliminating the need for heel-toe downshifts.
Flawless shifting is the name of the game here – A short-throw shifter without the mechanical notchiness that is so prevalent in many "performance" cars has been replaced. Realistically, that harsh action is unnecessary, and the new Z has a silky-smooth feel to its shift action. A novice manual driver could easily learn the "black art" of rowing their own gears in this car.
We averaged 22.1 mpg over our portion of the trip – Not bad considering our frequent forays into the wrong side of the speedometer.
Torque, although only up a few lb-ft from the previous generation, seems much more prevalent. Dropping the hammer in 5th or even 6th at normal highway speeds results in a seamless, clean advancement to felony velocities without bogging – The 370 is perfectly content to settle into 5th gear across a wide range of speeds. After saying it to each other over a dozen times, we simply smiled when rolling into the throttle in 6th gear – It's absolutely the most fun you can have on the right side of the shift pattern. I'd say this is the 370Z's most impressive trait. Love it.
Audiophiles will want to select the Touring Package to ensure they get the most out of the factory sound system. Enough said. If you care that much about the sound quality of the stereo, you're probably not in the 370Z target market anyway.
Engine sounds are much tamer than the previous generation, with much of the signature VQ note absent when revving the engine in neutral. However, under load, the familiar note returns, albeit with a more refined tone.


This car is significantly lighter than the Z33 it replaces – Door, roof and hatch are all aluminum, and the difference is notable. Almost universally, the comments elicited from passers-by were the same: It looks so much better in person than in pictures. The "fangs" in the front fascia really "work" in person. The front end treatment is really aggressive, and looks absolutely menacing in the rear-view mirror. The styling cues reminiscent of the early Z-cars are much more apparent in person. The forged Ray's 19″ alloy wheels drew loads of positive praise. The View over the hood reminds you that this car means business… This is no Honda Civic, and the hood rises up slightly above the cowl – Choose the color of your 370Z wisely, because you'll be seeing that tone every time you settle in for a drive. As if the hood weren't reminder enough, the rear fenders are incredibly prominent, and invade the side-view mirrors with each rearward glance.
Finding our way into San Antonio for the evening, we compared notes with Marty and found that we were both in a agreement in our assessment of the car. A good night's rest was welcome, and the HIN crew did it in style, putting us up at the Hilton for the night. The next day would be a long one, and we needed all the rest we could get.
Comfort? Hell yes. No 'car-butt' here, even after 8 hours in the saddle. Both Gregg and I were equally comfortable in the 370's redesigned seats, and we agreed that the base-model interior is plenty well-appointed. I'd pass on the leather interior and opt for the base, as it's really, really nice. Head room is sufficient for a helmeted driver of 6'2″ or more, and I was ecstatic to note the lack of sunroof in either car. Finally, maybe we can bury that horrible contraption from the 80's for good!
Nissan's literature claims a 0-60 time of just under 5 seconds and a top speed of 150mph (drag-limited). We guessed this to be conservative. We're convinced we're right, as our testing reveals there's plenty of pedal remaining at 130+. The Z feels rock-solid all the way up the gauge, and backing down from brief jaunts to double the posted limit left us feeling as if we were plodding along. Again, this car feels like it's begging to play. Not wanting to risk a week in some backwoods Texas jail, we opted to 'call it good' and save any more top-end testing for a later date and a controlled track environment.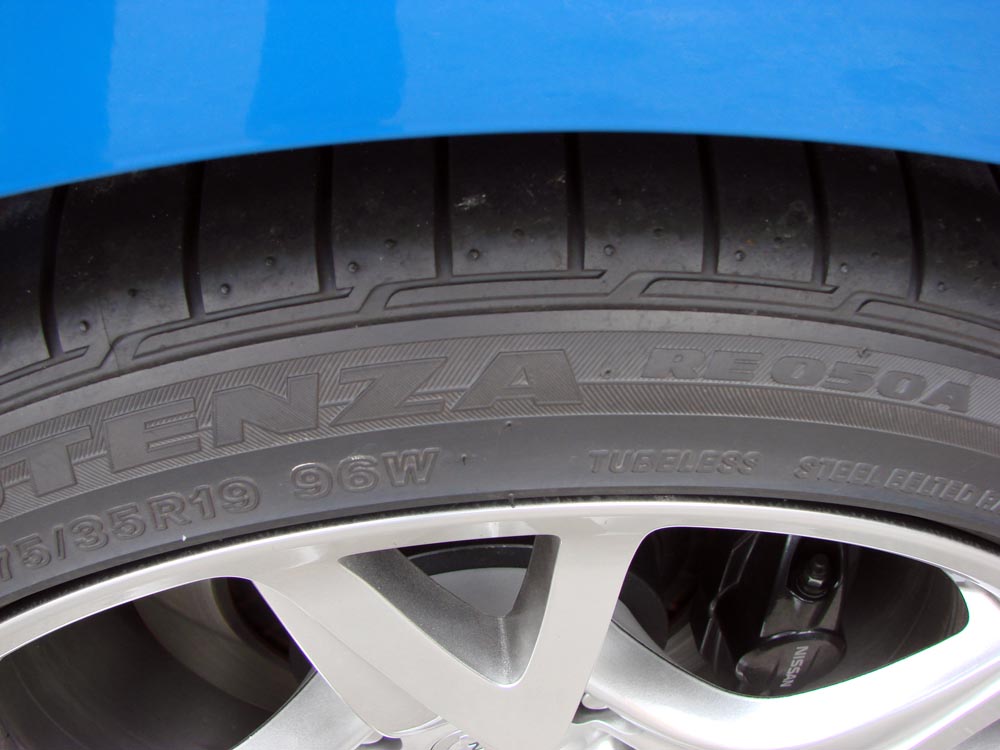 Thrumming and boomy resonance from the tires over freeway expansion joints and rough pavement is, at times, almost overwhelming. Whether it's a function of the standard-issue Bridgestones, or a reduction in sound deadening, we can't be sure. Transitioning onto smooth concrete or freshly-laid blacktop, it goes away, and the cabin is quite comfortable. But our first order of business in buying a new 370Z would be to requisition some high-performance summer radials to cut back on the sonic assault. Wind noise is remarkably minimal, even with the large side-view mirrors. Brilliantly-done, Nissan!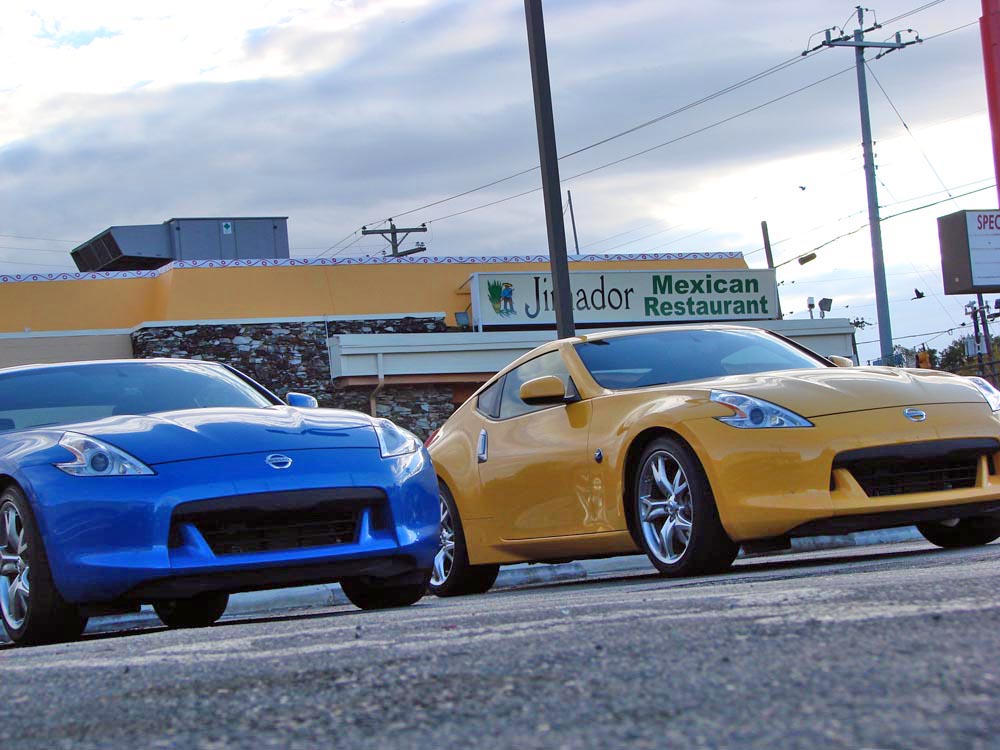 Sunday evening delivered us into San Antonio with empty stomachs and a need for a break, so we consulted the locals and found a phenomenal Mexican restaurant to dine at. We got to experience the 370Z at night coming into Houston, and certainly appreciate the lighting from the HID projectors. No annoying sharp cutoff, perfectly-aimed, and sufficiently bright that no high-beams are needed, even on some of the dark back roads we encountered.
Although our final destination was only a couple hours away, it arrived all too soon. This is a car we could definitely own, and its $30K price tag is a clear bargain considering the total package. We'll be testing the 7-speed automatic at a later date, and I'm looking forward to getting some track time in a 370 once it's made available to the public in a few months.
If you haven't already made it out to see the new Z, there's a few tour stops remaining, and you can be kept apprised of the schedule at www.followthenissanz.com. Hope to see you there!
Special thanks to: Nissan North America, Z enthusiasts all over the country, the staff of Hot Import Nights, Desert Z Association, AZ350Z.com, Glosser.com, Hilton Hotels, Sparco, the staff at Westgate, the New Mexico Highway Patrol…
Author: Greg Childs (AZhitman), NICOclub

More pics from the trip: