We all know that Nissan has been on the cutting-edge of modern electric car design, far ahead of the rest of the pack. The Nissan Leaf has been a huge hit, and has really transformed the public's opinions of what an all-electric zero-emissions car can be.
Not content to rest on their laurels, the automaker is bringing back a concept that's been around since late 2004. That's right, the Pivo.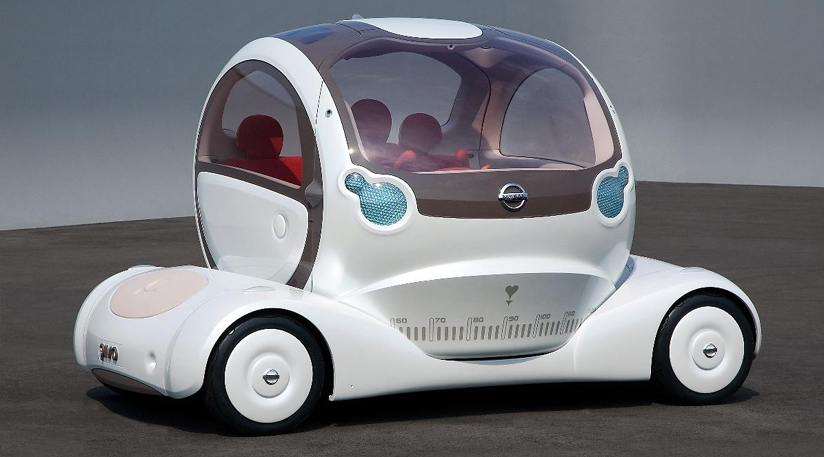 You might remember the Pivo Concept of 2005 that looked like something cobbled together by Sid (the bad kid) from Toy Story.
That car was designed as a user-friendly three-seat commuter with some pretty advanced technologies incorporated, most of which have since made their way into Nissan production vehicles.
Drive-by-wire and "Around View Monitor" are both incorporated in current Nissan products.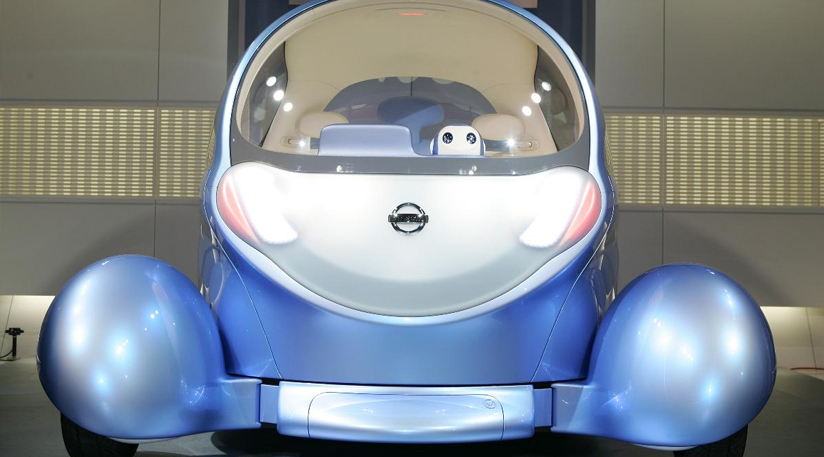 Later, Nissan brought us the Pivo 2 Concept in 2007 – also an urban commuter with a pivoting cab for easier parking in crowded city streets.
In addition to advancements on its radical rotational design, the second generation Pivo featured a "Robotic Agent" to create a unique owner-vehicle relationship that is akin to that of a friend, providing a post-modern interface through which to communicate with Pivo 2 on everything from basic vehicle functions like climate control, audio settings, and navigating to the nearest available parking space.
Almost five years have passed, and most of us forgot about the funky little idea from the Nissan Concept Design Studio.
Enter the Pivo 3 Concept – Nissan's eighth (yes, 8th) electric concept car! The Pivo 3, an electric car aimed at young, single buyers and couples living in densely populated urban areas, was recently unveiled at the 2011 Tokyo Auto Show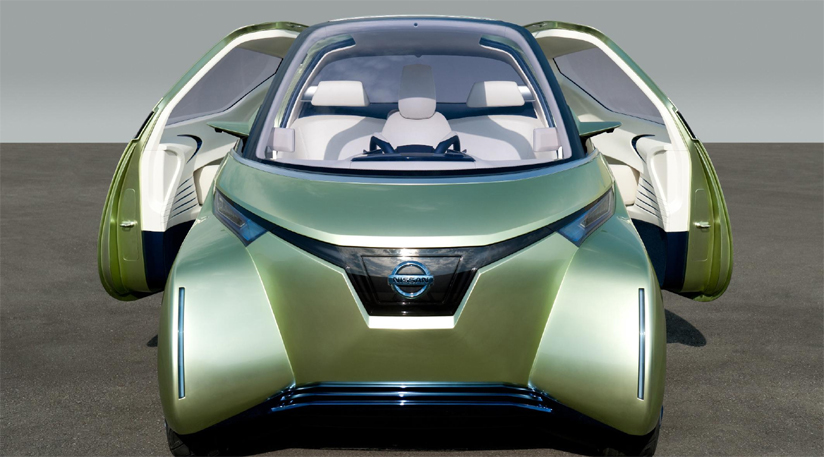 However, far from being a purely pie in the sky showcase for emerging technology, the Pivo 3 is nearing reality, based on our assessment. It looks less radical and more production-ready than its predecesors. It certainly looks like it could show up in a Nissan showroom next to a Leaf and a Juke and not look out of place.
According to Francois Bancon, deputy division general manager of product strategy and product planning, "Pivo 3 is one of the answers for active urbanists living in mature markets. Through the three Pivo proposals, we have gained a deep understanding of their needs in such large, metropolitan areas."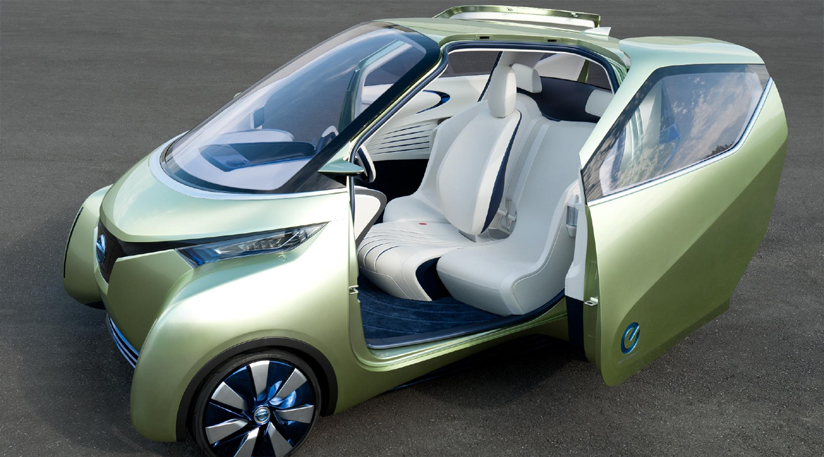 Seating in the Pivo 3 is in a 1+2 layout, with the driver occupying the front, center-mounted seat, and two passengers behind. Francois Bancon adds, "Thanks to the center driving position, you are not any more on the side of the car – you are in the center. That gives you very different visibility, a very different way of driving in general. You are like a driver in a racecar – for example, a one-seat racecar. That's a big thing because we think only EV can provide this in the vehicle and that'll change completely your relationship with the car together with the others outside of the car."
Equipped with Automated Valet Parking (AVP), as Nissan calls it , the Pivo 3 is designed to slot itself into specially equipped electric car recharging parking spots. Bancon explains the Pivo 3's extreme agility: "We can complete a u-turn in four meters, which is in itself a revelation. Now, a car needs about 8 to 10 meters to do this. So that provides you a sensation of freedom. I can do whatever I want with a car, I'm not anymore limited in terms of technology of the car. You can almost move like people."
Lest you think this is simply a repackaged version of the prior concepts, there's a lot of new innovation in the Pivo 3. Yes, similar to earlier Pivo concepts, the Pivo 3 was designed with IWM (in-wheel motors), which gives each wheel greater flexibility and frees up more packaging space for occupants and their "stuff". But the Pivo 3 is even more sustainable, designed to sell electricity back to the grid should the advanced lithium-ion battery hold excess charge at times of peak demand.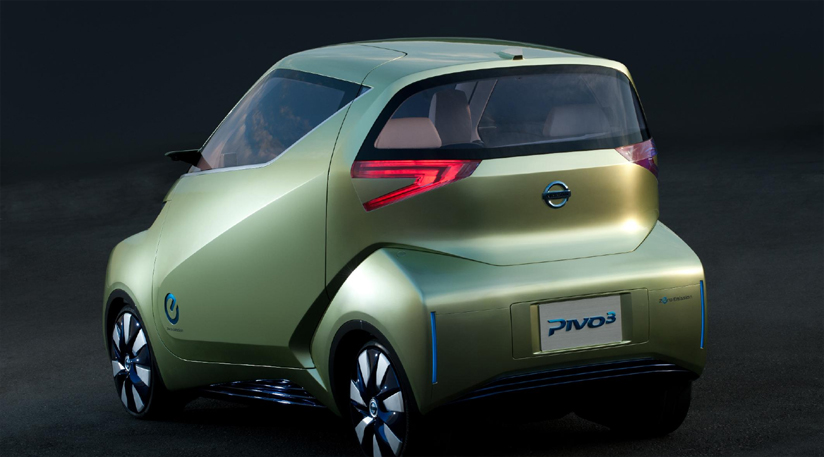 Even cooler is the idea of making the car an extension of the driver – something that automakers have talked about since the '50's, but hasn't truly been realized. The Pivo 3 is conceptually able to automatically drive, locate a parking space and park without driver assistance in the infrastructure-equipped parking lots envisioned for the future. It can also charge itself and return to its driver at the AVP exit when called by smartphone. Let's see your late 80's black Trans Am do that!
Taro Ueda, director of product design for Nissan, says: "PIVO 3 is exactly designed for the mainstream of our EV, so we have a lot of requirements: Nissan-ness, EV-ness, to be realistic and environmentally friendly. That means we have mixture of requirements and the design teams are working hard to make sure all those requirements are combined into one design."
Pivo 3 is one of the candidates for Nissan's future zero-emissions designs, but not the only one. They are currently considering the next step after LEAF and Infiniti EV and the NV350 Commercial EV.
Francois Bancon adds, "So, if you remember, we made years ago, a kind of compact sports EV. We have a lot of investigation into what kind of category we should go – what kind of body type, what kind of story we are going to tell to the people with this car."
So, Nissan fans – What do you think of the Nissan Pivo 3 Concept?