From time to time, I get questions about other exhaust systems for cars that we build catbacks for. Some, we've got experience with, and others, we don't. Occasionally, we'll get a customer in with a used system from another manufacturer and we'll disassemble it to see exactly what it is that made them unhappy with their current exhaust. Sometimes, we'll run across something impressive that really appears to be well-built (example: RS-R Exmag catback for the S-chassis).
For this discussion, we're going to focus on exhaust systems available for the B16 Sentra (2007+). As many of you know, we offer a highly-configurable catback for both the 2-liter model and the 2.5-liter Sentra SE-R and Spec-V. I've had several inquiries about the Megan Racing catback for the B16, so we decided to secure one from a vendor and evaluate it for you guys.
Normally, I won't critique another company's work. But the inquiries about the Megan system are often accompanied with the question, "Why should I buy your system if I can save $100 by buying the Megan?" That's a fair question, and it deserves a fair answer. After all, piping is piping, and a muffler is a muffler, right?
Well, let's break it down in an apples-to-apples comparison:
Price
The best price I could find on the Megan stainless catback for the B16 was $389.95 + $49.95 shipping, for a total of $439.90. The comparable stainless steel BRM catback for the B16 is $545 shipped, a difference of $105.05.
Before we even get started, let's remind everyone that choices are good. What if you live in an area that doesn't require a stainless steel exhaust system? Unless you reside where they salt the roads in winter, the extra expense of stainless is unjustifiable. 90% of new cars come with aluminized steel exhaust systems. Unless you see cars with rusted-out exhausts in your area, you can bet that aluminized steel will suit your needs just fine. That's why we at BRM offer you a choice of aluminized steel piping for a full $100 less. So, that system would be $445 shipped (a difference of $5.10).
Now that we've established the price difference, let's look at what you get for your extra money.
Flanges
The first thing we noticed was the flanges. There's a significant difference here. The Megan system uses a stamped steel flange, much like the factory exhaust system. Put too much torque on these and they'll bend, leading to frustrating exhaust leaks. The BRM catback uses 3/8″ machined billet steel flanges, milled from a solid block of stainless on a CNC machine to ensure a perfectly-flat mating surface. Good luck bending those!
Piping
Next, we measured the piping. The Megan catback is advertised as having 2.35″ piping with a 2.25″ inlet. Wait a minute… Who wants a restriction in their new catback system? Shouldn't it be the same diameter from beginning to end? Sure it should. Having a smaller diameter inlet creates an area of disruption / turbulence, reduces flow capacity, creates a "hot spot" and increases backpressure – and can even create unnecessary noise. And a 2.25″ inlet isn't much larger than stock. The BRM system is available in 2.25″, 2.5″ and 3″ diameters, and you can be sure that our inlet is the same diameter as the rest of the system.
But wait – the Megan catback is "fully polished to a mirror finish"! Great. If you're the type that parks at a car show and puts mirrors under your car, then I suppose you'll want something shiny under there. Personally, I don't see a need for it. Instead of polishing something that's going to spend its life 3″ from the ground, hidden under a car, I'd prefer that effort and expense go into designing a better product.
Resonator
Let's talk about the resonator. Here's a discussion of what a resonator is, how it works, and why you'll want one: What is a resonator? Suffice it to say that the Megan system doesn't use a resonator. BRM Exhausts use only Magnaflow resonators. Why is that important? Because they feature a free-flowing, straight-through perforated stainless steel core, lap-joint welded for reliability, stainless mesh wrap and acoustical fiber fill to deliver a smooth, deep, authoritative tone with no raspiness or sound degradation over time. They're also backed by a lifetime warranty. Good luck getting that from Megan.
Muffler
How about the muffler? Well, the Megan system includes a shiny polished unit, made in China. It uses a stamped, louvered internal core, which looks like bent-in metal flaps. This induces turbulence (and therefore, backpressure) within the exhaust stream. Also, the endcaps of the Megan muffler are crimped, not welded. Crimped edges allow water to intrude, which can degrade the muffler from the inside out. In comparison, all BRM catbacks use Magnaflow mufflers, which feature a smooth, precision-perforated core for no turbulence, no restriction, and no added backpressure. Magnaflow's straight-through design has no chambers, baffles or louvers to interrupt exhaust flow. All Magnaflow mufflers have lap-joint welded seams for greater structural integrity. And, like the resonators, they're backed by a lifetime warranty.
The Megan Racing system comes with a removable "silencer". For those that don't know, a "silencer" is a conical obstruction placed in the exhaust tip which reduces sound pressure levels. But it also works by restricting the amount of flow and increasing backpressure. What good does it do to buy a larger exhaust system, when the tip is restricted down to a 2″ hole? You may as well shove a potato in your tailpipe and bore a small hole in it. If you're considering a system with a silencer, do yourself a favor – Save your money and keep your stock system. The BRM Exhaust system doesn't NEED anything stuffed in the tip – it's engineered to sound great and provide a deep, mellow tone without sacrificing flow.

Exhaust tip
Lastly, let's take a look at the one part of the exhaust system that everyone looks at – the tip. The Megan Racing catback has a single-walled polished tip, with "Megan" etched on the side (so everyone knows you bought your exhaust on eBay). These tips are easily bent or dinged. Here's an example: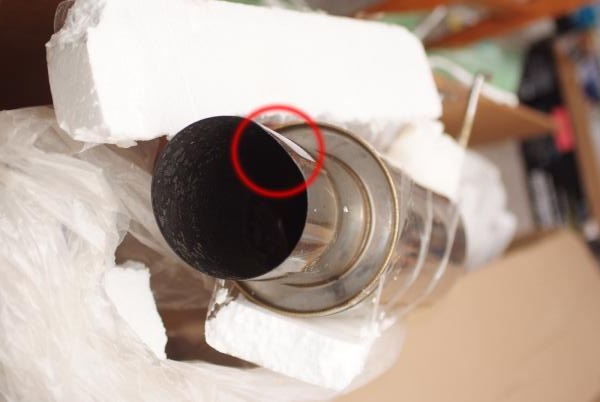 BRM Exhausts use durable, highly-polished dual-wall T-304 stainless steel tips (in your choice of single or dual-tip design), designed and sized to blend with the design of your vehicle for a distinctive look (as you can see here):

Summary
All BRM Exhaust systems are built to order, and manufactured by hand right here in America – not "mass-produced" by robots overseas.
At BRM Exhaust, all we do is exhaust systems. In fact, 90% of our systems are built for Nissans. We've chosen to focus on building one product line, and doing it well. The other guys? They've got catbacks, springs, wing spoilers, coilovers, steering hubs, seats, brakes… Are you sure they're really focused on providing you the best catback on the market for your money?
Let's assume, after you've read this, and you've reviewed our site at BRM Exhaust, that you still have questions. You can call or email me, the owner of the company, and I'll personally take the time to answer your questions and help you select a system that's right for you. Good luck getting that from the other guys.
So, it's your call – Is any of that worth an extra hundred bucks? We think it is, and we think you'll agree.
Greg (AZhitman) is the owner of BRM Exhaust and an avid Nissan and Datsun enthusiast.