For as much restoration, repairing, maintenance, and general wrenching as goes on at Datsun Ranch, the biggest time-suck of all is cleanup. Greasy hands, greasy tools, floor, walls, clothes, the bathroom… it all becomes a mess pretty quickly – even more so when there's 3 or 4 guys working on different projects at the same time. So, the cleanup is no fun, but it's a necessary evil if you want your shop to remain presentable and safe.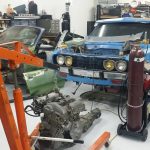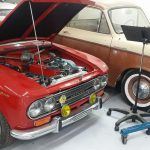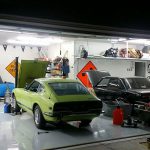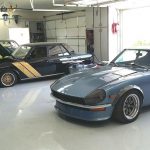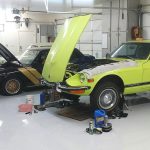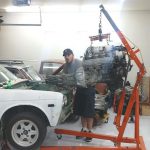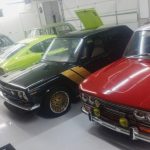 Over the years, I've used a bunch of different products – not just for cleaning up after a project, but cleaning parts for restoration or reassembly. I steer clear of volatile solvents, for obvious reasons… I want to hang on to the remaining functional brain cells I have. I've used nearly every product on the market – ZEP, Simple Green, 409, SuperClean, KrudKutter, Purple Power… in fact, up until very recently, I was a Purple Power fan.
A brief side note: A few months ago, I developed a persistent, hacking cough, that usually seemed to coincide with being in my shop. Anyone who's seen Datsun Ranch can tell you, it's remarkably clean. I've got a filtration system, HEPA filters on every fan, I scrub the floors, I wear a mask when I use a grinder, an air nozzle, or even a shop vacuum. My doctor finally came to the conclusion that the fumes from my cleaning solution was irritating my lungs. A little research and some input from Becky, my lovely RN wife, confirmed his concerns: The active ingredient (Diethylene glycol monobutyl ether) coupled with the pH (12.98) of my favorite cleaner, was making me sick. In fact, the alkalinity lies somewhere between ammonia and lye (neither of which you'd want on your skin or in your lungs). Here's a link to the MSDS for confirmation.
OK, enough about that… My problem now was, if I can't use my favorite cleaner, how do I degrease parts, clean up after a project, and make sure my pristine epoxy floor stays shiny and clean? I'm not working in a filthy shop.
Fast-forward to SEMA / AAPEX 2016… I'm strolling through the exhibits, chatting with vendors, keeping current on the automotive aftermarket, and I meet Rick Morgando from Kafko.
Rick's company makes a line of biodegradable cleaning products. I'm instantly thinking, "Oh, great – another miracle in a spray bottle. Let me run right out and order a case." However, since Rick didn't go all "BUT WAIT THERE'S MORE" on me, I stayed and chatted with him. I shared my story about my experience with Purple Power – but instead of bashing their product, he simply asked about my shop, my projects, and what my toughest cleaning chores were. He shared some info on their products, gave me a few helpful tips on making my clean-ups a lot easier, and we traded contact info.
A couple weeks later, I received a package of samples of the Oil Eater product line, and an email from Rick asking me to give them a try.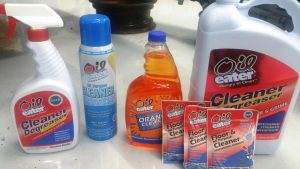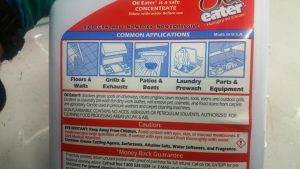 Just for comparison, I looked up the MSDS for Oil Eater. It has a pH of 11 (roughly the same as Milk of Magnesia). It's non-corrosive, non-toxic, and does not pose any known physical hazards. After my previous experiences, this was good news.
NOTE: Oil Eater offers some other great products for oil absorption, spill clean-up, workplace safety, industrial disinfectants, and cleaning equipment, but for the sake of simplicity and time, we'll save those for another article.
My first test was to clean up the floors. Old Datsuns leak, and I'd also just done about six straight oil changes as well as two back-to-back brake jobs. My dove-grey, glossy epoxy floors looked like an old roadside lube and tire shop.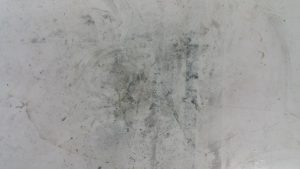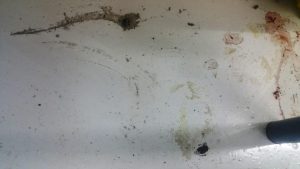 I use a Hoover FloorMate scrubber to wash/scrub/vacuum the floors, so I measured up a 1:10 dilution of Oil Eater to water (I remembered Rick telling me that if there's a foggy film on your floor or if your floor is slippery, you're using too much cleaner). Soon after I started, I'm thinking, "Hey, this smells pleasant, kind of a citrus scent."
Anyone who's cleaned up brake dust off a light-colored floor can tell you, it makes a HUGE mess. It smears, it blows around, and each speck can create a black stripe when you wipe it. Not this time. One pass and it's gone. The oil stains, greasy handprints from my gloves, and even a few smears of old funky brake fluid – all gone.
One of our Datsuns (awaiting restoration) has a slow but persistent gear oil leak, and I suspect it's never been changed. Of course, that leak on the floor collects dust, so it becomes a nasty gob of stinky goo under the car – I was almost done with the rest of the floor, so I ran the machine over it in two passes. On the first pass, I noticed the cleaning solution was already breaking up the goop and dissolving it.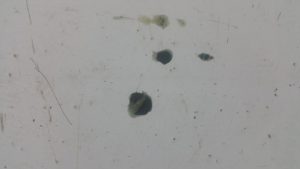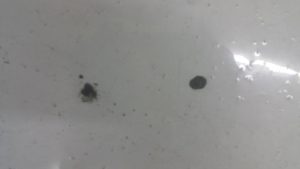 The second pass – no more goo. Just shiny, clean epoxy floor. No residue, no fogging, and best of all, no slipperiness. In fact, my tennis shoes even squeaked a little on it. I think we might be onto something.
Next test – kind of accidental. I've got a few pair of jeans I wear in the shop, and I suspect they're about 75% denim, 25% grease. I don't even wash them with the rest of our laundry. One night, I'm running a couple loads of laundry, and wondered how Oil Eater would work as a detergent. Well, the label says it works great, so I poured in the recommended amount with my grungy shop clothes. They weren't kidding – My shop jeans looked suitable for wearing in public. We're on a roll.
Last one, since this is going to sound like an infomercial… When doing restoration work, a lot of the parts I remove are caked with decades of grease and road grime. You know the kind you scrape off in chunks with a putty knife or chisel? Yep, that's the stuff. Usually I'll scrape, then wire wheel, then scrub with solvent and a wire brush – lots of work. So, I decided to test it out on a cast steel rear brake cylinder I'd just taken off a '70 510. I grabbed a plastic cup, poured in some Oil Eater full-strength, dropped in the part, and left it to soak overnight. The next day, I pulled it out and rinsed it – clean as a new part. To make matters even better, the part didn't flash-rust once it dried. Oil Eater isn't corrosive, and I learned you can use it just prior to painting! I've got a big parts washer, so I'll be using this as my preferred fill from now on.
Aside from the fact that this stuff worked great, the REAL clincher for me is this: We live on a county island, which means we don't have municipal water service or city sewer, we have a well and a septic system. That means that anything that goes down the drain here had better be safe, and as it turns out, Oil Eater is safe for our septic system and our well. I'm placing an order this week – anyone want a half-used bottle of the purple stuff?
I've attached a really awesome independent comparison test of the most popular degreasers – I think you'll find it interesting. Thanks for reading, and if you place an order (and you should), make sure you tell Rick you heard about Oil Eater here on NICOclub!