Seeing this ad pop up today brought back a lot of memories…
Infiniti G35 Grand-Am two car package

Let's throw it back to September 2006, when Team HLM (Howard-Law Motorsports) brought the car out to NICOfest at VIR for its public debut. A few months prior, we had arranged a deal with HLM to promote the car and the team, we got NICOclub decals plastered on the flanks of the cars, and we were all ecstatic to be working with such an awesome group of motorsports professionals.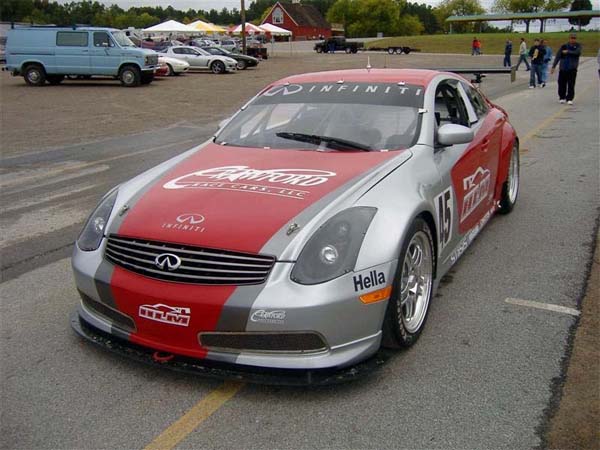 Some of you may recognize the names behind Team HLM: Peter Law was a fabricator for Mark Donohue's Penske Racing cars, and is the father of renowned racing driver
Darren Law
. Team Principal Frank Howard and Driver
Bryan Sellers
composed a formidable race team, and their efforts represented the first time that Infiniti had been represented in the United States in a professional racing series. Alex Moore (Business Development Manager), Max Crawford (owner Crawford Race Cars), and Andy Scriven, the engineer that designed the car, rounded out Team HLM.
After some testing at Daytona, VIR, and Homestead in 2006, the NICOclub faithful were on alert for the car's first competition (Daytona 2007), and Torry Skurski covered the action here:
Team HLM Runs the G35 at Daytona
Sadly, the two-car team never saw competitive action after its appearance at the 24 Hours of Daytona, and the cars have been squirreled away in an undisclosed location since then.
So, what does this mean to a potential buyer? Well, there's not a ton of heritage, and certainly no impressive pedigree. The cars might be competitive in the Time Attack Unlimited classes, but no doubt the electronics are outdated after a decade and a half. At the time, these two cars were outfitted with the best quality stuff… but that was 15 years ago. Being a Crawford Race Cars and Menards Engineering chassis, they're probably durable as hell and work wonderfully, but they certainly won't have all the bells and whistles modern telemetry and logging has.
We asked our resident Time Attack driver Torry Skurski for his take on the sale: "
Realistically, $95k is a steep entry fee for what amounts to a competitive unlimited class time attack car and a spare chassis. You could probably build something better and faster for $20k less.
"
He added, "
Outside of time attack, like wheel to wheel racing, I'm not sure what class these cars would fall in currently. It's too good to be in any amateur level classes, but probably not good enough to be truly competitive in any current pro classes. It looks like a fun car for somebody with $95k to blow on some weekend toys.
"
For another angle on it, we chatted with
Mark Stahlhammer
of Hammer Fabrication. His take on the deal:
"The cars look to be very well built. While the electronics in them are old, they are still well supported by their manufacturers, and should be more than adequate for whoever.
Probably the biggest potential issue is that the cars were built to the exact letter of a very extensive rule book. Given how other sanctioning bodies have written their rule books there is a chance that there is no class at all for this to race in with a few organisations. Unlimited time attack, or a group vintage race cars with some provenance like SVRA may be the only option to get the car out on track in a competitive fashion. Overall it is a lot of car for the money, and I'm sure that it would be a blast to drive. Just going to be a little limited on who you can run it with."
So, there you have it. These cars are in need of a new home, and the original molds used to make the carbon fiber bodies are included. They're not yet eligible for any vintage series, and they're a bit long in the tooth for any current series – but you might have what it takes to give them a second shot at the podium! 
Contact the seller here:
https://www.racecarsdirect.com/Advert/Details/106641/infiniti-g35-grand-am-two-car-package