"They don't make 'em like they used to…"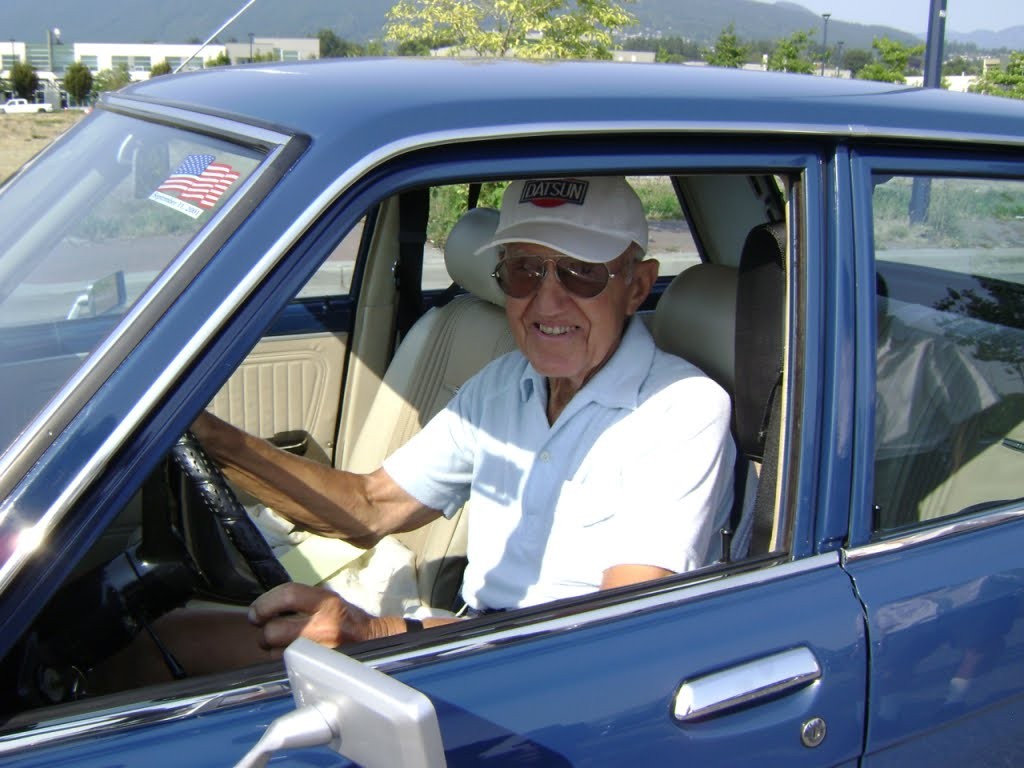 As Datsun enthusiasts, we all know that the chances of finding an early Datsun 510 that is stock and unmolested is usually pretty impossible. While there are several examples of well-preserved stock 510's in North America, there is one particular car that really stands out. We'd like to tell you more about this amazing car… but more importantly, we'd like to tell you the story that goes along with it.
On November 9, 1971, Arthur Hughes purchased a 1972 Datsun 510 4-door sedan from Brasso Datsun in North Vancouver (Canada's largest Datsun dealer). The car was intended to be driven by his aunt, who, due to her age, could no longer drive a larger car. The 510 came with most of the available options: Automatic transmission, tinted glass, rear window defroster, AM radio, dual side mirrors, engine trouble light, complete undercoating, and radial whitewalls and several other options.
In January 1979, Arthur's aunt passed away, but bequeathed the 510 to Arthur in her will. At that time, she had only put 7,000 miles on the odometer. Amazingly, even the factory-installed clear protective vinyl was still on the rear door panels.
Several years later, Arthur caught the car show bug and got involved with the Datsun community. In April 1988, the blue 510 was awarded with the "Lowest Mileage in America" award from the San Francisco-based United 510 Owners Club.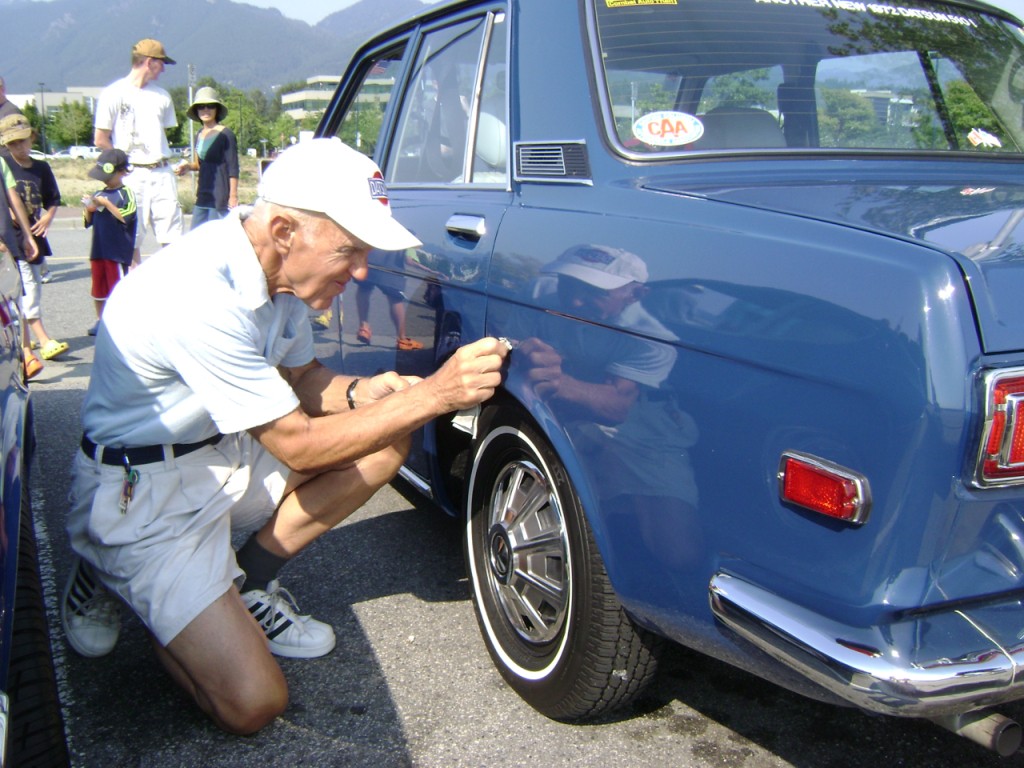 In the summer of 1991, twelve years after obtaining the little blue 510, Arthur decided to address some of the small defects and flaws that had arisen in the past two decades. So, all of the areas where rust was beginning (rocker panels, dogs legs, lower quarters) were professionally replaced by Commit Auto Body of Vancouer. The original blue paint (alkyd enamel #645) was precisely matched. The original paint under hood, trunk lid, engine compartment, and door jambs was retained.
After that minor refreshing, Arthur continued to drive the beautiful blue 510 all up and down the west coast, attending a total of 48 car shows, and winning First Place in Class for each and every show they attended. In 1992, en route to the 510 club swap meet in British Columbia, the odometer rolled to 75,000 miles.
It was during this time that a young boy named Dan Uphoff, whose family was friends with Arthur, took note of the 510. He was far too young to drive, but the 510 (and Arthur) made a lasting impression on him. Little did he know at 5 years old that he would someday become the caretaker (and driver) of this piece of automotive history.
Meticulous records were kept on this car, dating back to the 1970's. During the course of Arthur's ownership, faulty items were replaced with OEM or genuine reconditioned Datsun parts, including items such as the locks, horns, and bumper guards. His involvement in the Datsun community was broad, and you'd be hard-pressed to find a hardcore Datsun enthusiast in Canada or the Northwestern US who didn't know of him.
In 2008, Arthur's health started to decline and he stopped attending shows with the blue 510. The car was still maintained as it had always been, and he was very proud of the fact that in almost 150,000 miles of use, the car had never been driven in the rain.
In 2011, he briefly considered selling the still-pristine 510. However, the thought of someone modifying his beloved car quickly put that idea to rest. Arthur thought of his close friends, the Uphoff family, and drafted an emotional letter to young Dan's father, asking if he would purchase the car and maintain it to the standards he always had. He agreed, and flew to Canada to pick up the 510.
Arthur provided him with detailed records and paperwork on the car, including a thorough walk-around inspection and professional appraisal. Take a few minutes and check this out…
He remembers Arthur being happy to know that the car was going to a family that would love her as he had. The 510 was driven to its new home in the US.
Not much later, on December 14th, 2012, Arthur Hughes passed away. The entire community mourned his passing:
In 2013, the young boy who fell in love with that blue 510, became the caretaker of Arthur Hughes's beloved Datsun.
Dan Uphoff says, "I viewed him like a grandfather… He was always the first person I looked for as a kid whenever we went to a show, and I never would have thought at the age of 5, that one of my favorite cars from one of my favorite people would be someday sitting in my garage. When he passed away, it hurt a lot – but I know his spirit exists in his 510, and that's why I now refer to this 510 as 'Art', in memory of Arthur Hughes."
Dan's plans for the car are the same as Arthur's were: To preserve and maintain it, and most of all, to drive it and enjoy it. "I once heard someone mention that the 510 was boring in its stock condition," says Dan, "but I have to disagree. It's easy to modify a car, it's even possible to restore a 510 to the same condition, but to preserve a car is a completly different story. It takes hard work, dedication, and a true love of the craft."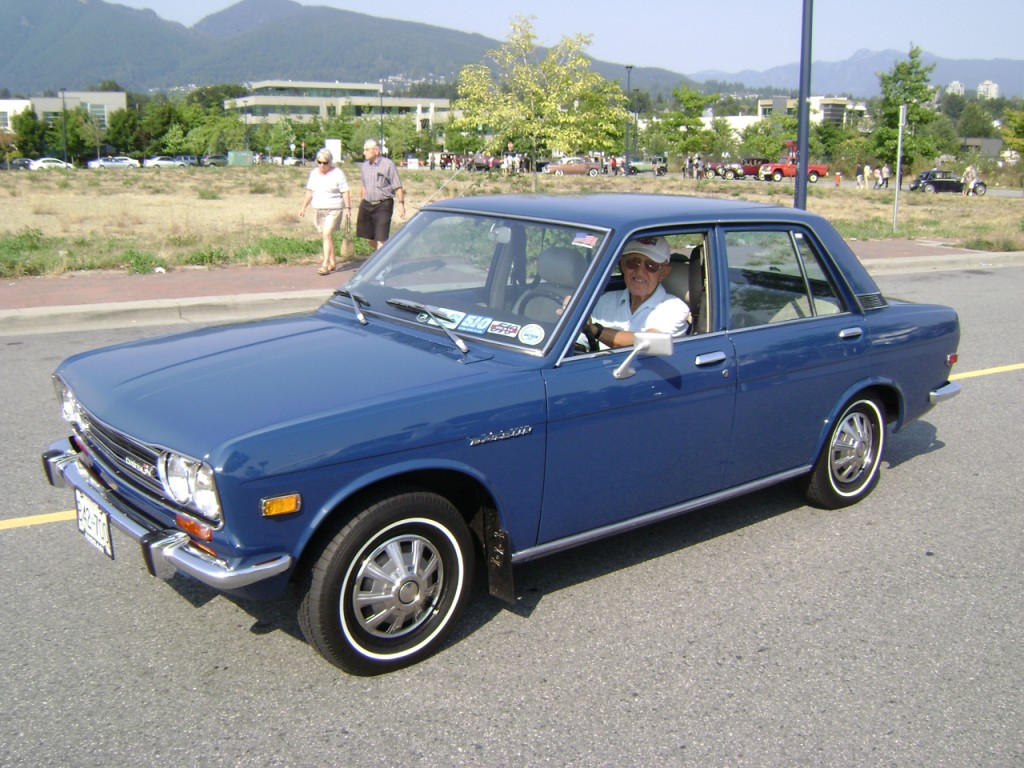 We hope you've enjoyed this bit of history about Arthur Hughes, and his 510. If you see Dan Uphoff with 'Art' at a show, make sure you spend some time enjoying the car – It's what Mr. Hughes would have wanted.
Check out the Datsun Forums and tell us YOUR Datsun story… thanks for joining us.