When you mention the words, 'Nissan Pulsar,' several different vehicles come to mind, depending on who you're talking to. JDM enthusiasts and racing aficionados tend to think of the 90-94 GTI-R hatchback, but many of us recall the quirky, Sentra-based second-generation Pulsar NX. While the first-generation US-market Pulsar was eminently forgettable, most people over 40 will remember the second-gen 1986-1990 model with a few hints.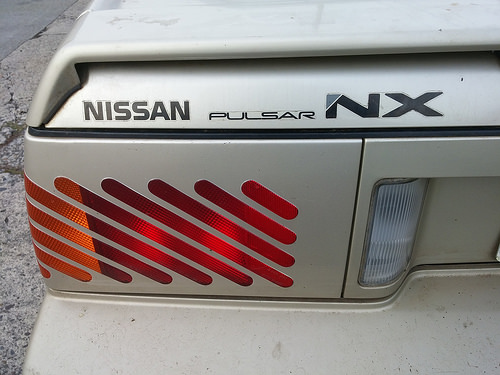 Styling-wise, the Pulsar NX was pure 80's cool. Some would say that one of its most distinctive styling features started the late-80's trend of "taillight masking", and soon, anybody with some vinyl decal material and an X-acto knife was copying the look. (Unfortunately, some never did let it go…)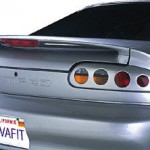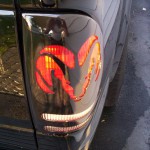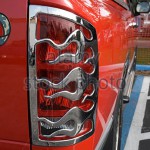 No, that's really not true – the taillights and popup headlights weren't its most distinctive styling feature. The fact that the car could be changed from a hatchback coupe to a "wagon-esque" shooting brake, just by removing and replacing the rear upper body section, was the standout feature of the Pulsar. In fact, removing the available t-tops and the rear section altogether made the Pulsar 'almost' a convertible. Targeting a young, active and hip demographic, the Pulsar was an affordable "sporty" car that preceded (and overlapped slightly) the S13 240sx.
Nissan's styling of the Pulsar tied two unlikely vehicles together – The Pathfinder and the Pulsar, viewed from the side, shared a very similar B-pillar design.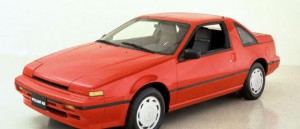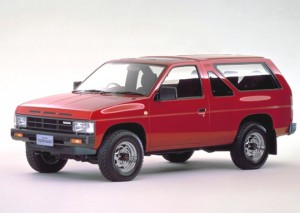 The Pulsar was available in two trim levels: the XE (1.6-liter E16i in 1987–1988 and 1.6-liter GA16i in 1989–1990) and the twin-cam SE (1.6-liter CA16DE in 1987 and 1.8-liter CA18DE in 1988–1989).
This spectacularly-clean and well-kept example belongs to one of our local enthusiasts, Marcus Boese. We'll let Marcus tell the rest of the story – Hope you enjoy!
____________________________________________________________________________
I grew up in a family of Mopars. Growing up, my mom and dad had nothing but Chrysler products. Needless to say I was brainwashed young, not that it was a horrible thing. I grew up wanting nothing less than a v8 fire breathing 70's Mopar. When I turned fifteen I had saved up enough money to buy my first car, a 1972 Plymouth Duster with a 318 from the factory. It was indeed a project, but I loved it wholeheartedly; and so did my dad. As we started building it up to get ready for me to drive the project turned more and more into my dad's project than mine. This lead to me getting to a point where I was done with it.
This is the part of my car history that gets a little funky. I sold the Duster to my father (he still has it) and bought a cheap Jeep. A really cheap Jeep. I bought a 1975 Dj-5d postal Jeep for $1,000. With right hand drive and sliding doors. Despite not having air conditioning in Arizona, I was still in love with it. It wasn't fast or comfortable; but it made up for it in its utilitarian interior and stare factor. I loved that I could fit all of my instruments into the back and get funny looks driving down the road with my leg hanging out to stay cool on the wrong side of the car. I drove it around for almost two years when I finally decided that I needed a car that I can drive on the highway, because although you could drive at 75 in the old jeep, you'd have to have a death wish to do so. Manual steering and brakes made you look like a juggler trying to keep it in a straight line at 40, let alone 70. This is when I "turned to the dark side" according to my dad.
I found a neat, funny looking 1.6 liter car that promised to get 30 mpg on the highway. It was a 1990 Nissan Pulsar NX XE with the early GA series engine in it. My first test drive of it I fell in love. It was smooth with crisp steering and the best part…. Pop up headlights! Having researched the car so much before going to look at it I found out about something called the "sportbak". A factory Nissan option that would turn this neat little car into, what is believed to be the only two door t-top wagon ever made from the factory. I gave the ex-U of A professor the money, he gave me the title and a new story began. The first mission was to find this super rare, unobtainable sportbak. I searched for years….. That's right. Years, three to be exact. I found it posted on Craigslist in California at midnight on Halloween. I left the same morning six hours later and returned before dinner. I was extremely excited and couldn't wait until morning to put it on. I could finally drive all my drums around in comfort again in my neat little car. As time went on I felt like I needed more power, and like most I decided I needed the "bigger" engine.
The Pulsar came with four different engine choices in the US. The lousy E16i, GA16i, CA16de, and the CA18de. I had bought a second pulsar with the E16i in it for parts and it took me another six months to find my third Pulsar. An 87 model from California with 96k miles, and a five speed manual coupled with the CA16de. I bought it from the original owner who took great care of it. My horsepower jumped from 90hp out of a 1.6 liter to 122 hp out of a 1.6 liter.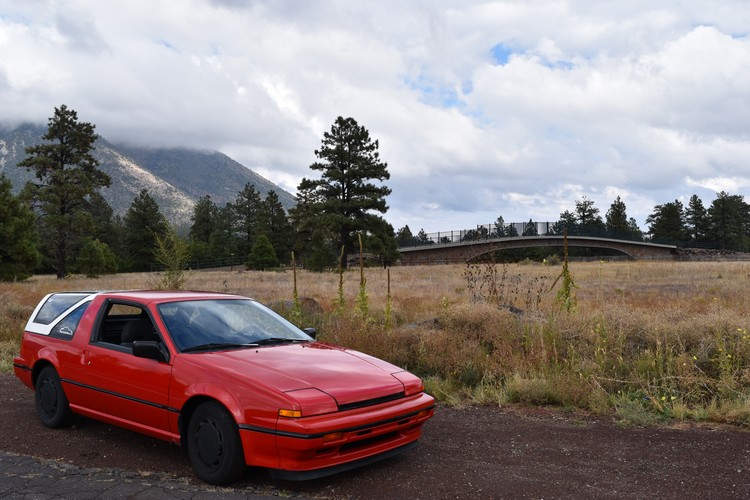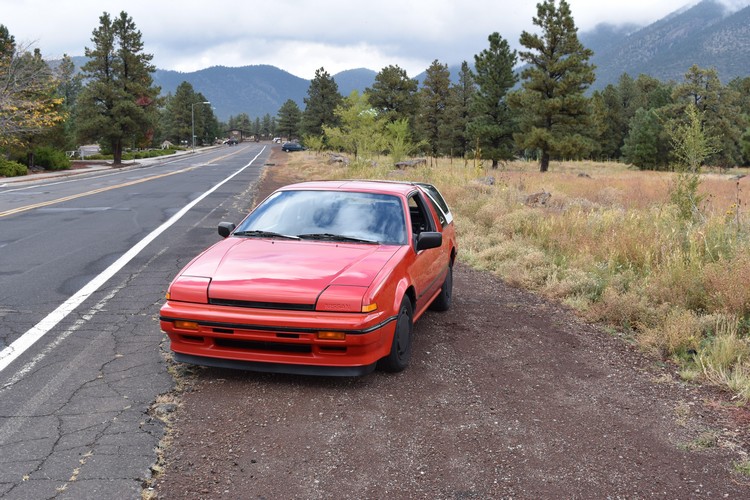 Still had a small engine that got great fuel economy but made 30 more horsepower and came with a higher rev limit. Still, getting 38 mpg in a much faster car was a very great feeling. Although red isn't my favorite color, I loved this older but faster version of my first Pulsar. Now I wanted to take this 30 year old car to the track to find out how well it would do. I finally installed the upgraded suspension and with the "economy" tires went out to Musselman Speedway in Tucson for a Datsun get together. Expecting to be the slowest car there, the Pulsar surprised me. I had close to the lowest horsepower and horrible tires but didn't end up being the slowest on the track. But, being the second slowest made me hit the point of wanting to build a full-on purpose-built Pulsar track car to have fun in.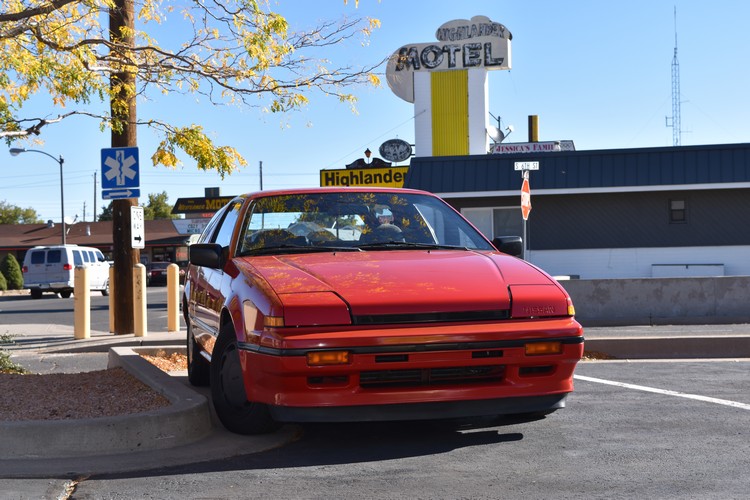 In December 2015 I picked up my fourth Pulsar. A 1988 SE with the CA18de in it. Soon it will be stripped out and given the special treatment it deserves. Unlike my 1987 from California, this one has been beat on and disrespected like so many Pulsars everywhere. Nobody seems to care about these cars as much as the Pulsar/EXA enthusiasts. There's few that have driven them and fewer that have fallen in love with them. But that's why you'll find someone like myself all over the world. The ones that hoard all of these fun little cars and take them out for other people to enjoy. Every outing involves getting stopped and asked, "what is that thing?" I love the feeling of giving people something to remember. That's why it doesn't matter if people point and laugh, or stare trying to find out what kind of car I'm driving. I will have at least one Pulsar for the rest of my life.
If you've got an early Pulsar, you'll want to pop in and introduce yourself to the rest of the Pulsar owners here! Nissan Sentra and Pulsar Forums