1995 Road and Track Q45 Article
Ever since its introduction in 1989, the Infiniti Q45 has been extremely popular at R & T. Its artful blend of performance and comfort placed it on our Ten Best list in the December 1990 issue, and its popularity as a long-term car remains unmatched. However, things were a little different then: The Q45 listed at $38,000 and represented a less costly alternative to European sedans. Today, with a base price of $52,400, it no longer enjoys that distinction. Nevertheless, it's still one hell of an automobile.
After a brief visit to Point Reyes National Seashore, a serene but extremely windy place where deer frolic in the fields and sunken ships lie beneath the waves, we continued north to Inverness where the road was mostly straight. We encountered more than a few vehicles traveling at a snail's pace, but thanks to the Q45t's mid-range power, getting by them never posed a problem.
Infiniti's wonderful 4.5-liter V-8 pumps out 278bhp at 6000 rpm and 292 ft.-lb. of torque at 4000. And although shifts from the 4-speed automatic transmission are smooth and effortless, to get the maximum potential from the engine, you're better off selecting gears manually. Hold each gear to near redline and the car rockets forward in race-car fashion. (Incidentally, this same V-8 will be the basis for the engine in next year's Nissan 300ZX IMSA GTS race car.)
At the track, the Q45t sprinted from 0 to 60mph in 7.9 sec. and reached the quarter mile in 16.2 – a half-step behind the original model. The reason? Although the Q's exterior dimensions have remained unchanged (overall length, width and height are 199.8, 71.9 and 56.3 in., respectively), the car is significantly heavier than before, tipping the scales at 4090 lb.
Despite its size, the rear-drive Q45t sprints nimbly when faced with a challenging road. It displays a touch of understeer through most corners, but its overall balance and handling are excellent. The multilink suspension is ideally tuned to provide both flat cornering and a comfortable ride. In fact, we found the Q45t's ride to be so supple that it finished at the top of the group alongside the Lexus LS 400 and the Mercedes-Benz ES420.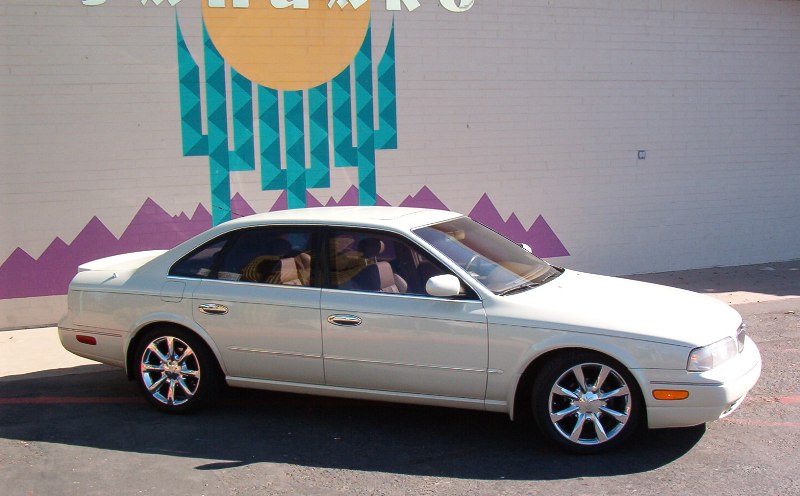 Complementing the smooth ride is the Q's amazing quietness. Our sound meter revealed that at 70 mph, it was quieter than even the Lexus. But unlike the Lexus, engine noise penetrates the cabin when revs rise above 4000 rpm. Head and leg room are plentiful for both front and rear-seat occupants, and getting in and out of the car posed no problems; not even for our in-house tight end, 6-ft.-4-in. Feature Editor, Andy Bornhop.
Although only one staffer picked the Infiniti Q45t as his favorite, we all agreed that the sedan provides a wonderful blend of performance and luxury. Its Balance Factor of .3 (8.6 Sport, 8.3 Touring) suggests that it is indeed as much at home on Interstates as it is on remote backroads.
By: Sam Mitani, from the Article Elite Eights: Riding the waves of luxury with 32-valve V-8s, in the March 1995 issue of Road & Track