Those of you who have followed the NICOclub crew through our various adventures might know that earlier this year, our beloved 2005 Frontier was rehomed to make room for a truck that was a little more robust. The 4×4 6MT CC Fronty served us well both as a hauler and a commuter. Eventually, the miles racked up, the loads got heavier, and the concern for her longevity increased.
Enter the replacement rig, a very gently-used and loaded 2012 Titan CC with 39k miles. After six months of ownership, the new hauler has certainly proven her mettle. Although she may never be a member of the family like the Frontier was, she certainly does everything we ask of her – and does it with comfort, style, and a gnarly V8 growl. Datsun Ranch now has a proper dedicated workhorse.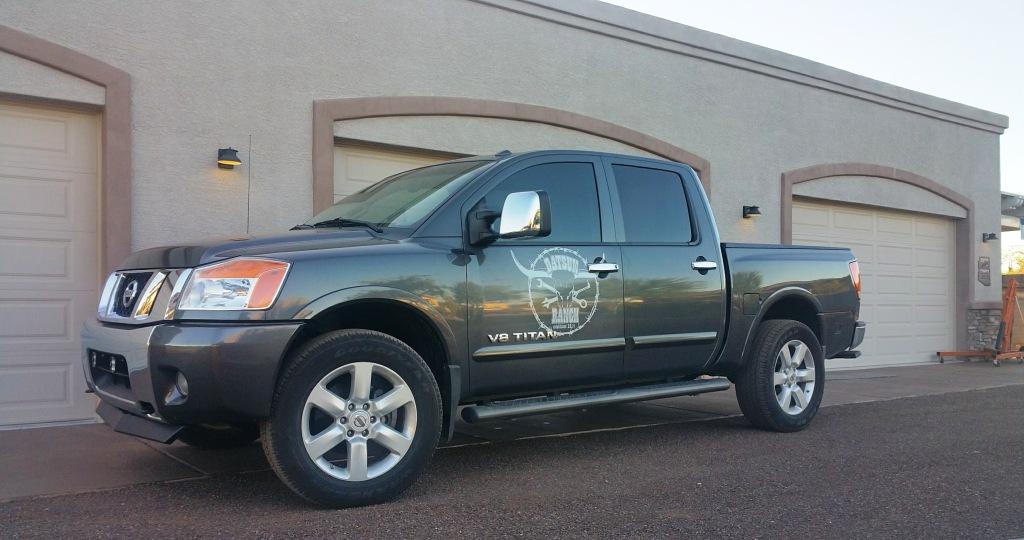 One difference we noticed early on was that while the Frontier could be driven aggressively, even in corners, the Titan seemed to wallow and pitch. Sure, she hauled a 12,000-lb trailer from AZ to CO without flinching, but the sensation of driving a BIG truck is very pronounced.
Common mods and UpRev tuning bumped HP to 360 and TQ to nearly 400, but now launches are accompanied by some pretty pronounced intrusion by the TCS system. Turning off TCS results in wheel hop – and if you've ever changed the 20″ tires on a Titan, you know that's a lot of mass banging up and down! Plus, accelerating hard out of a turn creates some interesting handling changes – some of which are downright unsafe.
I'm a "have your cake and eat it too" kind of enthusiast. I mean, is it too much to ask to have a 20′ long, 2.5-ton luxury 4×4 tow like a Peterbilt and handle like a sports car? I think not.
As luck would have it, each year I spend two entire days at SEMA meeting the first-time exhibitors. These are the startup companies that have a new, innovative product on the market, and they're looking for feedback. One of these companies was Roadmaster Active Suspension, so I sat and chatted over coffee with their representative Will Agnew.
Will is a truck guy, no question, and offered me a very in-depth education on WHY my experience with the Titan was so much different – as well as HOW axle wrap, hop, and sway occur on leaf spring trucks. I then got a thorough demo of how their solution works to prevent these issues – one that I actually started to understand!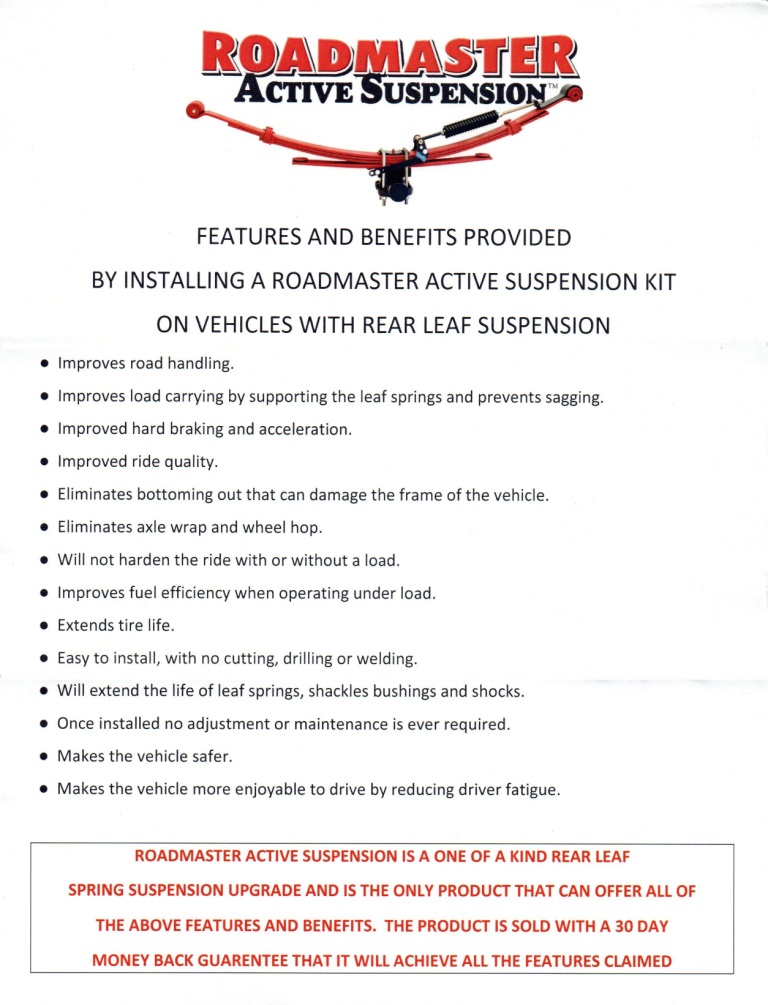 According to Will, Roadmaster's Active Suspension System converts a vehicle's "passive" leaf spring suspension into "active" mechanical suspension. The springs that make up the heart of the system instantly absorb shock and dissipate load force energy, greatly improving stability, balance, traction, and control – with or without a load.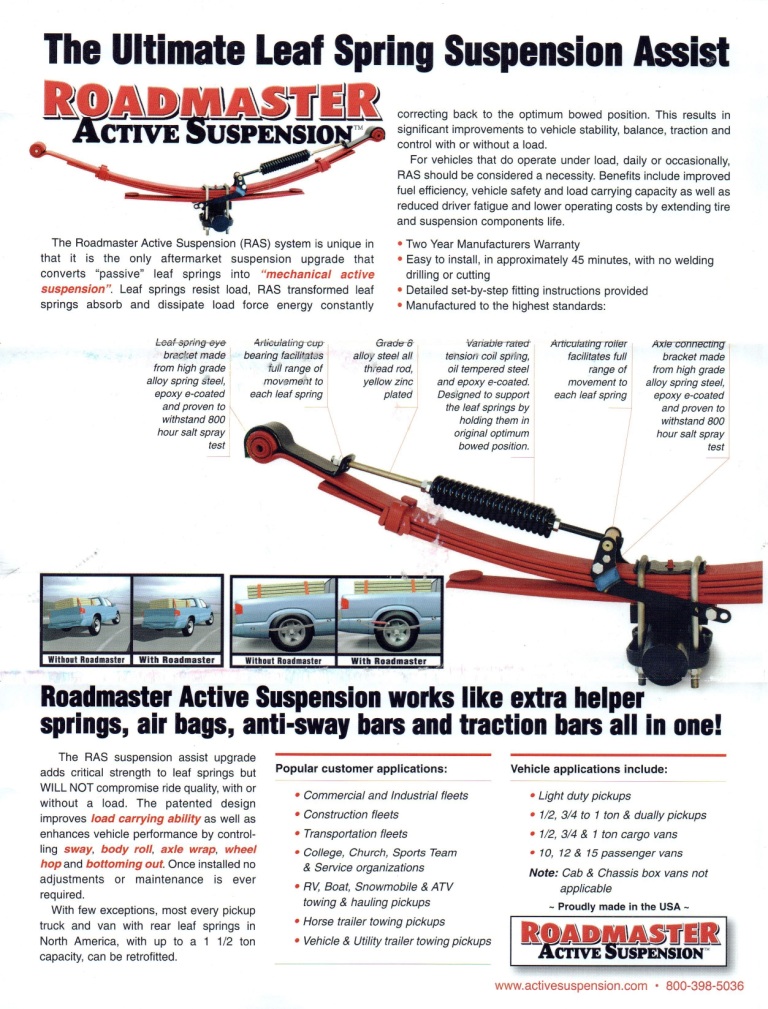 I've done a bit of fabrication and modification in my three decades as an enthusiast, and the kit looked to be well-engineered, with proper hardware and substantial heft – I agreed to give the Roadmaster kit a shot.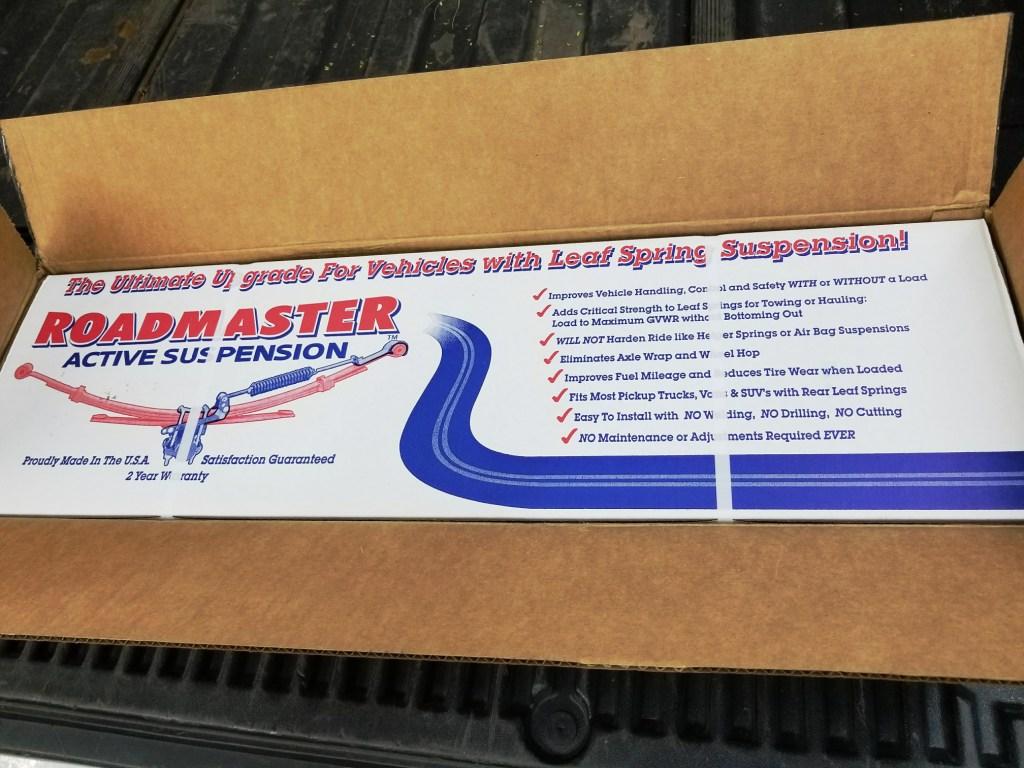 Installation, as promised, was easy – I probably spent more time looking for sufficiently-tall jackstands than I did installing the kit. The idea here is to induce MAXIMUM arch in the leaf springs to take full advantage of the Roadmaster benefits. So, there's no need to even remove the rear wheels – allowing the entire rear suspension to hang freely (wheels included) helps maximize the effectiveness of the active suspension.
The installation went so smoothly and quickly, I took ONE picture of the process!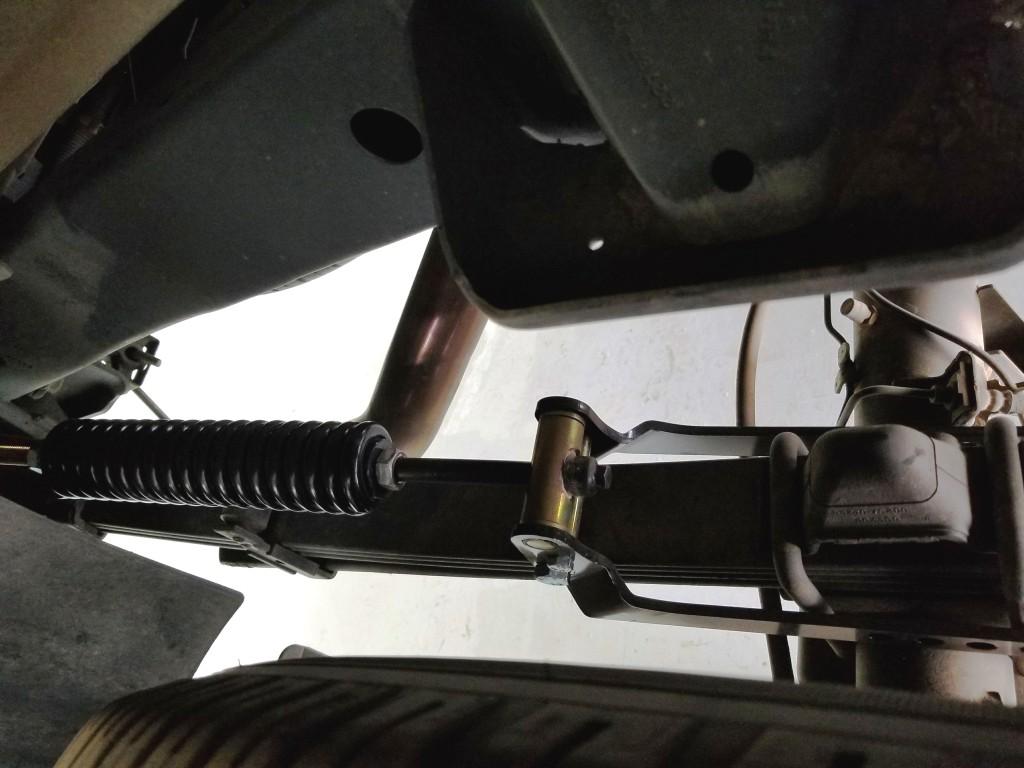 Thankfully, you won't need my help here – the instructions supplied by Roadmaster are clear, thorough, and easy to follow. The system is shipped fully assembled – In fact, there's only ONE fastener to remove and reinstall on each side, and it's easy to access.
Adjustment is a one-time thing, and Roadmaster even provides a pair of feeler gauge shims to set the spring tension (depending on your load-carrying intentions). I selected the lower setting, in order to better evaluate the before-and-after differences. Once that's done, it's a simple matter of removing the jackstands and putting her on the ground. The Roadmaster kit doesn't affect ride height like an extra leaf spring or a spacer, and it doesn't simply limit travel like a bumpstop. Time to put it to the test.
First, we took the Titan out on a lunch-and-coffee run. The first half-mile out of Datsun Ranch is a rocky, unpaved washboard dirt road, and I could swear it felt less jittery and jumpy in the rear. Probably just my imagination. Punch it up to 30mph, and nope – definitely an improvement! The "skittering" sensation of an empty bed was gone.
A hard-throttle launch with TCS switched on resulted in a lot more forward motion and a lot less TCS intrusion – this is a good thing. Even though the Titan isn't a quarter-mile brawler, sometimes it's nice to remind that EcoBoost chump who's in charge around here. Turning TCS off for the next 0-60 test resulted in the expected howling wheelspin, but no axle hop! OK, so we burned 500 miles of tread off the rear tires, but that horrendous banging is gone.
Next, some lively weaving and spirited driving through an empty parking lot reminded me of the Frontier again. Sure, it's a big truck, and there's some lean and roll – but the rear end feels far more planted, more stable on the ground, much like what you'd feel with a substantial sway bar upgrade on a RWD sports car.
As far as I'm concerned, that would have been enough to make me permanently happy with the Roadmaster upgrade. But they pride themselves on making a truck behave with a load or a trailer, so we're more than happy to oblige them in testing that. Fortunately, I just happen to have a 17′ all-steel car hauler that's occupied by a wrecked Mazda 6 (ah, the joys of teenage drivers). With the trailer connected, acceleration from a stop seems much more linear – the rear doesn't drop, doesn't rise, it just puts the power down and surges forward. Handling through corners is flat – the formerly uncertain feeling of rounding a corner without precise placement of the wheels has been replaced by a confident stability that made me forget for a moment that there's a trailer attached.
Be advised: The Roadmaster setup won't impress the kids at the hangout, it won't get you any Instagram followers, and it won't help you offroaders get unstuck.
However, it's a hell of a lot more functional than spike lug nuts, fender flares, lift kits and LED lights – AND it's made right here in the USA. So, if you're using your truck as a tool to get work done, you'll definitely be happy with your purchase. Speaking of which, you can order your Roadmaster Active Suspension kit online, or you can use their convenient Dealer Locator!
Questions about the kit? Hit up Will at Roadmaster or at [email protected], and if you like what we've done, please share this post with your trucking buddies!