Infiniti EX35 – Building on Momentum
There is a tremendous buzz already among industry watchers and enthusiasts about the Infiniti EX35. Due to be released in December, the EX35 will indeed be a Luxury CUV (Crossover Utility Vehicle).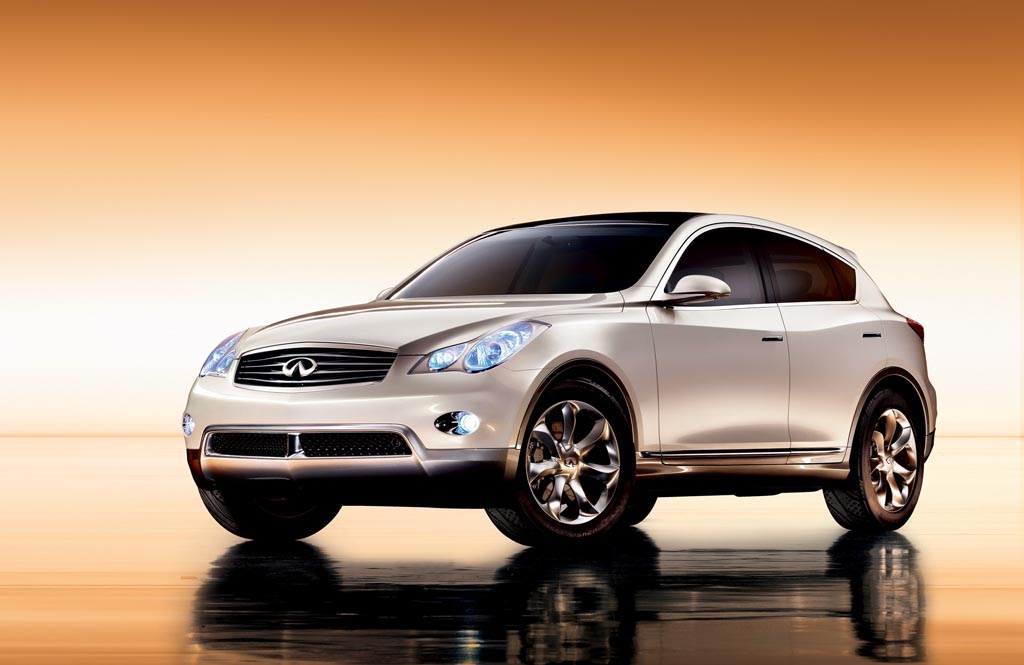 However, this vehicle starts with a tried and true high performance platform, adds an award-winning, powerful and fuel-efficient V6 motor, presents this potent combination in a spectacularly beautiful design, and finishes with positively cutting-edge technology. Targeted smartly at urban empty-nesters, Infiniti expects the EX35 to be its second-leading volume vehicle.
When one considers the pedigree – over the last 5 years, Infiniti's vehicles have changed
the industry at the luxury level – betting on a new Infiniti looks pretty smart. Every new Infiniti model introduced since February 2002 has become an automotive icon.
The 2003 G35 Sedan started things, serving notice on BMW that they were no longer alone. The G35 Coupe rocketed Infiniti to the top of the segment previously held by the 3-Series. The FX and the QX56 demonstrated superiority in the Luxury Crossover and Luxury Full-Size SUV segments respectively. The M firmly established Infiniti as a genuine power in the Luxury Mid-Size Sedan segment. With the M in the picture, Lexus and Mercedes experienced the same phenomenon that BMW already knew well. Consumer Reports called the M "the best car they've ever tested", and buyers flocked to the showrooms.
As a manufacturer, Infiniti is no longer a second-tier "also ran". So, expect the EX35 to be special. Expect it to set the bar higher – yet again. Expect to be amazed by the latest offering from Infiniti – the EX35.
The internet is full of EX35 items. Try this one for new perspectives: http://www.ex35forum.com/index.shtml
Author: Greg Childs (AZhitman) is the CEO of NICOclub