When I first started this project, the possibilities seemed endless. I saw the Nissan Altima Coupe on the lot, and imagined a world of differences for it. My previous two builds had been major projects – an '03 Mitsubishi Eclipse Spyder, and an '03 BMW 330i. With those in mind, I wasn't about to let this car escape perfection.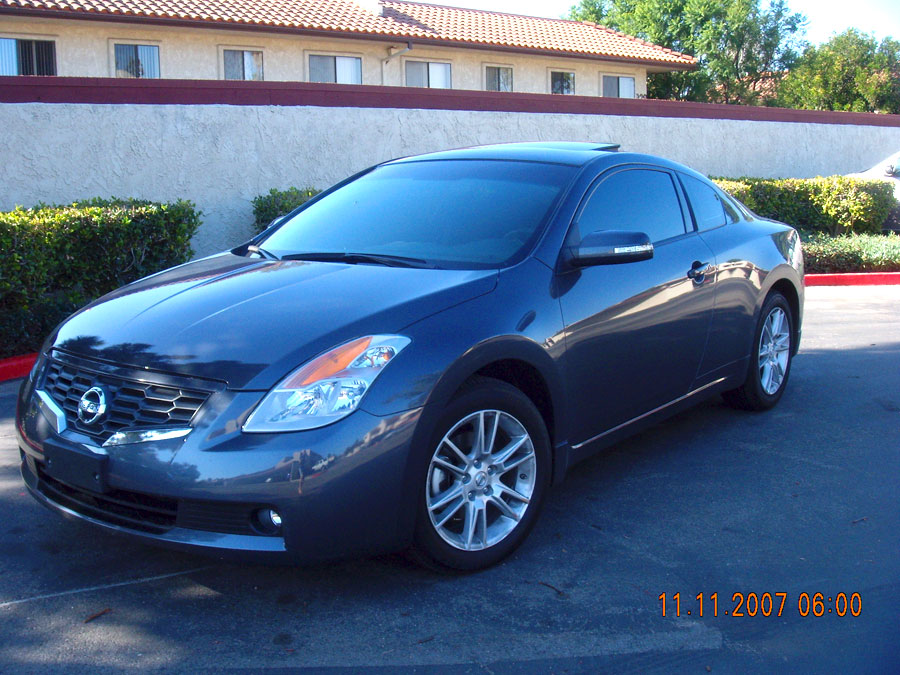 Driving the Altima Coupe off the lot gave me more hope for the prospect. A peppy 3.5L V6 made it a good amount of fun to drive. Matched with the "never-shifting" CVT transmission, the acceleration never seemed to stop. I was pleased with my selection. Churning down Highway 101 in Southern California, the car felt fast enough, but I thought some key things could be changed to make the car better. It was quiet, a tad sluggish on handling, and sat a bit high. Well, being that the Altima Coupe had only been out a few months at that time, the internet yielded no aftermarket products. So my quest began.
First, I contacted Borla's engineering department about an exhaust, the coupe needed some tone. They were excited about getting a project going, and they took the coupe into the shop for a few weeks. When I got the phone call to return to the design shop, I was thrilled. Upon seeing the design, and hearing the startup, I was impressed. Borla has always made killer products for Nissans, and they did it again here.
My attention then turned to the internet. I went online, searching for a forum that shared my views on the Altima Coupe. A google search led me to altimaforums.org, which eventually led me to NICOclub. I was amazed with the organization and drive of the members. I've never found a larger group of people that all shared the modification bug that I did. After some conversations with the guys, we became the original gangsters of the Altima coupe forum of NICOclub.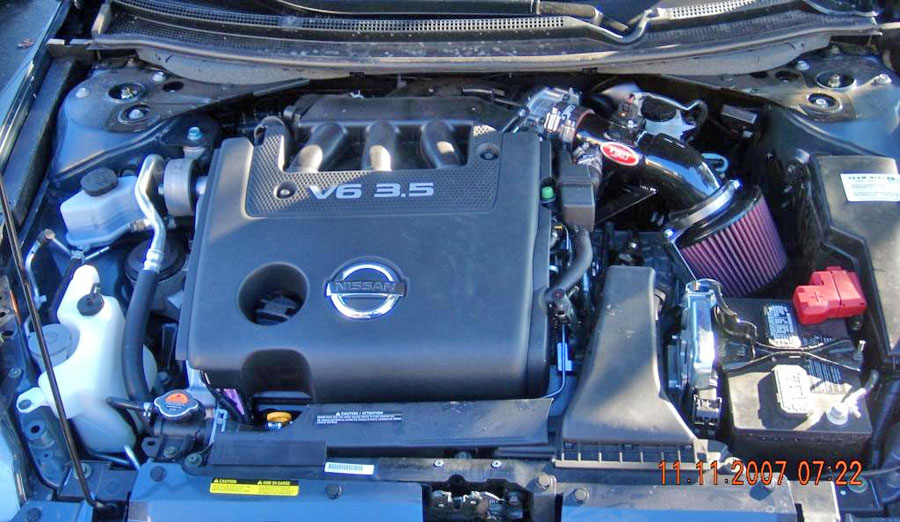 The Injen intake was then introduced to the community through STILLEN, and I had to have it. It was a classy design, along with the performance we have come to love from the team over at Injen. The install was all but effortless, with no kinks in the mold. The fitment of the kit was perfect. Quickly after the install, I took the coupe for a test drive. Boy, you have to love the sound the VQ35DE makes at four thousand rpm. The new intake and exhaust quickly brought my MPG down a few points. Its hard to keep your foot off the pedal with all that sweet music pouring out of the hood at higher RPM's!

My next move was to get some bodywork going. After watching the forums, and gathering some input, STILLEN decided they wanted a shot at revising the Altima Coupe's OEM front bumper. After contacting NICO's Stillen Representative, Kyle, online, we worked out a means to get the first Stillen fascia out to me, and painted before the first Altima Coupe meet of 2008. We just beat the deadline, and it was installed the morning of the meet. It turned out amazing, and to this day, I still have the fascia installed on my coupe.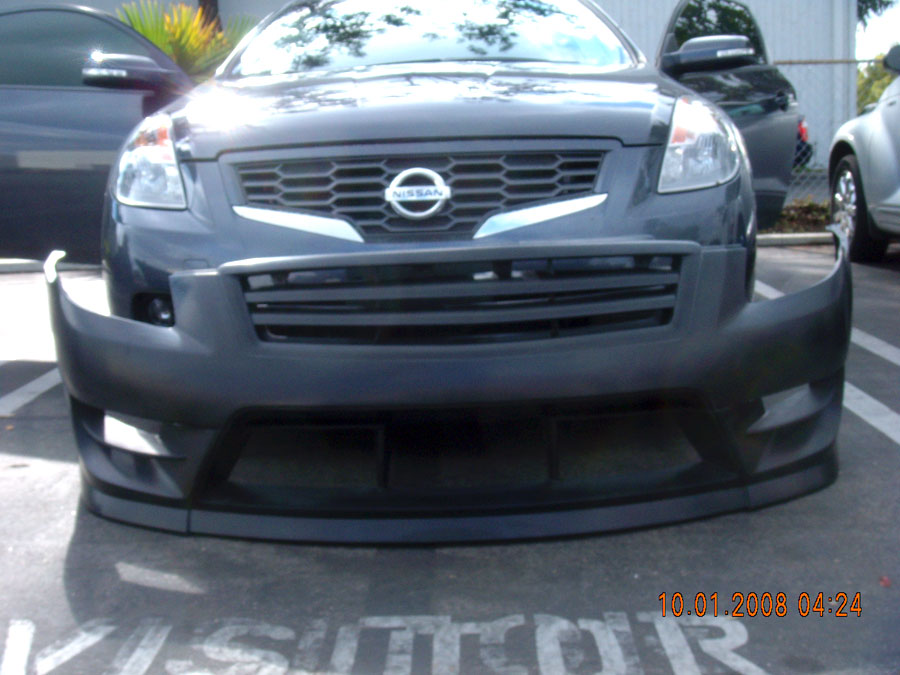 So, I have part of the bodywork done, time for some suspension upgrades.
That came in the form of a phone call to the Research and Development Department of Eibach. After a few conversations between the project manager and I we determined it would be beneficial for the community, and Eibach, to create the Prokit for the Altima Coupe. After a week or so at Eibach, my coupe was returned to me with a 1.5 inch drop. The community was thrilled! The kit looked great, handled liked a dream, and rode with poise. The agility of the coupe was brought to its potential, body roll reduced, and I would even venture to say the freeway ride was smoother than the softer OEM springs. I was incredibly impressed with the quality and result from Eibach.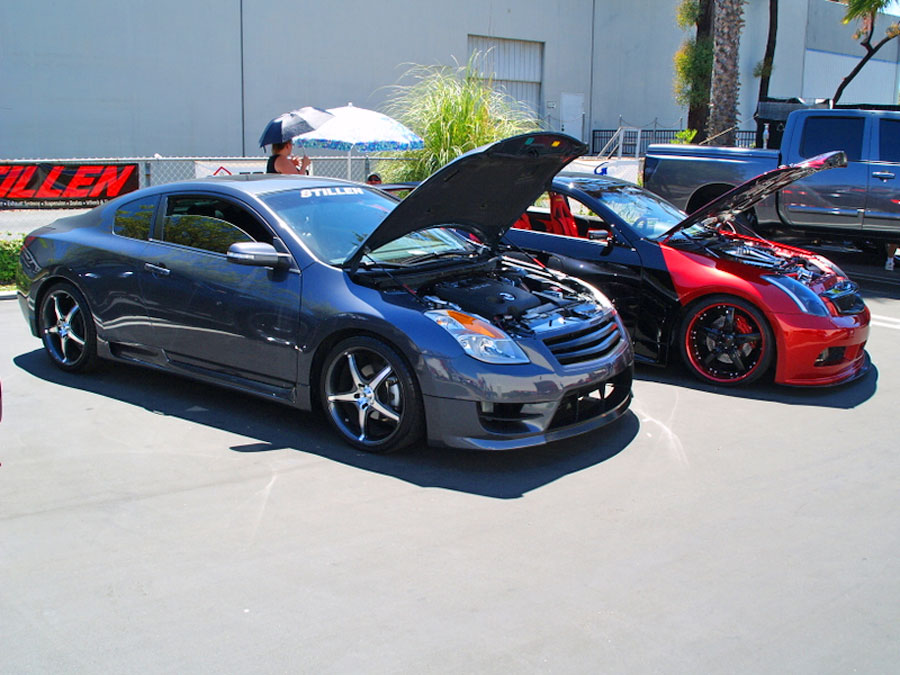 Ok, so now we have some performance, styling, and handling going for the coupe. It's a good start, but still a long way to go. On to some rubber! Once again, I got in touch with Kyle over at STILLEN, and we set up date to get a set of 19" KONIG Troubles/Goodyears shipped and installed at STILLEN. I head over late one evening, and the Stillen crew hooks me up with the last bit of time in their day to get this done. We get all the OEM Tire Pressure Monitoring sensors from the stock wheels installed, tires mounted, wheels balanced and five lugged. Everything falls in line perfectly. The fit is good, the offset is flush, the tires clear the fenders, and it looks spectacular. A good feeling came about when Kyle Millen looked at the car and said; "If I were to build an Altima Coupe, I would build one just like this, nice work." That all but sealed the deal between STILLEN and I, as we saw a special bond between their products and my coupe. On that same day, I picked up some STILLEN decals from Josh, and Kyle hands me the new prototype hood dampers for install and review. I promptly obliged and installed them that night. Another great addition to the coupe from STILLEN.
Next to go into place were the rockers. STILLEN again hit a nail on the head with this design. They flow with the original lines of the car, and they match the first piece of the kit, the front fascia. Keep in mind, months go by while these pieces are being created, so smaller additions to the car are also going into place such as a touch screen Pioneer AVIC-D3, STILLEN Rear Sway Bar, Racingline four corner endlinks, and some grounding wires to dress up the engine bay.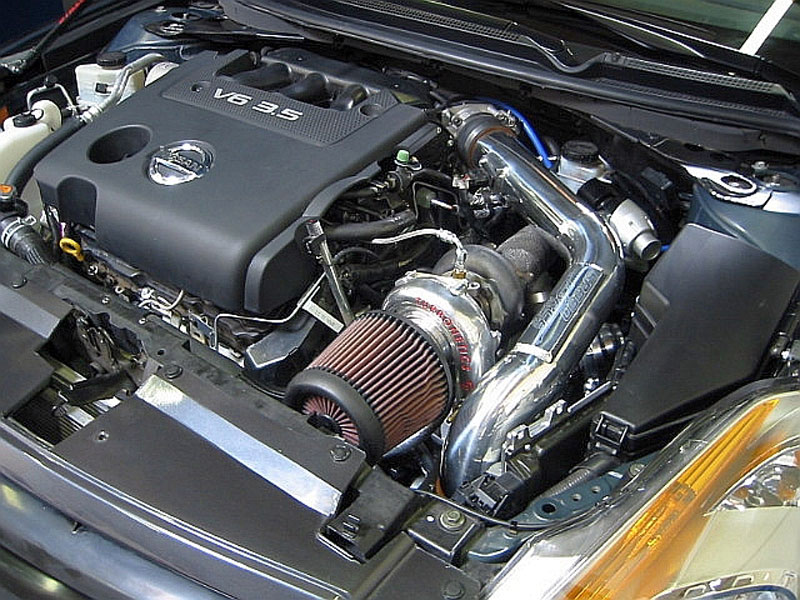 Now, I have a nice looking, handling car. It could still be a little faster though. Time for some forced induction! For about a month, I struggle to find someone to create some type of forced induction for this car. I had meetings with STILLEN, Vortech, and called numerous other companies. No one would take a chance on the Altima Coupe; until I got in contact with Tim Richards over at Speed Force Racing, in San Diego. After some negotiations and planning, Tim and I agreed on a layout, and went ahead with the project. I went on a detachment with my aircraft carrier, and left my baby with Tim to turn into a monster. He sent me updates, and proclaimed to me what a difficult project this was. I believed him, with the monster CVT and the 3.5L motor transversely mounted for front wheel drive, their couldn't be that much room for fabrication.
However, with a month and a half's time, Tim and his team finished the world's first Nissan Altima Coupe 3.5L CVT Turbo. Big intercooler, fully polished aluminum charge piping, and a big 60:1 T3/T4 Hi Fi Turbocharger from Turbonetics, along with a laundry list of other top of the line turbo components. She was bad. Later to come in the turbo perspective were a few more additions. A large B&M transmission cooler, a piggy back tuning computer from Split Second, and we painted the intercooler black.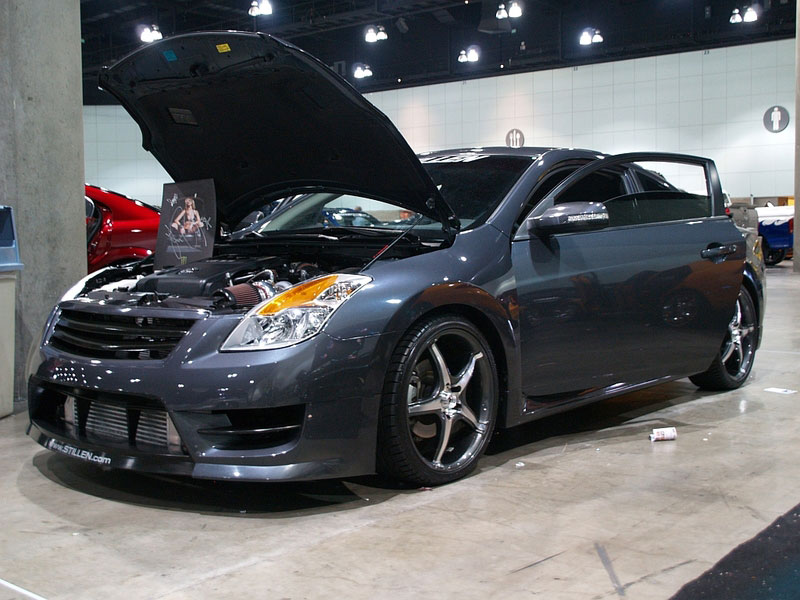 With the CVT not having any particular gear ratio, we couldn't get a gear at a close to 1:1 ratio for a horsepower rating. However, we judge from similar kits on the 350z and G35 that the coupe is pushing around 370hp at 6psi. An ample amount for the "family" coupe from Nissan. So, we have speed, agility, and smooth looks. Just a few more touches to make her "mine" would include a set of STILLEN rear corners (to finish the body kit), a set of custom illuminated kickplates for the interior, a strut tower bar from Racingline, smoked 6:10 tail light tint, and 5% limo tint all the way around the glass.
In all its glory, with a sticker price of $32,000 and about $10,000 more in modifications, she has been a hell of a ride. From day one, almost 2 years ago to this date, I've dedicated to making her the best. Through many sleepless nights, and long driving days, she's come to what she is today, and I couldn't be more proud. This is my Nissan Altima Coupe.
Written by Blake Harper (adidas2go)