In our last article about the new Titan, we weren't able to put it through all of its paces – but we couldn't leave you hanging, either!
Grey, tortured skies seemed to swirl in several directions, as the wind picked up and rain seemed on the verge of falling. Despite conditions on a late spring day that might have foretold tornados or hail, I felt happy loading the last few supplies into the race trailer. The thought even passed through my mind: "This day couldn't be more perfect." Huh? It's not that I love unpredictable weather, or another long tow to compete at an SCCA Majors race weekend – but these were precisely the kind of conditions that would offer a good test of the Nissan Titan XD.



In this case, it was a Deep Blue Pearl Titan XD SL that was being challenged to tow more than 8,000 pounds of enclosed trailer, race parts, tools and red Z-car across hundreds of miles. It would sojourn across the rolling plains of Colorado and over steep highway inclines to the semi-arid road racing circuit at Pueblo Motorsports Park (PMP). It's a drive I know well–having raced at PMP for decades—and most recently using my '08 Titan SE King Cab long bed 4X2.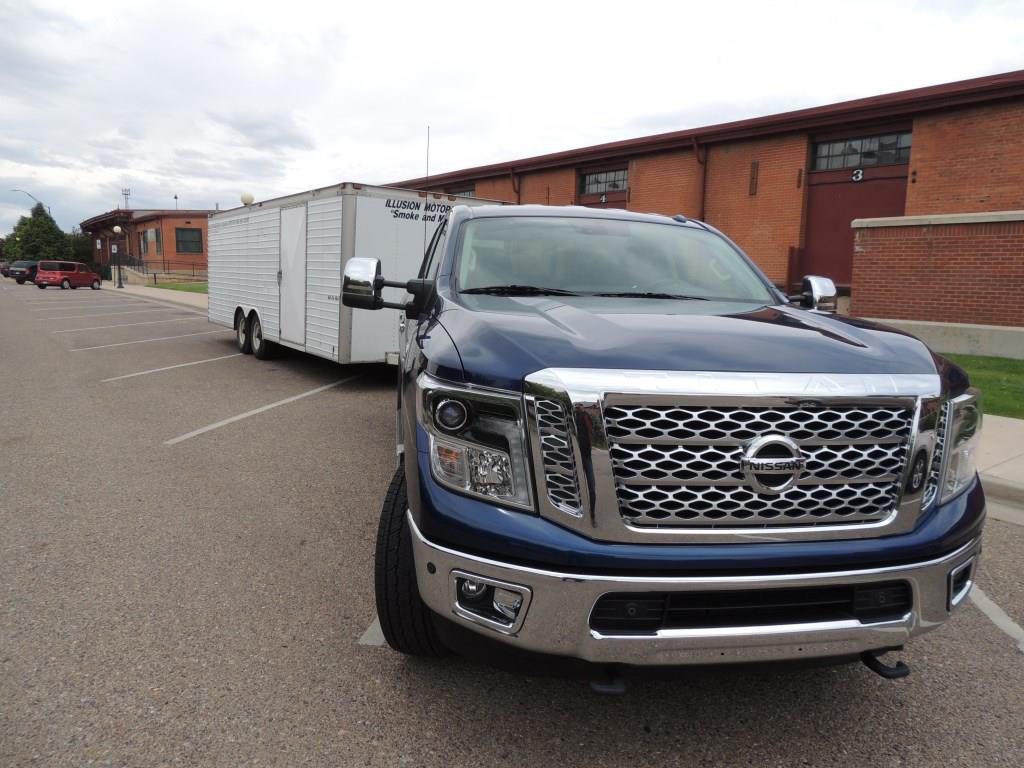 Speaking of my first gen Titan, it's worth mentioning I didn't find it by accident. I'd been searching the used car market for years to find the right combination: a long wheelbase Titan option (first offered in the '08 model year) for stability and 2WD because it offered a slight increase in towing capacity. As mentioned in part one of this NICO Titan review, I'd equipped it with a plethora of aftermarket options including new suspension, front brake parts, powertrain and towing enhancements. Also found an old 8' Leer "wedge" type topper and had it refinished and mounted to help direct the flow of air over the trailer. All-in-all, ten component upgrades were used to make my '08 Titan a better tow vehicle. But this new 2016 Titan XD 4X4 crew cab test truck would get NO aftermarket support, as I wanted to see how it performed just as it came from the factory. Nissan claimed the XD would tow everything from racecar trailers to vacation haulers with slide-out sides, or boat rigs this side of the U.S.S Missouri. How well would those claims hold up?

The only adjustment to my 24' Dynastar trailer was lengthening the seven-pin connector and cable to nearly three feet. This allowed it to easily connect to the lower half of the clamshell receptacle on the right side of the rear bumper. Once there, the built-in trailer brake controller indicated everything was connected. To verify this, I eagerly tested yet another Nissan innovation to easily check my trailer lights. By holding the Titan's I-key FOB and walking to the back of the trailer, I began by pushing the lock button twice and then holding it for 15 seconds. The XD responded by honking once and then beginning a test sequence. The parking lights, turn signals (left and right) and brake lights were each activated for a few seconds to demonstrate they were in working order. This type of transparent technology, like ABS or Nissan's Tire Fill (beeps horn when desired pressure is reached), is an innovation most of us love to have.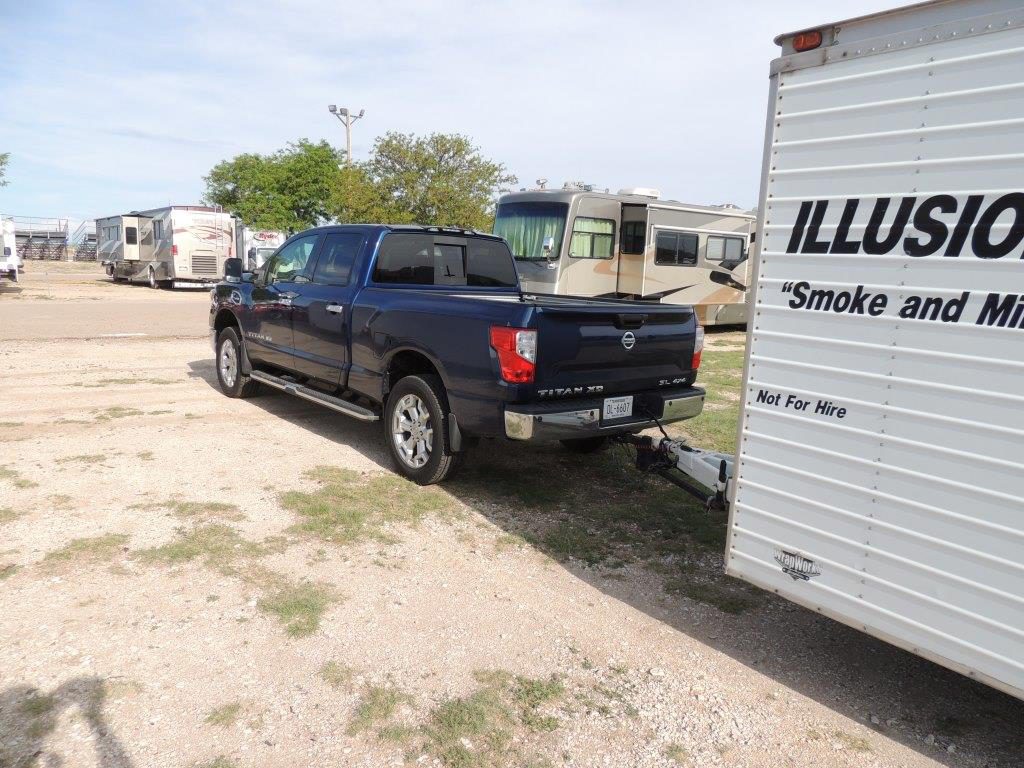 Speaking of tire pressures, I was surprised to find the XD 20" rear General tires were inflated to 70 PSI, while the fronts were at 65 PSI! Both were standard recommended pressures according to the door tag, so I saw no need to add any more air. Despite a fully loaded trailer, the XD sagged only slightly in the rear, with its class 4 hitch holding 810 pounds (as measured by my EZ Load weight scale) on the pin. Towing in heavy stop-and-go traffic on the highway can always prove a challenge, but the XD had little problem. The throttle response of the 5.0-liter Cummins V8, which seemed to lag without the trailer, seemed to do much better with it. At low speeds, the 555 foot-pounds of torque came on at a ridiculously low 1,600 RPM. As traffic got lighter, the diesel easily moved up to 70 MPH and beyond, as needed. And when someone cut across traffic or my following distances to the cars ahead were reduced, the XD's 14" ABS brakes were strong and easily modulated.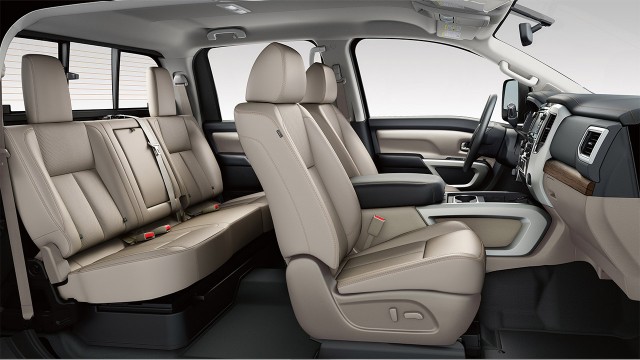 Perhaps the biggest revelation was how stable the XD was as we went over an extremely windy Monument Hill- a 7,352' pass on the Palmer Divide that I-25 crosses. With little trailer sway in stormy conditions, it felt more like I was towing with a one-ton crew cab dually than a half-ton truck! High praise, but the fact the XD does this with only a 151.6" wheelbase and a relatively short 6.5' bed was eye-opening. It was considerably more stable than my '08 Titan SE, with its optional long wheelbase, 8' bed, air bags and Bilstein HD shocks. Perhaps a roughly 1,800# increase in curb weight could explain some of that stability, but the heavy duty (HD) frame the XD is built on is the more likely answer. Technology in the form of trailer sway control (TSC) was also available, but I didn't detect it being activated during my time in the XD. What I did note was how quiet and composed the XD was in such stormy conditions. My 5.6-liter VK engine would have been quite loud as it struggled with the trailer, but not so with the diesel. The new Aisin six- speed tranny really seems to spread the gearing out better and shifts were so well insulated, you could hardly feel them. In general, NVH has been improved on a quantum scale with the new Titan, which makes for a more relaxed and enjoyable tow.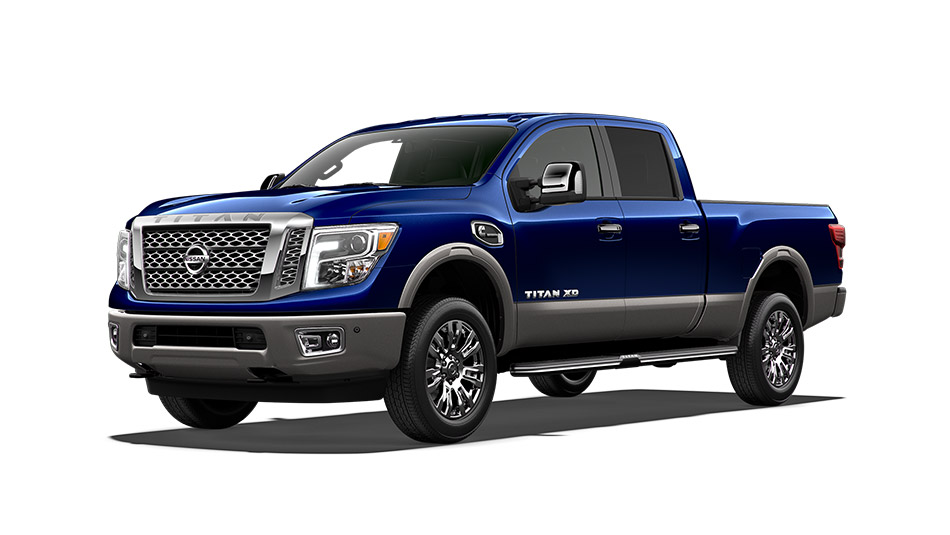 While my SCCA Majors weekend was not a resounding success (two second-place finishes in class), at least the struggle to find every bit of speed was a joy unto itself. The tow back home was uneventful, and it was enjoyable playing with some of the comfort and entertainment features of this LE level Titan XD. A 7.0 full color monitor with XM radio, navigation and traffic updates was something I could get used to! But in reflecting on the list of improvements for this diesel truck, mileage has to be mentioned. After 283.5 miles, the Titan XD averaged 11.35 MPG hauling this racer's equipment around the state. In comparison, my venerable Titan SE averages between 5.5 to 8.5 MPG when towing; roughly a 25% increase using the most optimistic gas mileage figures. That's better than what Nissan estimates most Titan XD owners will get when comparing it with a gas engine. And while I still have a hard time reconciling the price difference between buying an XD vs. keeping my older Titan, there's little doubt I am squarely within Nissan's target market for consumers seeking this type of product. The stormy weather in my own mind will likely continue to gather, as I fight the temptation to make the day even more perfect with my own Titan XD!
David Muramoto is a frequent test-driver and regular contributor to NICOclub.com.