With the engine in place, it's time to figure out the cooling system. If you read the first resto article, you recall we were able to use a Champion aluminum radiator, albeit with an 8″ pusher fan right behind the grille. Setting it in for a test-fit tells me this ain't gonna fly.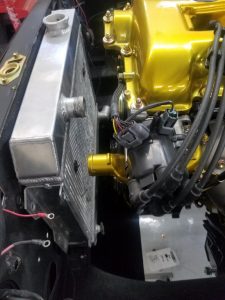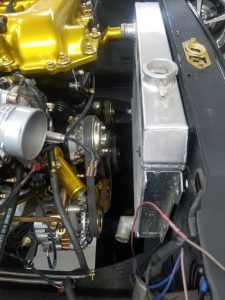 For this go-round, I'd like to have air conditioning. Yep, so that means every millimeter of space must be spared. Finding a suitable radiator that's sized right for the front end is, well, impossible. For starters, it's relatively short (height). The cap should be offset, so as not to interfere with the hood. The thickness should be reasonable, so that I can squeeze a condensor in there later. The width can't interfere with the headlight buckets, and truthfully, anything blocked by the radiator support won't be actively cooling the car anyway. On top of all that, the inlet and outlet need to cooperate with the engine. After lots of searching, I finally found a radiator that I thought would work – it's a unit specially made for a Chevy S10 pickup with an LS swap. However, after test-fitting, we've still got some work to do. Ultimately, I wound up taking it to a local friend who's a master with aluminum welding, and he removed and relocated the inlet and outlet to be more in-line with the SR water pipes. Of course, this necessitated hoses that aren't exactly off-the-shelf. After spending 4 hours rummaging through all the hoses in stock at my local O'Reillys and AutoZone, I finally found something that'd work for the upper hose (with a little trimming). The lower hose wound up being a two-piece design, with a repair sleeve in the middle. Fortunately, it's relatively hidden, and will be serviceable in the future.
To make things even more interesting, I decided I'd like to retain the clutch fan, rather than an electric. Not enough room for the stock assembly, but some creative mixing and matching of parts resulted in a perfectly-functioning mechanical fan that looks like it came with the engine. Basically, I used a pulley from (I think) an L20b, fabbed some spacers to bolt the fan to the back side of the clutch, and found a perfect location where the fan would miss the front lower radiator support, but not contact the radiator. Turned out pretty sweet – and looking at it, you'd think it was stock (never mind the two whole days of fabrication and parts juggling!) I'll fab up a shroud later – for now, it's time to figure out the fuel system.
The previous fuel arrangement was simple: A line from the tank to the engine-mounted pump. With EFI, we're going to need not only more volume, but higher pressure, as well as a proper regulator and a return. 3/8″ NiCop lines were chosen, as well as a Hy-Fuel Tight-Fit In-Tank Retrofit Kit. Pretty slick design. Pulled the tank, flushed it out with soapy water, allowed it to drain and dry for 24 hours, and bored a large hole in the top with a metal holesaw. The entire unit (pump and all) drops in, offering a pressure line, a return line, and a vent line off the head unit. Based on my practice with the brake lines, I'd gotten pretty good at straightening, bending, and flaring tubing, and one tool that helps a ton is this straightener from Eastwood: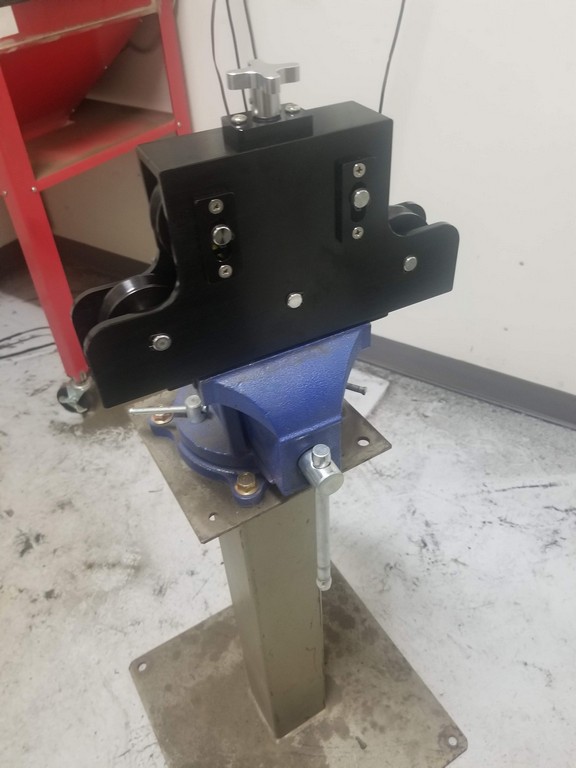 Mounted in a vice, it allows you to convert coiled metal line into arrow-straight sections with a quickness. Totally worth the cost of admission. For the fuel lines, I used a tubing bender from Home Depot, and my brake line flaring kit to put a nice bubble flare on the end of each line. No chance of leaks, especially using proper fuel injection clamps.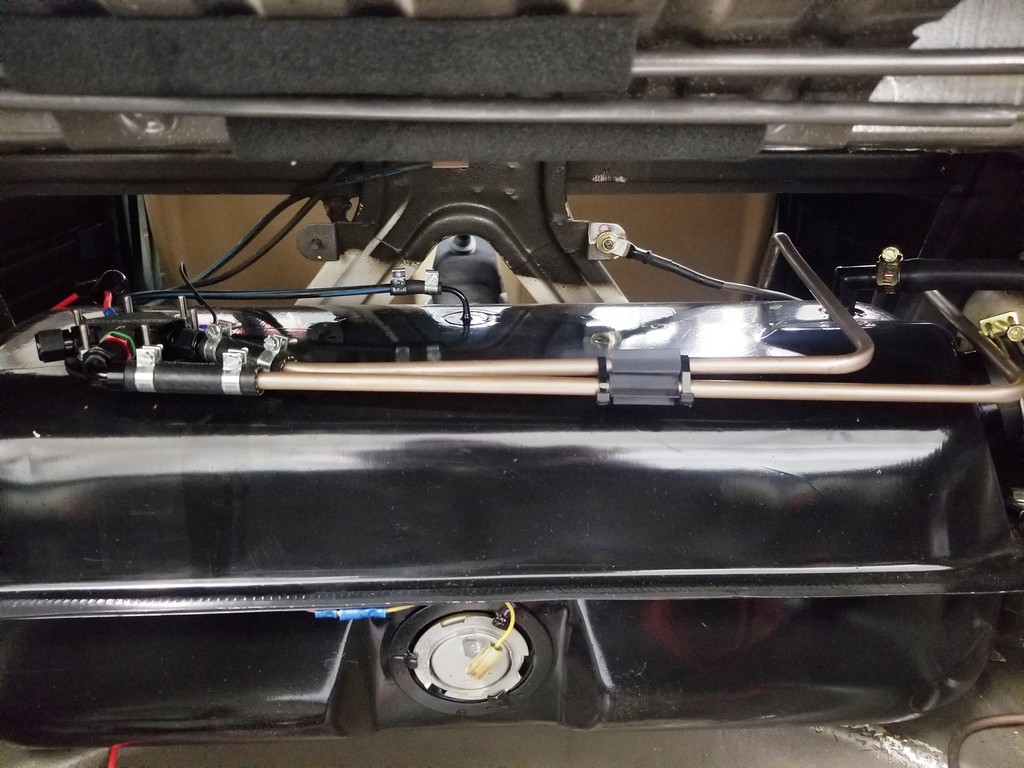 With the fuel lines run through a Sard FPR and a Z32 filter, it's almost startup time. I got a little waylaid by the front suspension (yep, changed that up as well), so let's check that out next: 510 Restoration Redux Part 7