If you read Greg's how-to you'll probably feel intimidated. Using Word Press to make your own articles is as easy as using your email or posting on Nico.
First go here and log in, https://www.nicoclub.com/wp-admin  Assuming you have a log in.
After you log in, you'll be brought to the Word Press Dashboard. Everything is done from this interface.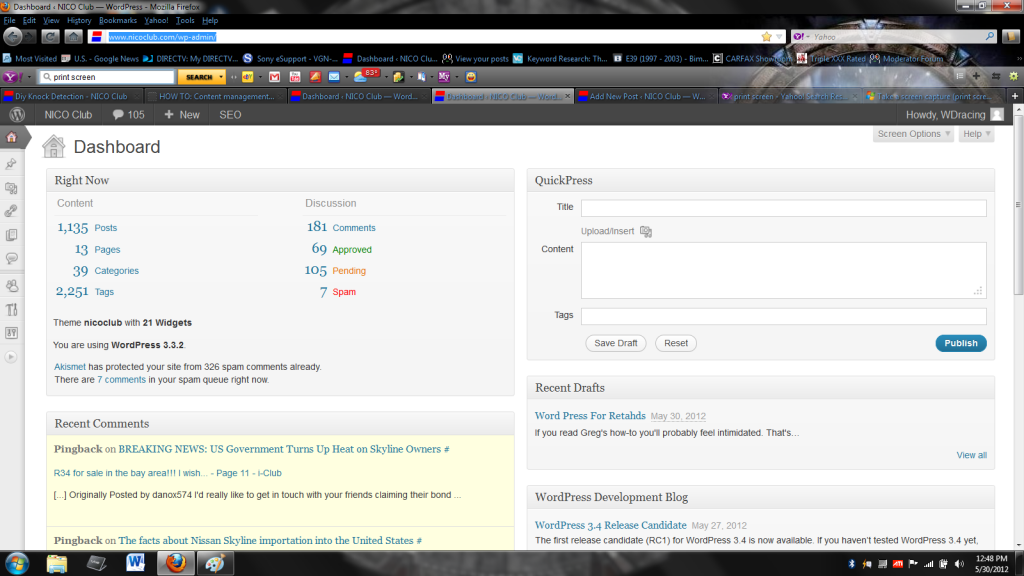 If this is your first article you can ignore everything on this page and proceed right to the QuickPress section on the right hand side. Enter a decent description for the title, the more specific the better. Kinda like my title for this article. Next, go to the content window and either paste something you've copied or start writing your article. After you've pasted some content or written a few words, click the "Save Draft" button. You can ignore the tags area for right now, you can edit that later. When you hit "Save Draft" nothing happens, it doesn't publish and everything can be edited whenever you want. It will look something like the this.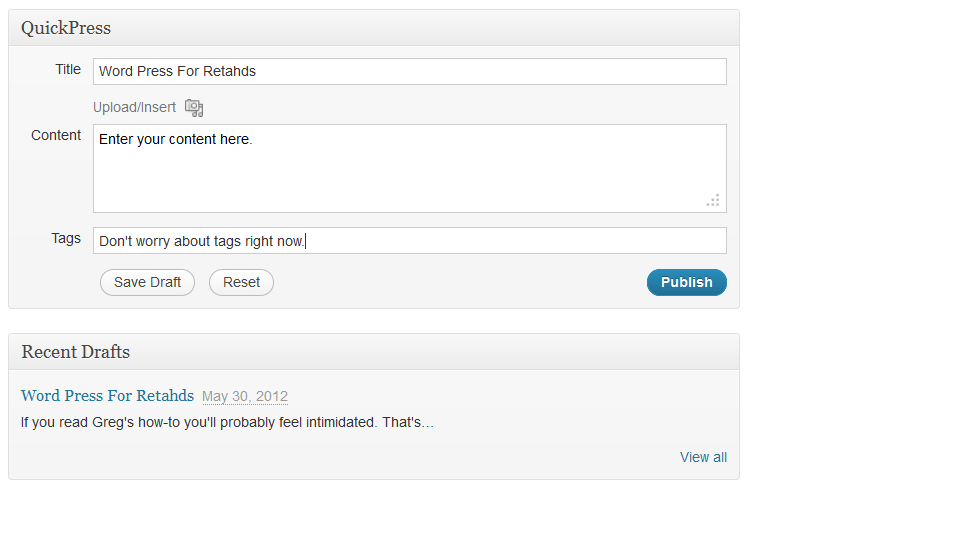 Notice you can see my title in the "Recent Drafts" section right below the QuickPress area, the most recent article in work will appear right here, to view the rest simply click the "View All" button. All the articles that are currently in work will appear right here. Your work will stay a draft until you or someone else publishes it. If you don't see yours on top, click the "View All" button. When you locate your title, click on it, if you don't see your article in the list, then you may have to search for it. I have never had to search for anything, it's always right there. After you click on the title of your article it will bring you here.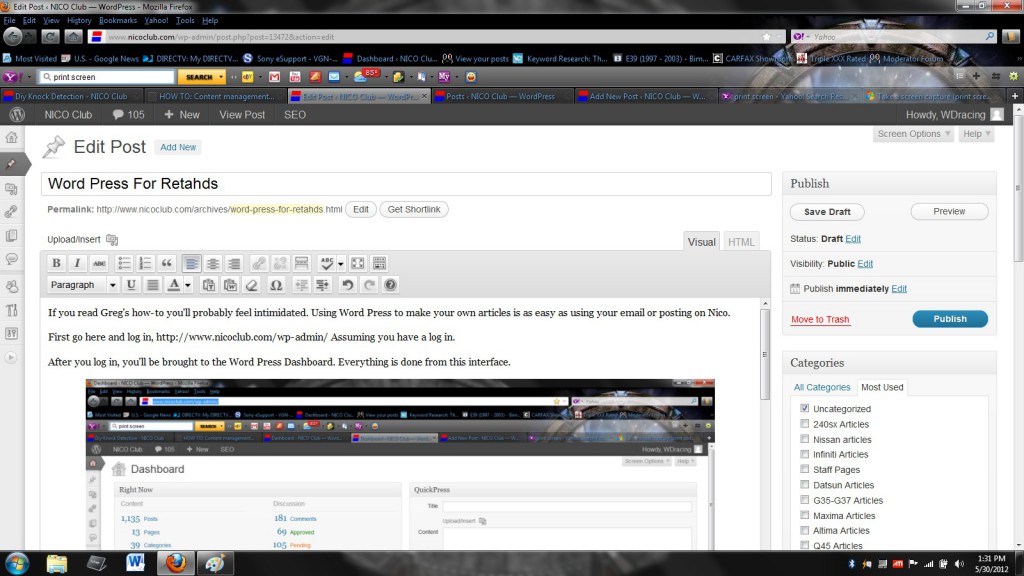 This is your main interface for Word Press Articles. The buttons and layout should look familiar, it reminds me of a mix between most forum software and MS Word. Writing and editing is very easy. At this point you can play around with the buttons and figure out what does what. I didn't play around with any of the screen options and the like for fear of messing something up, I just sat down and started typing. The process is very intuitive. Just think about what you need to do and there is a button for it. You can make your article as simple or as intricate as you desire. I rarely do anything other then type text or paste something I copied from somewhere else. Keeping it simple has always served me well.
Need to add images? Couldn't be any easier then Word Press makes it. All you need to do is click on the "upload/insert" button below the title, just above the tool bar and it will bring up this interface.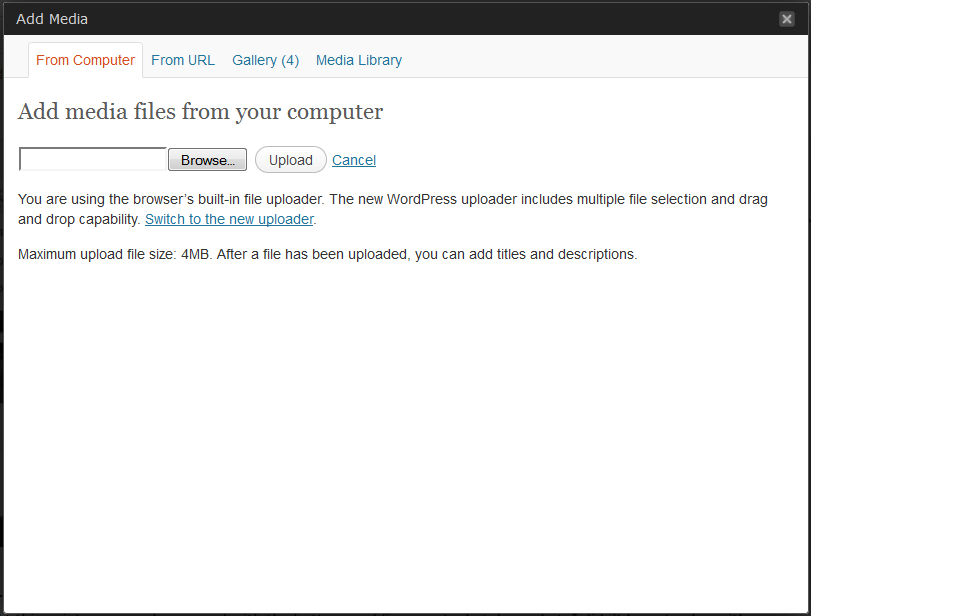 This upload interface is about as self explanatory as it can be. If you have ever posted an image onto a forum you'll be able to do this with ease. Here's a quick tip about image sizing. Shrink them down to 750 pixels wide on your computer before you upload them. This will allow you to upload and insert them into the article without any resizing. It will also make the article more professional looking if the images are all the same size. I use MS Paint or Irfan View for my image editing. You can still easily edit the size of the images in Word Press if you need to. Once you have the images uploaded into the article you can edit the size, title and placement for the image by clicking on the image itself and in the upper right hand corner of the image, you'll see an edit button appear. Click the edit button and it will open this.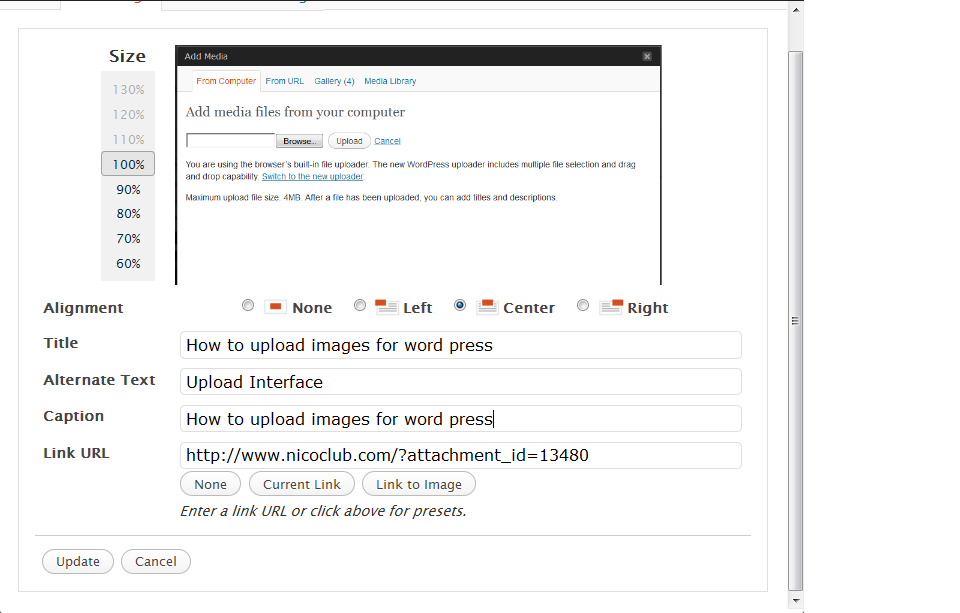 After you've got the body of the content done and the images are all uploaded you can click on the "Preview" button which is right next to the "Save Draft" button. This will bring up a new Tab displaying your article as it will look after it's published. Review your article paying particular attention to the image size, using images that are too big will mess up the whole page.
You're almost done, all you have to do is either publish your article or change it from a draft to "pending review". If you want your article reviewed, which I suggest you do every time, you just need to change the status from draft to pending review. This is done in the "Publish" window on the right hand side. If you click the edit button next to the word "Draft" it will bring up a drop down menu, select "pending review" and click OK. Your draft will now show up as "Pending Review" so  Greg and the Article guys can go over it for you. This is usually a big help, especially in the beginning. Letting someone else click the "Publish" button is a good idea until you've got everything figured out.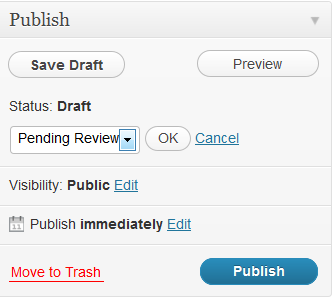 This is how I write all of my articles, it may not the best method but it works for me. It gets easier as you familiarize yourself with the process. Hopefully you guys find this helpful, it only took me about an hour to write this and add all the images. If I can use Word Press, anyone can.