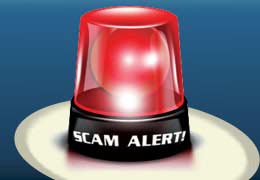 When buying or selling parts online, it's a good idea to read How to Avoid Being Scammed first. If you've done your due diligence, you shouldn't have to take action against a fraudulent party… however, if the worst happens, here's some info to help you get your money (or your parts) back.
NOTE: This article is provided as a reference to buyers who have been scammed, or who need to encourage a seller to ship the items that have been paid for. NICOclub believes the information is very valuable, but the accuracy is not guaranteed by NICOclub nor the authors. In addition, no responsibility is assumed by NICOclub nor the author for the use of any information contained herein.
This information is useful not just here, but also on eBay and other auction sites, as well as other forums.
Before we get started, the first thing you're going to want to do is to keep copies of EVERYTHING – emails, PayPal receipts, money order stubs, everything! Second, be aware that this entire process may take some time, depending on the method of payment – so be prepared to stick to it and see it through to the end.
OK, so you've been scammed. Now what do you do?
STEP 1.
Inform the financial institutions and websites involved.
If you paid by money order place a complaint AND a trace on the money order with the company that sold it (western union, USPS, etc.). Make sure it was cashed. Find out WHERE it was cashed. The same goes for a check, whether issued by a bank or a personal check.
If you paid by PayPal, go to the PayPal website and click on the Buyer Dispute Page. If you are logged in on the PayPal site, it may take you to a different site than these links. You must be logged in to fill out the form.
If it was on eBay or another auction site, head for the Ebay Customer Service section and follow the directions for your particular situation.
Most other auction sites have similar policies. I use eBay as an example because I, like many of you, use it frequently.
Most forums have similar rules, which very simply, state: Buyer Beware. While you may get moderator assistance to get IP information, login frequency, and other contact info, in many cases nothing can be done.
Your bank or credit card can also be a powerful ally. While not necessarily bound to help you if you used PayPal, most of the time the fraud protection issued by your credit card company can help get to the root of a problem. Remember, your credit card issuer can even file a complaint with PayPal if PayPal won't do anything to help you, because, as far as the credit card is concerned, PayPal took your money. They don't care what PayPal did with it, they just know that it was PayPal that billed you. Your bank can do the same. Your bank will be more likely to give you personal service, but your credit card company has more clout. Use both to your advantage.
If you paid by check, or money order issued by the bank, or by bank card (ATM/Debit Card) directly, the bank should get involved. My PayPal account ACCEPTS credit/debit cards. If someone were to pay me that way directly (not through "PayPal" funds), their bank or credit card company could come after me directly (if I tried to defraud them). I have helped people get money back through PayPal this way.
STEP 2.
Inform the relevant authorities.
If you sent payment in any form, whether check, money order (postal or other) or a cashier's check (NEVER SEND CASH!!!) through the mail, file a complaint at your local post office. Here is a link to the mail fraud reporting form: Mail Fraud Complaint Form.
It is a federal crime (mail fraud), so they should know the drill. Get the manager of your local post office to give you the name of the post office that is local to the recipient (where HIS/HER mail gets routed through prior to delivery), or look it up yourself. Here is a link to the USPS "finder" feature to locate post offices anywhere, including contact information:
USPS Find a Post Office.
Call the endpoint post office and file a claim. Call the local police or sheriff's office and file a criminal complaint using the information from the postal complaint form. Local police numbers can be found through most Internet directories. I have found that http://www.anywho.com works the best for me. Most of the time, the post office can even give you that information. If not, your local police can do so.
STEP 3.
Involve the BIG DOGS.
Your next step is to go to the Internet Fraud Complaint Center website. The IFCC is a joint venture between the FBI and the National White Collar Crime Center (NW3C) that is designed to cross the jurisdictional restrictions that internet commerce presents. They have broad jurisdiction AND enlist the assistance of local law enforcement to track down fraud and scams that are performed using the Internet as a media. Here is a link to the website: Internet Fraud Complaint Center Website.
This process will require copies of past correspondence and documentation, and will use this information to CRIMINALLY prosecute violators. This does not help you directly, as your claim will be civil (not criminal), but this makes it easier for you to recover your money, because restitution is often a component of sentencing in fraud cases.
These guys don't fool around. They jail people. They seize things, close accounts, freeze assets. They get the job done.
An additional resource for information related to the use of more formal complaint procedures is the National Fraud Information Center. I have posted some of their tips at the very bottom of this post. Check them out for a better idea of what to look for.
ADDITIONAL RESOURCES FOR COLLEGE STUDENTS:
If you attend a college or university, most have an office of legal services or something similar. I used to work for the one at West Virginia University when I was in grad school. Basically, we did everything that a normal law office does, including dealing with these matters. I was the one who dealt with Internet fraud, which is why I know what I know. I would find people and figure out how to serve them (in the legal sense), follow up with local law enforcement, and deal with banks, eBay, PayPal, whoever, all on behalf of the students. We did free representation, and most universities offer this service to students. A lot of schools do this, because when the scammer was a student somewhere else, I would usually just call the university and talk to their legal services department. I was surprised to see that most universities have either an office like where I worked OR had lawyers that volunteered to help on certain days of the week. This is an option for you guys to check out if you are in college.
Try the directory for entries of Legal Services, Legal Aid, Student Legal Aid, Student Legal Services, Student Counsel (not Council), or even try calling the law school (if your school has one). If nothing else, try the offices of student life or student affairs. I hope that this helps.
STEP 4.
Time to take matters into your own hands.
The following information centers around what to do in case of being ripped off. Assuming that phone calls and e-mails are getting you nowhere, you must now be a private investigator for a day or two. This information is a compilation of processes that several of us here have used (either in our careers or in order to help members)… Be sure to follow the directions EXPLICITLY to avoid making the situation worse or getting into trouble yourself.
1. Using the perp's address, do an internet search using whatever other means available, and find out what law enforcement agency has jurisdiction over the perp's mailing/street address. Document and save this information.
2. Facebook. People share WAY too much info on Facebook, so find the person there if you can. MAKE SURE you have the right person. Check for location, age, pictures of vehicles or posts related to the kind of vehicle the parts are for. Root through the pictures – can you get a license plate? Document it (as well as year / make / model). Make note of the names of their friends / family, as well as any posts they have made discussing parts for sale or wanted, or large purchases made (with YOUR money).
3. Do a Google search using the person's email (enclosed in quotes) – This can often reveal if they're pulling a scam elsewhere, and you may be able to join forces with other victims.
4. If the person posted photos on the site you got scammed at, R-click the pics and look at the file name. Save it, and do a Google search for that filename. Sometimes, the perp will leave their Photobucket or Flickr account info RIGHT IN the file name… so, go cruise through their pics. Again, you're looking for an address, a plate number, a location – anything that will help you get closer to them.
5. Find out what local law enforcement agency has jurisdiction over the location in which your first contact with the seller's ad took place from. Example: If you answered the ad from your computer at home, then the jurisdiction must cover your home address. Document and save this information.
6. Find out the perp's Internet Service Provider's contact information – Again, document and save.
7. Find out the perp's cell/home phone provider, and contact information. Document and save.
8. Find the address and contact information of the perp's local post office. Document and save.
9. Call the seller's work location at a time that the perp cannot answer the work phone and find out who runs/owns the business. Document the information and save.
If all the above steps have been completed, Congrats! You are ready to wage war…….When doing so, it will be most effective if the perp doesn't know that the war has started. It is essential that the complaints be filed all in the same day with reference to all other complaints. Example: The post office complaint should contain a reference to the FBI complaint, ISP complaint, etc.
1. Start a thread explaining the situation and documenting EVERYTHING. Include details. TAKE YOUR TIME. Don't be emotional – be FACTUAL. Include pics, scans of documents, copies of receipts, personal information, include their full name etc. SOMEONE knows the person, and might have some influence over them.
2. Draft a letter of complaint with plenty of copies that outlines the transaction, as well as all copies of information that you gathered. This can be a basic form type letter and may look as follows:
Dear ________ (agency),
I am the victim of an internet scam involving the sale of ___________. Here is a synopsis of what has occurred.
(give the facts here)
I also have the following information that will be relevant:
(give the perp's information including a link to the thread you created above, ISP info, post office info, police dept. etc.
To recap, I contracted to buy parts via internet from: _________ (include address). I sent a money order in the amount of _____through the US postal service to the above person. This person will not answer my e-mails or phone calls. I need help. Can you provide assistance?
Than you for your help,
(signed________)
3. Gather all related information including web pages and the negative thread, and file a report with all of the following:
a. The local agency that had jurisdiction over your first contact. IT IS IMPORTANT that all information in copy form be submitted to your local agency first. Be sure to include the perp's ISP provider, phone number, and the perp's local law enforcement agency that would pick him up. The local agency will take the report and forward to the perp's local agency for their dispatch of an officer.
b. The FBI internet fraud site at http://www.ic3.gov/complaint/default.aspx
c. The perp's ISP provider stating that the perp is using their service to commit internet fraud. Send via regular mail and e-mail.
d. The perp's phone service/ cell provider for using their service to commit internet fraud. Send via regular mail AND e-mail.
e. The US postal service for using the mail to commit mail/ internet fraud. Do two reports, one to your local office and one to the perp's office. Send TWO reports, one via regular mail and one via e-mail at http://www.usps.com.
f. File a report with http://www.trollhunters.com
g. File a report with http://www.fraud.org/complaint
h. Send a complaint form copy to the work location of the perp that is addressed to the owner/manager. Make sure to include the phrase:
"While you do may have any control over this individual when he is not at work, you should make sure that internet fraud is not being committed using company equipment or company internet access, as this exposes your company to unnecessary liability."
i. Notify the perp and provide a list of all reports filed, that you have been forced to take action and that it is now completely out of your hands. The only way that proceedings can be resolved now is by the perp making restitution. Make it known that you gave him every chance, and now the authorities will take over. This is NOT the time to argue, negotiate, or get upset. Send the report and end the discussion. Sometimes the most stubborn crook will do nothing until they get the knock at the door from the police. If that is what it takes, so be it.
NOTE: When dealing with a minor…
Everything above works fine, but additional work in the area of intelligence gathering is needed. Usually if all the above information is obtained, internet searches can usually point the way to the parents. The parents are to be notified in the same manner as all the other agencies, including copies of complaints to other agencies. It is important that you do not threaten a minor via e-mail or phone conversation. Leverage can be used, but to physically threaten with violence will adversely affect your position, and MAY result in the parents pressing charges. As tempting as it is to "teach that little punk a lesson," BE PROFESSIONAL.
NICOclub expresses its warmest thanks to the authors, Patrick Henry and Greg Childs. If you have questions or suggestions, please post them on the forum, and someone will respond immediately.