[Editor's Note: NICOclub is humbled and proud to welcome back guest contributor Jerry Hofschnieder, whose "Skidmarks" series has entertained readers for years. This is Jerry's first article after a four-year hiatus. Welcome back, friend!]
Memorial Day marks the 100th running of the Indianapolis 500, the seminal race on the non-NASCAR schedule and the undisputed "Greatest Spectacle in Racing".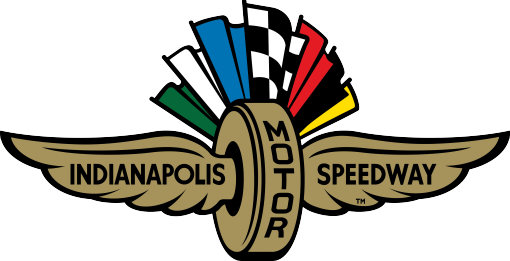 Monday, someone will sing "Back Home Again In Indiana", the gentlemen will start their engines and the field will follow some fancy Pace Car, readying itself to go in 200MPH circles for a few hours, thrilling the crowd of 150,000-plus fans each time the field screams past the grandstands.
I know all about the the starting of the engines, the thrill, the spectacle. I've been there, done that…
My Mother is from Indianapolis. I was born there, and raised for the first few years of my existence in my grandparents' home, a nice place within walking distance of the track. One of my very first prehistoric memories was the piercing sound of those rorty engines wafting across the corn fields and subdivisions of West Indy, running time trials, their mechanical wailing drifting into my second-floor bedroom and sparking a curious awe that has never left me.
This marks the beginning of my lifelong obsession with all things automobile, of that I'm certain.
My Mom and/or her siblings used to take me to the track for trials and a few races back then, an easy thing to do since it was a neighborhood attraction. After Dad was discharged from the service, and before I began Nursery School, we moved to New York and I didn't get to another race until I was in high school. I'd always listen to them on the radio, a curious awe always overtaking me…
My Indianapolis cousin married a big wheel (pun intended) from Firestone Tires, and he used to get passes to the race and the pits. The seats were usually in the sponsors' suites and allowed access to Pit Row, and each year Steve would offer a few to Dad, who politely declined them– that is, until 1964. I was around 17. That was the year that I had my first car and was near graduation from my school in upstate New York. Dad gave me the tickets and a couple hundred dollars for the trip, and my buddy Barry and I made the road trip in his Austin Healey 3000.
We stayed at Grandma's place. It was a memorable experience – free lodging, parking, food and tickets. Wrapped in the bosom of Family. VIP seats. Sunny days. No worries.
The night before the race we went over by the Track and joined in the massive party playing itself out on Georgetown Road. It runs immediately west of the big stadium/racetrack and is an amazing pre-race spectacle, a rowdy, drunken bacchanal spontaneously created by the thousands of race-goers camped in the fields and lots along the road. It goes on until midnight, an endless miles-long traffic jam, a parade of partiers, and it all grows wilder as the hour approaches – then it all gets shut down by the cops. On Memorial Day in Indiana, you can't sell, buy or openly consume alcohol – it's the law, or at least WAS back in those days.
Next morning, Barry and I, with our Georgetown Road hangovers, left the car at Gram's and walked about a mile along a massive 16th Street traffic jam to the Raceway Park. We met up with big wheel Steve inside the track, and he gave us a personal tour of Pit Row (many of the drivers knew him) and the timing tower (so did the officials), then we crossed under the track and entered the Firestone suite. Two laps into the race, there was a wreck directly in front of us, and Eddie Sachs and Dave McDonald died in a horrible, fiery crash.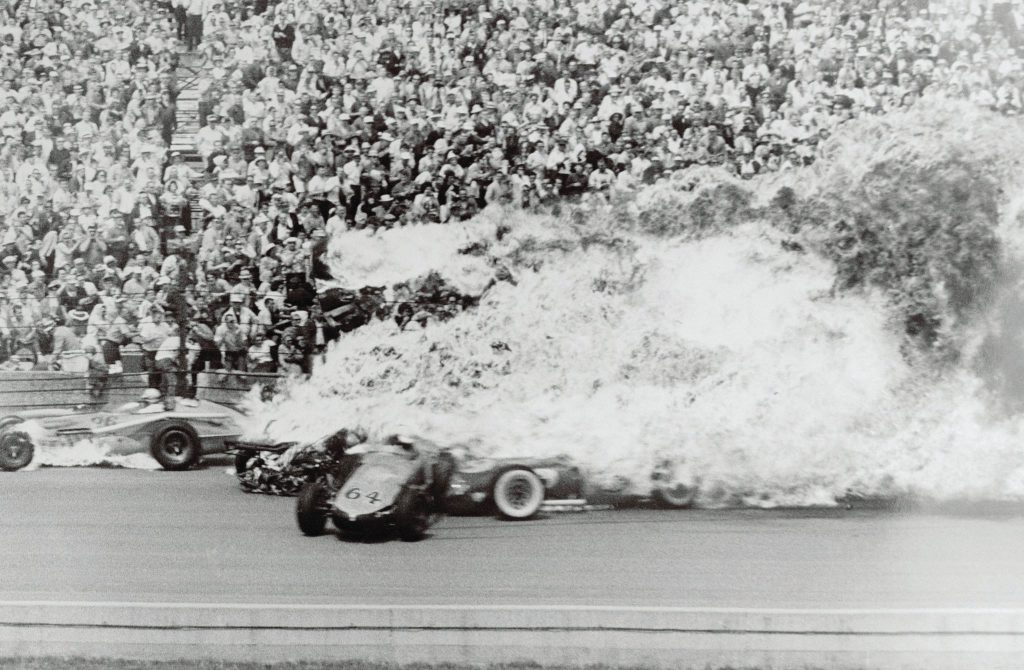 We had stood next to each of their cars a few hours before, during the Pit Row tour… might have even met them, but I really don't remember. Horrified and depressed, Barry and I left the suite, watched the cleanup crew clear the track and we watched the rest of the race from the Infield.
Four times after that, I made the Race.
The next year Barry and I, armed with a teenager's understanding of the Indiana drinking laws and a couple of passes to the Track, stuffed two cases of Genesee Beer under the back seat of my VW Bug, road-tripped to Indy again and sold our beers along Georgetown Road for a buck a can out of the VW's sunroof to the party people – until we met up with one of Speedway, Indiana's finest at around 1 AM. He confiscated our remaining beer, fined us $50 on the spot and turned us loose, warning us to leave the area immediately and not come back. If he even SAW my VW again, he said, he'd CONFISCATE IT.
That year, we walked again to the Track and enjoyed the race en-suite, eating Firestone food and drinking Firestone beer from a glassed-in, air-conditioned lux-box. We schmoozed with my cousin-in-law and some tire execs, swapping race time stories. Nobody wrecked, nobody died.
A couple years later, myself and THREE carloads of friends tripped across the country in a Dodge Charger, a Corvair Monza and my TR-3. They brought tents and camped in my grandparent's back yard. Two of them set up a tent along Georgetown, so we became part of the party that year. Barry and I staggered the mile back home at 3 AM, sleeping on Pop's front porch. That particular adventure is another long story, one I may share at some later post. Anyway, that was the year that the rear-engined NOVI cars first ran, and they changed the substance and the sound that the racecars made, forever more. It was also the year we shunned the beer-drinking and learned how to roll J's by bonfire light. We all watched the race from the infield. There was no tour of pit row that year. It was also the year that my Grandparents told me to NEVER do what I did to them again. "Come alone, or don't come again," they said.
A year later, I came alone and went to the race with my Grandfather.
I didn't get to Indy for a few years. I graduated college, Barry got drafted into the Hell of Viet Nam, my cars weren't up to the trip. Steve sent tickets, but they went unused. Finally, I flew to Indy for a race, my last one. I saw it alone, sitting in the General Admission stands, Turn 3. Shortly after, my cousin divorced Steve, then my Grandfather passed. I still listened to races on radio, then later on TV, but never I got back to my birthplace for another live race.
I'll be watching Monday, looking for that curious awe to reappear as they start their engines. It always reappears…