This year marks my 20th year at the helm of NICOclub. We've never done things conventionally, and we've never toed the 'brand loyalty' line. Despite that fact (or maybe because of it), we're one of the few major automotive forums that's still active and relevant, still drawing traffic and still creating useful, timely content. I hope you'll save our address and share it with your friends who own a Nissan, Infiniti or Datsun.
But today, we're going to talk about a non-Nissan product.
Recently, I found myself on a quest for a new vehicle that suits my needs, and I was intrigued by the new Ford Maverick. Becky and I had checked it out at the LA Auto Show, and based on my research, I decided a Maverick could easily replace two (or three) of the cars in our fleet. There was one HUGE problem: They're near impossible to find, and the ones that do exist are being snatched up before they even arrive at dealerships. There are 25+ Facebook groups dedicated to the new Maverick, and scrolling through them, every other post is someone complaining about delays in production, looking for a cancelled order or shopping for an unclaimed Maverick. Don't waste your time there yet – Let's find your truck and THEN you can join the enthusiast pages.
Coincidentally, our web guy was on the same exact quest, so we put our heads together and came up with some tricks and hacks to help you track one down. This may involve some travel or some transport costs, but we both found our new Mavericks using this process.
NOTE: Before proceeding with ANY of this, make sure you have your finances in order. Also, involving a trade-in will just muddy the waters, so my recommendation is to sell your car outright and have cash in hand. Besides, the used car market is insane right now, so you're likely to get more for your trade-in by selling to a private party. This process requires some time and effort, but it's totally worth it.
Let's get started!
Start off by making a list of zip codes of major cities within the distance you're willing to travel. For example, I'm near Phoenix, so I started with Los Angeles, Las Vegas, Salt Lake City, Albuquerque, San Francisco and Denver (and of course Phoenix). Here's a good way to find the zip codes you'll need: https://www.google.com/search?q=phoenix+zip+code+map
Since you'll be searching a 500 mile radius, use your home zip code first (maybe you'll get lucky!) Then, check your map and select the next market that's at least 500 miles from home. Again, just find that spot on Google maps and get a zip code. Next, find a location that is 500 miles in the opposite direction, and grab that zip code as well. Work your way north, south, east and west until you cover the distance you're willing to travel.
You may want to print a US map and draw 500-mile radius circles on it to make sure you're covering all nearby cities that have dealerships. Depending on how far you're willing to travel, you'll have to do this 10-20 times. I didn't mind a cross-country road trip, and transporting a vehicle cross-country is not prohibitively expensive, so let that be your guide.
Once you have your list of zip codes, plug this URL into your browser: https://shop.ford.com/inventory/maverick/results?zipcode=97215&Radius=500&year=2022.
Then, select your "must-have" options. I wanted an XLT EcoBoost with AWD and the FX4 package, so my URL looked like this: https://shop.ford.com/inventory/maverick/results?zipcode=97215&Radius=500&modeltrim=Maverick_F26-XLT%3BMaverick_F26-XL&year=2022&SpecialPackage=FX4_Off_Road&Engine=2_0l_ecoboost&Transmission=automatic&Drive=AWD&Order=Distance
This will be your "search URL." Save that URL in your spreadsheet, and then, edit (and save) the URL for every one of your zip codes. Then you can keep this list of URLs for future searches, because you'll want to do this each day until you find your ideal Maverick. Here's what it should look like:



Save each subsequent link in a spreadsheet so that you can click on it and not have to repeat the process each time. You can also change the zip code in the browser URL. Don't change it on the Ford website form, otherwise it will default to 20 miles. If that does happen, then change "radius" in that URL to 500 again.
If the resulting page gets weird-looking, or provides no results, no search parameters, etc., it can be because the search timed out. Just try it again. If that doesn't work, the Ford server is timing out, so you might have to change the search radius to 400 miles or come back later.
Once you get a results list of "available" trucks, scroll through them and click on any that look promising. This will take you to a "Vehicle Details" page, which looks like this: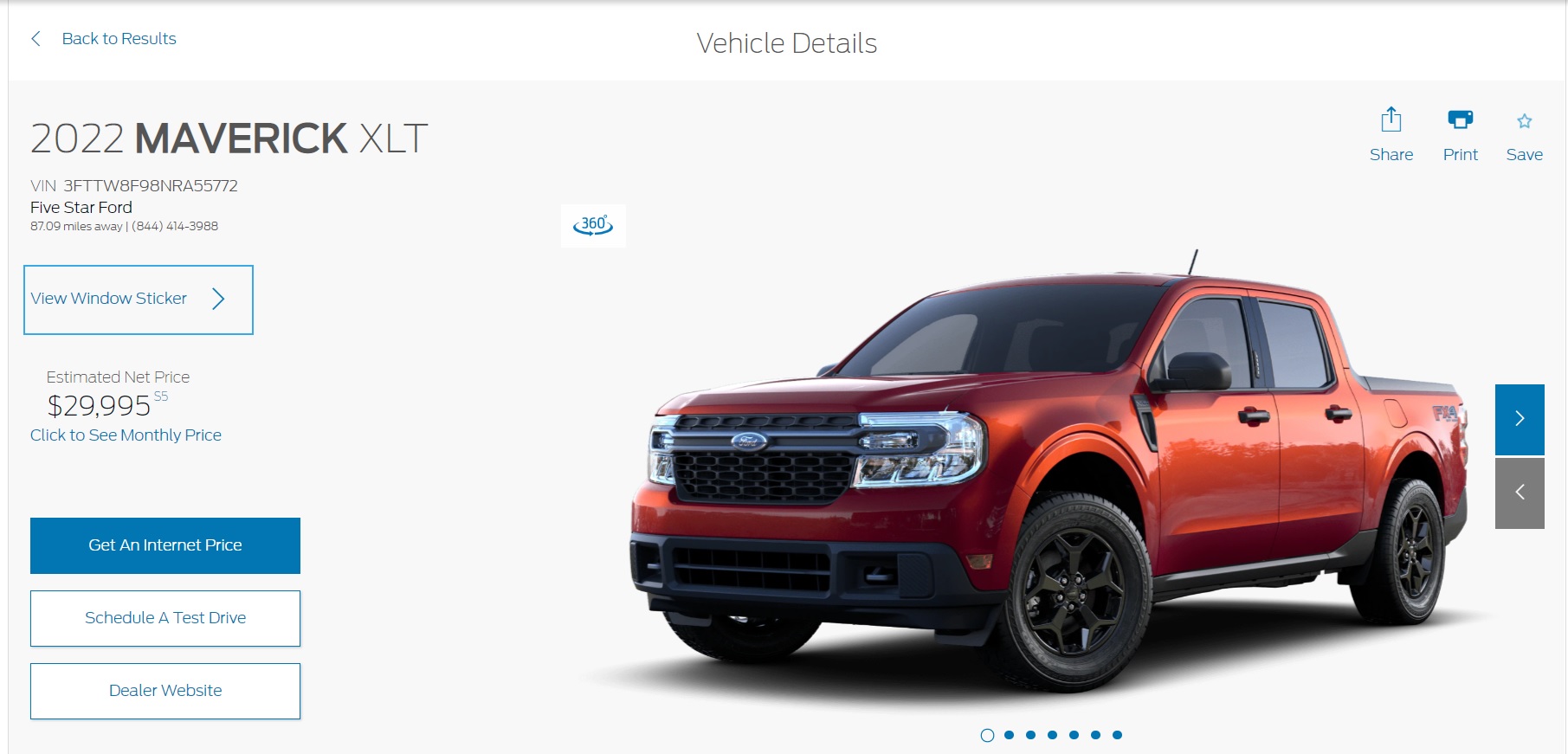 From there, you'll see a link on the left that says "View Window Sticker." This will open a PDF of the actual window sticker for that EXACT vehicle. Here's what that looks like: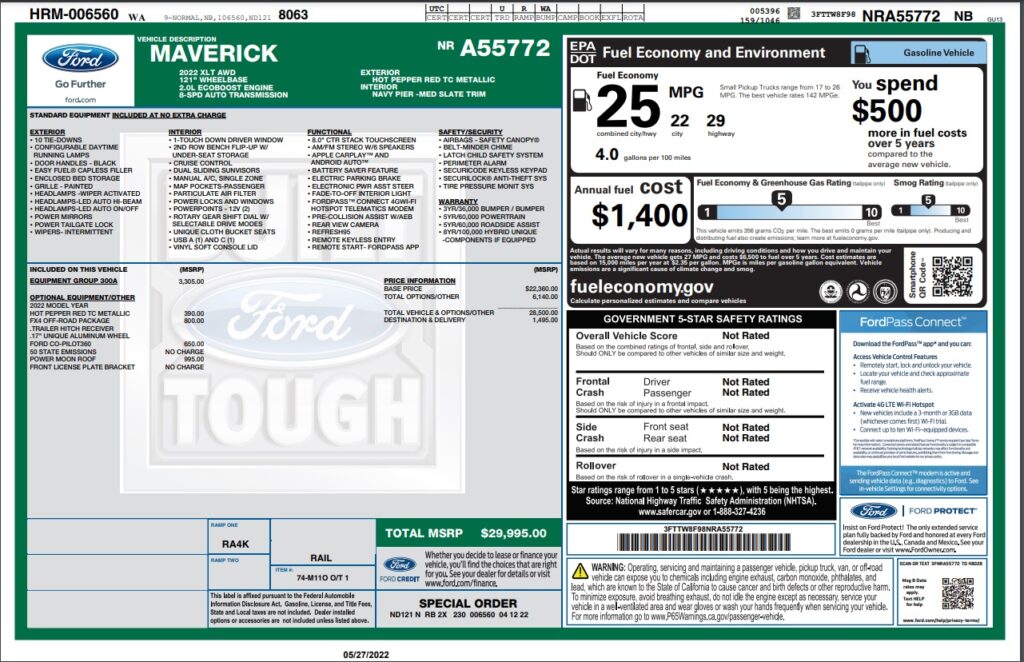 From here, we can learn a lot.
First, the green background on the sticker tells us this Maverick was special-ordered by someone. They may be on their way to pick it up, OR they may not. Life has a way of changing plans, and sometimes something comes up and that person no longer wants the vehicle. Maybe something went sideways with their finances, or they got tired of waiting and bought something else. Bottom line is, you need to inspect this window sticker carefully.
If the window sticker does NOT have a green background, it was ordered for dealer inventory. I found these to be VERY rare, and most of them are spoken for before they arrive as well.
Go through the window sticker and make sure it has ALL of the options you want on your Maverick. Once you confirm that it's a keeper, SAVE the URL for that PDF in a separate spreadsheet. You may need to refer back to it.
Now, go BACK to the "Vehicle Details" page for that Maverick, and click on "Get an Internet Price." Fill out the form (I used my cell phone and a backup email address). In the box labeled "Add a question or special request", I typed "Is this truck available for purchase? Please contact me ASAP as I am prepared to buy." (Again, copy and paste this in Notepad so you can quickly crank out lots of inquiries). Uncheck the last two checkboxes (unless you're lonely and want a really full Inbox).
Alternatively, you can call the dealership directly. The phone number is on the "Vehicle Details" page, right under the VIN. Launch that request (or make the phone call). I was using the online request, but that was a month ago. A phone call may get you a quicker answer, so you can cover more ground and save some time.
Before you move on to the next-farther zip code, make a note of the last 6 digits of every VIN you inquire about. This way, you don't duplicate your efforts if a vehicle is sold out from under you, or if the original ordering customer arrives to take it home.
Keep in mind, this process happens fast. My understanding is that the original ordering party is given 24 hours to claim their Maverick once it arrives. After that, it's fair game, and every salesperson in the dealership has a list of customers waiting for a Maverick.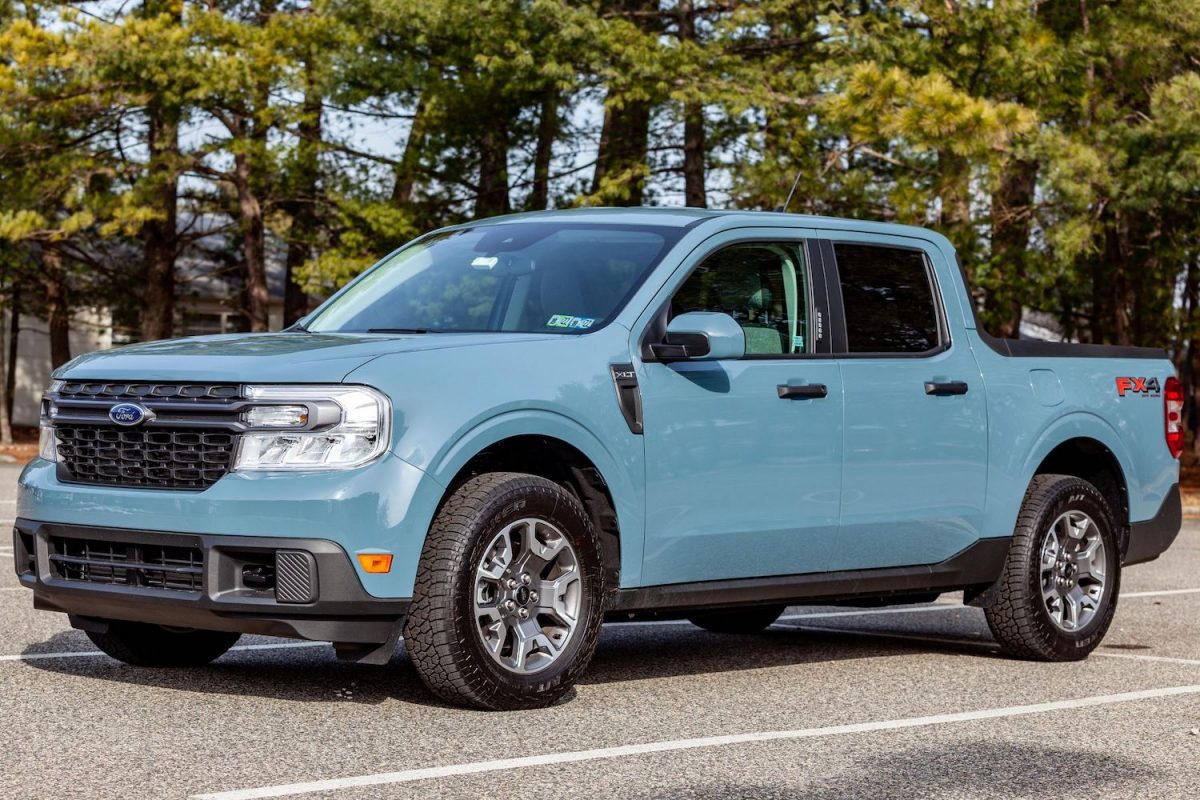 You're also going to run into our old friends from ECON 101 class: Supply and Demand. Because the Mavericks are such a hot seller, dealerships are asking $5k, $10k, $15k OVER MSRP. Everyone has an opinion on this practice, but you know what they say about opinions. None of that matters. If you're unwilling to pay a little more than MSRP, you may well be waiting until 2024 to get your hands on one (and I'm sure they'll raise the MSRP anyway). The order banks for 2023 models are closed until September 2022 per Ford, and the line of customers is already long. Again, now is not the time to whine about what's fair. If you were selling a vehicle that was in high demand and low supply, you'd raise your price too.
Here's what else you'll see: People who ordered one and changed their mind are literally arranging to sell their Maverick to Carvana or one of the other "instant purchase" dealerships. In fact, when I picked up mine, another customer was wrapping up his paperwork on a base model Maverick. He collected a $4000 check from Carvana while drinking a cup of coffee in the dealership lounge, and they hauled the truck away. WOW.
Anyway, let's go back to your search process. If you get someone from the dealership on the phone, make their job simple. Keep your discussion short. Let them know exactly what you're after (write it down so you can rattle it off quickly). For example, my spiel was: "I want an XLT EcoBoost with AWD and FX4 package in a light color. I'm putting $3000 down, and I won't pay a penny over $3k above MSRP."
I lucked out. On Day 10 of my search, I got a call from a great salesman at the Ford Country dealership in Henderson Nevada. He had the exact truck I wanted, in Cactus Grey, and they were asking $10k over MSRP. I couldn't justify that markup, so I thanked him and bowed out so I didn't waste any more of his time. The GM of the dealership called back a few minutes later and dropped it to $5k over MSRP. I thanked him and reiterated my situation, explaining that I'd be traveling from the Phoenix area, but offered my credit card number if he could do it for $3k over.

Instant sale, a quick day trip to the Las Vegas area to pick it up, and I'm a Maverick owner. Here's mine after 700 fun miles… Absolutely loving it so far!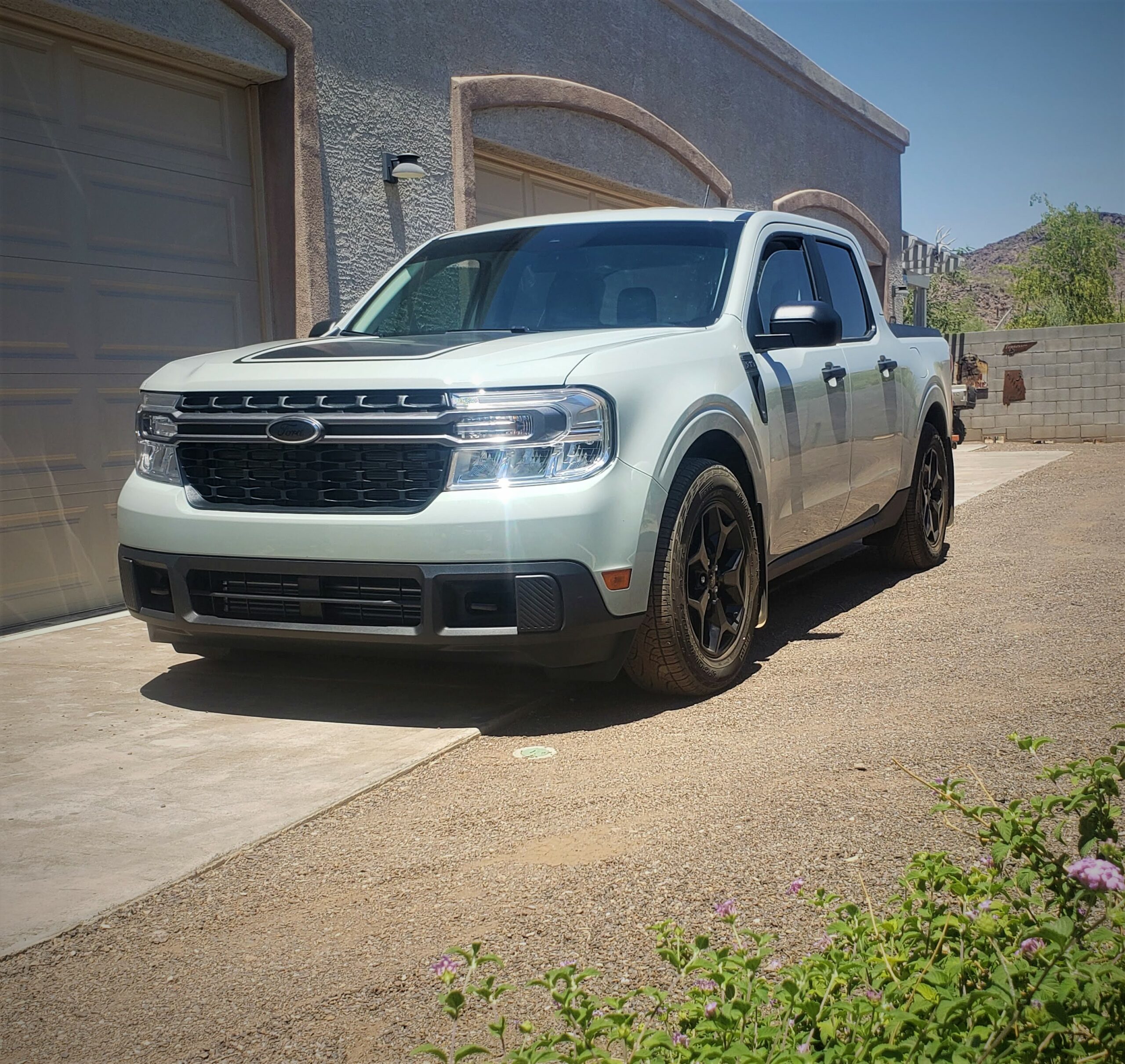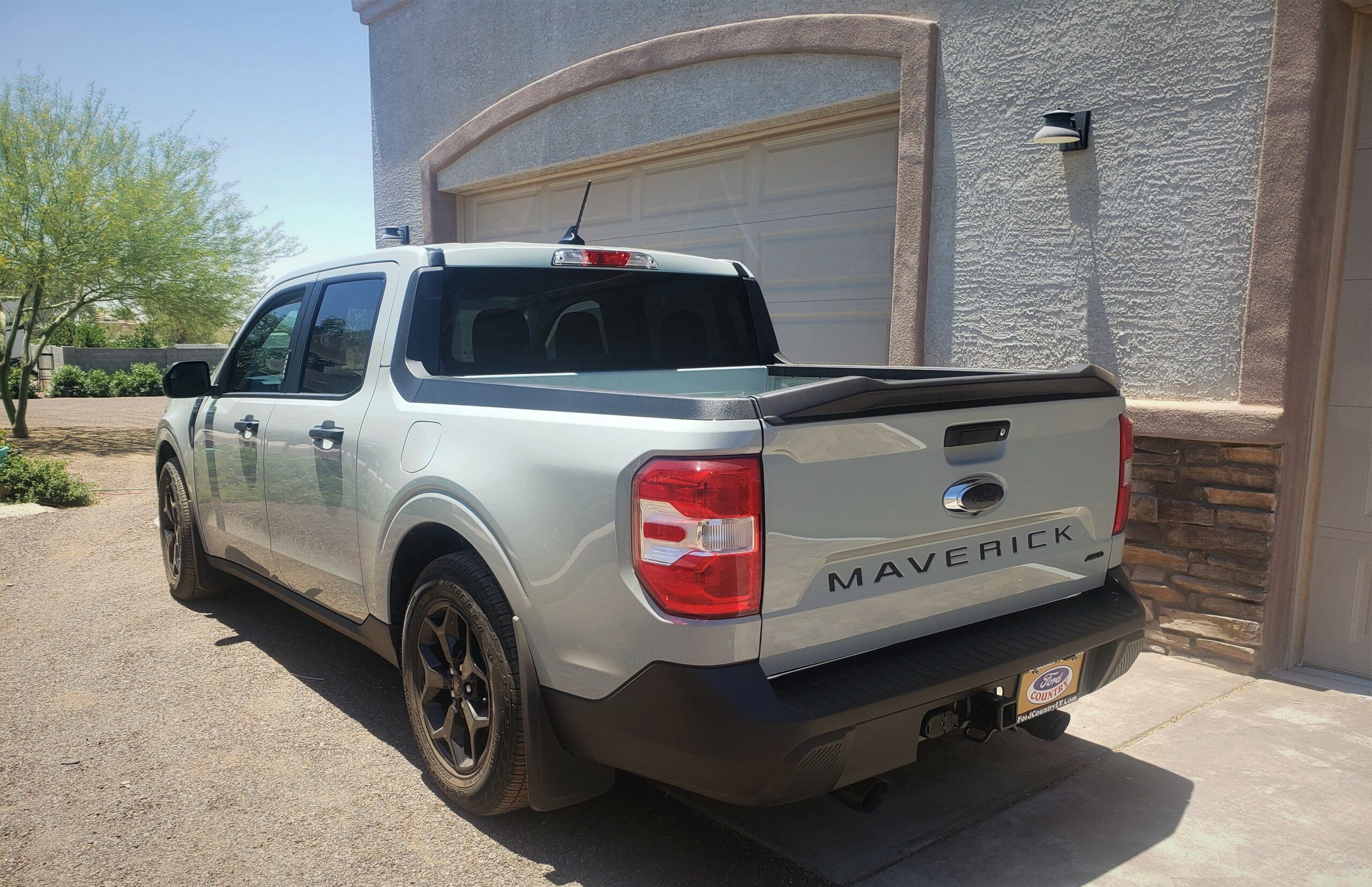 I hope this process helps you with your search, and please feel free to share this with anyone else who may be in the market. Thanks for spending some time with us, and best of luck with your search!