$600 Big Brake Upgrade for FRS/BRZ.. compliments of Nissan and KNS Brakes
Credits:
Thanks in advance to Ken from KNS Brakes, Mike from TunerZstore, Ken from Enjuku Racing
Would you like better brakes for your BRZ/FRS without spending $2k or more? In this article i will show you many options for brake upgrades ranging from professional aftermarket kits to a simple OEM upgrade. Then I will show you a kit that I've installed using a combination of parts from multiple OEM vehicles, source at multiple vendors that will offer better braking power, better heat dissipation, lighter weight, better feel, and all for a fraction of the cost of most upgrade kits. In the first installment I'll share other kit options, my research on my kit, which parts to find, and suggestions on where to source them. In the future installments, I will show how simple it is to install, how to improve the cosmetics so they look factory, and eventually I'll show you how to do the rear brakes (est $400) as well to complete the package.
The Subaru BRZ/Scion FRS is an amazingly capable car right out of the box, but it does have some limitations. Aside from the low hp and torque output of the engine, perhaps the most widely agreed upon shortcoming of the FT86 platform is the braking system. Upgrading the brakes can be a very costly modification with most kits requiring a $2000+ investment. I will show how you can assemble and install a Big Brake Kit yourself that will offer more friction, better modulation and feel, greater heat capacity and lighter weight than stock.. all for less than 1/3rd the cost of used Brembo's or aftermarket BBK's.
*Please note: If you are not an experienced mechanic, please do not attempt this. It's a simple install, but brakes are of the utmost importance for your safety and even a simple mistake can lead to serious consequences.
*Also note: These brakes do not fit under stock BRZ/FRS wheels. I will be shaving the Nissan logo in the future and I will report back to share if that is enough, but I suspect these calipers would require a 5mm spacer to fit the stock wheels.
While a simple pad upgrade is suitable for most owners who daily drive and maybe hit a couple auto-cross events each summer, anyone who drives more aggressively will soon find that the stock system is inadequate. While some will argue that stock two-piston fronts and single piston rears have enough force to lock up the rotors and trigger ABS (eventually), everyone should agree that the heat capacity is simply not sufficient and the system will overheat and fade much sooner than desired.
To solve this problem many owners invest in BBKs (Big Brake Kits). Most front big brake kits consist of aftermarket 4 to 6 piston calipers and big 320mm+ rotors. They are usually lightweight aluminum calipers and light two-piece rotors. They provide excellent cooling capacity, great feel, and great stopping power. Once you've invested the $2000+ initial cost, they are inexpensive to maintain as you'll only need to replace the outer rotor and pads . BBK's are a great investment for the FRS/BRZ and if you can afford them, I highly recommend buying a professional kit from Wilwood, RB Performance, Stoptech, AP Racing, etc..
Another option for brake upgrade is the stock WRX-STI Brembo setup. The calipers from 04 to current will all fit directly onto the ft86 (with a swap of the bleeders) and the rotors from the 2004 STI's were 5×100, so those are a direct fit as well. These are excellent upgrades and slightly cheaper alternative to the aftermarket BBK's. However, be prepared to shell out some big money. You'll spend on average about $1200-$1500 on used STI Brembo calipers.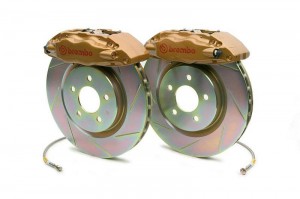 If the STI Brembos are out of your price range, but you still want 4 piston front and 2 piston rear calipers, you can always step down to the 2006+ Subaru WRX calipers. These are affectionately known as "WRX 4-pots" in the Subaru modification world. These 4 piston fronts will bolt directly to the FRS/BRZ and will offer better feel and more confident braking. However, these too come at a price; They normally run about $800 for a pair of front calipers. They also are known to negatively affect brake bias since the front calipers have smaller pistons than the BRZ's sliders.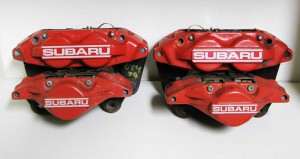 As I was researching the WRX 4-pots, I noticed that they looked very familiar to me. As an experienced Nissan 240sx owner, one of the most successful upgrades I did to my S14 was a brake upgrade to a set of 300zx brakes. The WRX 4-pots looked nearly identical to the Z32 300zx calipers that I had worked with in the past. After doing some research on a few Subaru forums I found out that I was correct. Both the early 90's 4 piston Z32 calipers and the 2006+ WRX 4-pot calipers were made by Sumitomo and have nearly identical designs. In fact, they use the same brake pads. The main difference is the mounting ears. Enter Ken at KNS Brakes (http://www.knsbrakes.com). A couple years ago Ken saw demand for other impreza owners who wanted to upgrade to WRX 4-pot brakes, but either couldn't find them, or couldn't afford them. So, Ken created a set of conversion brackets to allow the easier to find and much less expensive Nissan Z32 300zx calipers to fit to a Subaru Impreza Hub assembly with a bigger Legacy GT rotor.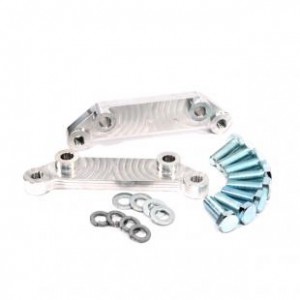 With the knowledge that Subaru WRX 4-pot calipers fit a BRZ/FRS, and knowing that with the KNS Brakes bracket, the Z32 calipers will fit a WRX, you can connect the dots and figure out that Nissan 300zx calipers should fit a BRZ/FRS. In fact, they do! Not only do they fit and provide an excellent aesthetic and cosmetic upgrade, but they are a highly functional modification as well. The 4 piston fixed calipers typically provide more consistency and better feel. They are lighter than stock by nearly 8 lbs each (if you get the aluminum calipers), and the bigger rotors provide a more effective heat-sink to help avoid fade due to overheating. Plus, on top of these benefits, the increased size of the Legacy GT rotors give more leverage to the front calipers which offsets the small piston sizes. Based on my calculations this setup keeps braking bias within 1.2% of OEM standards for the BRZ.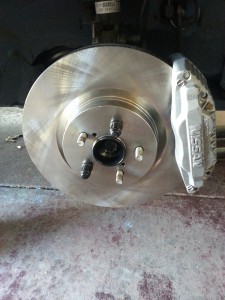 Here's a little background on the parts required to make this kit work.
Calipers: The Z32 was made from 1990 to 1996. The best calipers for this conversion are the aluminum 30mm calipers from 1991-1992.5. They weigh in at 6.1lbs each and save nearly 8lbs off the stock BRZ calipers and brackets. The iron calipers also work and are a bit easier to find and a bit cheaper to buy, but weigh more (11.1lbs) than the aluminum calipers. Make sure you get 30mm calipers. For more details on how to tell the differences, see this page: http://importnut.net/300zxbrakeswap.htm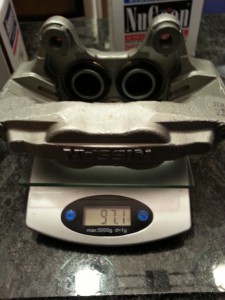 97.1 oz = 6.1 lbs
To find Nissan 300zx (Z32) calipers: Search your local junkyard, try your local auto parts store, Ebay, various online venders, internet forum classifieds, etc.. They are not as easy to find as they once were.. but with some effort you should be able to source a pair of calipers for under $200. You may or may not need to rebuild them, but that is easy to do: How To Rebuild 300ZX Z32 Brake Calipers
By the way, if you're worried about seeing a Nissan logo on your Subaru car, don't fret. In a future installment I will show you how to grind off the Nissan logo and put on Subaru decals to make them look identical to OEM Subaru brakes.
Brackets: To allow the Z32 calipers to fit on this application you need these brackets from KNS Racing. 300ZX to BRZ/FRS Front Caliper Adapter Brackets
See the brackets and calipers attached at the bottom of this picture: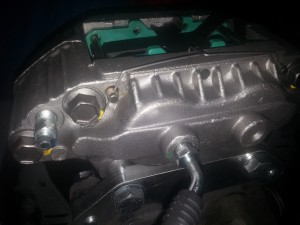 Rotors: The KNS Brackets are designed to fit the Z32 calipers to the Subaru/Scion hub. However, to do this, they move the calipers out a little further than stock location. This is a good thing! Bigger rotors mean more heat dissipation and that prevents fade. The 317mm front rotors from the 2006 Subaru Legacy GT (the 2.5 turbo) are the perfect size and keep the 5×100 bolt pattern to make them a direct fit. There are lots of internet arguments over the value of slotted vs. drilled vs. dimpled vs. blank OEM. For the sake of this "economy upgrade" I went with the easily available blank OEM rotors. Truthfully, I might upgrade to slotted in the future because they look cool.. but i think most experts agree that blank rotors are best (Centric Premiums are an excellent choice).
Pads: The internet is awash with pad choices and arguments for which is best. For this application you can select whatever combination of cost and quality you wish. You can go with OEM pads for Nissan 300zx (90-96) or Subaru WRX (06-09) and those can run as cheap as $30 or you can choose $300 race ready pads like Carbotech's or Ferodo's. I personally went with Project MU NS400's as they are a high end street pad with some tolerance to light track duty. I sourced my pads from Mike with Tuner Z Store
Lines: You will need to convert your lines for this upgrade. The brake lines that I chose for this are for 240sx to 300zx conversions. These lines have the correct fittings to the hardlines at the top and the correct fittings for the Z32 calipers at the bottom. I went with the Isis lines from Enjuku Racing. These Isis lines have a really nice fitting at the caliper so that you can screw them into the caliper and then adjust the angle at which you want the line to come out prior to tightening them down. Plus they are only $50. Ken is a long-time NICO sponsor and provides excellent service and even more excellent pricing. Enjuku Racing
Notice the fitting at the bottom on the right.. it allows you to easily adjust the angle of that line before final tightening.
Fluid: Technically you don't have to replace the fluid to make this upgrade work.. but come on.. if you're spending the money to upgrade parts, you better upgrade the fluid as well. Having some high quality fluid with a very high boiling point is a must. As with pads, there are many options and you may choose based on your application and budget. I went with Stoptech STR600 fluid from Mike at Tuner Z Store
Here's the parts list to complete this brake upgrade:
1.) 2 Front calipers from 1990+ Nissan 300zx (30mm aluminum or iron – don't buy 26mm!).
Estimate $180 from ebay, local junkyards, online forums, online part sellers, possibly your local parts store
2.) Brackets and hardware for z32 caliper conversion from KNS Brakes
$150 300ZX to BRZ/FRS Front Caliper Adapter Brackets
3.) Rotors – 2006 Subaru Legacy GT OEM front rotors (317mm)
Estimate $80 + tax from your local parts store (make sure you get the GT rotors… search 2.5 turbo motor model)
4.) Lines – 240sx to 300zx conversion lines (no banjo fittings like the stock BRZ/FRS). Enjuku is a long-time NICO sponsor and I highly recommend them.
$50 from Enjuku: ISIS stainless steel brake line conversion kit
5.) Pads – Your choice..
Estimate $100 for Project MU pads (the ones I chose to go with) from Tuner Z Store. Mike is fantastic!
6.) Fluid – (not required, but highly recommended). Your choice on brand
Estimate about $60. I went with Stoptech STR 600 from Mike at Tuner Z Store.
In case you didn't catch those prices the first time:
Calipers – $180
Brackets – $150
Rotors – $80
Lines – $50
Pads – $80
Fluid – $60
Total = $600 + tax/shipping if applicable.
Yep.. $600
In future installments, I will be doing a Z32 rear brake install and then some cosmetic work to make these look like OEM subaru brakes.
Here's the highly-anticipated Part 2 of the 300ZX Brake Upgrade for FRS / BRZ!
If you have questions or comments about this upgrade, please pop in and discuss here: 300ZX Brake Upgrade for FRS/BRZ
*Please note: I have offered advice on which parts might offer an upgrade to the BRZ/FRS brake system. I am NOT a licensed mechanic or engineer. This is intended for track use only. I do not sell any parts or labor or profit in any way. If you wish to duplicate this modification, please know that you are solely responsible for the outcome. Niether myself or NICOclub can be held liable in any fashion for the results of this modification.