My name is David Dischler, and this is about the journey I have been on with my 1990 Nissan 300zx Twin Turbo (a.k.a. Shibui) over the past year and a half.
Having worked in my father's body shop in Eunice, Louisiana from age 14-19, then working in larger body shops in Baton Rouge a few years after that, I was engrained with a love for making cars look good! In the past I've restored a few cars, but nothing top to bottom. I love cars!
A couple of years ago, I had the desire to find a fast, good looking car that I could restore top to bottom myself. I started looking online with that criteria and narrowed it down to the Z32 Twin Turbo and the Toyota MR2 Turbo. After going back and forth, I decided the lines on the 300zx were much sleeker to me and started my search for a car. I wanted to find a car that needed help, but wasn't falling apart.
After about 6 months of looking around where I live in Florida, I ended up finding one 3 miles away from my father's house in Louisiana while there on a visit. It had been sitting for 2 years with a cracked block, interior taken apart, but I saw the potential and purchased it for $1,000. Here are some pics of the day I put it on the trailer.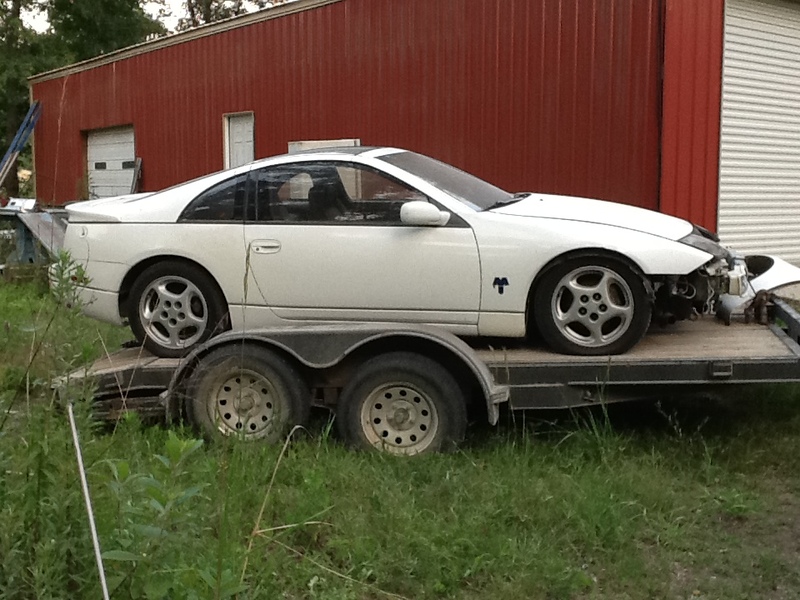 I think the images speak for themselves – There was much work to do, but I was up to the task. I found I had a few bonuses in it: JWT Genie Turbo Exhaust, JWT Pop Charger, KYB AGX Adjustable Struts, Blitz Turbo Timer, Dual SBC Blitz boost controller, Cometic Intercooler Piping, Nismo oil cap, and Stillen adjustable RUCAS. At the time, I knew nothing about the car, so ensued a couple months of reading and researching while removing and disassembling the motor.
To jump off the subject real quick, I get asked how I picked the name Shibui for the car. Well, I found a lot of the guys named their cars, so I decided to look for a name that was meaningful and cool at the same time. The word Shibui in Japanese basically means "simple, subtle, and unobtrusive beauty". I thought that would be perfect for the car as the goal for the finished product is an "Adult Sportscar", meaning it's real sleek and fast, simple and clean, has no squeaks/rattles and can be driven as a touring car! Now back to the subject…
I planned on doing everything myself minus the machine work. I eventually found a donor motor in Miami that I tore down, had the block bored to fit 88mm Wiseco Pistons, heads checked, etc. It was like Christmas when I finally got the parts back and could start assembly! I had a lot of parts ready to go, here is a list:
-ARP Head Studs
-Nismo 740cc Injectors (first try was with Jecs 550s – I do not advise)
-UR Crank and PS Pulleys
-New Fuel Pump
-Competition Clutch Stage 2
-GSP Intercoolers
-Silicone Boost Hoses
-Selin Translator
-Amsoil oil-less filters and pre filters
-Silicone Radiator Hoses
-Bosch O2 Sensors
-Megan Divorced Downpipes
-Z1 2.5″ Test Pipes
-Ztuner ECU
I also love deleting stuff, so here are the deletes/bypasses I did:
– AIV
– PRVR
– EGR
– PCV Reroute
– Water Bypass
Lastly, here are the maintenance items I purchased and installed:
– Full Gasket Kit
– Oil Pump
– Bosch 02 Sensors
– 120 Timing Kit
– Main/Rod Bearings
– Spark Plugs
– Half Moons
– Alternator
– New Garrett OEM CHRAs (first time I tried to rebuild my turbos myself – I do not advise)
So, with all those parts, I was ready to go! I started building the motor following a great thread I found online on what order to do things and the FSM torque settings close by. After it was all done, here is a few pics of the motor: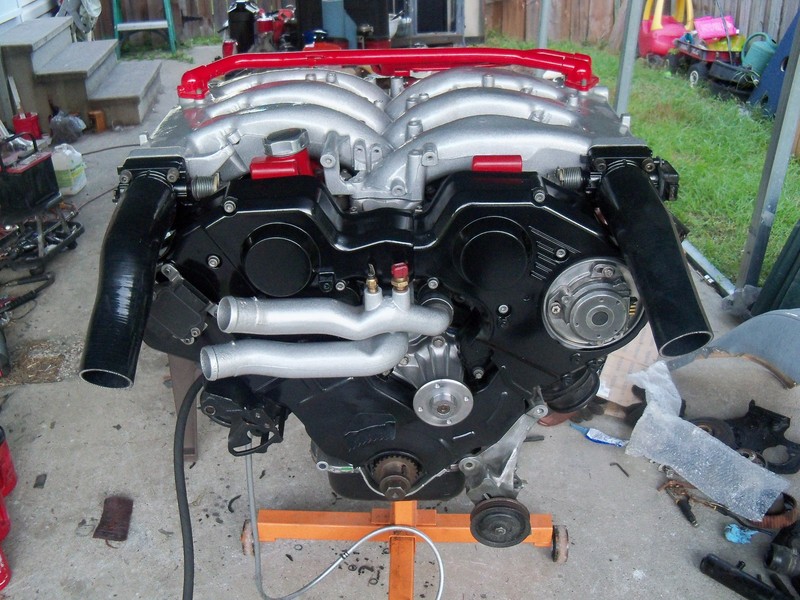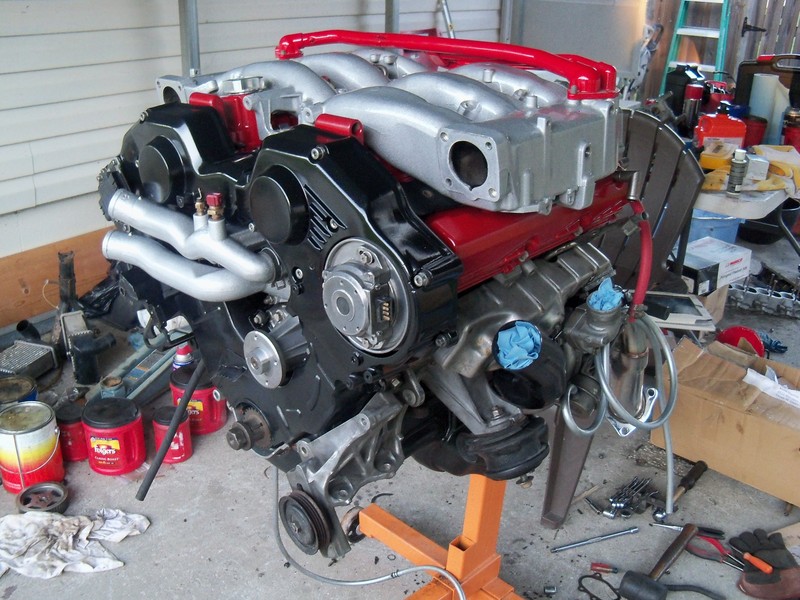 Powerplant installed in the car!
…but just when you think a project is rolling along smoothly, here come the potholes…