One of Nissan's most-loved and enduring vehicles is the D21-series Hardbody pickup, a staple of the lineup from 1985 to 1997 (and remaining in production up through 2008 in Mexico, just a few hours south of us).
I recall the first ones showing up in town in mid-1985, and actually got to tinker with one of the earliest models. As a high school freshman, my older-than-me girlfriend got a brand-new metallic light blue single-cab 5-speed Hardbody from her parents (ostensibly for her good grades, but I think it was actually for her great taste in boyfriends).
Anyway, within a week, I had lowered it, color-matched the grille and trim, and de-stickered it. The monochromatic look was uber-popular in the 80's mini-truck scene, and although the mods were subtle, it made for a sharp-looking truck.

The truck lasted far longer than the relationship, but I recall that truck fondly… and it would be another 35 years before I actually owned one! Between projects, I ran across a not-quite demolished 1997 King Cab model for sale on Craigslist, and the price was right.
Now, small pickups in AZ command a hefty premium. Part of the reason is that they can be trucked down to Mexico and sold for far more than they're worth in the US. Even a tattered, high-mileage example will sell for more than $3k here, because buyers snatch up all the cheap tired trucks and haul them south (10 at a time) for a fat profit. So, when I found this one, I called the owner and arranged to see it.
Every good car purchase has a good story, and this one was no different. The seller was a laborer and was heading off on Monday morning to serve some time – and he wanted to have some cash to leave behind for his wife. With a quick cash sale needed, the price was negotiated and I got it for a little less than market value.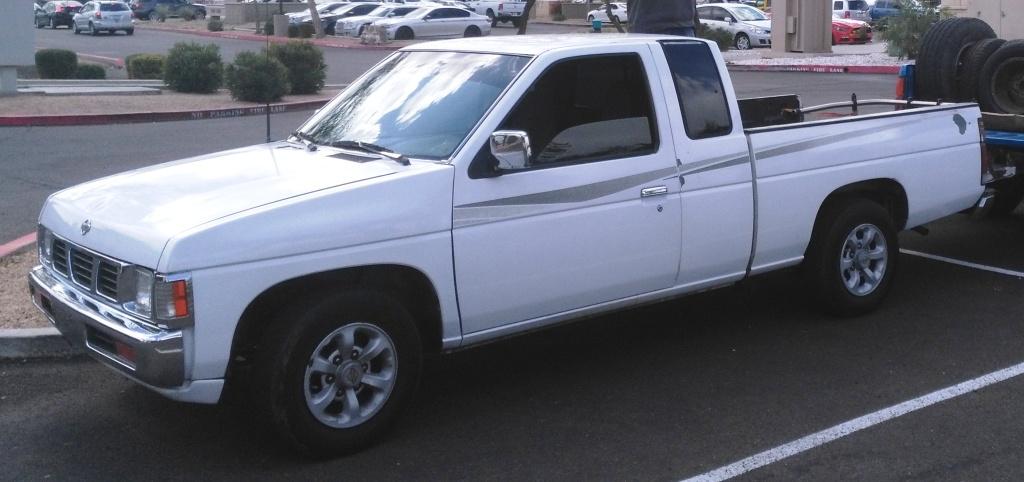 Now, these trucks were workhorses, and this one had been rode hard and put away wet. The owner used it for a painting business, so the plastic bedliner was nearly invisible under countless layers of latex paint spills. He was a heavy smoker, and the ashtray was an afterthought… in fact, I almost filled up my Shop-Vac with butts. PEW. This thing stunk. The headliner was burnt, the dash was split in six locations, tires were bald, doors and hood were misaligned, and the radio was long gone.
But, I was now the proud owner of a 5-speed, 175k-mile King Cab Hardbody that was bought new right here in PHX and never left the desert. They're a simple vehicle, so I figured I'd make short work of this restoration. But first, she had some work to do, running loads of tires from Datsun Ranch to get dismounted, and taking us to lunch for a few days… It wasn't long before the foul smell and sketchy maintenance forced me to park this one and get serious about doing something with it.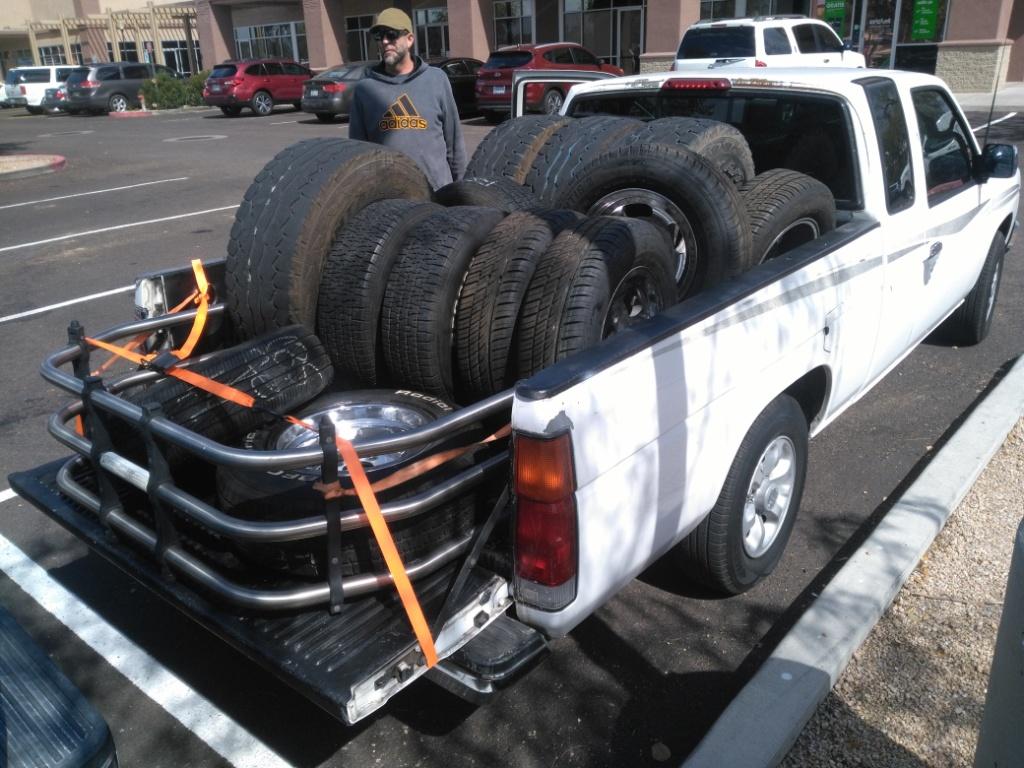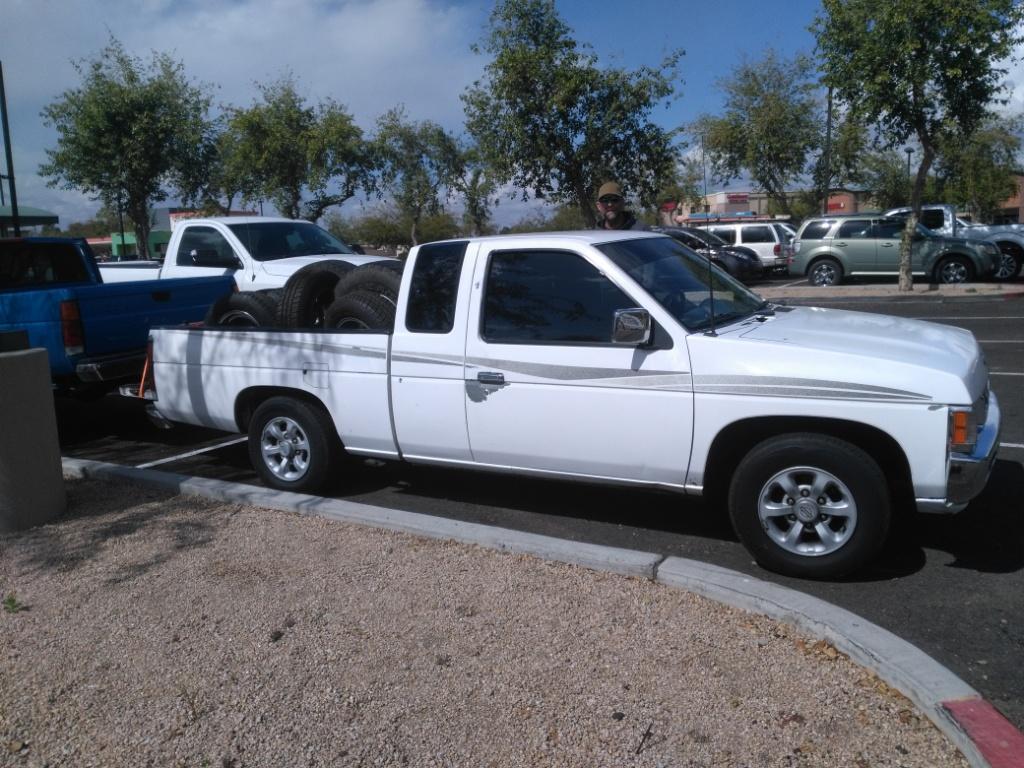 First step was to completely gut the interior down to the metal, including the dashboard. The stench of decades of smoke wouldn't go away otherwise, and Datsun Ranch was rank from the effort. Everything went straight to the dumpster. Fortunately, underneath the carpet, the interior was pristine, so the entire cab got scrubbed down with Pine-Sol and a fresh layer of Dynamat was applied to the floor, doors, firewall, cab rear, and even the roof.

Next up, the motor and trans were pulled. Years of neglect meant every seal leaked, but miraculously, the compression was between 178-180 on all four cylinders. A quick look at the valves with a borescope revealed clean chambers, so the engine got scrubbed down, a new timing kit and water pump went in, all seals were replaced, fresh cap/rotor, plug wires and plugs, new motor mounts, power steering pump, fresh injectors, and a new SPEC clutch went in.
The Nissan Hardbody group here on NICO were super-helpful with sourcing parts, so I started collecting replacement bits. A dash from a truck in the Northwest, a fresh carpet kit, a pair of seats from a low-mileage wreck, and lots of other interior stuff started arriving at the shop (somehow, I'm still looking for a clean set of door panels and good sunvisors).
Looking at some other builds, I liked the look of the 4×4 front fenders, valance and flares, so I sourced a set of those from a wrecking yard, along with some power mirrors (which look way better than the "flag-style" mirrors that came on the 2wd truck). There's a company that reproduces the cowl grilles, so they showed up next, and I topped it all off with a fiberglass roll pan for the rear.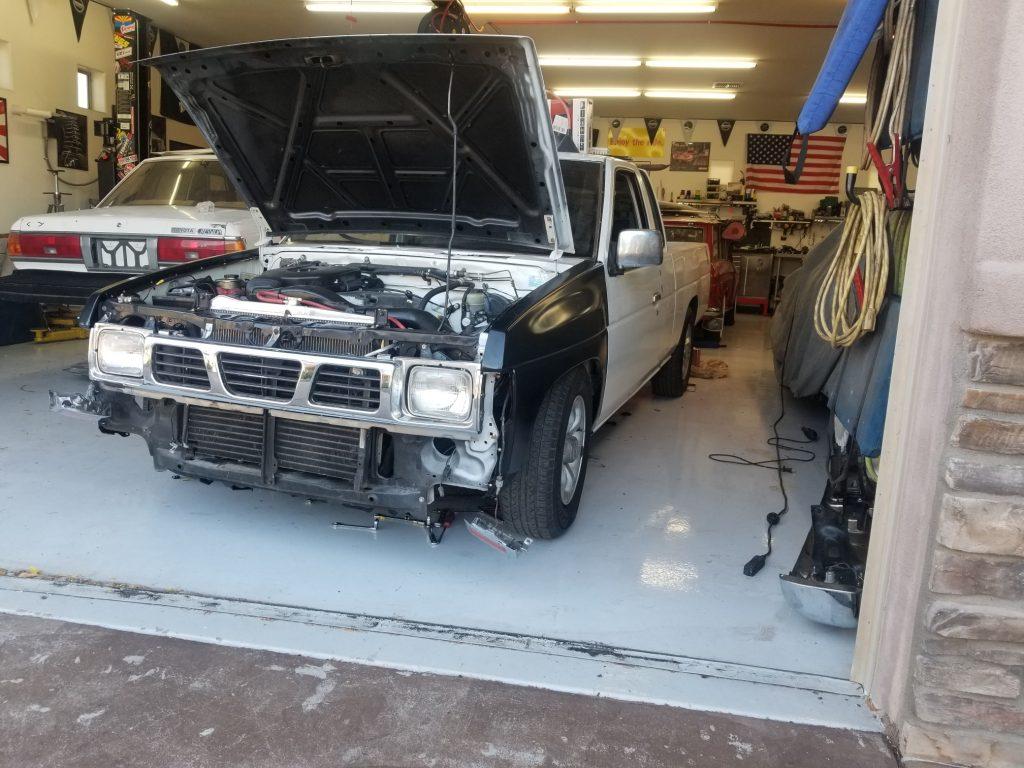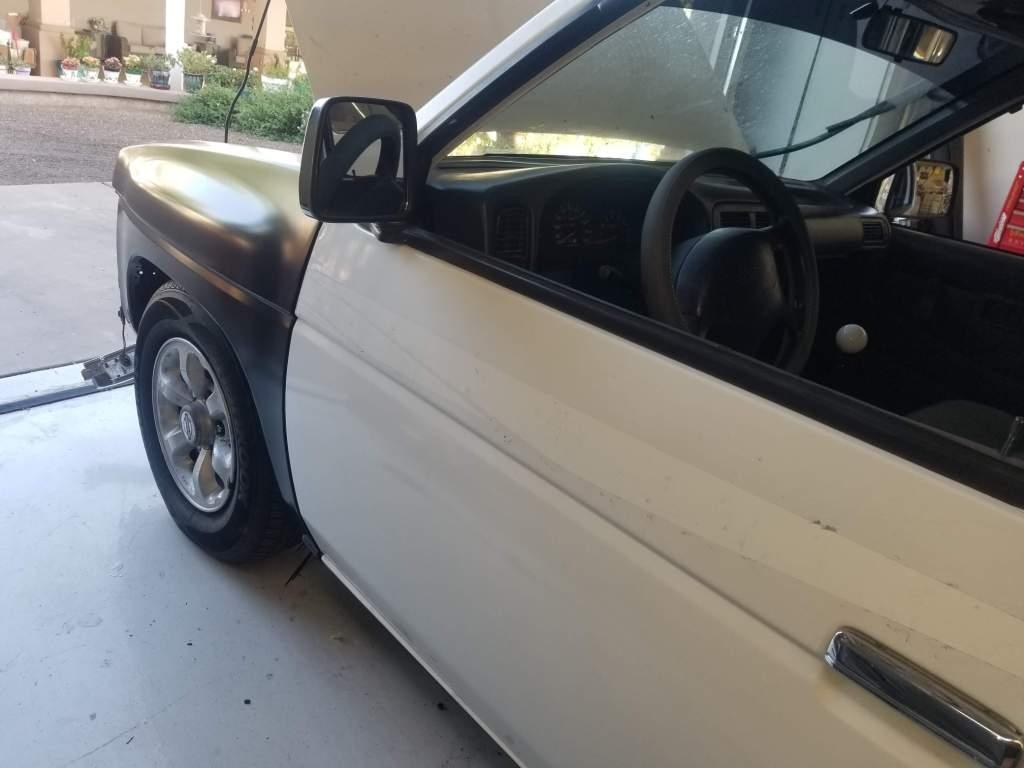 The bedliner was removed in order to do a spray-in liner, and I suspect it had been installed when the truck was new – the bed paint was almost perfect, with no wear or corrosion.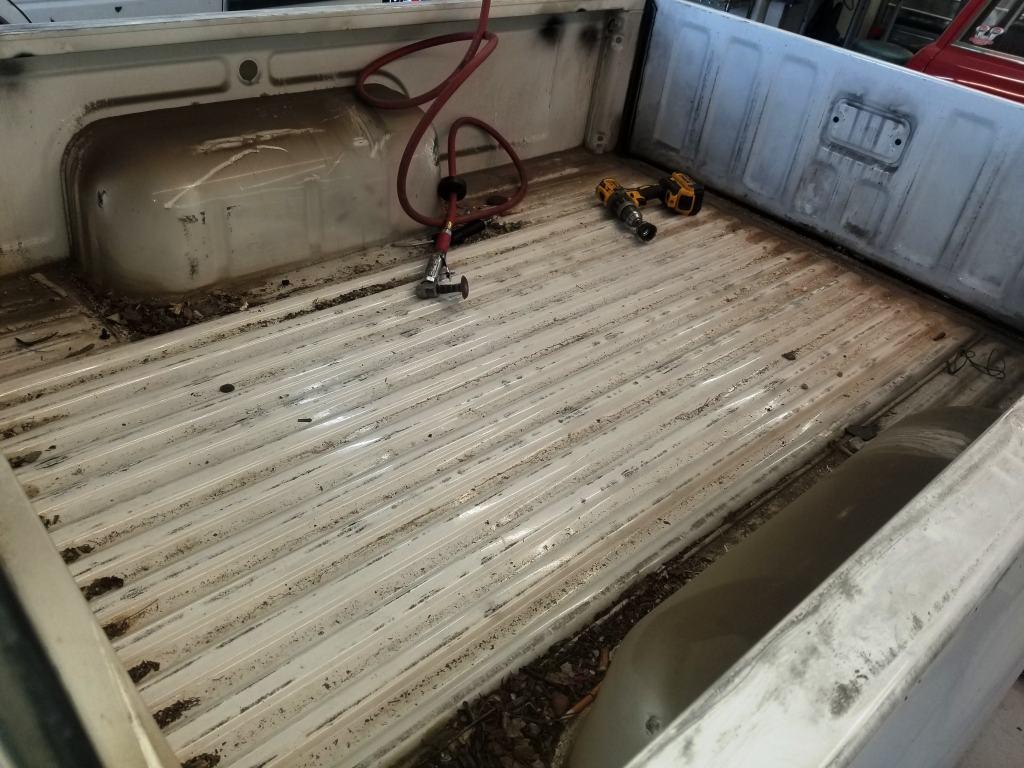 I knew I wanted this one to ride a little lower than stock, so while the entire front suspension was being removed, I sourced a set of Bell-Tech front spindles and 3″ blocks. All new front-end parts were bought, including ball joints, tie rods, idler, centerlink, bushings, wheel bearings, shocks, and brakes. I had a set of Enkei 6-lug 2-piece wheels that I bought from Japan a few years prior, so I disassembled those and sent the centers out for powdercoating and ordered new tires.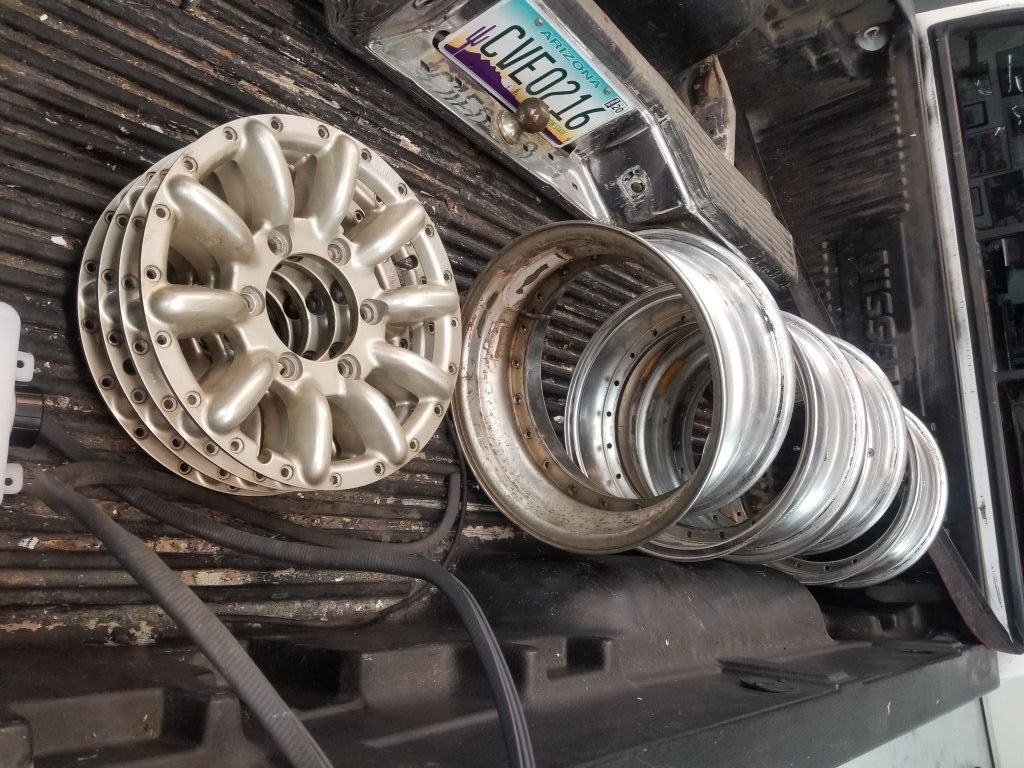 During all of the disassembly and reassembly, I discovered the truck had been whacked in the driver's side front corner at some point, but had never been reported. Some creative repairs were done, but fortunately they were limited to the bumper, inner fenderwell, and fender. Some hammer and dolly work, along with repositioning the bumper brackets and corner marker holes, and everything lined up almost perfectly. This was a budget build, not a concours restoration, so I wasn't even mad at the result.

In the late 80's and up to the mid-to-late 90's, lots of manufacturers were still perfecting the newer waterborne paint processes, which often led to catastrophic, large-scale paint delamination not long after. The D21s were no exception, and it's rare to see one without large splotches of paint completely gone from the underlying primer coat. This one suffered from the same fate, but at least I knew it was an original-paint truck, and still wore its factory decals (well, except for the aforementioned front fender). Fortunately, single-stage white paint is very forgiving and relatively inexpensive, so I de-stickered it, removed the glass, cleaned up some of the more obvious dings, and prepped it for a trip to the paint booth. Off to be painted!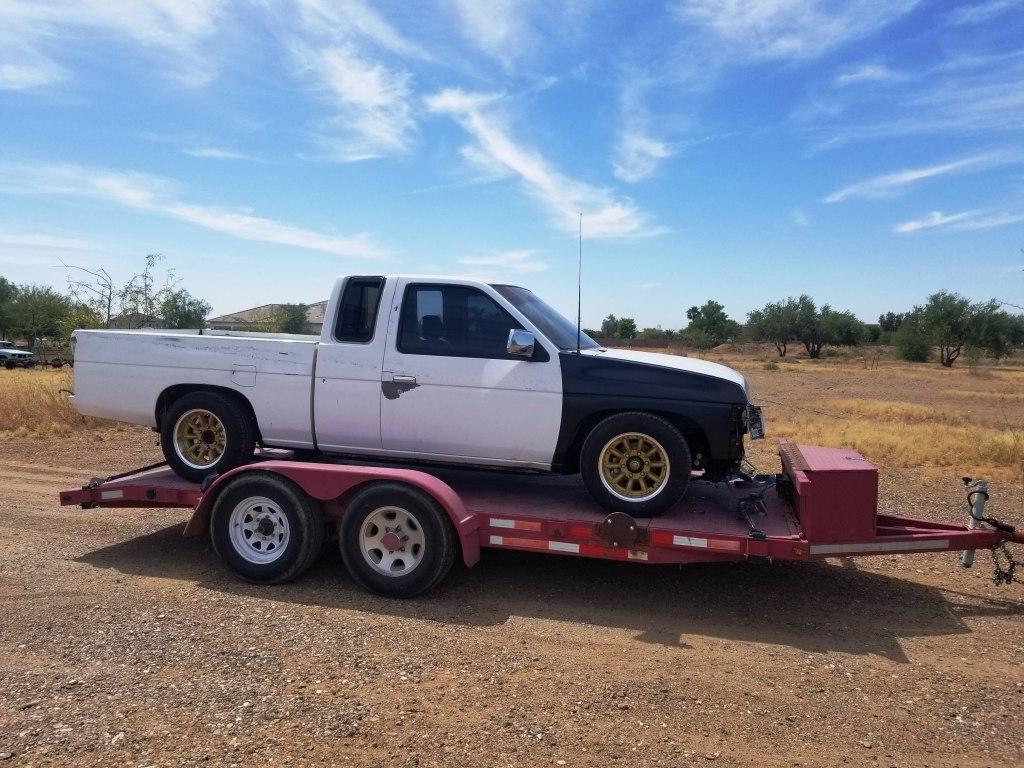 With the truck back from paint, it was time to start reassembly, which is always the fun part.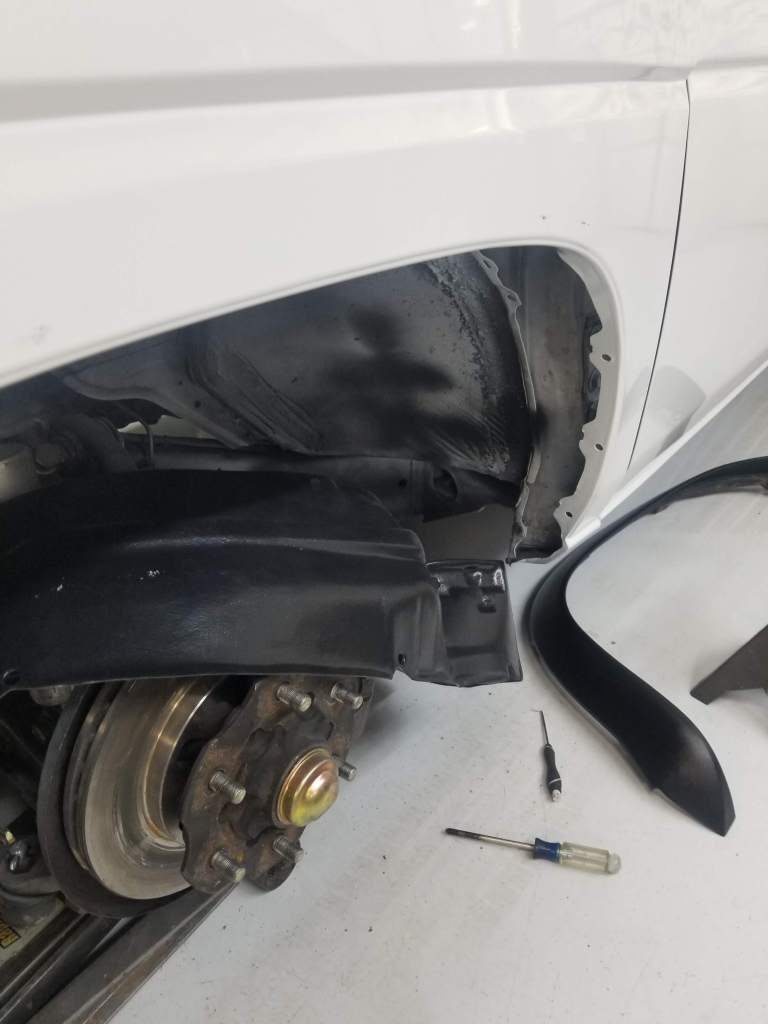 Reassembly went by quickly, and the interior really turned out better than expected. Dash installation had always been kind of a "No thanks" job for me (I HATE being up under a dash) but this one wasn't horrible. A couple missteps getting the HVAC controls reconnected, and nasty cramps from laying on the not-quite-flat floor, but it came together nicely. A new double-DIN head unit, a set of 6″ door speakers and some 6x9s in boxes behind the seats, and she's ready to cruise.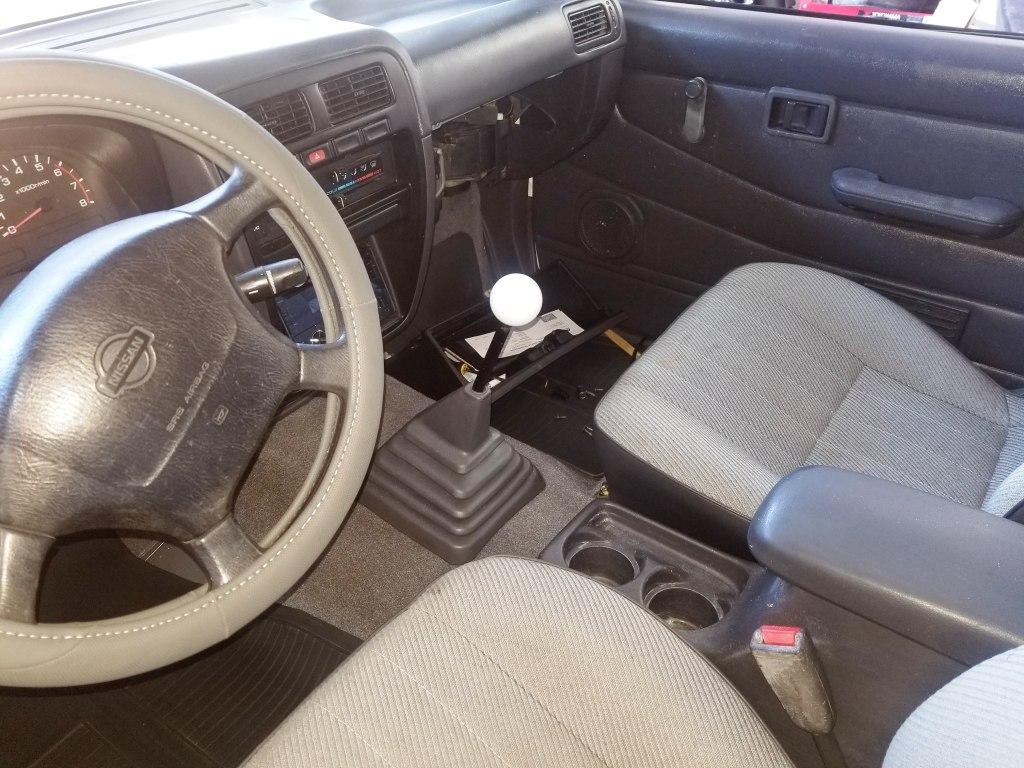 I'm really wishing I had taken more pics of the process, but at any rate, here's the [almost] finished product.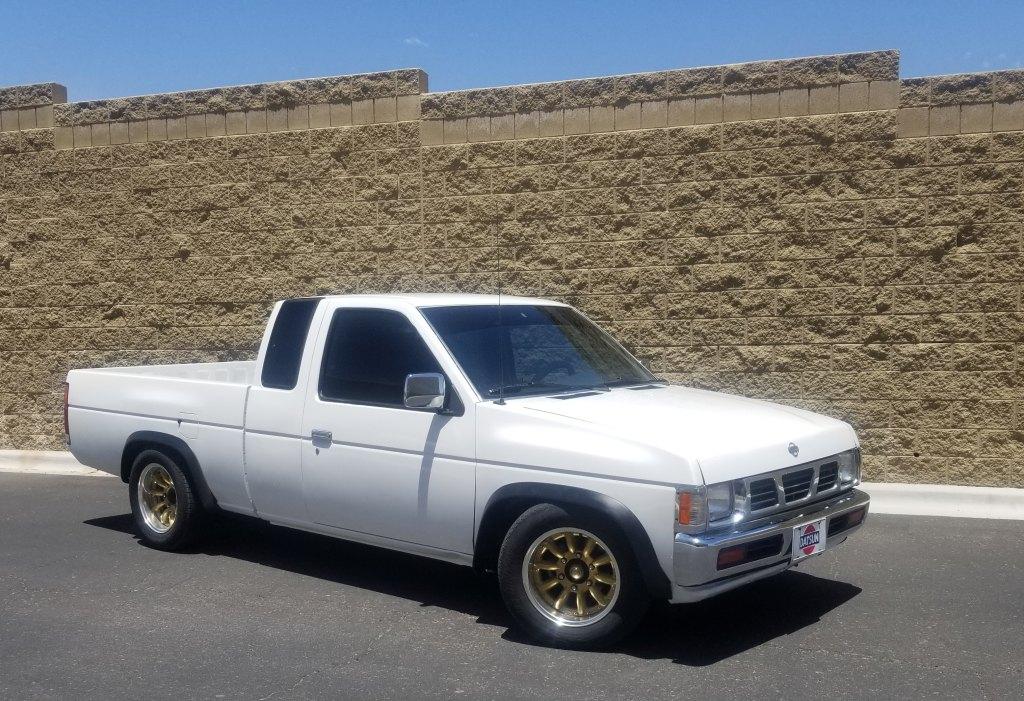 The final steps will be adding a pair of BRE-style stripes in gold vinyl to match the wheel centers, and getting the bedliner sprayed. All told, I've got just at $6k invested, which is probably about what it's worth – but you'd be hard-pressed to find a nice clean Hardbody for that kind of money.

This was a fun project, and took up just enough time to fill the space between BIG projects, so it was a win. She's fun to drive and will serve as a parts runner and lunch-run truck here at Datsun Ranch for a while until the next cool daily comes along!