So you want to buy a dash cam?
I've been wanting a dash cam for a while and was lucky enough to receive a Lenovo V35 to demo and review, in exchange for my unbiased opinion.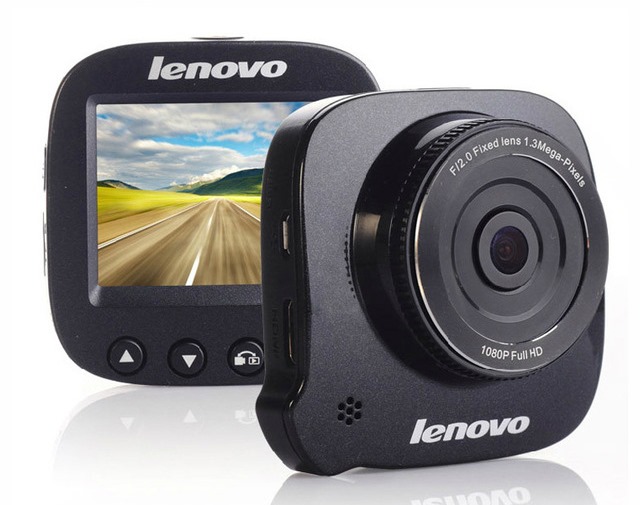 The first moments with the dash cam were very entertaining. The camera comes wrapped in a decent paperboard box with a compartmentalized area for each component.
The bulk of the camera, the screen and the cord were cleverly packed and coddled in felt, as were the instructions… Which were all printed in languages that were not English. Unfortunately, there was no micro SD card included, so I had to purchase one of those, but no biggie. Just would've been good to know or had indicated in the instructions that couldn't be translated. After pulling apart the packaging, following the common symbols for power, and plugging in the camera for the first time, the default language was also not English. Lacking time on my hands, I put it back in the box and shelved it until later when I could contribute more time to the menu with trial and error.
Eventually, the right keystrokes would yield me a usable menu. Next, was figuring out what the buttons did without instruction. I tapped into the handy Googles and found a quick reference users manual of about 3 pages. It allowed me to understand how to get videos off of the dash cam and how to operate its most basic functions. Unfortunately, it is all that I found. The DVR is probably more capable than I will give it credit for, but without full representation of its capability, I had to work around what was offered. Armed with that knowledge, we hit the road to break it in for part 1 of a 3 hour road trip to Vermont.
The suction cup is pretty impressive, sticking easily to a dirty windshield without even deploying what I will refer to as the "ultra stick lever." The body of the camera threads into the suction cup apparatus, leaving the whole rig very secure once mounted to the glass. As far as a dash cam goes, this particular function is pretty important. There are knobs that act as multiple articulation points letting you position the camera fore and aft, pitch and yaw, and left to right. I found this useful, but wonder if a smaller, stationary camera mounted low in the center of a windshield would accomplish the same thing without the bulk of the 'freedom to move' package in this particular camera. The knobs all work 'lefty loosey, righty tighty,' with the left to right panning motion being the hardest to pin down. Overall, fairly easily to give the camera a good viewing angle with some common sense.
Upon plugging in the camera (which now displays in English), it immediately starts recording. By pressing the "ok" button quickly, you can cycle between recording with or without a microphone. This could come in handy during a traffic stop or accident to absolve the 'he said, she said' argument. Or any martial argument proving that she "really didn't care where you had dinner before arriving at Long John Silvers." Or that time that you had to quote your friend when he didn't believe it when you said that there was no official 1994 model year 240sx, unless you wanted a convertible with an automatic.
Anyway, recorded sound is easy to turn off and on. The camera lets you know its recording with a large red dot at the top of the screen. You are able to adjust the resolution, as well as how wide the camera angle records. The arrow buttons allow you to zoom in and out quickly if needed, though I found that whether you're zoomed in or out, doesn't really matter much in regards to picture clarity at distance.You also have the ability to change the rate in which the SD card is recorded. I opted for 5 minute intervals since a 30GB SD card was slipped into the slot.
With the functional hardware piece out of the way, we'll get to the performance. While we did not get into an accident while the camera was recording, I wanted to write the next part in regards to what I'd expect from the dash cam. (NOTE: Click images for full-size versions).
On the first frame, the view is wide, easily covering a 4 lane wide highway or a two lane with landmarks. Overhead signs are somewhat easy to read, especially when familiar with the signs and road functions you're accustomed to driving in. Traffic signs and common restaurants are easy to make out, while others like the for sale sign and establishment on the left are more difficult, despite being about 15 yards to the right. This could make identifying the moments leading up to an accident more or less definitive. Depth perception isn't particularly impressive. The classic car in the screen shot is approximately 12-15 yards ahead of us. We can clearly read the stickers and license plate, but the camera cannot.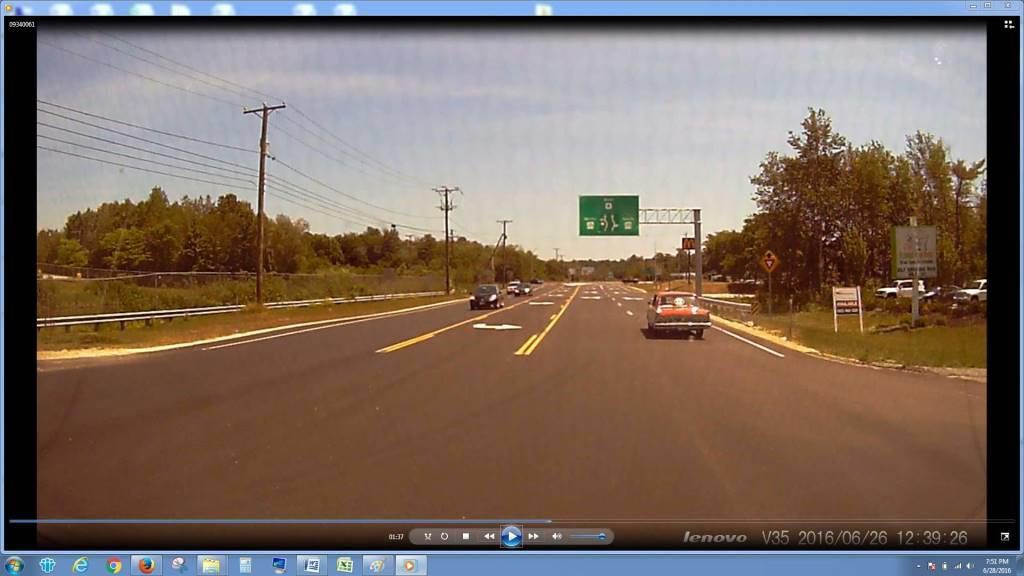 In the next picture, the large directional sign becomes legible.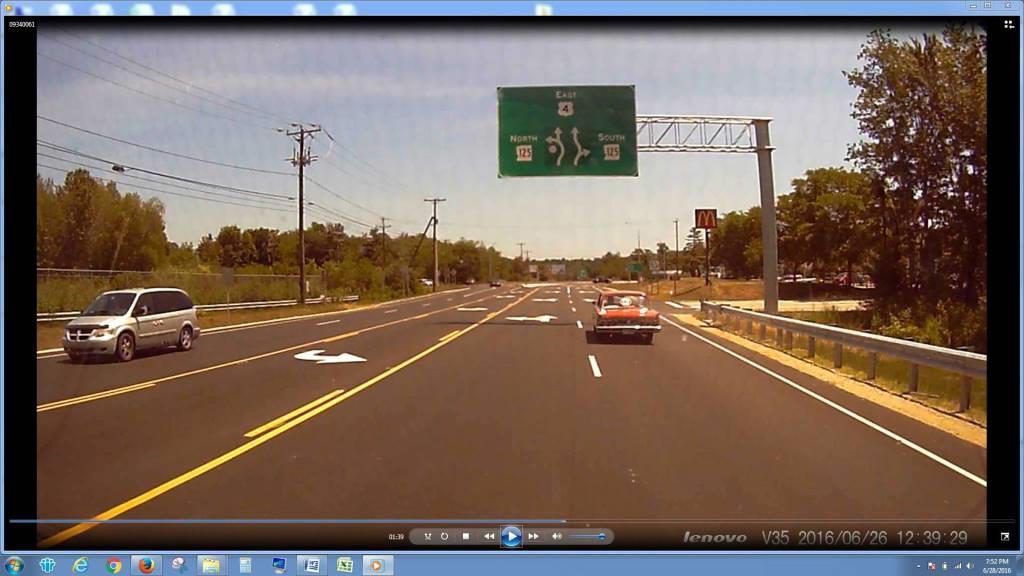 As we approach the round about, a car came in on the left. We can ID it quickly as a gray Corolla, but despite being right next to us, cannot make out the license place. Same with the classic in front of us. It is now approximately 10 yards away. Not enough for a convection or evidence of a drunk driver should they slam on the brakes. You can also make out some structures (the gas station, mobile home, and businesses to the far left. The wide angle of viewing is excellent, however, the picture quality at the highest resolution is lacking.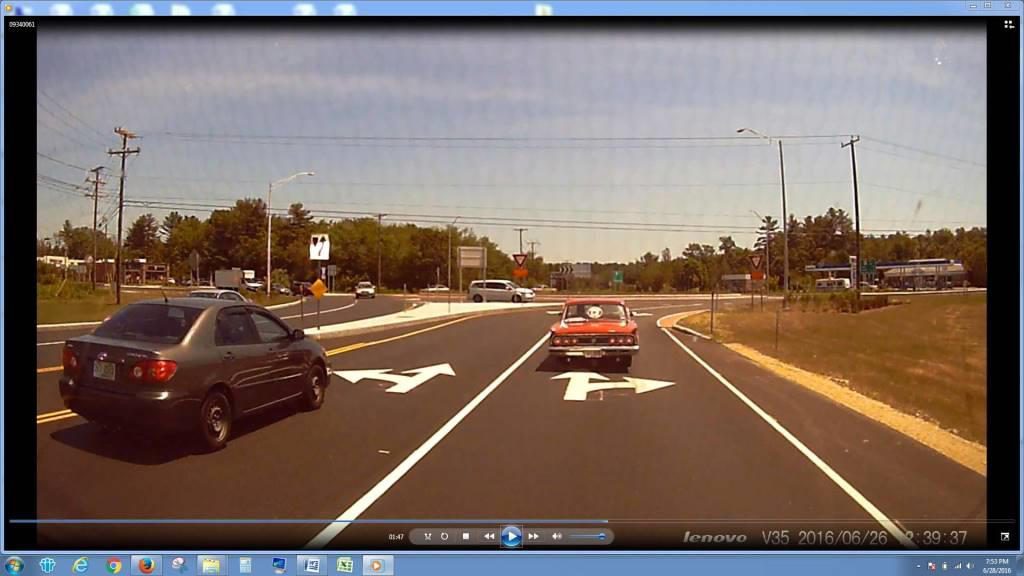 Ahh, now we're getting closer. This screen shot is approximately 5-7 yards away. The plate still isn't clearly visible, which, if he cut us off, causing an emergency stop which allowed the car behind us to rear end our vehicle, we'd never really be able to ID the driver who was the real culprit.

Now that we're on this guys tail, approximately 3 yards bumper to bumper, we can finally read the place and make out distinguishing marks. He's a fan of the Red Sox, adores the late President Kennedy, and (surprisingly) isn't rocking an antique plate that reads 363 9638 (?). I'd really like to better capture the writing on the trunk lid or the plate numbers in general.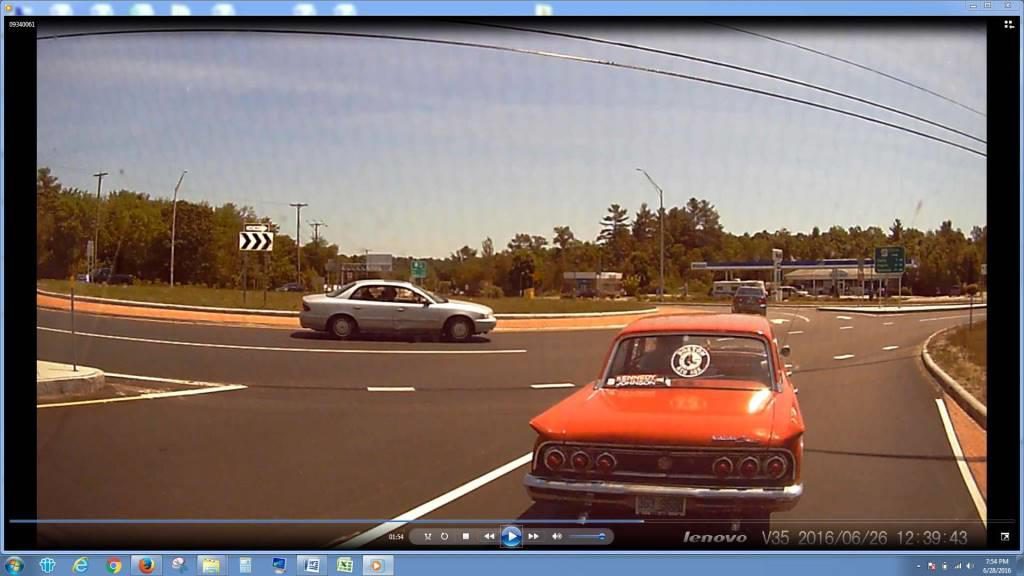 A new challenger has appeared! From the clarity, we can tell it's a later model Honda minivan with an ambiguous plate.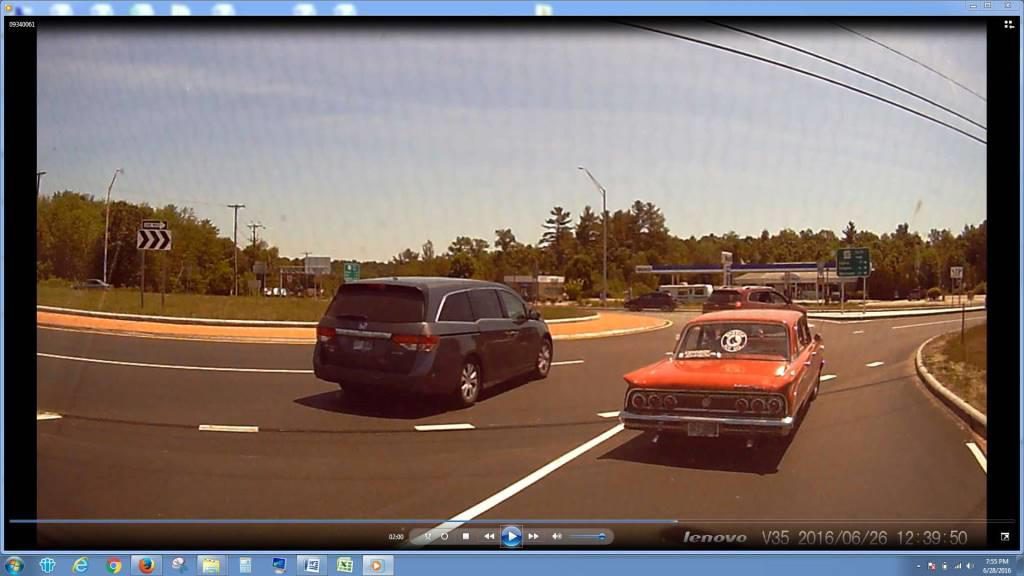 Annnd, hes gone. In this frame I want to point out a few things. 1. Though the sign is a mere 20 feet away, its difficult to read There is no clear focus on any particular object. This may not be that important, but I would have hoped for better at such a short distance.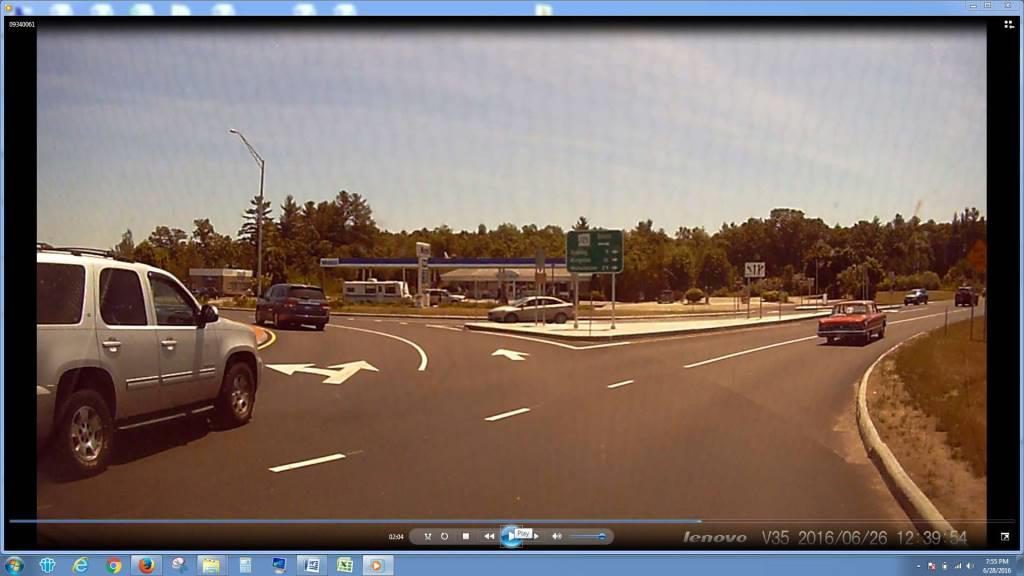 We're getting clearer. Given that I live nearby, I know what the sign says, but you may not. Heres the answer key: Epping, Kingston, Manchester. Distance- who the hell knows?


Ah, there we go! It's a Mobil gas station, the sign is legible, we still can't read the plate on the SUV in the event of being side swiped, and that sedan still looks boring.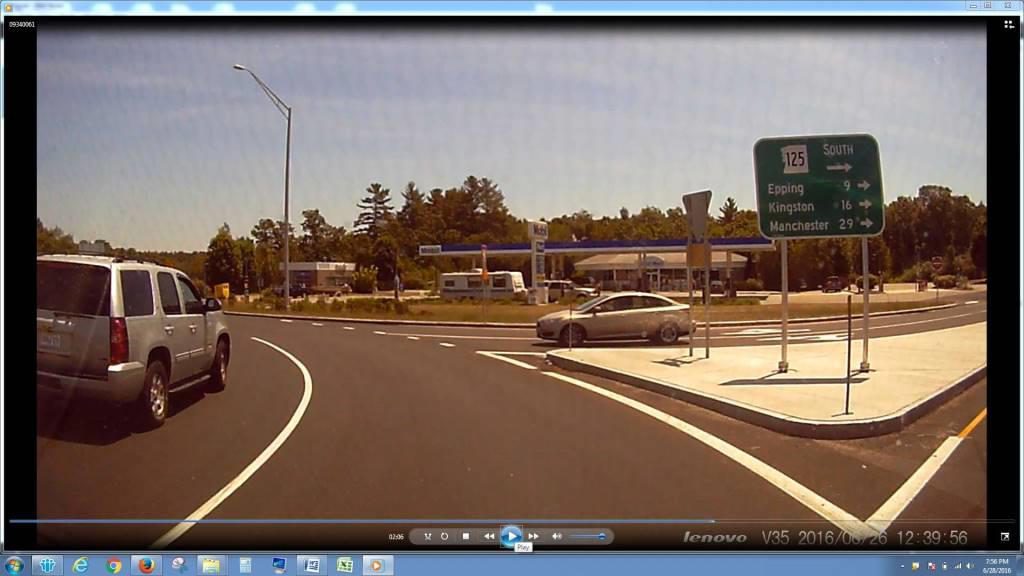 Goodbye potential side swipe that we can't identify- even if we zoom in on the raw screen shot footage.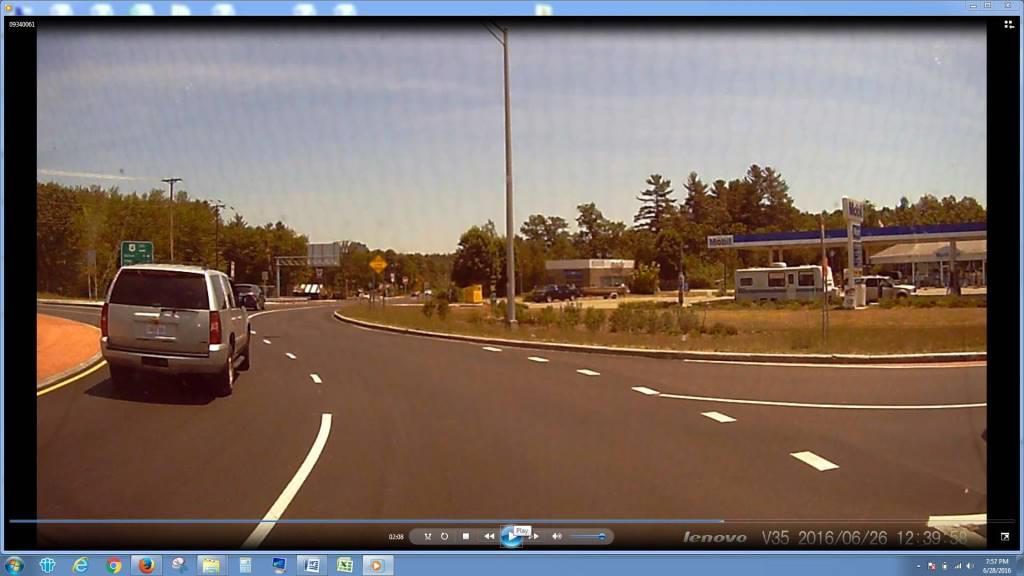 Here is a video of the same photos above, that moment start at 1:30 and ends at 2:22.

Now for my personal notes on the dash cam…
This is the part that I find most lackluster about the product. Despite the resolution settings, the zoom, or angle chosen, this problem persists. Unless we're right up on the vehicle, the camera can't do much for our insurance claim or police report except "this driver hit me and at least I can prove I'm not lying." It can be sharp and the locations can be identified, but the most important feature of the product (at least to me), is lacking.
However this being my first experience with a dash cam, I can't say that I completely discount this one. Yes, its definition is a little lacking, you can't read plates until you're right up on them, and it looks like a cell phone video from 2005, but without having another cam to compare against, I can't completely recommend against it. However, my main concern with a product like this is safety and identification. In the event of an accident, you should be able to make out plates at short distances (if they're close enough for a brief moment). In the case of a potential side swipe hit-and-run, we can't ID the Corolla, Honda van, or SUV. Its all fine and dandy that the road signs can be legible, land marks can be identified, and vehicles are distinctive enough that they aren't completely amorphous, anonymous blobs, but those don't come in much help when making an insurance claim.
With these limitations in mind, it's important to note the primary purpose of a dash cam is to prove who is at fault in an accident when you submit it to your insurance provider/law enforcement. Drivers should still be exchanging information if they get in an accident and should have time to note the license plates. If in the case an accident was recorded on the dash cam but the license plate not captured, that doesn't render the footage useless since the driver would have the plate and other contact info from the other party any way.
Overall, I might still drive with it on long rides, but may be looking for a better camera later on.
Submitted by Ray Mossman