"I wanted to design a perfect robust sedan," says Makoto Yamane, Associate Product Chief Designer in charge of designing the new Global Sedan.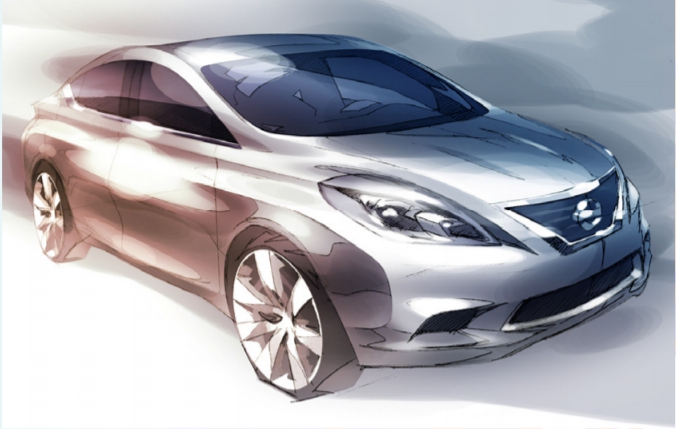 Sports cars, minivans, and SUVs… Automobiles come in various forms. However, looking back into the history of motorization, regardless of the country, the very first step is always a sedan. Over a long period of history, the concept of "sedan-ness" has been fostered in people's minds.
"Our objectives were to create a global car that would be accepted by our customers around the globe, incorporating that sedan concept while realizing advanced performance and beauty.
In doing that, we wanted to achieve a good balance of functionality and sedan 'presence', a spacious cabin, and a fine design in a compact car with size limitations. "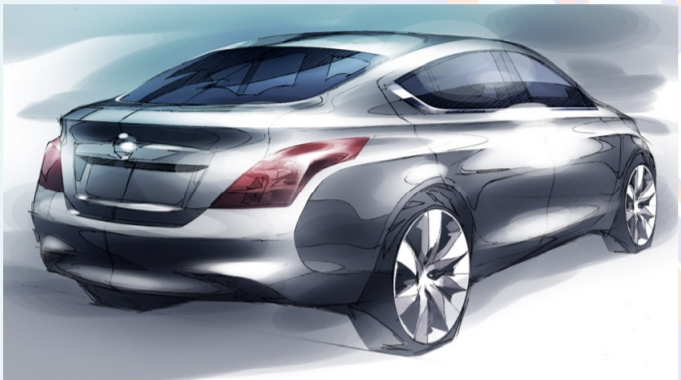 "It was indeed a challenging but rewarding job," says Yamane, reflecting back on his team's hardships with a smile.
A sedan with a strong global presence
The usage and needs of a sedan car vary by country and region.
"In China, for example, a sedan car is generally positioned as a status symbol, the next thing a successful man wants to own after purchasing a nice house. For this reason, it's important for a sedan to bear a stately image. In India, by contrast, a sedan car is regarded as basically a means of transportation for business entrepreneurs. Therefore, spaciousness and comfort for those sitting in the back seats is just as important as the stately image," says Yamane.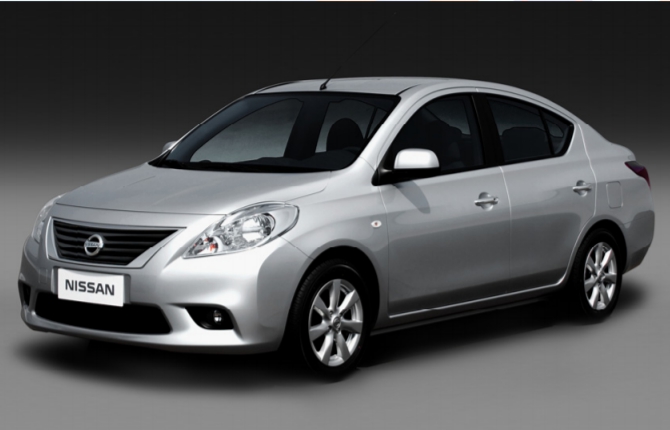 The team needed to find out how cars are being used in the emerging nations which were to be the main market. To experience that first-hand, the team made their visit to India.
"I've been involved in designing cars for many years, but this was my very first experience to observe the Indian market in order to develop a car," says Morita, who was in charge of the exterior design. "Talking about car design, it was always Europe and the United States where we used to observe. So I keenly felt that times have changed.
"We visited New Delhi and Mumbai. The road conditions were bad, and it was very dusty because of the ongoing urban renewal. Small cars were speeding by in groups in the haze, rather like cars in a Formula One race. I felt strongly determined to design a car that would stand out in such situation in order to play a winning game."
Normally, a car is styled based on the image of it always being driven in a clean condition. However, after witnessing the transportation conditions in India, Morita decided that the car needed to have a distinct character that would allow it to stand out even in an unwashed, dusty condition. With that in mind, he began work on the basic form concept.
"For that reason, I consciously sought a design with distinctive features and strong eye power. Just taking the polygonal lines on the exterior of the car, for example, I wanted to design them with a strong angle. Also, in order to express an image of an upper-class car in the external styling, I focused on details. Did the character line across the window / waist area looks as though it was flowing along the entire length of the car? I asked myself questions like that."
Morita's passion as a designer can also be found in the rear view of the car. "A car passes by in a matter of seconds, but as a driver you're constantly looking at the rear view of the car in the front you. That's why I think the rear design is very important."
A car in a new category will be accepted in most mature markets, but in emerging markets the notion still prevails that a sedan car must be sedan-like.
"I knew that nondescript proportions would not do to create a car that would be marketable worldwide. A distinctive rear deck that describes the concept of "sedan-ness" was necessary for this car. I wanted to maintain a good balance between such conventional points and some forward-looking design to realize a new type of sedan car."
Exterior: Inspired by human muscles
The aim was to create a sedan car with a presence that would not be lost in an expansive landscape or in crowded city conditions, but, of course, without monotonousness or mediocrity.
"What we came up with based on that image," explains Morita regarding the exterior design theme "was a design integrating a wide, robust, horizontal-based lower body and an elegant but dynamic upper body."
Looking at the character line running along the side of the body, it disappears as if being sucked into the inflected part of the body around the B pillar.
"It's one of the highlights of this car, and I was inspired by human muscles. I wanted to express a sculptural image of strong muscles hidden under a smooth skin. On the other hand, I definitely wanted to avoid expressing dynamism through the wedge shape," Morita states flatly.
In markets such as in Japan and North America, where there is more chance of sedan cars of this class being used as personal cars, a sporty, wedge shape is popular. However, such a design tends to be rather playful, and less emphasis is placed on the formal aspects of the sedan. A wedge shape with a higher rear part makes the top part of the trunk high-decked, which in turn makes the vehicle width look narrower. It would give a rather scrawny look when applied to a compact car.
In order to maintain the dignity of a sedan, neither the front nor the rear were narrowed. Instead, using a trial and error process, a horizontal-based design was developed for the lower part of the body across the body width to give it a feeling of stateliness.
"It's a middle-class compact sedan car, but I wanted give it the most mature presence with a dignified elegance in this class."
Spaciousness felt in your heart
The upper body design with flowing lines against the robust lower body made it more challenging to create a spacious cabin. A square roof would be a quick solution to create more space in terms of numerical values. However, that would lack beauty.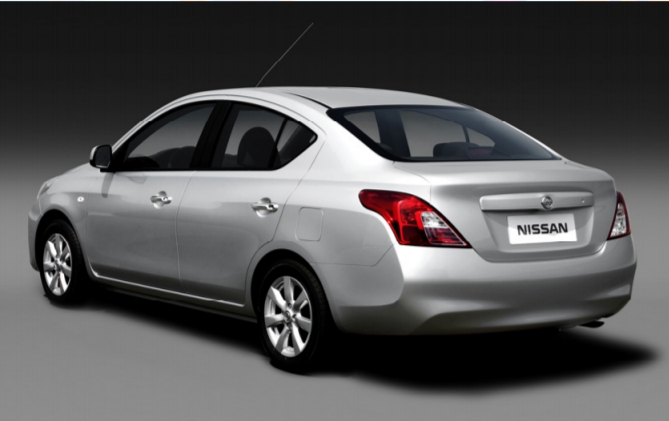 "It's not about numerical values, but providing that feeling of relief customers can feel when they get into a car. We repeatedly produced full-scale mockups and tried sitting in them ourselves until we determined a roof shape and packaging we liked."
The character line that goes around the rear part of the body on the plan view and the beautiful curve of the roof are some examples of these persistent efforts. Lines from the rear seat eye point that do not obstruct a wide view give a comfortable feel of spaciousness in the cabin.
The rear seat knee room of the new global sedan is actually wider by 100mm compared to competitive cars, achieving the spaciousness of an upper class sedan. Customers may gasp in surprise when they experience spaciousness which exceeds the numerical values.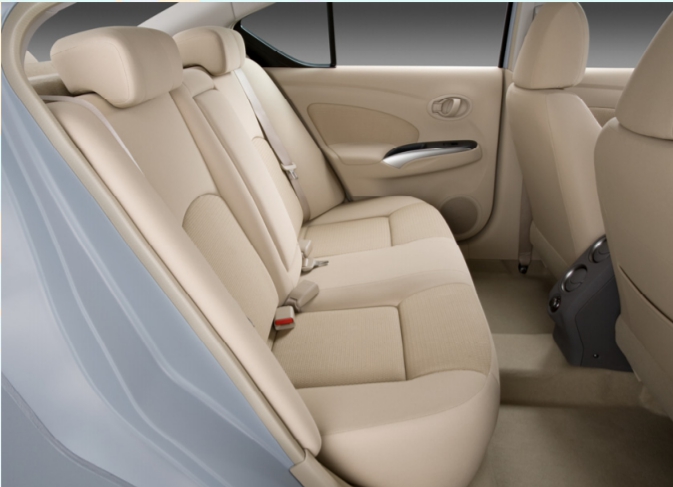 "It needs to be physically spacious, but it's also important to be visually spacious. And that gives designers a great chance to show their skills. We continued to re-design and retry the mockup to achieve, uncompromisingly, the kind of spaciousness that our customers could feel in their hearts," Morita commented, beaming with pride.
Interior: Meters that sparkle like jewelry
"The meter is always in view, so we were especially committed to its design. I felt that something that always comes into your line of sight while driving should be appealing, too. Even if you're just driving, such a quality can become a motive to purchase."
Amagi, who was in charge of the interior design, reflects back on his work. "I visited many places searching for the hint to design an attractive meter. One day, when I was shopping, I passed by a beautiful jewelry shop. A sparkling jewelry caught my eyes. It was so beautiful that I even wanted to touch it, but of course, it was protected carefully by a glass showcase. At that moment, I thought that this is similar to the meter. "
"There's always a cover at the front of the meter too, so you can't actually touch the meters and dials inside. Our design idea started there, with the possibility of comparing it to jewelry in a showcase. To make the meters sparkle like jewelry, we placed 0.5mm pyramids around the dial. "
"We asked the model maker to provide us with various samples to achieve that spatial effect of sparkling precious stones, a crystal-like image. A slight change in the face pattern affects its attractiveness.
We repeated a process of trial and error to come up with the most beautiful effect. It was all about working on details. People look at a precious stone and think 'Wow, that's beautiful!' regardless of their age and gender, and such a feeling is universal. I wanted to bring into the instrument panel the appeal of jewelry that would amaze people of different backgrounds."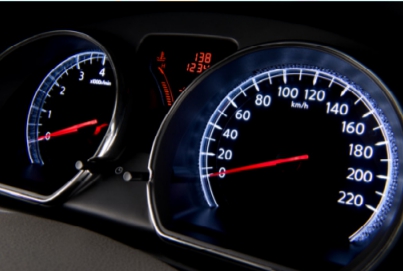 "When driving at night, a woman in the passenger's seat will notice the sparkles in the instrument panel. I hope that will provide a pleasant surprise while enjoying a drive."
A smart form well thought through
Another point of focus for Amagi was the silver décor inside the cabin. "To enable global marketing, there were a number of cost factor limitations."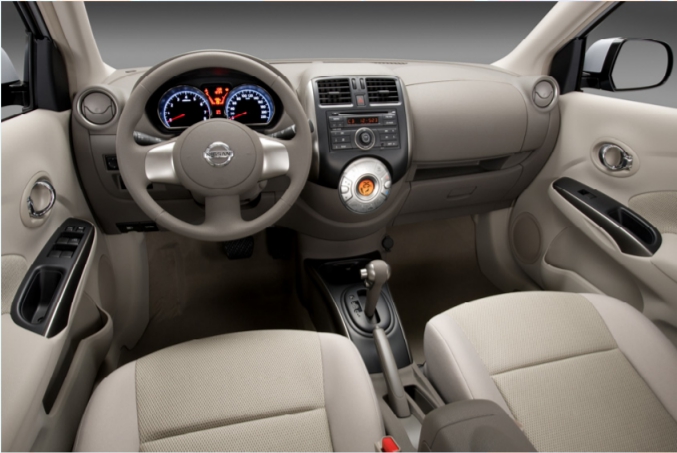 Amagi turned his attention to various items and racked his brain on how to make the silver décor look the most beautiful and high-quality within the given budget.
"Something that has the deep gloss and high quality… I searched all over for objects of that quality, including jewelry and traditional craft items. I was attracted by the deep gloss of an oxidized silver pot. I used the method of adding a presence and spatial effect to small parts the driver and passengers would actually touch. By giving them a spatial effect, they are no longer just flat silver parts, but have contrasting lights to heighten their presence."
A small dent was added to the area around the door handle. It's a device that makes it easier to grasp even if your grip is weak. "These elegant touches woven into various parts give quality to the whole interior," Amagi says proudly.
An endearing car for our customers around the world
Having completed the project, Yamane speaks contentedly. "I take great pride in the fact that all our ideals were cast into shape in the design of the new global sedan. It's dynamic, beautiful, and dignified, but also spacious and comfortable. You see a good balance between the two contrasting themes. Nissan's new sedan design will surely provide excitement to our customers around the world each and every time they use the car. It was very challenging, but also rewarding."
A casual second car to commute to work or school in North America… An eco-friendly downsized Class 5 compact sedan in Japan… And a status symbol for users purchasing a car for the first time in emerging countries…
The new global sedan was developed to meet the diverse needs of our customers around the world. The designers have accomplished their aim of communicating its various characteristics through their design. A car with a sedan-like calmness as well as dynamic beauty will provide added color to the everyday lives of people and change the cityscape in more than 170 countries.
Makoto YAMANE
Associate Product Chief Designer
Joining Nissan in 1988, he has been in charge of S14 Silvia, 2nd generation Presea etc. In his role as Associate Product Chief Designer, his work include new March/Micra as well as the new global sedan.
Mitsunori MORITA
Expert Designer
After working for other company, he entered Nissan in 2002. He has been in charge of exterior design of Stagea minor change, 2010 Paris MS concept car Townpod etc.
Hiroyuki AMAGI
Interior Designer
Joining Nissan in 1999, he has been in charge of exterior design of Pathfinder and Frontier minor change etc. After these work, he has been responsible for interior design of current Altima and Maxima.