How many people do you know that can actually say they own the very car they have dreamed about owning? Well, you at least know that I do. Well, you're about to meet one more. I'd like to introduce to you Tetsuya Nakamura and his white 1994 BNR32 Skyline GT-R.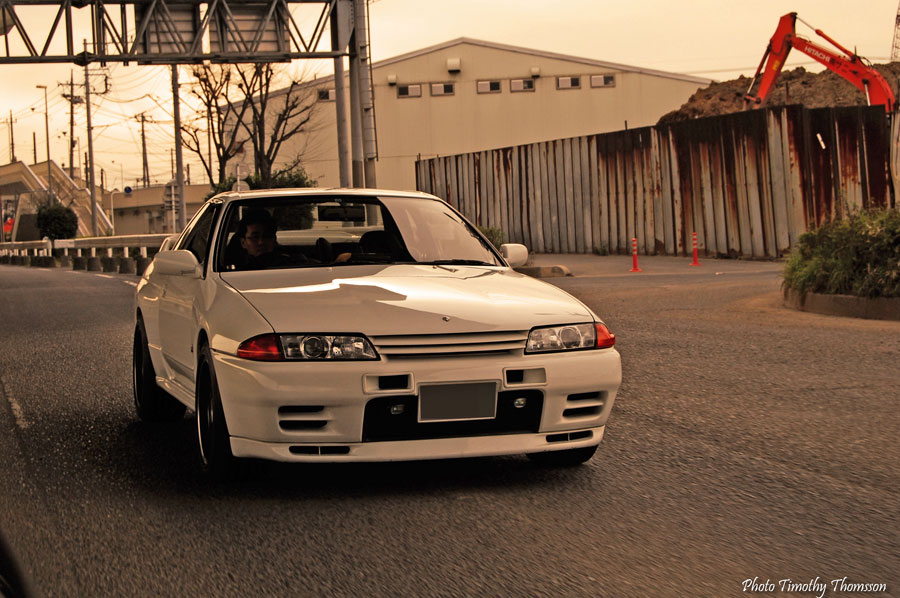 I met him a few years ago when I owned my 1990 Nissan Laurel Club S Turbo and knew he had a GT-R, but it wasn't till I purchased my BCNR33 GT-R that I really got to know him.
When I decided to throw this new feature together, Tetsuya was first on the list of candidates. So, let's get to the nitty-gritty.
"I am the second owner of this car, which I bought in March of 1998 at a shop called I.C.S. (Atsugi city, Kanagawa prefecture), which is a shop that specializes in GT-Rs. The first registration of the car was December 18, 1994, two weeks before the BCNR33 GT-R went on sale."
Now Tetsuya is no stranger to Nissans. Before the GT-R he was the owner of an S13 Silvia Q's with a naturally aspirated CA18DE. He liked that car but says, "My dream cars were the Hakosuka GT-R (KPGC10) and R32 GT-R."
Can't fault him for that.
"In 1997 I started working for Nissan. I currently live and work in the Yokohama area and have been involved with many projects on a few well known Nissans. I was involved with the rear diffuser on the BNR34 GT-R and also some suspension products on the Nissan Fuga ,the Infiniti M sedan in America."
"After starting at Nissan I decided that I wanted to become part of 'society.' I told myself I would get an R32 GT-R within one year. I started searching and that's when I found the shop I mentioned before, I.C.S."
"It was then, I saw what would become my car."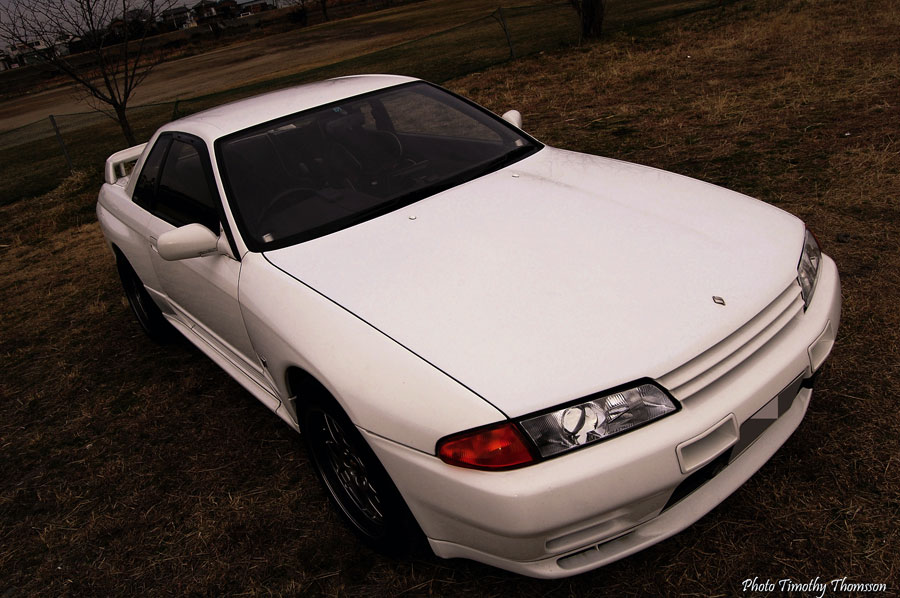 That car was a white 1994 R32 GT-R, which was the last model year and it had low mileage, about 23,000km. Most people don't know this fact, but the R33 Skyline actually started production in early 1994. But, the R32 GT-R model continued through the 1994 year till the R33 GT-R in 1995. So, now and again, you can actually find some 1994 R33 Skylines, even though they won't be a GT-R.
After some negotiating with the salesman, Tetsuya was able to score the GT-R for 3.3 million yen, or about $37,357 with today's exchange rate.
"I agreed to buy it then and there."
And he still owns the car.
As I mentioned earlier, Tetsuya isn't new to Nissans and along with his GT-R he also owns a first generation Nissan Fuga 350GT in black (Infiniti M series in the U.S.).
"While I love driving my GT-R, my Fuga is my daily driver and family transporter. Although, my daughter, the oldest of my two children, loves riding in my GT-R and she always rides in the passenger seat with her booster seat-belted in."
Tetsuya is also a fan of actually using his car for what it was designed for: Circuit racing!
"I somewhat regularly run my car at Tsukuba circuit with a group of customers at a tire shop that I get most of my regular maintenance and light modifications done at. My best time is 1:10 so far."
I had an opportunity to join Tetsuya at a track day at Tsukuba circuit a few weekends ago, and I had a blast. Tetsuya, on the other hand, was trying out a new prototype tire on his car. Unfortunately, they didn't meet expectations and he struggled making decent passes around the track. He still managed to stay right near his best track time.
Not only does he do track days, he also takes time to make the occasional run to other areas not to far from his home to visit some twisting roads in the mountains, most recently (September of last year) to Tsukuba Mountain. I was with him on that trip as well with my GT-R and a few friends and their cars.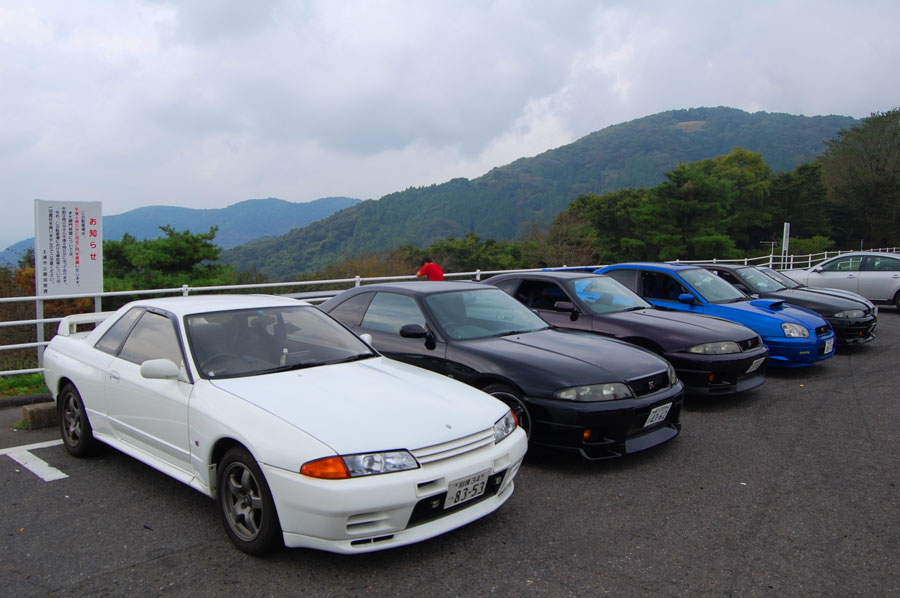 About the car, he says, "I have no immediate plans to sell the car. I have owned it for a long time, and I don't see myself selling it as the R32 GT-R is a timeless classic. Its history and success in racing in the early 1990's is a statement to the GT-Rs ability, prowess and reputation on the circuit and the street."
As for modifications, "I have done several modifications to it in the thirteen years that I have owned it. Some aftermarket, some are original DIY modifications."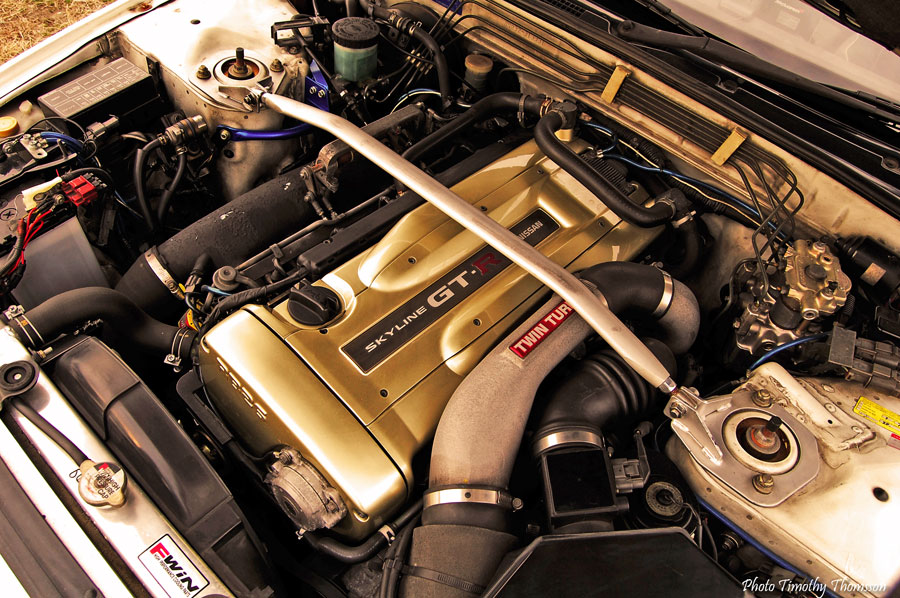 Here's the list.
ENGINE:
BNR34 GT-R Nur-spec cam/coil pack covers
BNR34 GT-R factory turbos, exhaust manifold, turbine outlet and front pipe
Central20 tuned ECU
Power steering tank heat insulator
Tabata aluminum Radiator
Metal high flow catalytic converter
INTERIOR:
NISMO guages (320km/h speedometer)
Kenwood head unit and DVD navigation with 8″ screen
Alpine speakers
EXTERIOR:
NISMO front bumper cover
Velof HID head lights
Heat and infrared ray protected film on all windows except windshield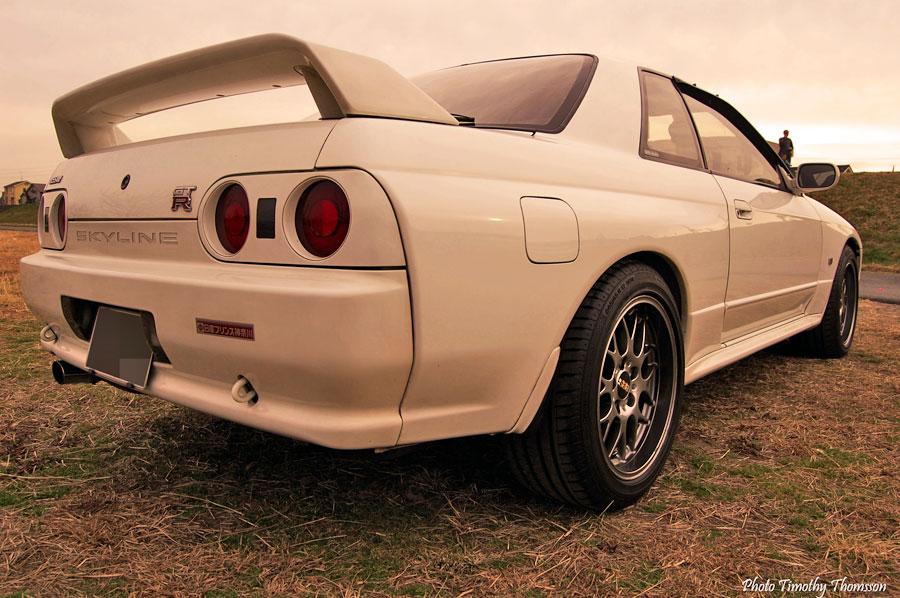 SUSPENSION/WHEELS
BNR34 front lower link
S&S (Sakurai and Shinichiro) shocks
Strengthened front upper link bushings
Rear aluminium suspension member bushing spacers
Front strut tower bar
HKS kansai lower brace bar
BBS 17″ x 9J +14 wheels
Continental 245/45/17
BRAKES:
NISMO metal brake lines
Stock front caliper and rotor
Toyota Celsior custom rear rotor, stock caliper.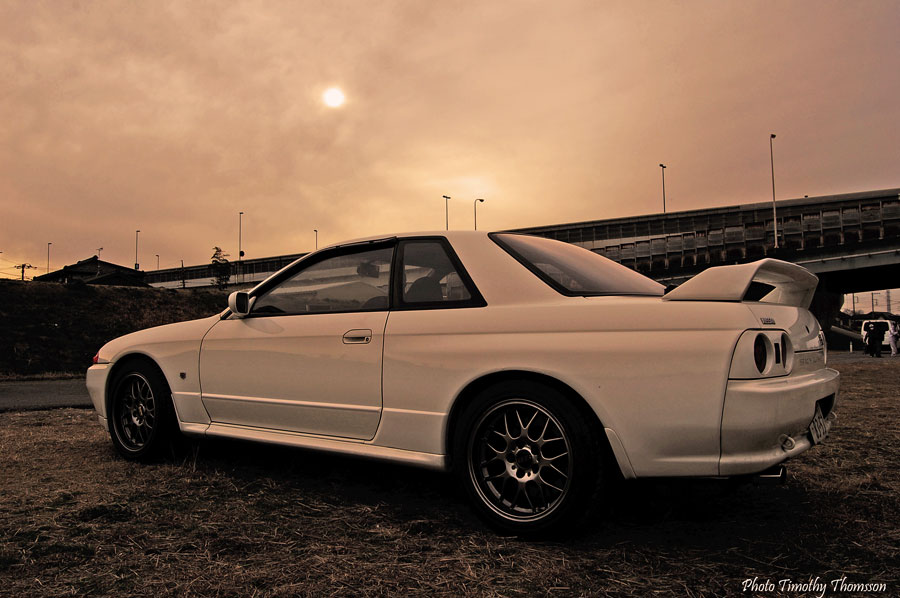 OTHER:
Front and rear frame sections filled with foaming plastic for stiffness
Remote keyless entry
Tetsuya is a great guy to know and is always a lot of fun to hang out with, be it at the local shop, some twisty mountain roads or at the bar over a few beers. If you ever make it over to Japan, Tetsuya is always a good choice for someone to become friends with.
For the next blog entry click here: Tsukuba Track Day