A lot of us here are old enough to remember the days when our fellow drivers weren't totally absorbed in their cell phones, double-whipped-mocha-latte, scarfing a Big Mac, or flipping through 287 different satellite radio channels. Your parents, if they were anything like mine, took the family on road trips a couple times a year. Some, like my Pops, shared little tidbits of knowledge that seemed like God-level powers to a young kid standing on the hump in the back seat, studying and absorbing his every move.
We've entered an era where most of the time, drivers can't even be bothered to use their turn signal. After all, if there's a car next to them, the little light in the mirror will illuminate, and maybe a warning chime… just let the car do all the thinking, right? With the advent of electronic turn signals, the old "hand signals" have been forgotten. Do they even include that in Driver Education now? Probably not. That's OK, I don't think any of us drives a vehicle without lighted signals.

As I've gotten older, my wife and I take a lot more road trips. So, we have lots of opportunity to see the best and worst of driver behavior. As a habitual speeder (depending on conditions), I like to employ any and every skill I can learn, to minimize risks and ensure I'm not the cause of someone's ruined day.
Let's talk about the nearly-forgotten art of communicating with your fellow motorists. Maybe we can all start to bring back some of these skills, and in doing so, be more courteous and safe.
Most of these signals come from the trucking industry, the TRUE professional drivers on the roadway. Logging millions of miles each year, dealing with morons in tiny vehicles that they could crush like a bug, dealing with being treated like a rolling roadblock, and all the while maintaining professionalism and poise, you've got to tip your cap to anyone who drives a big truck for a living. Here's to those of you hauling the loads.
1) If you are a driver behind a big truck (or any vehicle) trying to merge in front of you, and you can see that it's safe for them to do so, a quick flash of your headlights (on then off) tells the driver that there is room for them to move in front of you. Most truck drivers will flash their trailer lights as a "thank you" for your courtesy. This signal applies both day and night. At night, turn your lights quickly off them back on, and during the day, turn them quickly on then off. Do NOT use your high beams – at worst, it's like a camera flash and can temporarily blind the other driver, and at best, it's annoying.
If you're the driver that needs to merge, don't forget to acknowledge the driver that let you in. Since you're probably not driving an 18-wheeler, you don't have the ability to flick your rear-facing lights (no, don't tap the brake pedal). Just give a wave up near your rear-view mirror – they'll see you, and it's a nice gesture.
2) When oncoming traffic double-flashes their headlights, this typically means they just passed a police speed trap or an officer running radar, and that you're heading toward it. Slow down a bit until you can identify the reason for the signal. Before any of you get up in arms about this practice, it's perfectly legal. If you choose not to caution other motorists, that's your prerogative. If you do, thanks for your help.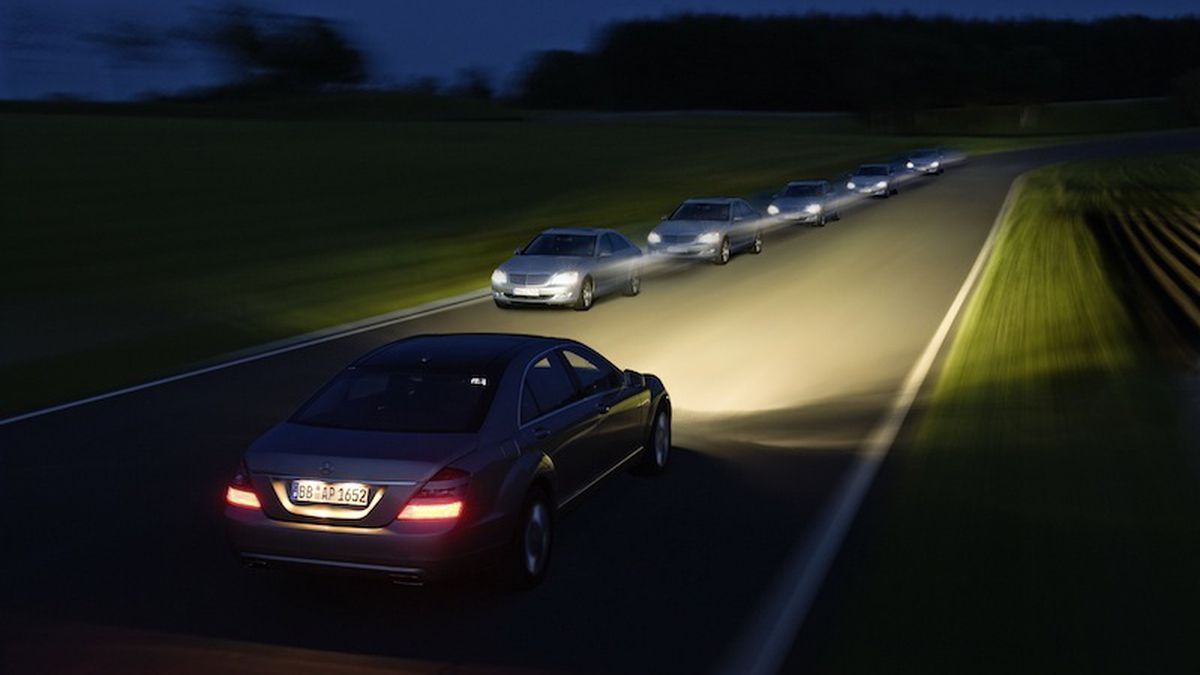 3) From oncoming traffic, you may see more than two consecutive flashes. More than two consecutive flashes from oncoming traffic typically signals that there is another type of danger ahead, such as debris on the road or an animal crossing your path. Obviously, this is a signal to proceed with caution.
4) If on a divided highway or multi-lane roadway, invariably there will be some driver camped out in the far left lane, doing the speed limit or below. Their rationale (not that it matters) is, "I'm going the speed limit, no one needs to go faster than that." Aside from the fact that they're absolutely wrong, we still need a signal that tells them politely to move the hell over.
Again, before the hand-wringers show up with their torches and pitchforks, nearly ALL states have a law that addresses this topic. Additionally, the Uniform Vehicle Code states: "Upon all roadways any vehicle proceeding at less than the normal speed of traffic at the time and place and under the conditions then existing shall be driven in the right-hand lane then available for traffic." Boiled down to common English, this means "Slower traffic must yield the left lane."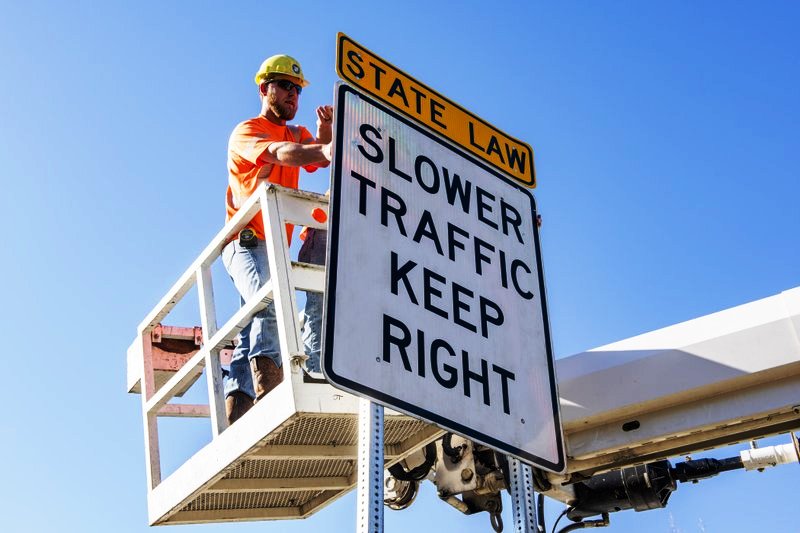 Encountering a left-lane hog can be frustrating. Barring unusual situations where patience is the only option (such as an uphill grade, big truck passing big truck, and both are doing 45 and 40), the solution is not always clear. In certain cases, you (the speeding driver) may choose to simply move right, bypass the clueless motorist, and never touch your cruise control. Other times, this may not be possible.
This topic actually caused some argument among the crew here, so we'll cover both options. Left blinker, or flash-to-pass? In the aforementioned scenario, you can apply your left turn signal as you approach the slower vehicle. This is a gentle reminder to the driver that you'd like to use the space they're hogging to proceed forward. Others feel a quick flick of high beams is appropriate – after all, we've all had trips where we're thinking about everything except driving. Personally, I prefer a combination of both – Start with the left signal for a half-mile or so. If that's not working, then I'll give the high-beams a quick flick (make sure you're not tailgating, as this makes it impossible for the lane hog to see either signal). If neither works, you have to assume the lane hog is either uneducated as to traffic rules, intentionally blocking the flow of traffic, or incapacitated. I don't want to be anywhere near them. If I can't pass safely on the right, it might be time for a potty break and some beef jerky.
By the way, most modern cars have a feature we call "flash to pass." A gentle rearward flick of the turn signal stalk (not far enough to "click") will flash the high beams for an instant and return to either lights off or low beams. Try it out, maybe even practice it – it should become second nature.
5) On a related topic, when a vehicle that was "hogging" the left lane actually moves over, take that opportunity to reinforce their behavior. A quick "thanks" wave as you pass is appropriate, and acknowledges that they did a good thing – and that you, a properly-skilled driver, appreciate it. While it's simply a perception thing, this is the difference between you being perceived as a speeding lunatic or a nice driver who simply prefers to move at a quicker pace.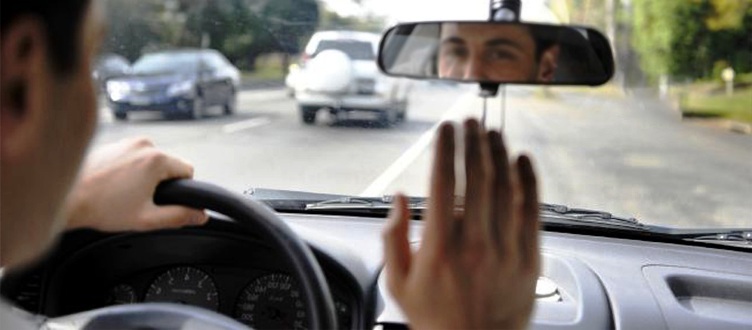 6) If you find yourself in a situation where you must come to an abrupt slowing or stop (due to an accident, an animal in the road, debris, flooding, whatever), put on your flashing hazards as you're braking. This indicates that something is amiss, and will alert other drivers to at least be aware. Typically, additional alert drivers will observe the roadway anomaly and apply their hazards as well, providing drivers to the rear with an even more compelling signal to slow down.
7) Angry hand signals – Unfortunately, this one should be addressed. Yes, I'm as guilty of this as anyone. When a fellow driver makes an unsafe and startling maneuver, fear and adrenaline can get the best of us. Anger and fear combine to unfurl the 'one-finger salute,' and while it might make you feel better momentariy, we've all seen the videos of that gesture leading to a bigger problem. Road rage is a real thing. People are stressed, in a hurry, dealing with whatever life has thrown at them, and you don't want to be the driver flinging a finger at the guy who has just "had enough" – and a lot of us are armed. Beyond that, you could encounter that driver at a gas station a few days later – You may have forgotten, but he hasn't. Resist the temptation to show them who's number one, be thankful you weren't in an accident, and just roll on down the road. I'll be working on this one with you.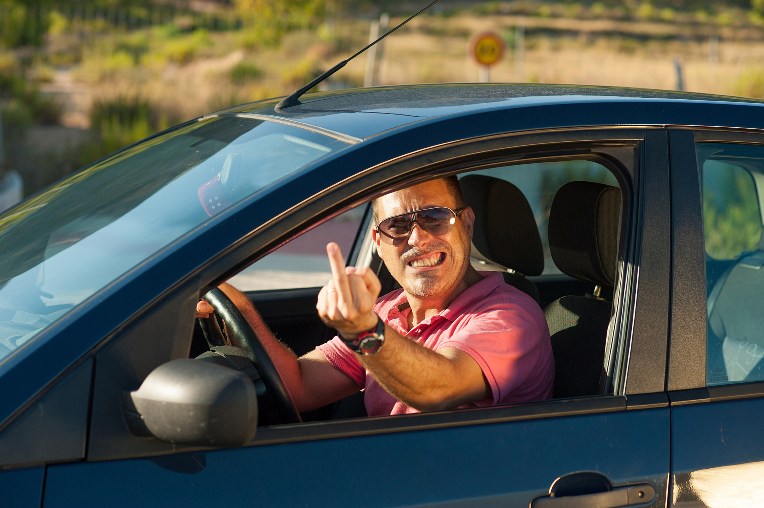 8) Not all signals are visual – Let's not forget that audible tool in the middle of the steering wheel. Love it or hate it, using your horn has its place. In certain parts of the country, honking your horn is as common as breathing. Here in the southwest, you almost ever hear a car horn… So, it really depends on your region. Bottom line, a horn is to alert another driver of impending danger.
It's perfect for that clueless driver merging into you – a visual signal won't work in that case, so give them the horns. Totally appropriate to tap your horn if the driver in front of you is sleeping through the green light. Aside from that, unless there's a need to alert another driver of danger, it's not really for any other purpose, although some will argue the point. Some folks interpret a horn blaring the same as the middle finger, so be judicious and don't go tooting your way through town. It's annoying and contributes to stress – something we could all use less of.
9) Almost unrelated, but important enough to include: Daytime running lights (DRLs). These are the lights that illuminate your headlights when the car is running (but your actual headlight switch is off). They're not as bright as your headlights, and they don't actuate the rear-facing lights on your car. Just yesterday, there was a discussion on Facebook about DRLs, and how often we see cars driving at night with no taillights, because they have no clue their actual lights are off. Good luck trying to explain to these numbskulls that those aren't headlights, and your car is difficult to see from the rear.
If you're not sure if your car has DRLs, go start it up and check… could spare you some embarrassment, a ticket, or an accident. By the way, Canada has finally gotten a clue and will require all 2022+ cars to have headlights, taillights, and side lights that automatically turn on in the dark. As an added measure, the dashboard lights won't function unless the headlights are turned on. We'll see how long it takes the US to catch up.
10) Bonus topic – This one is more of a "pet peeve" than driver-to-driver communications, but it seems to fit the theme of this article. Waving someone out. You're in a long line of cars in the right lane, maybe waiting for a light to change. A driveway, let's say for a restaurant, adjoins the road from your right. A driver in the restaurant drive is waiting patiently to turn right and enter the queue of cars. The driver in front of you stops short and waves them out. Some would think, "Oh, that's friendly." Nope. Let's not forget, not everyone in line is willing to wait, and the "friendly" driver doesn't get to make that decision. More importantly, the driver pulls out of the restaurant, placing all their trust in some friendly waving doofus, swings wide into the adjacent lane traffic, which is moving at 55mph. We now have a massive pile-up, because someone decided they wanted to be "nice." If you're the driver in the restaurant lot, you can't see what's coming, and you're putting your faith in someone who may be impaired, half-blind, or stupid. Plus, you just added to an already-long line. Find another way out of the restaurant, and don't be the driver that "waves" someone across.

Hope you all enjoyed this article. Everyone's stressed, everyone's in a hurry, traffic seems to be worsening, and we could all use a little help getting from A to B nowadays. Be safe and have fun out there!