It's been a while since I've done this blog. Glad it's still here.
When I started it, I was hoping to be able to put features on some cool cars I run across here in Japan, but with a family of 5, two jobs and not a lot of time, that idea kinda went to the way-side. So, after some new developments in my life, I have a bit of time. I also became an admin of a Facebook fan page for R33 GT-Rs.
After a few days of hashing out some ideas with the other admin, I came up with an idea similar to what we used to do here at NICO. I was going to start a Featured Ride segment on that page, and I could use NICO as a medium, as well, to get even more exposure to the internet. So, I put the message out, posted up what information was required and let the members have at it. Well…here's what happened.
What happened was, when the submission deadline came, I received only three…count them three…1995 Midnight Purple GT-Rs and it hit me. Let's play with this whole theme. I mean, 3 submissions. 3 1995's. 3 Midnight Purple. I can't make this up.
I would like to thank everyone for their submissions.
So, without further hesitation, let's get down to what this is all about.
The Thunder Down Under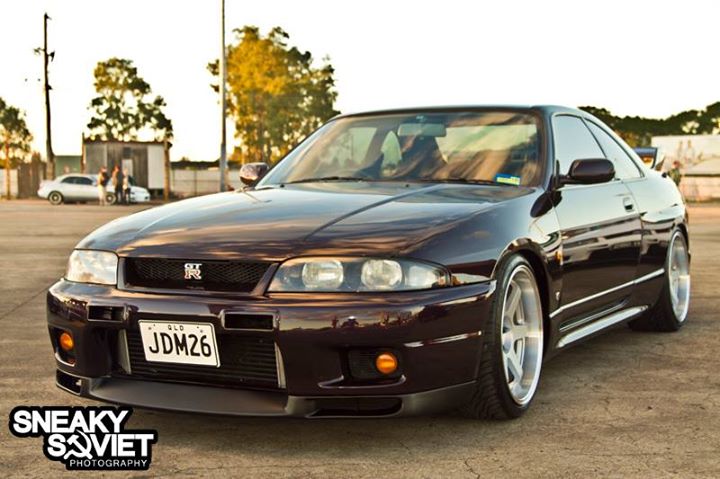 This car belongs to Darran Fischer of Australia.
1995 BCNR33 Nissan Skyline GT-R V-Spec Midnight Purple
Darran says of his car, "Ever since I played the first Gran Turismo on Playstation, I had to have a Skyline GT-R. I bought the car around 4 years ago as a birthday present."
Some birthday present, eh?
He also went on to say, "When I had originally set out to purchase a GT-R I found myself being drawn toward the R33, and being a married man with children the extra cabin space sure comes in handy! Also to be honest a dark color was something I was determined to avoid as I have had dark colored cars in the past and was more than aware of the effort required to keep them presentable.  However, when this particular vehicle presented itself it was to good of an opportunity to pass on.  Plus let's face it, when you see a Midnight Purple R33 you just know it's Godzilla!"
"Having a few key modifications and a freshly forged bottom end was also an excellent bonus!"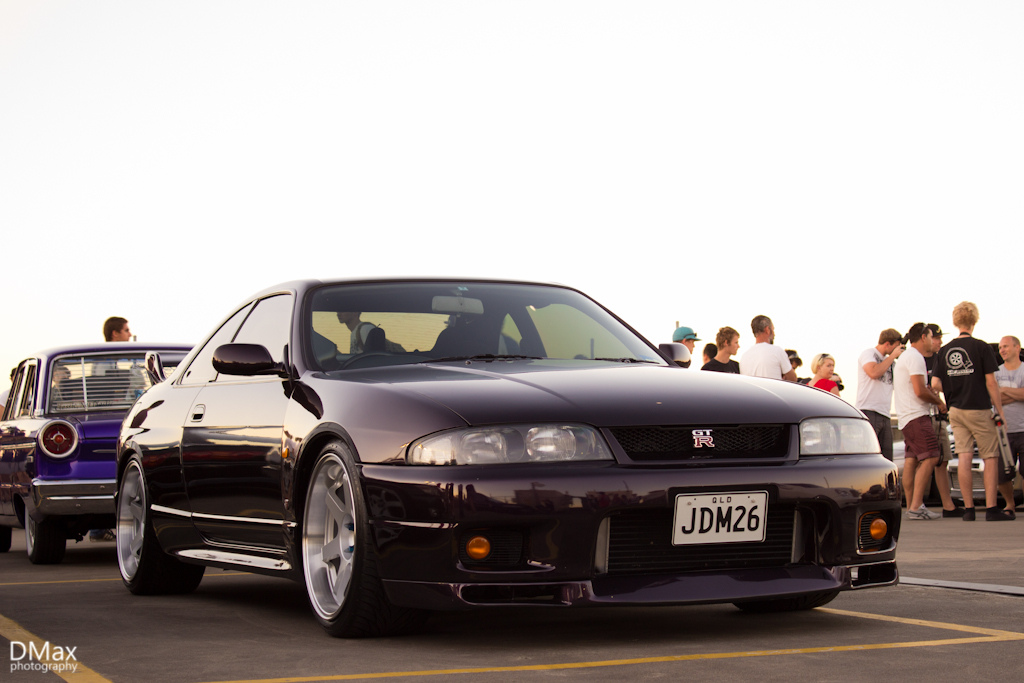 The car is nicely modified with multiple big name tuner company parts like HKS, Tomei, Sard and many more. It was also given a face lift to a Series 2 front bumper.
Modifications:                                                                                 
Forged / Honed Block
CP Pistons
Eagle Rods
ACL Race Conrod / Main Bearings
Nismo LeMans Turbos
Tomei Pon Cams 260 / 260 9.15 Lift
Tomei Adj Cam Gears
Tomei Oil Baffle
HKS Fuel Rail
Sard Injectors
Sard Fuel Pump
Power FC
Cusco Twin Plate Clutch
OS Giken Gear Set
Engine finished in Ford Blueprint Blue
As for engine work, he spent quite a bit of time getting things right after purchase.
"Once taking ownership of the vehicle it became evident there were problems on the tune / wiring side of things, and subsequently 3 days of re-tuning were spent with Matty Spry at PITS Garage.  It was also at this point several other issues became apparent along with the discovery that several key components had been returned to standard.  One such component was the fuel pump, which, if left unnoticed could have presented some very costly problems."
"Though after all was said and done the end resault was a much better power curve with less boost."
After initially thinking of a big single turbo conversion, he changed his mind and decided to keep the parallel twin setup, but went in a slightly different direction.  Instead of going with big name turbos from HKS, APEXi or Garret, he went a more "conventional" route, choosing to keep Nissan snails on the bottom ends of the exhaust manifolds…Nissan LM turbos off the rare BCNR33 GT-R LM edition.
"The responsiveness of the twin LM turbos is awesome with boost arriving hard and on song from around 3,800RPM.  Combine this with the beautiful Tomei pon-cams coming in and a straight through stainless exhaust with nothing more than a small hotdog and a cannon end barrel, and your left with a mechanical symphony of sound, though somewhat on the loud side!"
"And admittedly I've never taken the vehicle on boost beyond 3rd gear yet! Though in 3rd it does rocket to 200KP/H rather quickly.""At the end of the day i guess balance is the key for me an around 500hp is seemingly the sweet spot."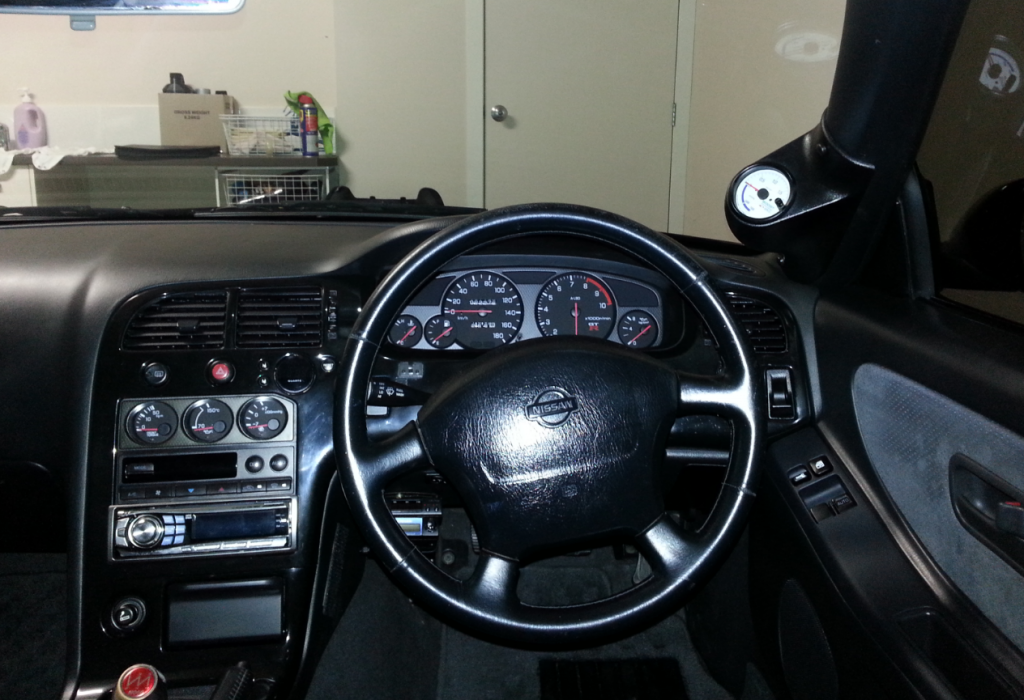 Inside the cockpit of this close to 500hp bruiser resides an Alpine head unit and amps for tunes on long drives, A-pillar gauge pod, and a few other electronic goodies under the lower dash panel.
Suspension work is taken care of by Cusco coilovers which keep the 19 x 10.5 +15 Rota Grids and rubber on the street with 18 x 10 +18 Volk SE37k's for track use.
A stainless steel exhaust helps get the gasses out quickly to help the turbos get spinning and get boost on the table.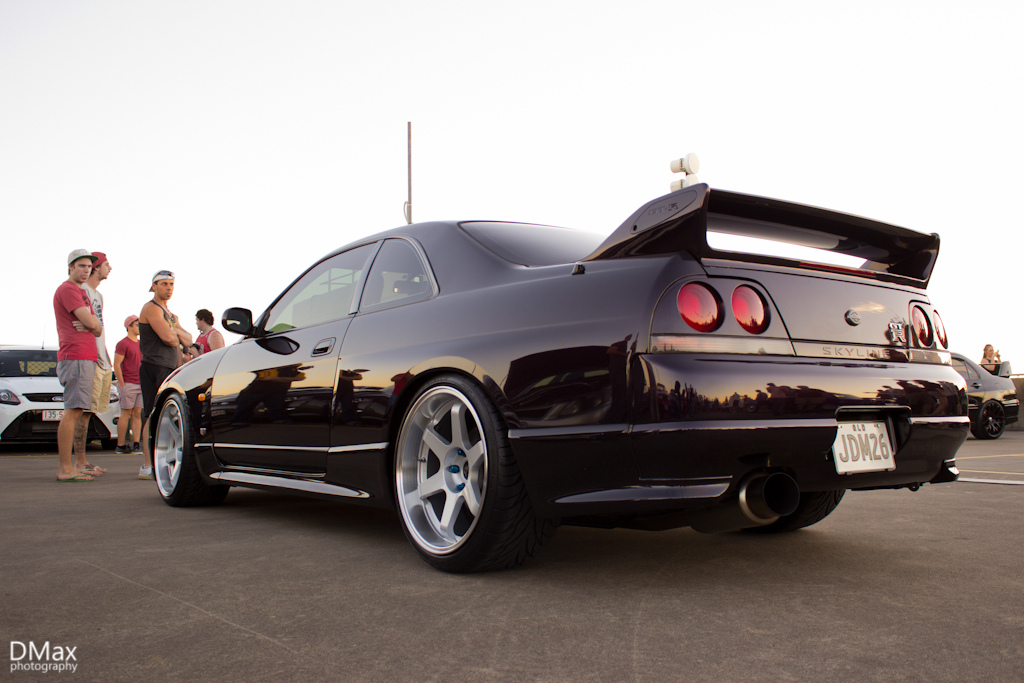 Darran says of his future plans with the car, "My future plans would be a brake upgrade perhaps to Project-Mu, and some CE28n's. Other than that I'm reasonably happy with the vehicle…well at least for now."
In closing, Darran wanted to say a few words to the people who helped him out along the way.
"I'd like to thank my beautiful wife for her understanding my passion and gifting me with car components, Matt Spry from PITS, the many photographers who always catch the right angles and the guys at Profinish for their help and panel work."
PHOTO CREDITS:
Blown BMW Images
DMax Photography
Sam Wakefield Photography
Claude & Lena Andrasescu Photography
Sneaky Soviet Photography
Alerenda Photography
The Scottish Slingshot
This wolf in sheeps clothing is owned by Alex Hamilton of Scotland.
1995 BCNR33 Nissan Skyline GT-R Midnight Purple.
"I have now owned the car for 6 years. I got it as a fresh import and the only mods on the old girl were a set of crap 3 spoke wheels and a exhaust from the cat back. Since then it has undergone some serious work!"
Alex isn't kidding, either. This single turbo'd RB26 got a good working over internally, as well.
"The engine! It has a fully built stroker kit stretching it to a 2.8L, crank, rods and pistons. There is a Tomei oil pump looking after the oil and a Trust sump extension kit to add a bit more capacity."
"It has a Greddy oil cooler kit to keep things cool and a plumbed back head drain into the old turbo return."
It's head has also been worked, but Alex says what was done is a secret. "It's got no issues revving to 9.5k and can flow gasses no problem. Anyone who knows engines knows this is where the power is made."
Other Engine Mods:
2 Bosch 044 fuel pumps
Six 1000cc injectors
Two 750cc injectors on the inter cooler piping.
Turbo Smart FPR
Haltech SP2000 ECU (mapped by Garth Wong from MGTracing)
Greddy alloy radiator
4″ inch thick intercooler with 100mm piping
JUN intake plenum and single throttle body
6Boost exhaust manifold,
GT4094R turbo (modified too)
60mm Turbo Smart pro gate
60mm screemer pipe,
Custom built 4″ turbo back exhaust with 6″ inch tailpipe
Gizzmo MS-IBC boost [email protected] on 95ron and 2.2bar on c16.
Putting power to the ground on a beast like this is no easy task, so Alex put a set of APEXi dampers and springs at the corners and Ultralite Nur wheels in 10.5×18 and wrapped them in P-zero Rosso rubber. The car has polyurethane bushings but also has some alloy bushings to tighten things up a bit more. A Cusco differential resides in the rear end, but the front is stock.
The other major piece in getting the power to the ground is the bit that attaches to the back of the engine. The power is transferred through a Exedy hyper carbon-carbon triple plate clutch and a upgraded gearbox with OS 1,2,3 gears (soon to have a Quaffe 6sp sequential).
What this translate to…"Lets just say on a base map and 6k rev limit and 0.8 bar of boost it made 510awhp! Way way way more now!"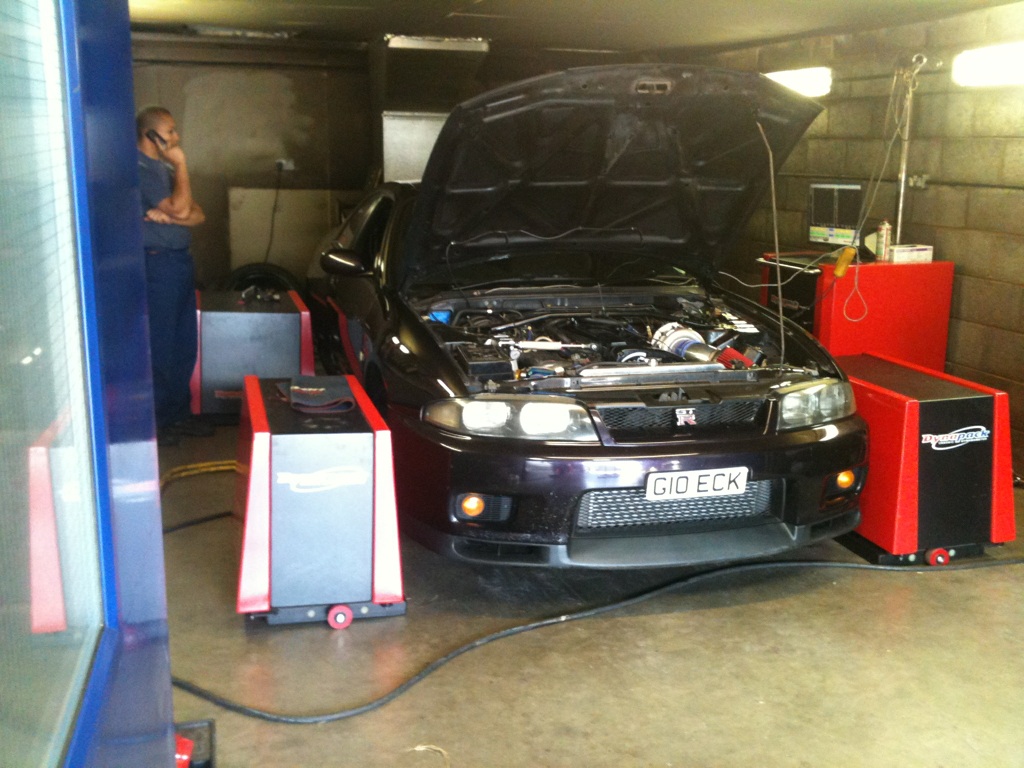 Alex's interior is pretty straight forward and simple. Not a lot of gauges cluttering up the top of the dash or A-pillar. Everything looks pretty normal sans the aftermarket shift knob and stereo head unit.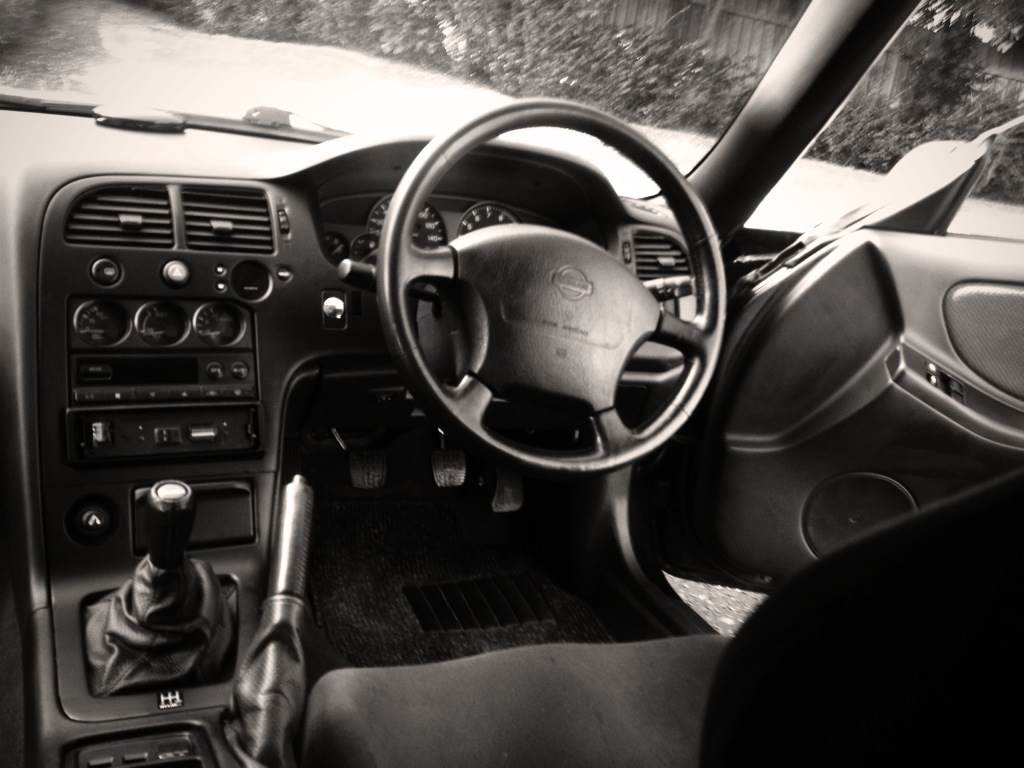 Alex also stated that the car has some carbon bits here and there, but mostly stock as Nissan made it.
Alex had this to say, also, "All my work was carried out by MGT Racing in Nuneaton. Mark Biggers is the builder and Garth Wong the mapper. I cannot thank those guys enough, the car is amazing and drives so well."
PHOTO CREDITS:
Alex Hamilton
Paul Wilkins of Ultimate Shine
The Midnight Godzilla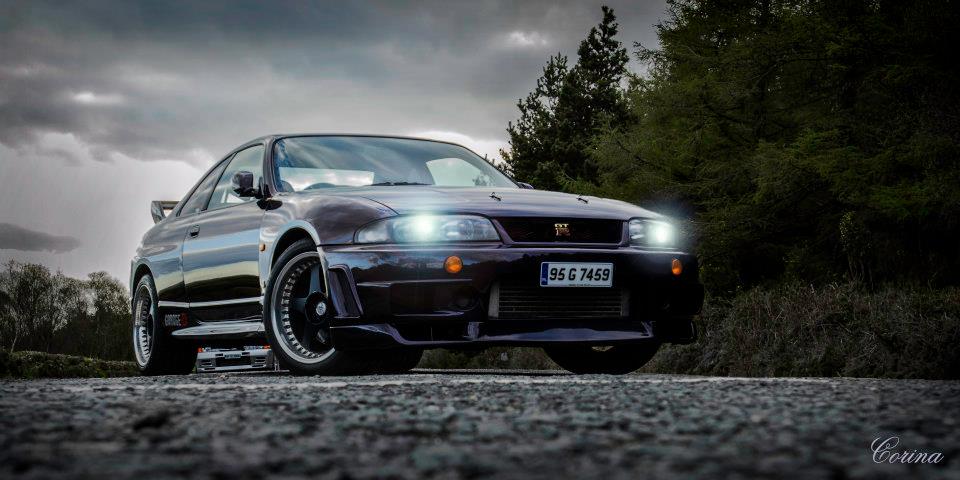 This passionately purple rocket comes courtesy of Ray Kelly of Ireland.
1995 BCNR33 Nissan Skyline GT-R Midnight Purple.
Ray had no intentions of buying a GT-R but in 2006 this particular car came up for sale.
"Bought it in 2006. It came up an I had to go see it. It was love at first sight!"
While the list of modifications is quite impressive, the internals and turbos are still factory original.
Ray told me, "A lot of mechanical work has been done since I bought it to get it back running as good as it is. One of the best running and cleanest 33-Rs in Ireland."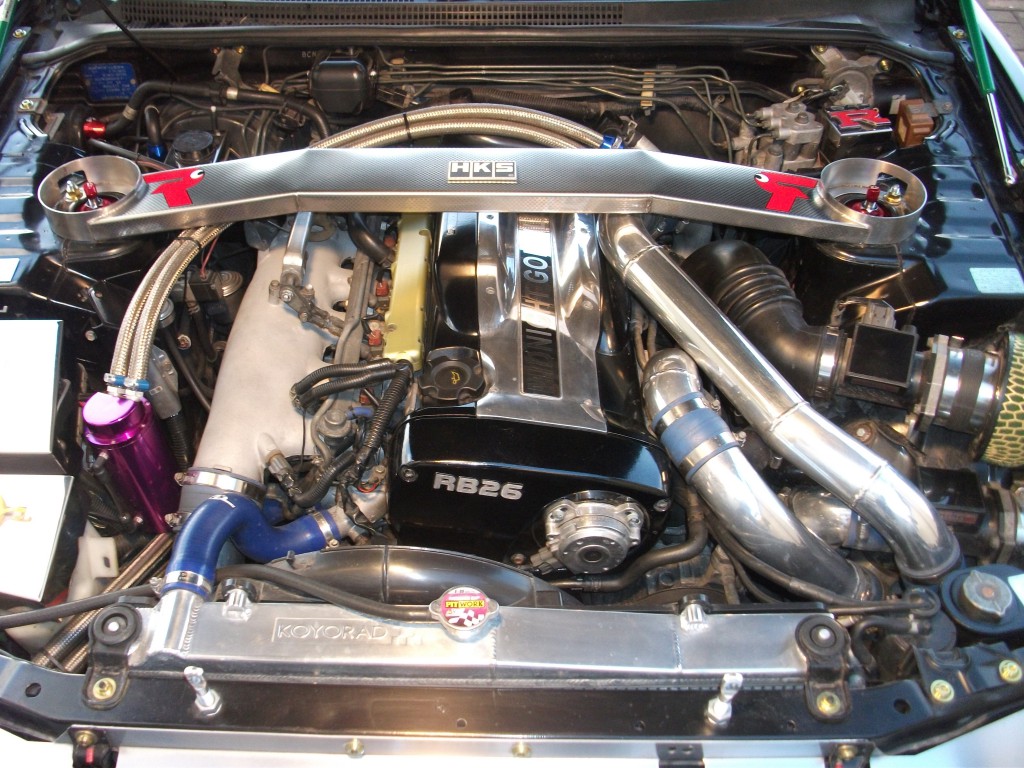 "It has been lightly modified since with nothing but the best. The main aim was to have it looking top class in every department as the GT-R comes more then ready with respect to performance."
And, he adds, "Daily driven and brought to as many shows as possible :)"
Modifications:
KOYORAD Large Core Aluminum Rad
ARC Intercooler
HKS Super Sequential Blow off valves
APEXi AVC-R boost controller
Custom oil catch can with stainless braided hosing
One off stainless steel strut brace
Jap-Speed full exhaust System
HKS hardpipe
HKS twin mushroom filters with custom piping
Samco hose kit
Various mirror finish compartment covers
Engine finished in gloss black with silver and old Sparkles
Mirror finish center plaque with "Midnight Godzilla" engraved
Aluminum slam panel
Tein bonnet (hood for Americans) dampers
The car has had numerous changes inside and out, to include a Nismo 400R front bumper and carbon rear wing blade on the exterior and a Momo steering wheel and Nismo gauges on the interior.
Interior:
Standard GTR bucket seats
Momo Chapion steering wheel
Nismo gear knob
Carbon Effect dash
Nismo clocks (gauges)
Pioneer radio/CD with 6 CD Changer
Centre strut-brace (very rare)
Rear standard strut-brace
Back and side windows 90% tinted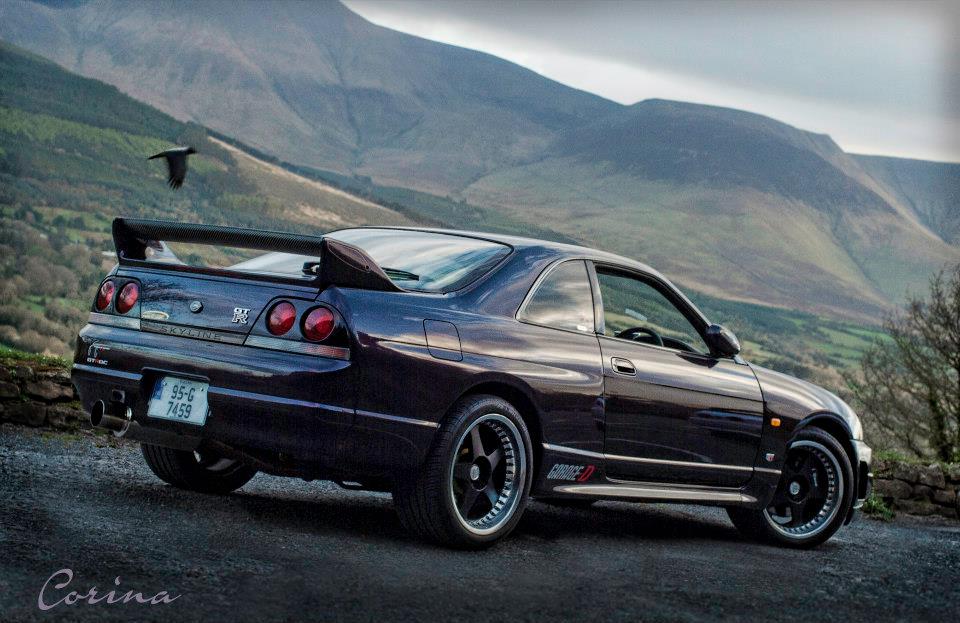 Exterior :
Standard side skirts and rear bumper
Nismo 400R front bumper
Carbon rear blade spoiler
Aluminum bonnet clips
Gold GTR badge on front grill
Brand new Meister R fully adjustable coilovers keep the 18 inch Amkread Works 3 piece wheels wrapped in Michelin 275/35/18 rubber sticking to the pavement. Brakes are standard GT-R Brembos with drilled and grooved discs.
When asked about his plans with the car in the future, he adds, "Performance wise, I wouldn't like to go much further maybe just shy of 500 BHP. Main plans are to just keep it as it is."
"All the anti-roll bars are currently being sand blasted and etched then being powder coated in Ferrari Red. I hope to buy 2 new front bucket seats also."
"Other than that im happy with what she is."
PHOTO CREDITS:
Ray Kelly
Corina Laur
Niall Keating
So, there you have it.  Three beautiful Midnight Purple GT-Rs.  Now, if only I had the money to do something more with mine!  HAHAHA!!!
Stay tuned for another installment later this month or early next month!

For the previous blog entry click here: The Monster March